Anti-vaccine and conspiracy activists tied to Lansing coronavirus protests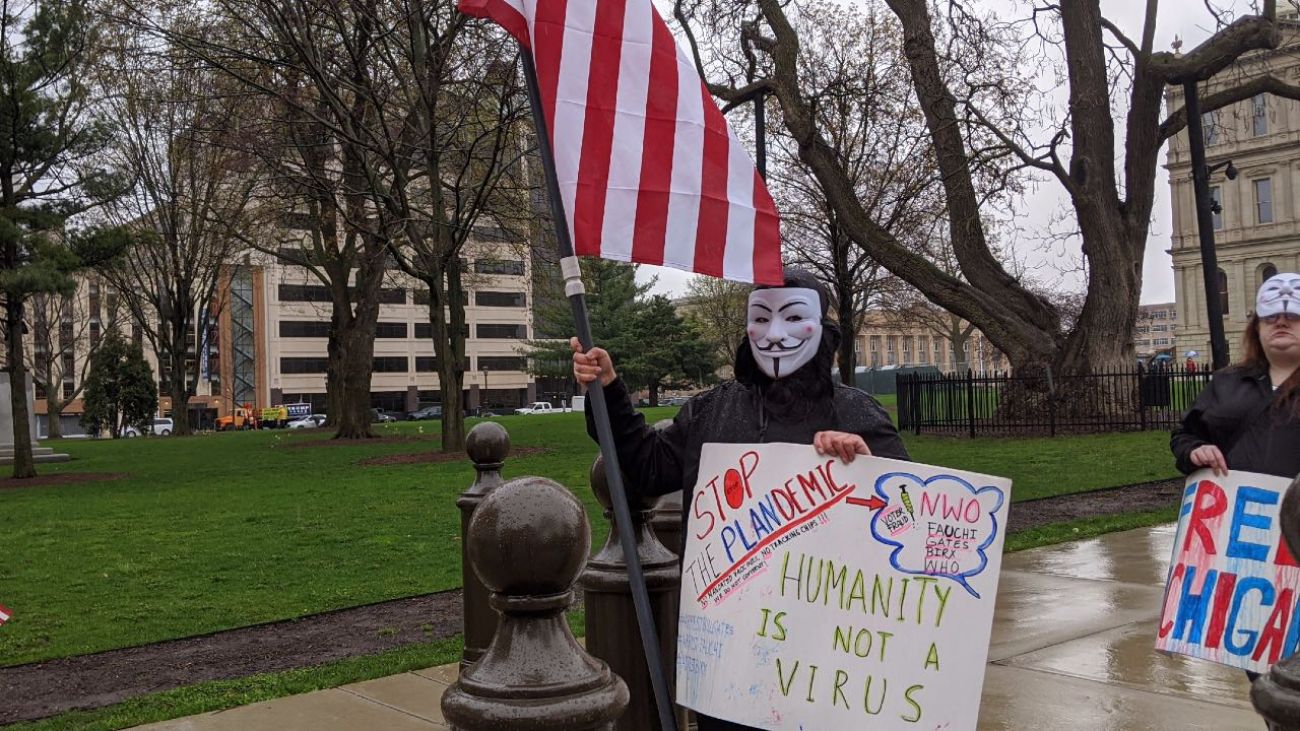 LANSING—Anti-vaccination activists — already warring against government mandates — have emerged as key players in the battle against Michigan Gov. Gretchen Whitmer's stay-at-home order designed to slow the spread of the deadly coronavirus.
Several organizers with Michigan United for Liberty, the group that hosted an April 30 protest at the Michigan Capitol and is planning another Thursday, have deep ties to the "anti-vaxx" and "medical freedom" movement, according to a review of online activity and public records by Bridge Magazine.
Some have used social media to promote conspiracy theories about the pandemic and to discourage the kind of widespread testing, contact tracing and vaccine development that medical experts say is critical to defeating the virus and reopening the economy.
Their role in the Michigan anti-quarantine movement comes at a precarious time for both the state and for children's health.
New state data show childhood immunization rates have plummeted in Michigan as the pandemic has led to physician office closures and sparked parental fears over taking kids out in public. Public health officials say that leaves children more susceptible to outbreaks of established, preventable diseases like measles or whooping cough.
It's not surprising to see anti-vaccination activists take a prominent role in protesting Whitmer's stay-at-home order, said Mark Navin, an associate professor of bioethics at Oakland University. It's happened in California and a handful of other states, too.
The movements are motivated by "some of the same values: distrust of the government, and especially government claims about the harms of disease and the benefits of vaccines and other government interventions to prevent disease," Navin said.
Anti-vaccination activists are "committed to an idea about freedom that is indifferent largely to the risks one's free choices impose on other people," he said. "I'm critical of them, but to be fair, they're giving voice to a conception of freedom that's widely held."
Some of their specific theories, however, live farther on the fringe.
Michigan United for Liberty organizer Alex Larner, who is identified on the group's website as secretary of the Eaton County Tea Party and an IT director for a Lansing church, has used his personal Facebook page to share conspiracy videos claiming to expose the "fake science behind the fear mongering of the WuFlu."
"The end goal of the WuFlu pandemic is mandatory vaccines," Larner wrote May 9. In other posts, he has suggested America is "heading into Nazi Germany territory" and argued "Dictator wHitler needs to be tried for treason and sedition."
Another protest organizer, Amber Bargabus of Mount Morris, identifies herself as co-founder of Michigan Freedom Keepers, a group that has openly discouraged residents from getting a COVID-19 vaccine if and when one becomes available.
"We have all heard the talk about how life 'won't be back to normal until there is a vaccine,'" Freedom Keepers said on Facebook. "Are you willing to subject yourself and your children to be guinea pigs for a fast tracked vaccine with minimal safety testing?!"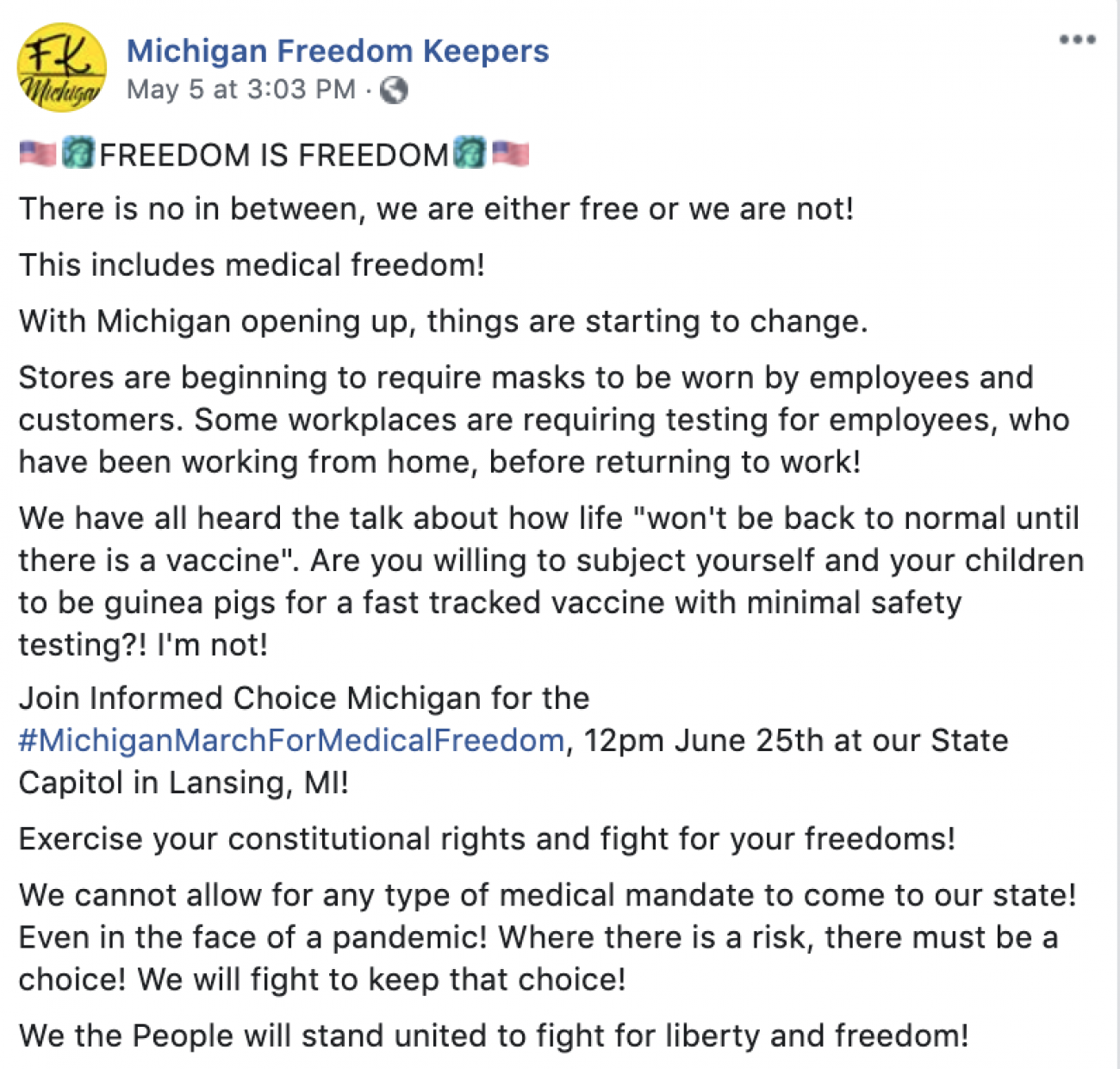 Scientists across the world are racing to develop a vaccine for COVID-19, a highly infectious disease that had killed 4,714 people in Michigan as of Wednesday morning. Pfizer Inc. last week announced it had begun clinical trials on a vaccine candidate that would initially be produced at facilities in Michigan and two other states.
Those clinical trials will prove if a potential vaccine is safe and effective, and the U.S. Food and Drug Administration would have to sign off before making any version publicly available, said Bob Swanson, division of immunization director for the Michigan Department of Health and Human Services.
"And so we really should trust the science," he said.
Health experts say vaccine development could easily stretch into 2021.
"If everything went well with the clinical trials, we would see a vaccine maybe even by the end of the year, but in limited quantities," Swanson said.
The state would first distribute the vaccine to at-risk residents like front-line health care workers, and "over the next year we would see more vaccines available in the market, as well as production going up for the vaccines that are viable," he said.
Michigan United for Liberty
Michigan United for Liberty did not respond to multiple interview requests from Bridge Magazine, which sent emails to the group and filled out an online "contact us" form on its website. But online documents suggest at least six of the group's nine main organizers have ties to the anti-vaccination movement.
Jennifer Darling, who founded Michigan United for Liberty, was identified as a leader of Ann Arbor for Medical Freedom in a Feb. 3 letter to President Trump urging the White House to "prevent and remedy the persecution of people who choose to honor their faith by refusing or foregoing some or all vaccinations."
Organizer Ashley Phibbs of Metro Detroit has used her Facebook page to suggest a broad "agenda" behind the pandemic. She has urged people to "NOT GET TESTED OR GIVE NAMES" because "corona cops" could remove children from parents, a claim based on a link Facebook flagged as "false information" originating from a voluntary contact tracing program in Ventura County, California.
Protest organizer Erica Pettinaro is a lead organizer for Informed Choice of Michigan, a group that opposes vaccine mandates and is planning its own rally at the state Capitol this summer. Organizer Allison Claire describes herself as a mom, military spouse, domestic violence victim advocate and a "devoted activist for medical freedom," a phrase commonly used by activists opposed to government vaccination mandates.
Larner, one of the Michigan protest organizers, also has shared on Facebook what he called "extremely insightful" videos purporting to expose "Bill Gates' role in this plandemic."
Gates, the billionaire co-founder of Microsoft, has emerged as a central figure in COVID-19 conspiracy theories after vowing to use his philanthropic foundation to fight the virus and help fund the race for an effective vaccine.
"Humankind has never had a more urgent task than creating broad immunity for coronavirus," Gates said in an April 30 essay.
"Realistically, if we're going to return to normal, we need to develop a safe, effective vaccine. We need to make billions of doses, we need to get them out to every part of the world, and we need all of this to happen as quickly as possible."
But conspiracy theorists claim Gates is part of a global effort to hype up the coronavirus pandemic to promote the use of vaccines for profit.
During the April 30 protest at the Michigan Capitol organized by Michigan United For Liberty, one fully masked demonstrator held up a "plandemic" sign naming Gates while proclaiming "No mandated vaccines. No tracking chips. We do not consent."
"Plandemic" is also the name of a discredited documentary recently removed from Facebook, YouTube and other websites because of inaccuracies.
Karl House of Fraser, who carried a long gun but no face mask at that protest, told Bridge he thinks the coronavirus pandemic is "an attempt to put fear back into the people so everyone can go get Bill Gates' sterilization vaccines and he can make billions of dollars."
Gates does not profit off his foundation's spending on vaccines, said Navin, the bioethics professor. He rejected the conspiracy theories but said they may point to broader frustrations over the need for private philanthropists to act where government institutions have not.
"He's obviously not part of a worldwide conspiracy to kill people off with vaccines or with COVID-19 or something," Navin said of Gates. "But he's not accountable, and he's doing things that matter for all our lives, and that's a failure of our institutions."
Childhood immunizations plummet
Michigan vaccination rates have increased in recent years since the state began making it more difficult for parents of school-age children to opt out of school vaccine requirements. Parents are now required to attend educational sessions if they want to delay or decline immunizations.
But immunization rates are not as high as public health officials would like — and they've fallen off steeply this year amid the coronavirus pandemic.
Michigan orders for non-influenza vaccines plunged by 78 percent from April 1 through 23, compared to the same period in 2019, according to the Department of Health and Human Services.
Experts theorize the decline is a result of temporary medical office closures, compliance with the governor's stay-at-home order, parental fear over taking their kids to doctors' offices during the pandemic and other factors.
The number of non-influenza vaccine "doses" given to Michigan children 24 months and younger is down about 16 percent so far in 2020, and doses are down about 28 percent for adolescents between 9 and 18, according to the health department.
"It's pretty scary to us, because not only are we seeing our doses down, we're seeing our immunization rates drop," said Swanson, immunization director at MDHHS.
Fewer vaccinations could make it harder for the state to fight future outbreaks of measles or whooping cough that have popped up in recent years, he told Bridge.
"To me, that's a huge concern," Swanson said. "If kids — and adults — are not staying on schedule, that makes them vulnerable to vaccine-preventable diseases. In my view, the last thing we need right now is another disease that we have to start to combat."
Ann Arbor pediatrician Scott Moore said he's seen vaccines in infants and children tumble by more than a third in his practice during March and April, from 306 for that period in 2019 to 193 in 2020.
Moore said parents of these children are not "anti-vaxxers" ─ philosophically opposed to vaccines.
"It's fear of COVID-19," he said. "They are afraid to go into a physician's office and getting exposed to the virus. In their eyes, they want to wait a month or two until this dies down."
But if parents continue to put off vaccinations, Moore said he's concerned that could spark another outbreak of measles in Michigan.
"It's far more contagious than COVID," he said.
In Grand Rapids, Spectrum Health outpatient pediatrician Kara Willoughby echoed that fear. She noted that the measles vaccine is given to infants at age 1.
"If you think about how many children who turned one in the last two months and haven't gotten a vaccination, that's a big chunk of the population. That number is only going to rise."
As new COVID-19 case counts decline in Michigan, the state health department is preparing materials that will be sent to physicians recommending ways to re-engage with parents of children who may have missed scheduled immunizations.
"Obviously a lot of parents did want to stay home during this time, when they were afraid they didn't want to put their children at risk by taking them to a physician's office," Swanson said.
In 2014, Michigan had the sixth-highest rate of unvaccinated kindergartners in the nation. An outbreak of whooping cough at a Traverse City charter school late that year spawned more than 150 suspected cases. It appeared to be tied to parents wary of vaccinations, as 17 percent of Grand Traverse Academy kindergartners had parents who signed waivers exempting their children from immunizations.
State law at that time required parents to immunize school-age kids against communicable diseases such as measles, whooping cough, mumps and tetanus — unless they received a waiver that allowed them to opt out for medical, religious or "philosophical" reasons.
Michigan remains one of 16 states that still allows philosophical waivers.
To reduce the number of waivers, MDHHS in 2015 mandated that parents who want to opt out for non-medical reasons must sit down with a local health worker for an educational session on vaccine-preventable diseases before obtaining a waiver.
In the first year after that rule was enacted, MDHHS reported the number of statewide waivers dropped by 35 percent. But while the waiver rate dropped to 3.1 percent in 2015, it crept back up to 3.8 percent by 2018.
In 2019, Michigan saw its largest outbreak of measles since 1991 as Oakland County had 40 of 44 confirmed cases of the disease.
Only donate if we've informed you about important Michigan issues
See what new members are saying about why they donated to Bridge Michigan:
"In order for this information to be accurate and unbiased it must be underwritten by its readers, not by special interests." - Larry S.
"Not many other media sources report on the topics Bridge does." - Susan B.
"Your journalism is outstanding and rare these days." - Mark S.
If you want to ensure the future of nonpartisan, nonprofit Michigan journalism, please become a member today. You, too, will be asked why you donated and maybe we'll feature your quote next time!