Boarding a freighter in the Soo Locks to deliver 5 doses of COVID vaccine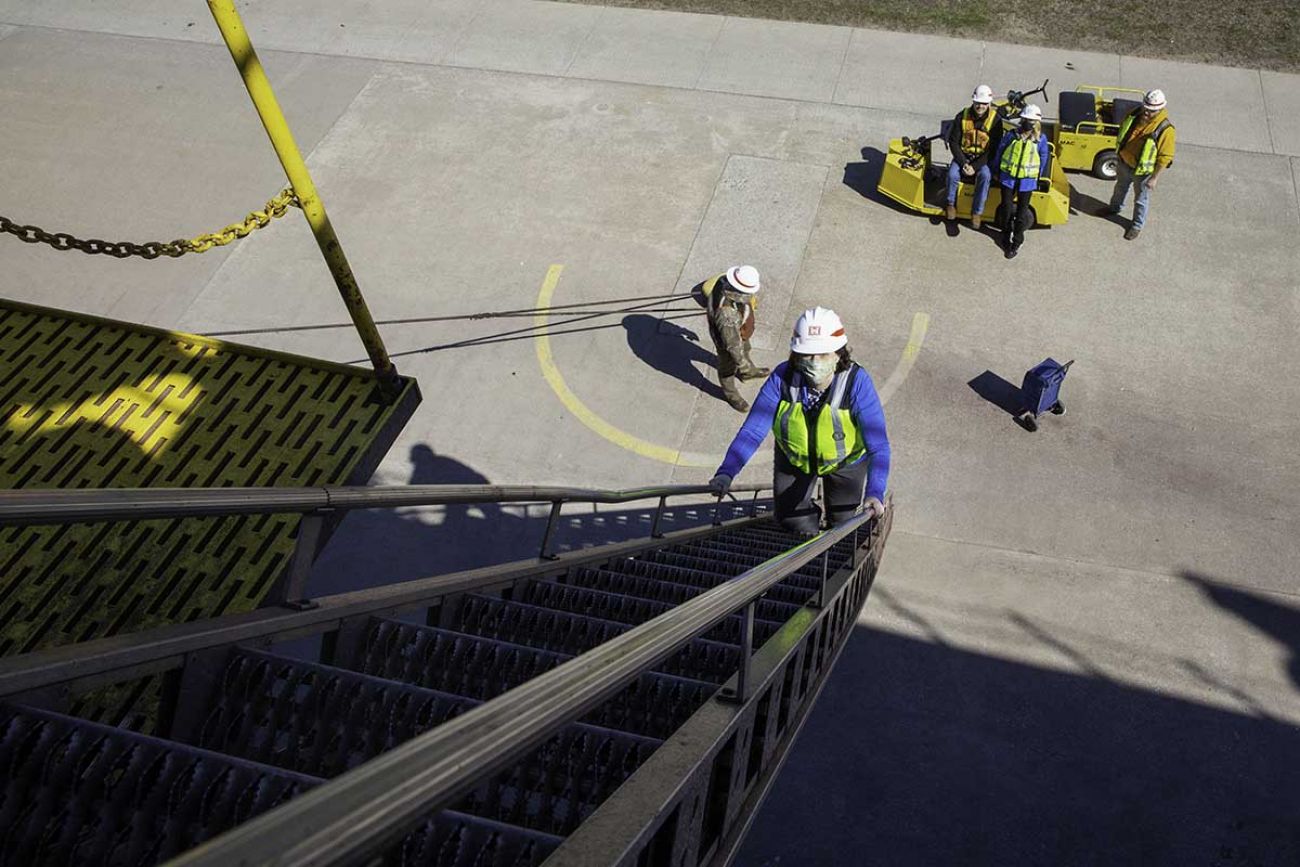 Jill Schaefer, 49, of the Chippewa County Health Department, disembarks the freighter, the M/V Lee A. Tregurtha, after vaccinating crew members Wednesday. (Bridge photo by Scott Laurson)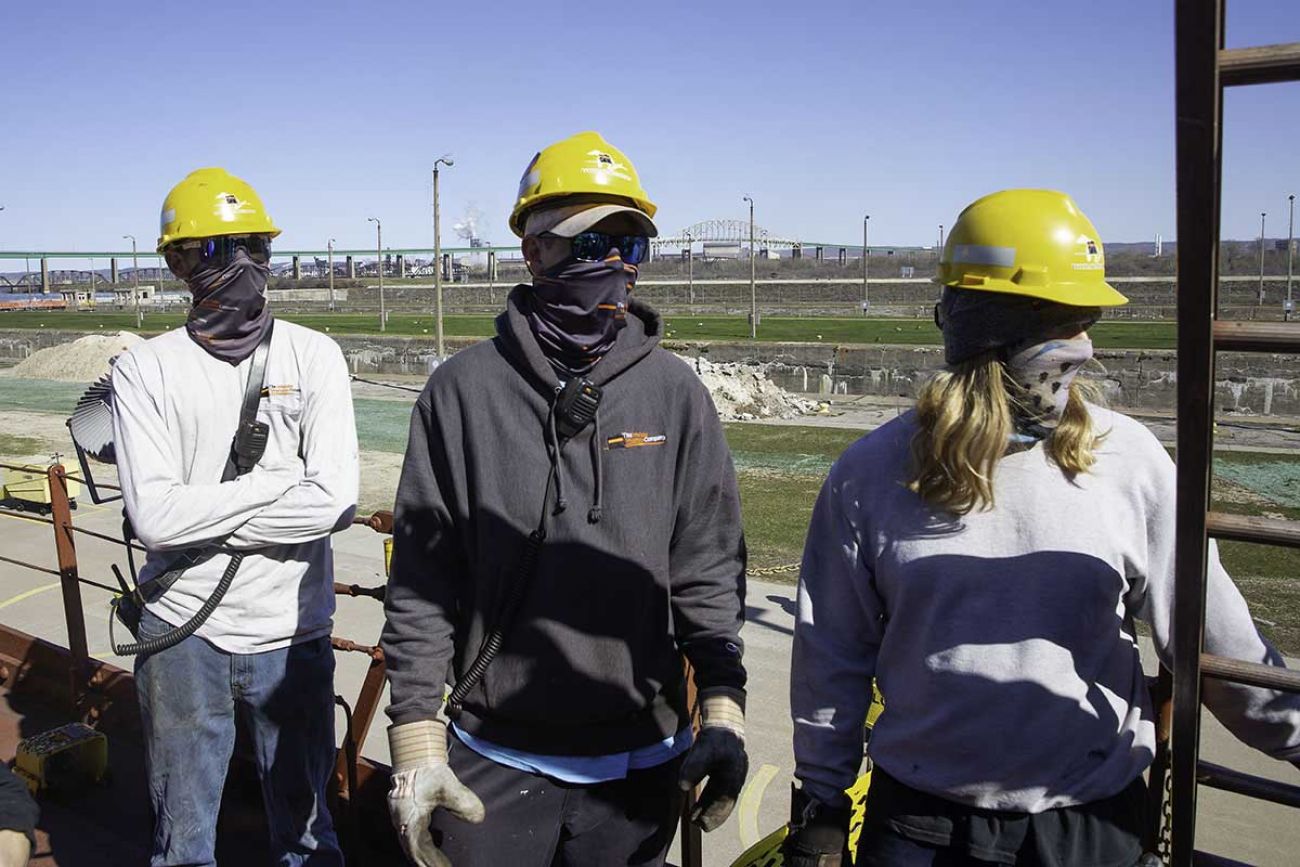 Freighter Lee Tregurtha crew members Scott Matis, 42, Isaac Drost, 24 and Gregory Myers, 26, awaiting public health workers for COVID vaccinations. (Bridge photo by Scott Laursen)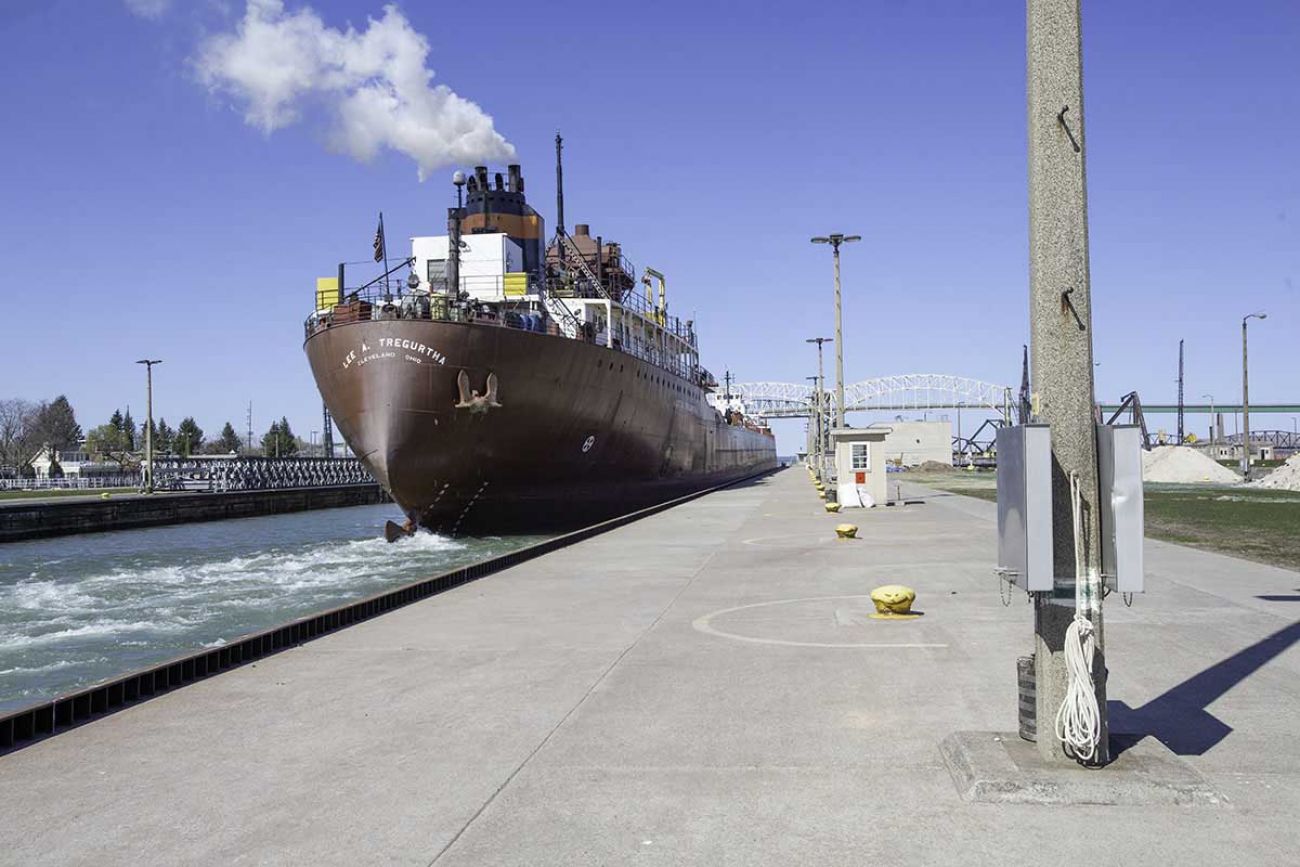 Great Lakes freighter the M/V Lee A. Tregurtha pulls away after stopping at the Soo Locks for COVID vaccines. (Bridge photo by Scott Laurson)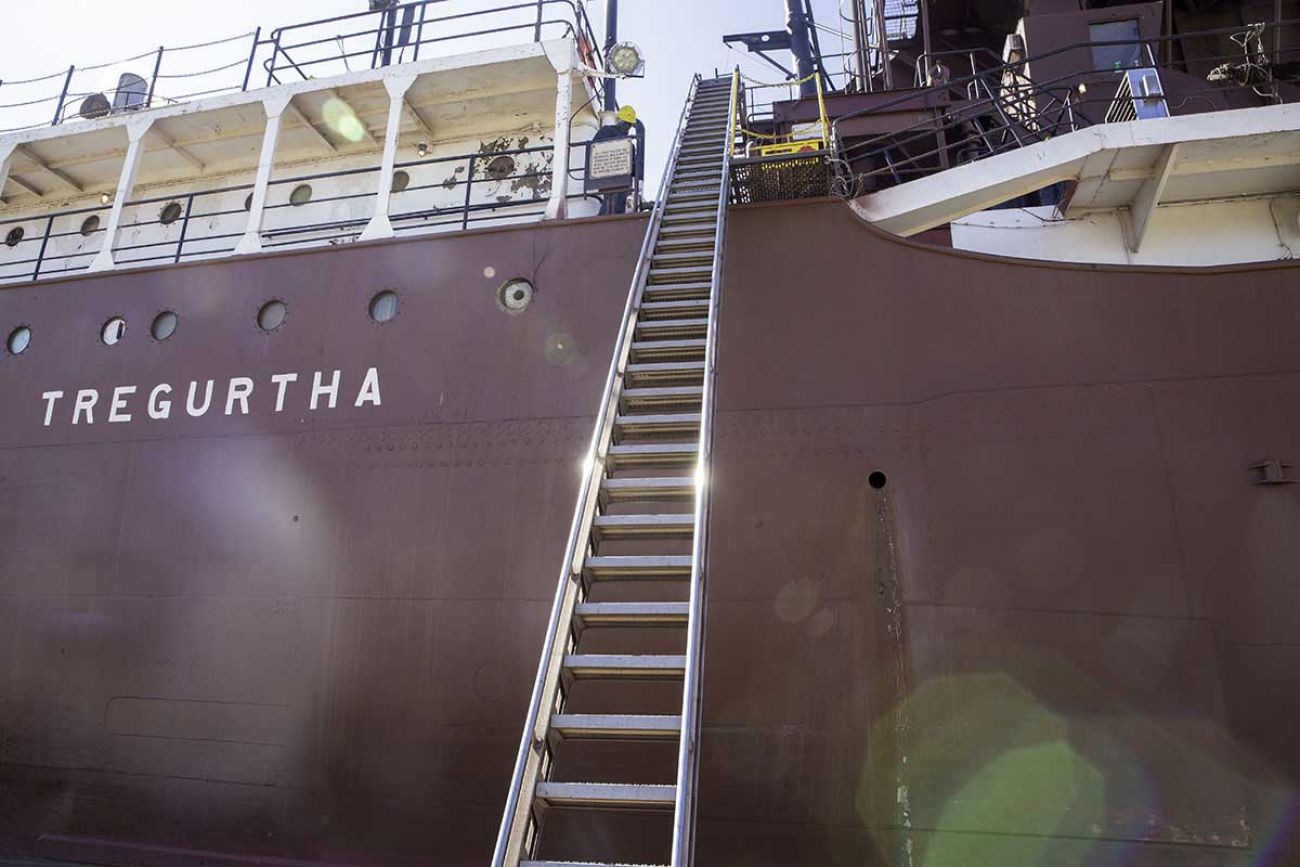 Great Lakes freighter Lee Tregurtha. (Bridge photo by Scott Laursen)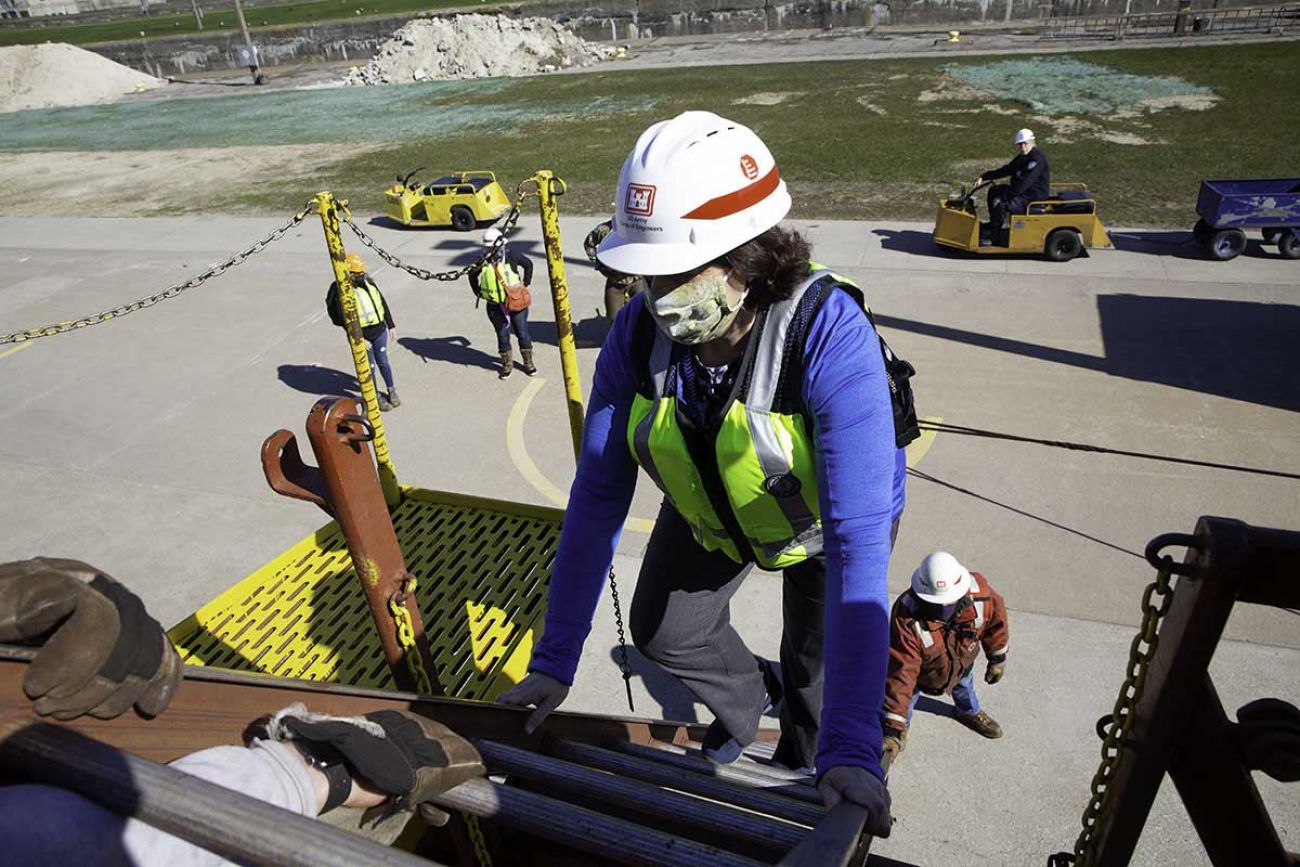 Public health worker Jill Schaefer, 49, climbing aboard the freighter Lee Tregurtha to vaccinate crew members. (Bridge photo by Scott Laursen)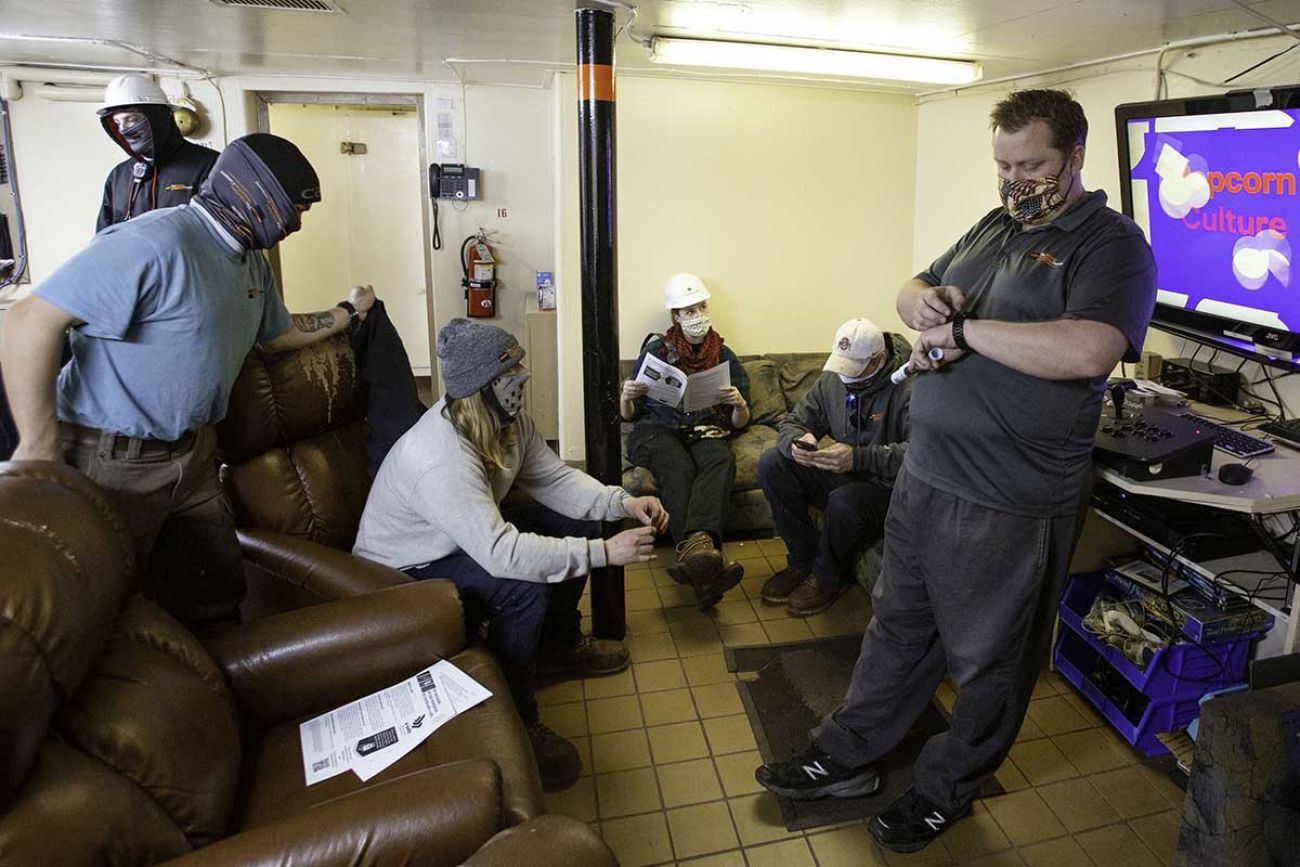 Lee Tregurtha crew members waiting for clearance after receiving COVID vaccinations by public health team. (Bridge photo by Scott Laursen)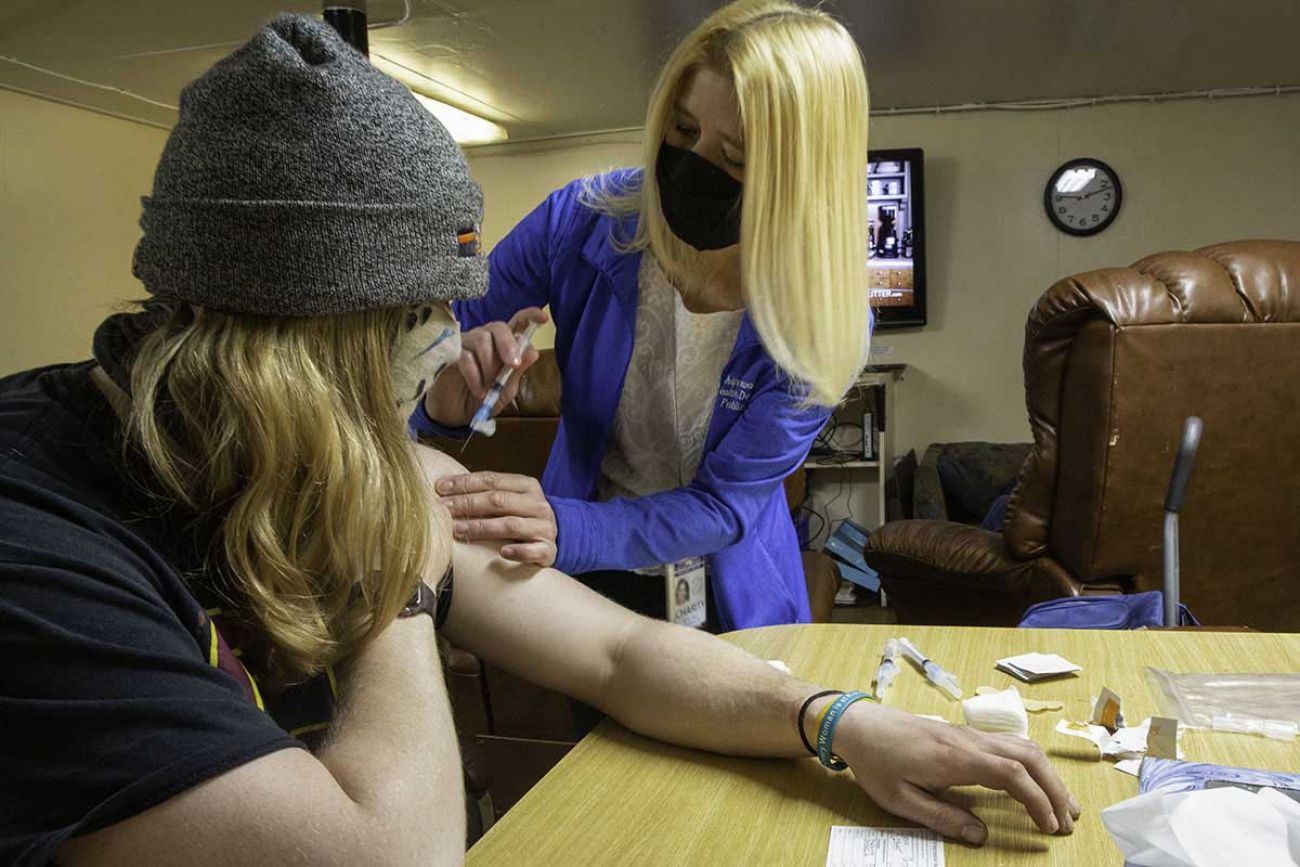 Public health nurse Charity Zimmerman, 48, administers a first dose of the Moderna COVID vaccine to Gregory Myers, 26, a mariner aboard the M/V Lee A. Tragertha. (Bridge photo by Scott Laurson)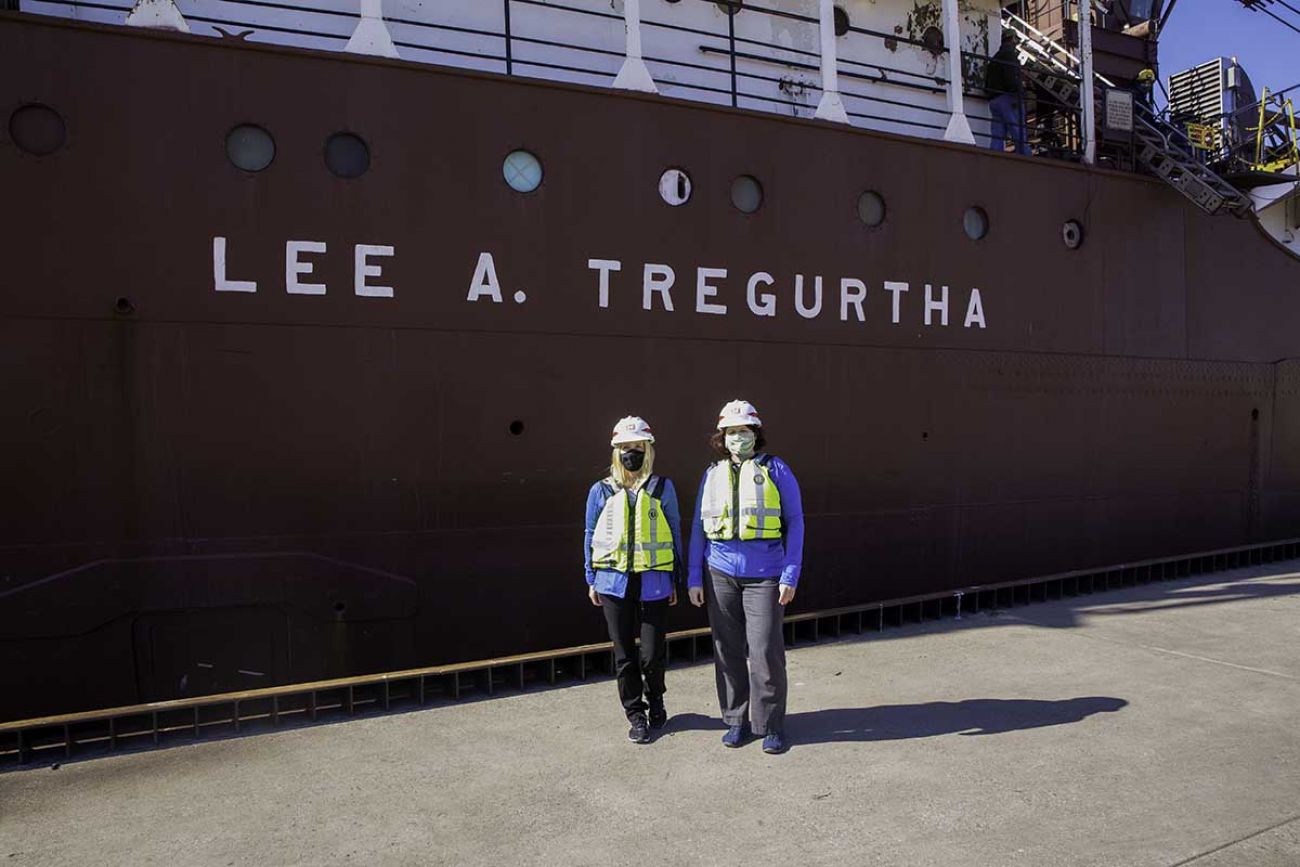 Public Health workers Charity Zimmerman, 48, and Jill Schaefer, 49, ready to board the M/V Lee A. Tregurtha to vaccinate the crew. (Bridge Photo by Scott Laursen)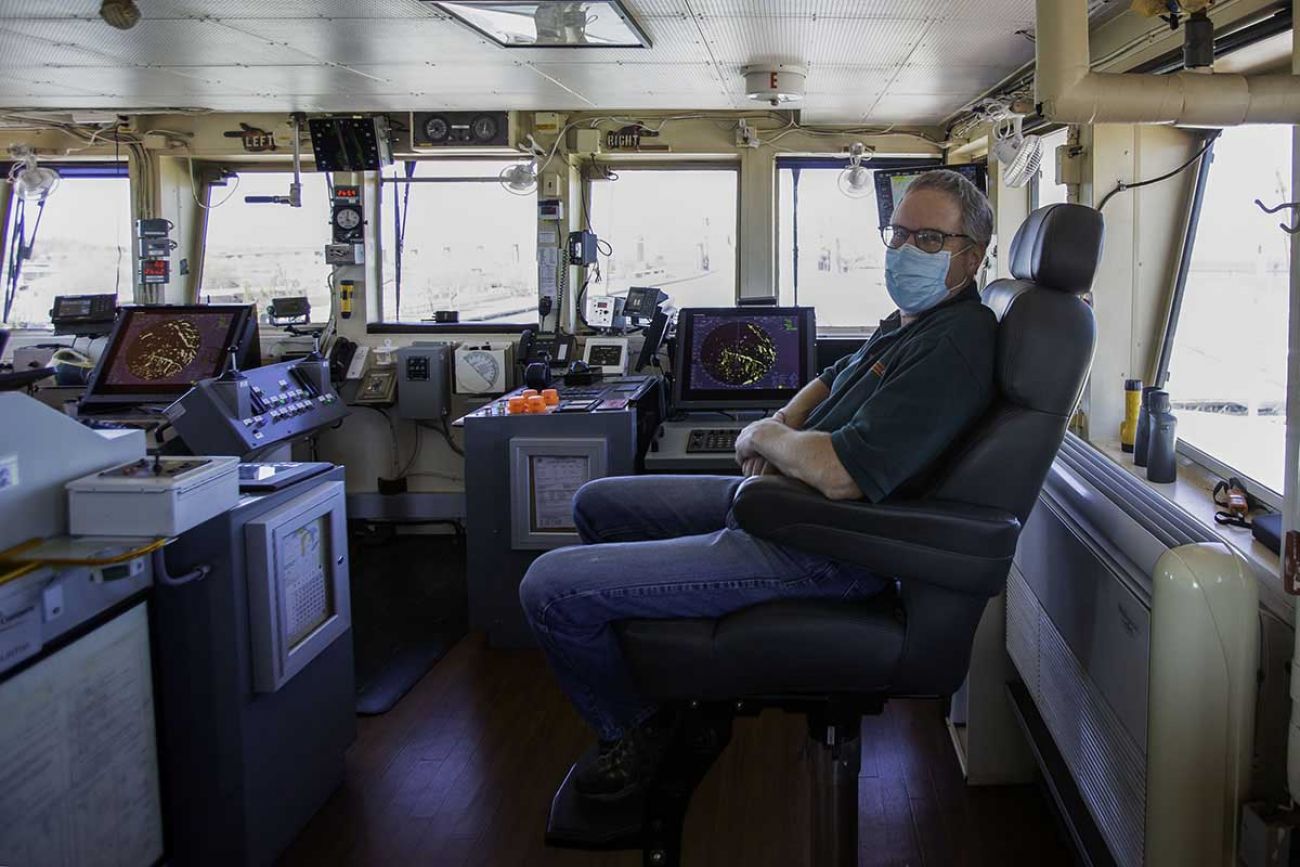 Freighter Lee Tregurtha 24-year veteran Captain Steve Hughes, 59 of Duluth MN. (Bridge Photo by Scott Laursen)
SAULT STE. MARIE—In hard hats and safety vests, the two women shimmy up aluminum boarding ladders onto a converted World War II tanker.
The rumble of the ship's 8,040-horsepower engine makes conversation near-impossible on this blue sky morning. But public health workers Charity Zimmerman, a nurse, and Jill Schaefer, a clerk, know the drill on these steel giants that travel through the Soo Locks, the iconic commercial squeeze point between lakes Huron and Superior.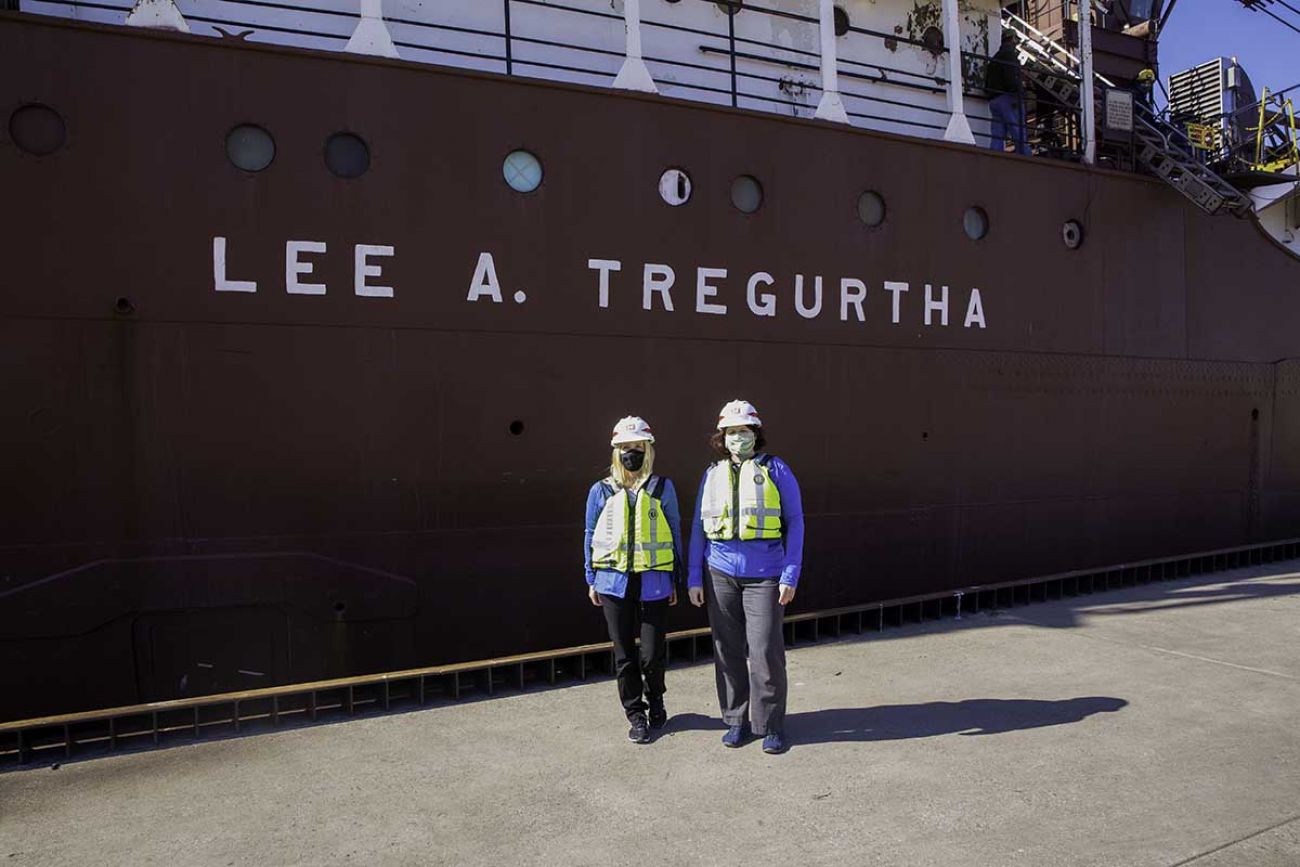 Public Health workers Charity Zimmerman, 48, and Jill Schaefer, 49, ready to board the M/V Lee A. Tregurtha to vaccinate the crew. (Bridge Photo by Scott Laursen)
The bright colors of their vests are a startling contrast Wednesday to the red-brown steel of the M/V Lee A. Tregurtha, an 826-foot-long vessel headed to the Marquette docks to load iron ore.
The women sidestep cables and cargo holds and make their way through narrow steel-framed hallways. For about an hour, a sparsely-furnished rec room serves as a pop-up COVID-19 vaccination clinic. They unzip a blue tote of first-dose Moderna vaccines, pull out paperwork, and go to work.
Related:
There is little time for chit-chat.
"It's deadline, deadline and deadline," First Mate Aaron McLauchlan said of round-the-clock work aboard a lake freighter. "A minute lost here and there turns into hours and days."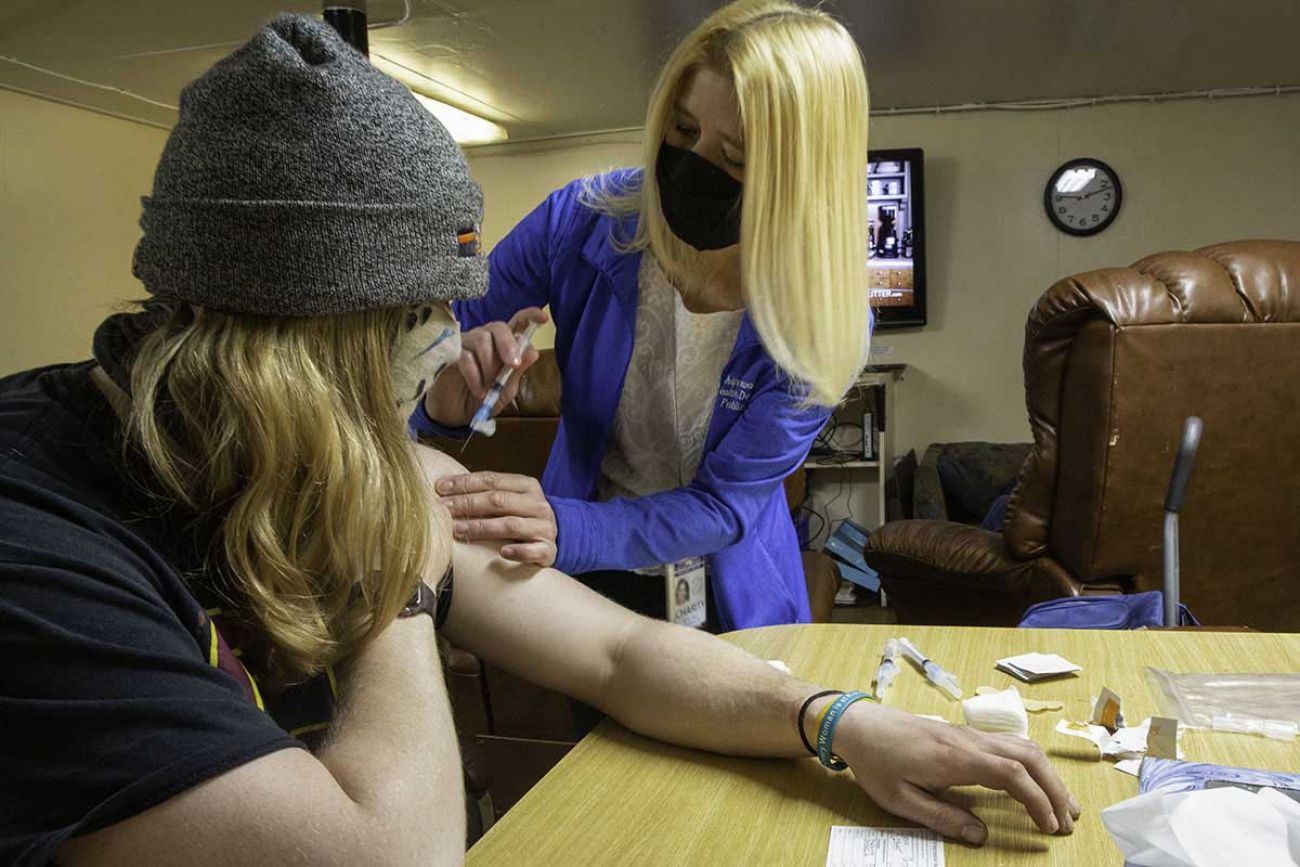 Public health nurse Charity Zimmerman, 48, administers a first dose of the Moderna COVID vaccine to Gregory Myers, 26, a mariner aboard the M/V Lee A. Tragertha. (Bridge photo by Scott Laurson)
It didn't take long: Just five crew members signed up for vaccine doses.
Five.
It's an extreme example of the day-to-day battle that public health workers are now waging across Michigan to vaccinate hard-to-reach residents amid an ongoing health crisis.
"Initially, there was an initial push for vaccines," Schaefer said. "Now we're getting those calls one at a time, and scheduling them one at a time."
Across the state, health workers face logistical complexities as they try to connect with the most isolated, the hard-to-convince, and — in the case of Tregurtha's cook, Matt Dillinger — the hard-to-find-time.
Like many, Dillinger works on the ship for weeks at a time.
"I don't consider myself a high-risk person, so I was content to let others get theirs," said Dillinger, 40, of Sandusky, Ohio. "Now I'm getting paid to get it. It's right here, and so why not?"
Late last month, Gov. Gretchen Whitmer tied a promise to lift state pandemic restrictions to a boost in residents getting their COVID vaccines. Michigan hit its first milestone Monday, when 55 percent of Michiganders age 16 had received their first dose, triggering a lifting of remote work requirements within two weeks.
When 70 percent of Michiganders receive at least one dose of a COVID vaccine under the plan, mask requirements and other broad restrictions will be lifted.
But just how quickly that will happen remains uncertain.
Michigan put about 376,000 vaccines a week into arms in early April, the peak of vaccinations. But that number has dropped by more than half — to just 180,000 the last week of April, the most recent week for which there is complete data.
Vaccination rates vary widely across regions, with nearly 70 percent of those 16 and older in Leelanau County having gotten at least one dose, compared to just 33.2 percent in the state's largest city, Detroit.
Seven Michigan counties are over 60 percent vaccinated — yet eight others are below 40 percent.
After months of waiting lists for limited doses of vaccines, officials now find there are more vials than local residents who want them, or can get to a clinic that administers them.
"We were on a steady pace on the track to 55 percent," said Norm Hess, executive director of the Michigan Association for Local Public Health, which represents the state's 45 local health departments. But getting to 70 percent vaccinated " is going to take different strategies."
Outreach efforts that for months have been led by public health nurses and the medical community will now shift to local community organizations; trusted groups that hope to leverage long-term relationships to reach "the people left behind," said Becky Cienki of Michigan Health Endowment Fund.
The Fund, a philanthropic effort usually focused on seniors and children, is set to approve $1 million in grants this week to fund partnerships that will send community groups door-to-door to register residents for vaccines, work with local shelters, and conduct street outreach to the homeless.
In Detroit, the Health Centers Detroit Medical Group, which serves the city's poor and uninsured among others, will work with the Detroit Area Agency on Aging to reach homebound seniors.
The center still has a full schedule of patients with heart disease, diabetes, high cholesterol and other ills, even as COVID vaccines are critical, too, said president and CEO Dr. Herbert Smitherman.
"We have the clinical expertise at giving vaccines; the Area Agency has the relationships to reach some of the seniors," he said.
It's a one-vaccine-at-a-time ground game, he and others across the state told Bridge Michigan.
"We are way past the stage where people were mowing down others and pushing their way to get a shot," Smitherman said. In addition to those who want a vaccine but haven't been able to get one, "we are left with the 'absolutely nots' and the 'I'll-wait-and-sees.'"
Such extraordinary efforts help ensure vaccines are distributed fairly, said Denise Crawford, president and CEO of the Kalamazoo-based Family Health Center. Many of the people without transportation or computer access to get vaccines are residents of Black and brown communities.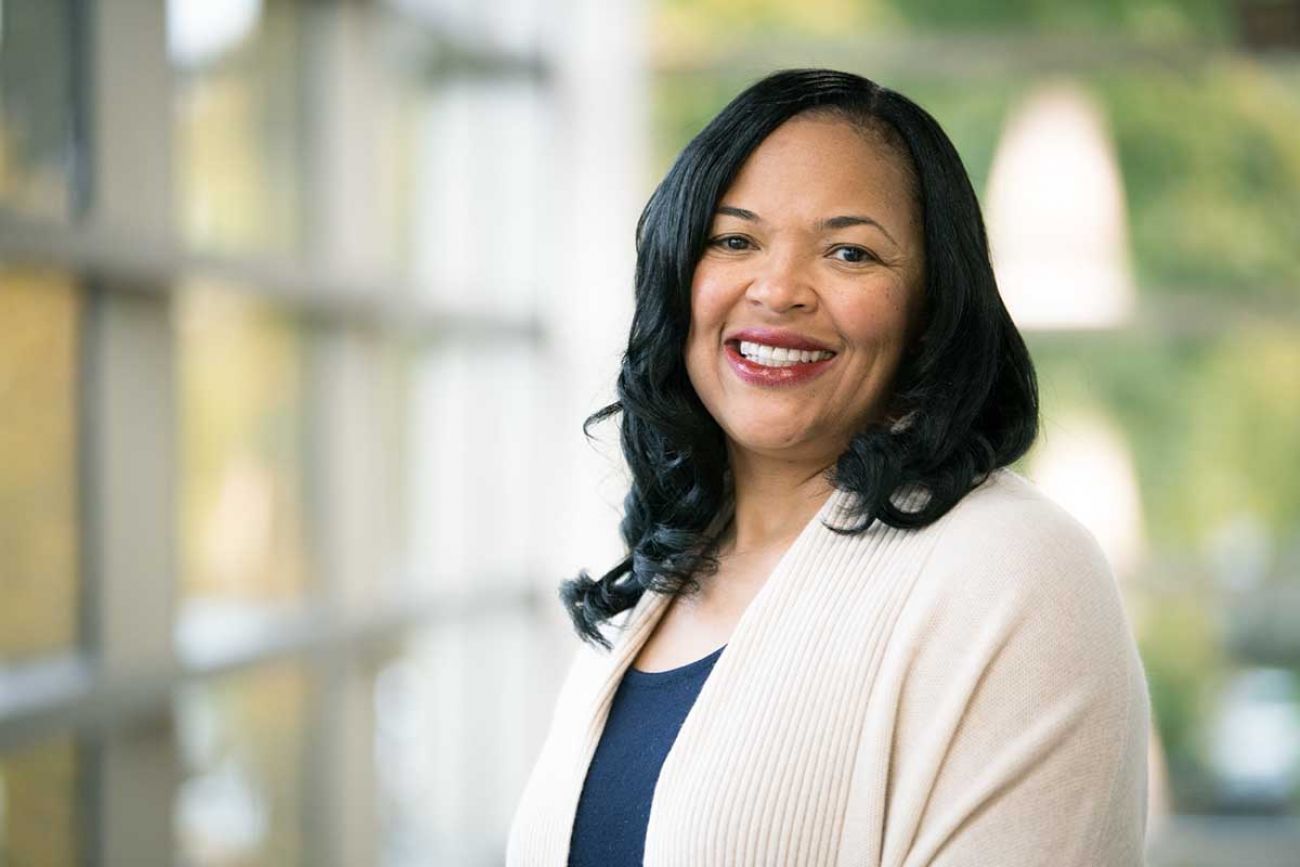 Extraordinary efforts to connect with the hard-to-reach help improve health equity, said Denise Crawford of the Kalamazoo-based Family Health Center. (Courtesy photo)
The Kalamazoo center is teaming with Mothers of Hope, a long-time, trusted "boots-on-the-ground" group that works with women battling substance abuse, she said.
Mothers of Hope has "walked the streets with these women. They've been there for them when others have not. They have street credibility that we as a health facility will never have the same ability to build," Crawford said.
"We are essentially borrowing their credibility. We went to them and said 'Can we use your reputation?' " Crawford said.
The response, she said, was immediate and enthusiastic.
"They knew exactly what party stores where we could use their parking lots," she said.
Mothers staff also suggested offering face masks, hand sanitizer, laundry detergent and bar soap. And a DJ?
"They said 'music is required,'" Crawford said.
In a weekend, more than 2,000 residents were vaccinated through the joint effort, Crawford said.
"We were blown away," she said. "They obviously know things we don't."
Aboard ship
In Sault Ste. Marie, the Tregurtha offers her own unique challenges to public health — not the least of which is bringing its round-the-clock schedule to a halt, if only briefly.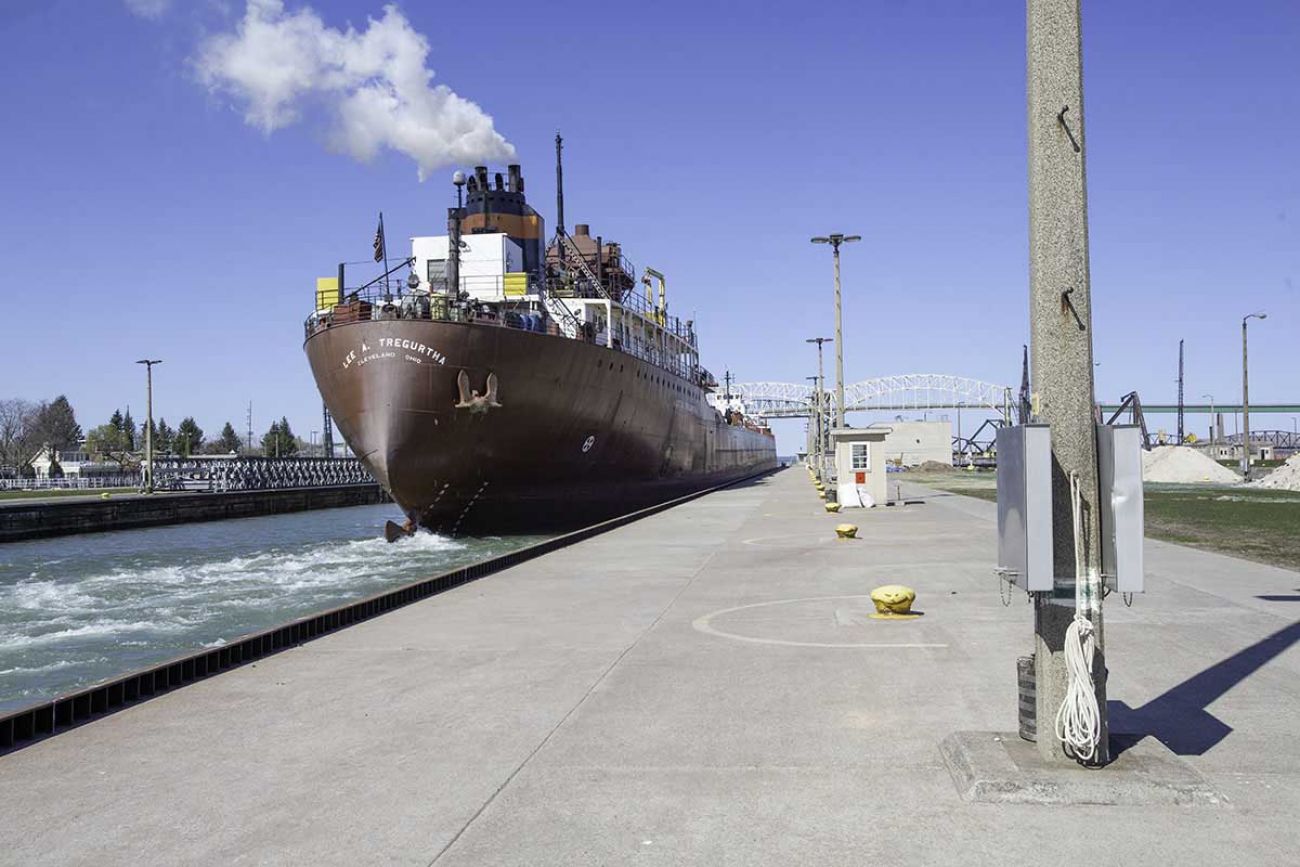 Great Lakes freighter the M/V Lee A. Tregurtha pulls away after stopping at the Soo Locks for COVID vaccines. (Bridge photo by Scott Laurson)
As the Tregurtha moves port to port, there's a constant turnover of crew throughout the Great Lakes states, with varying access to vaccines. Some crew stay aboard for weeks. But on a 24-7 freighter operation, it can be tough to coordinate with local health officials or stop the ship to allow crew to visit local vaccine clinics, said Capt. Steve Hughes, a 24-year veteran of the lakes.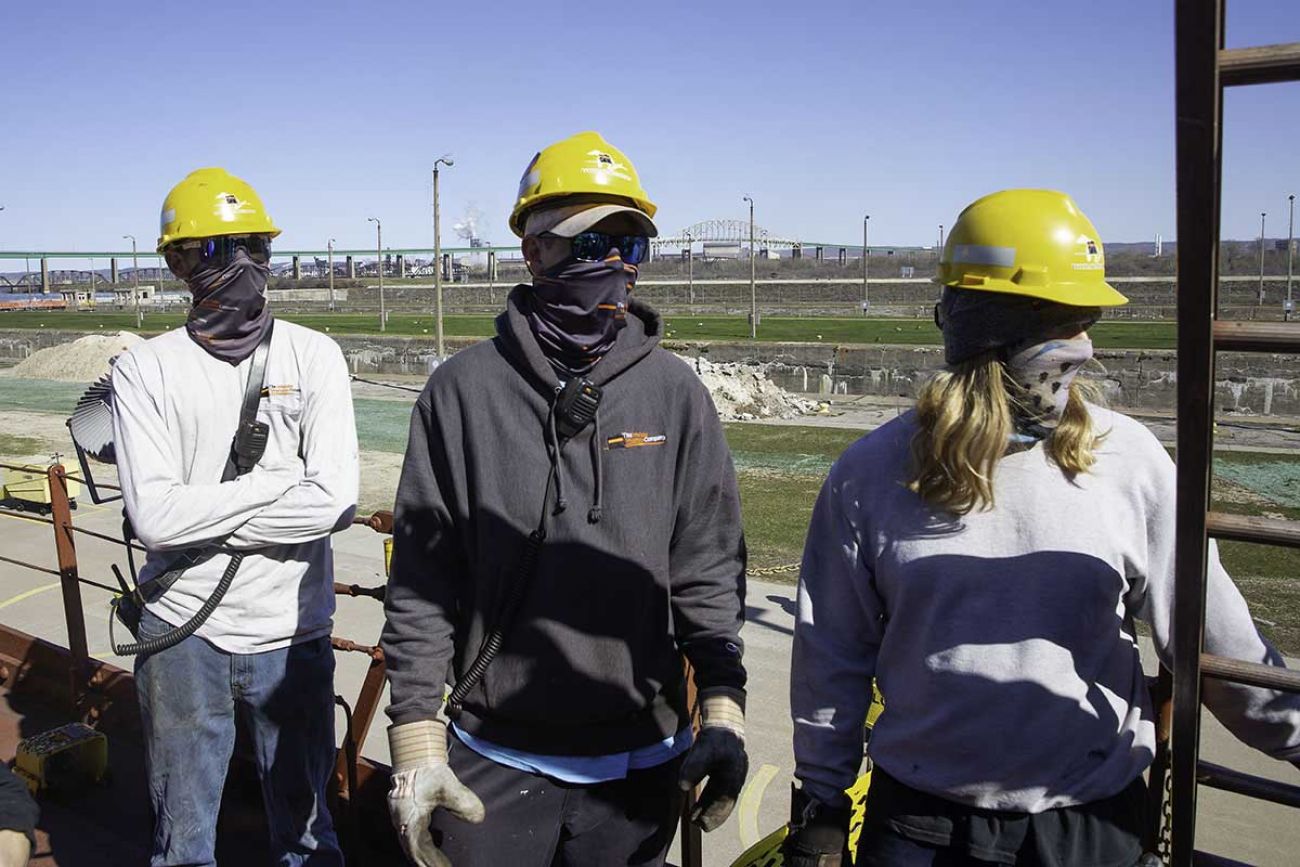 Freighter Lee Tregurtha crew members Scott Matis, 42, Isaac Drost, 24 and Gregory Myers, 26, awaiting public health workers for COVID vaccinations. (Bridge photo by Scott Laursen)
"We're sometimes passing through in the middle of the night or on weekends," Hughes noted.
In fact, the Shots on Ships program, which gets vaccines into crew members, is possible only through coordination with the Lake Carriers Association, the U.S. Army Corps of Engineers and the ship's owner, The Interlake Steamship Company. At least 86 mariners had already been vaccinated through the program. By the time the health workers boarded the Tregurther Wednesday, Chippewa County public health nurses, who administer the vaccines, had been welcomed aboard 25 ships this spring.
Six crew members received shots on an earlier trip through the Soo April 8. Hughes said he was fully vaccinated before he left his hometown of Duluth, Minnesota, and was eager to have his crew protected.
Crew "work and live in close proximity and share many of the same common spaces. If one mariner was to get infected with COVID, it has (the) potential of spreading through the ship fairly quickly," Hughes said.
A World War II-era tanker owned by Cleveland-based steamship company, the ship has been reconfigured numerous times since it earned two battle stars during WWII as the Chiwawa. The company says it served in the Atlantic and Pacific during the war.
In its current incarnation, it's 75 feet longer than Detroit's Renaissance Center, and roughly 250 longer than the main tower of the Mackinac Bridge, about an hour to the south.
On this morning, the crew's mood is both light — a vaccine stop is a short and welcome break in routine — and impatient. Iron ore awaits 10 hours away in Marquette.
Dillinger, the cook, stands after receiving his vaccine, pretending to stumble toward a wall, quipping that the crew will have to have cereal tonight for dinner, as crewmates laugh.
In the brief time it took to administer the five doses, the lock has filled, and the Tregurtha is now 21 feet higher. It's ready to head into Superior.
Data reporter Mike Wilkinson contributed to this report
Only donate if we've informed you about important Michigan issues
See what new members are saying about why they donated to Bridge Michigan:
"In order for this information to be accurate and unbiased it must be underwritten by its readers, not by special interests." - Larry S.
"Not many other media sources report on the topics Bridge does." - Susan B.
"Your journalism is outstanding and rare these days." - Mark S.
If you want to ensure the future of nonpartisan, nonprofit Michigan journalism, please become a member today. You, too, will be asked why you donated and maybe we'll feature your quote next time!