LAMBERTVILLE — A dozen rows of thick, all-but-empty wooden pews received Pastor Jim Britt's message Sunday in this southeast Michigan church. 
His message echoed off the sanctuary walls at Lambertville United Methodist Church, which normally hosts 100 or more people at its Sunday service.
"This is brand new, really for all of us," he told the 11 people who gathered, along with those who might be following a live-streaming system volunteers had frantically pieced together a day earlier. 
"So be patient." 
This is what coronavirus has done to worship in Michigan. By Sunday morning, the state health department had confirmed at least 45 cases of coronavirus in just five days. But already the emails, Facebook messages and robocalls had gone out from church, synagogue and mosque offices cancelling services, rescheduling others, or directing congregants to take specific steps to keep their distance from one another.
Ultimately, it meant emptied pews and deserted parking lots that normally would be packed for Sunday services. Passing the peace with a handshake and passing the collection plate had become a no-nos.
The Archdiocese of Detroit cancelled Mass altogether, while other Michigan dioceses had excused Catholics from attending services, especially the elderly and those with weakened immune systems who are most vulnerable to the new coronavirus, Catholic churches advised.
Triumph Church, which claims 35,000 members in Detroit and Flint, took a different approach, boosting services to seven days a week and requiring congregants to RSVP, in hopes of — pardon the expression — flattening the curve of church attendance.
It also discouraged "hand-shaking, hugging, kissing on the cheek and other forms of physical contact," and canceled outside registration and food services.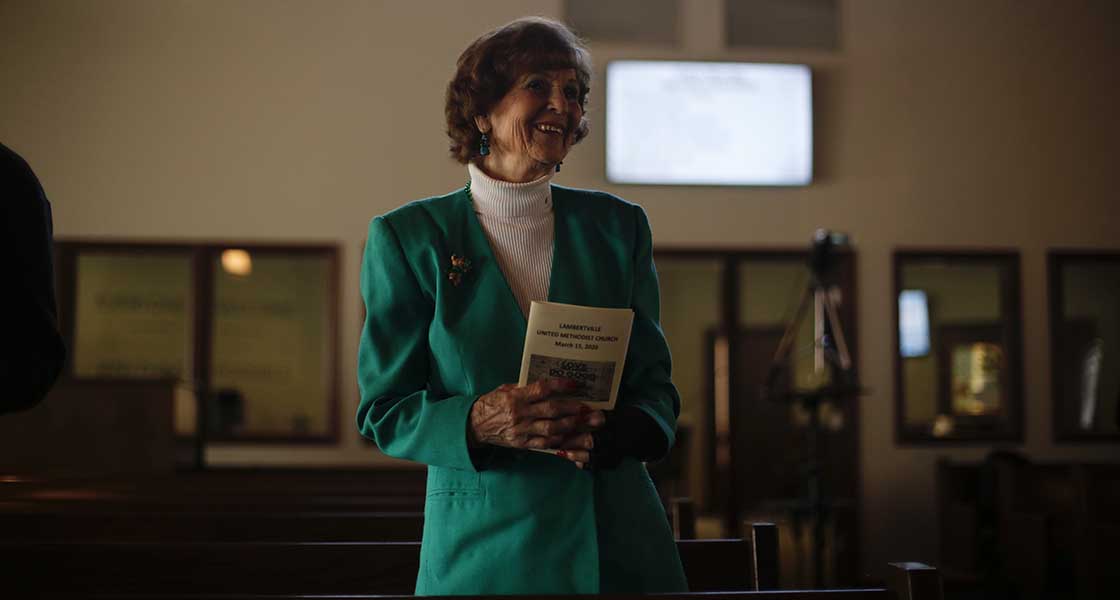 Standing in an all-but-empty sanctuary, Ethel Mull, 93, said she'd take her chances against coronavirus rather than suspending her weekly time of fellowship and prayer. She was one of 11 people Sunday at Lambertville United Methodist Church, which normally hosts 100 or more. (Bridge photo by Anthony Lanzilote)
Meanwhile, the parking lot at the massive Crossroads Community Church in Ottawa Lake remained without a single vehicle Sunday. Crossroads Pastor John Clark acknowledged in a video to congregants Friday that some might criticize as an overreaction his decision to cancel worship services and events "for the time being."
He stood firm.
"We believe that love compels us to do this — love for you, love for each other, and love for this region we call home," he said.
RELATED:
For its part, Lambertville United Methodist Church, where Britt is a pastor, sent out emails and texts Friday alerting members that Sunday services would be canceled. Britt told Bridge he wouldn't turn away anyone who arrived, especially on the first Sunday the church was trying out new computers to livestream the sermon.
Certainly, Ethel Mull would not be deterred.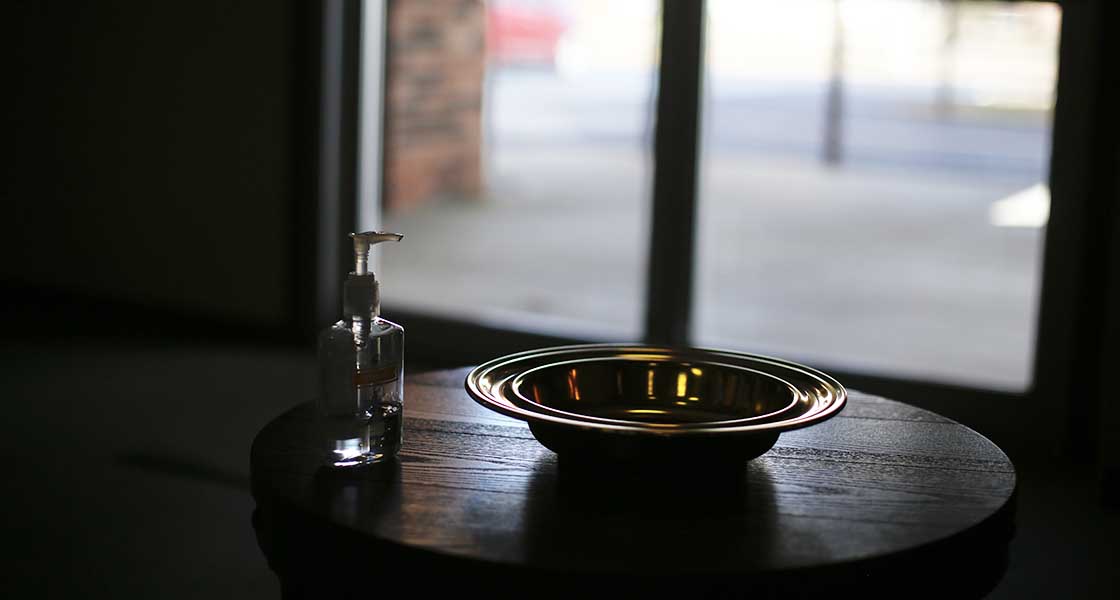 At Lambertville United Methodist Church in southeast Michigan, the few who gathered passed no collection plate. Instead, they were encouraged to use hand sanitizer and sit apart. (Bridge photo by Anthony Lanzilote)
Dressed in a green dress suit for St. Patrick's Day, the Temperance woman was the first to make her way to a pew, pausing only a moment as she surveyed a nearly empty church and squirted sanitizer into her hands.
Yes, she'd heard about coronavirus, but decided to take her chances. She is after all, she noted, just shy of her 94th birthday.
"We all have to die sometime," she said. "I mean, I don't want to get the disease, but if I get it, I get it."
For Ed Smith, 66, Sunday service is a time for fellowship, a place to refresh and refuel for the week. 
Smith, a truck driver and farmer, was confirmed and married here. His children were baptized here. So on this morning, like every Sunday, he walked through the mostly empty lot into his church.
"This is how I begin my week every week, and it's hard to quit," he said. 
The pastor asked the small gathering to forgo handshakes and instead wave to each other. He encouraged them to sit apart. The collection plate, normally passed, sat untouched at the front entry.
But the silent virus that kept the pews empty would be a part of Britt's message, and his prayers.
Kindness, he preached, can take on extraordinary meaning in a climate of fear, and Christians should put extra effort into their call of "doing no harm, doing good, and staying in love with God."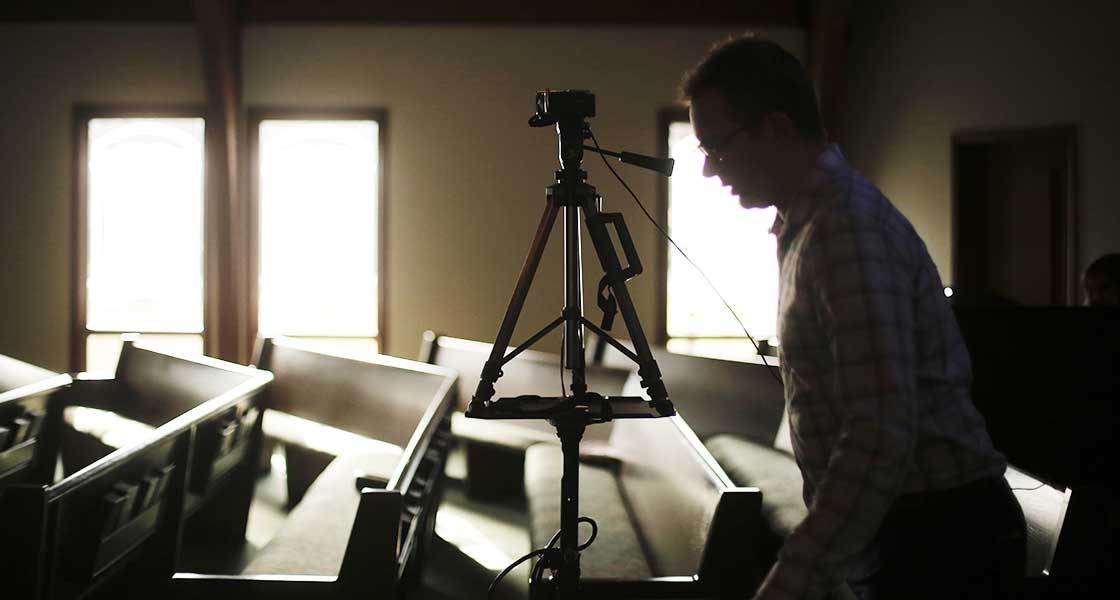 Many church services began live streaming services Sunday, including Lambertville United Methodist Church, where volunteer Dawson Chandler had set up new computer equipment a day earlier. (Bridge photo by Anthony Lanzilote)
Being patient and thinking of others can brighten lives in times of high anxiety, he said. There are small acts anyone can perform. 
Spark a conversation with someone in a long line. 
Call someone who's isolated. 
Send a letter to a nervous, confused child.
And be good stewards of the community by helping halt the spread of the  coronavirus through good choices, such as hand-washing.
In a conversation before the service began, the pastor said this was the reason churches were making hard decisions to cancel worship — to disrupt routines temporarily for the love of community.
"It's important," he told the congregation, "that we realize it's not just about us."