Federal authorities to weigh COVID vaccine for children 5 to 11 Tuesday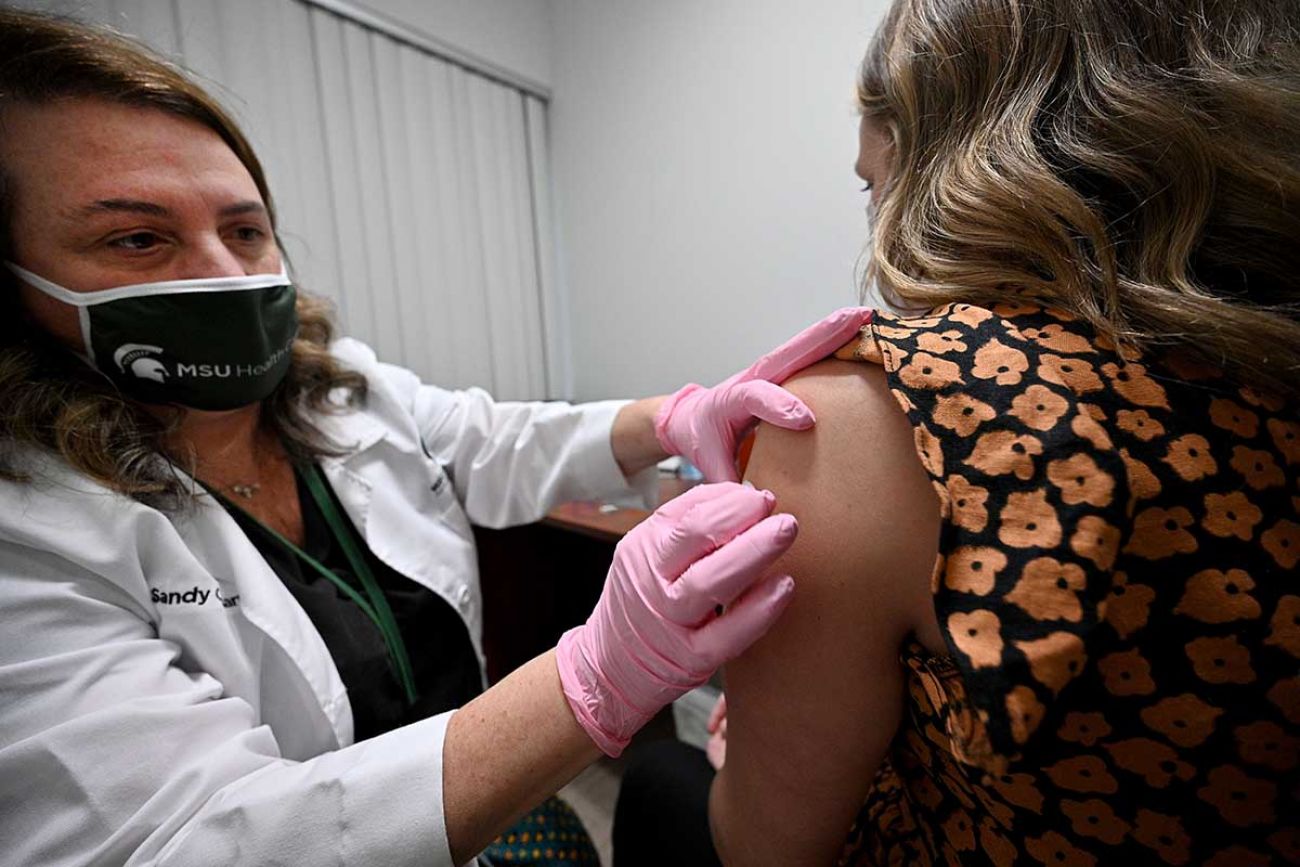 Sandy Campbell at the MSU Health Care pharmacy in East Lansing is a small part of the infrastructure readying for possible authorization of vaccines for children 5 to 11-year-old. (Bridge photo by Dale Young)
If both the U.S. Food and Drug Administration and Centers for Disease Control and Prevention sign off, the two-dose vaccines could be available to Michigan's 825,000 children in this age group as November opens.
Related stories:
(A second manufacturer, Moderna, signaled Monday that it too will seek federal emergency authorization for its two-dose vaccine for children 6 to 11 years old. Moderna said its vaccine was "generally well tolerated" and showed "robust" antibody levels.)
Counting on speedy approval, the Biden administration unveiled a plan last week to quickly distribute vaccines among the country's 28 million children in this age group once they are approved.
The pediatric Pfizer version contains one-third the dose it now offers to older children and adults. It will be packaged with orange caps rather than the purple version given to older patients and, under the Biden plan, sent to pediatric and family practice offices, federally-funded health clinics that serve primarily low-income families, children's hospitals and other providers.
Like the Pfizer product for adults, the children's vaccine can be stored up to 10 weeks in standard refrigeration and six months in ultracold storage.
Michigan health providers told Bridge Michigan the rollout will be tailored to address anxieties specific to younger children — including school-based clinics, likely long talks in pediatric offices to reassure nervous parents and smaller needles along with stickers, suckers and fidget toys.
"Vaccinating a 13-year-old is a lot different than vaccinating a 6-year-old," said Mike Henry, senior operations projects manager at Beaumont Health.
In Ottawa County, officials are "looking at, if we need an ice pack, does it have an animal on it?" said Jennifer Sorek, the county's public health preparedness coordinator. "We're looking at barriers we can put up between the tables...We have to think about how can we create open space that makes children feel comfortable?"
Health officials are seeking to immunize children as quickly as possible.
More than 450 Michigan children 11 and younger are infected with COVID each week, according to the latest data from the Michigan Department of Health and Human Services. And while severe illness from COVID is rare in young patients, Multisystem Inflammatory Syndrome in Children, a serious condition in which a COVID infection inflames organs and tissues, has been reported in 169 Michigan children, with 70.2 percent of those children admitted to the ICU.
"We want to make sure that it is available and available fast," said Sorek of Ottawa County. She said her department is "surveying" pediatricians' offices and pharmacies to determine what supplies they may need and whether they have ultra-cold storage space to house the doses.
But first: federal hurdles.
In documents sent Friday to the FDA, Pfizer signaled its vaccine is nearly 91 percent effective in children 5 to 11-years-old. It submitted results of a study of 2,268 children in which about one-third of the children (751) received a placebo and two-thirds (1,517) received the vaccine. Researchers reported that 16 children who received the placebo got COVID, compared to just three in the vaccine group.
There were no reports of myocarditis (inflammation of the heart muscle), pericarditis (inflammation of the heart's outer lining), anaphylaxis (severe allergic reaction) or death, but Pfizer, in its briefing documents submitted to the FDA, noted the sample group of children was too small to determine the precise risk of myocarditis, and those studies will continue. Another study, though, indicates that COVID infection is more likely to cause myocarditis than the vaccine.
The FDA indicated the growing threat of severe COVID cases presents a greater threat to children than the rarer side effects from vaccines. The agency wrote Friday that research suggests "the numbers of clinically significant COVID-19-related outcomes prevented would clearly outweigh the numbers of vaccine-associated excess myocarditis cases."
FDA's advisors meet this Tuesday and CDC advisors meet Tuesday and Wednesday of next week to discuss the results.
Anxious parents have been asking for months about the vaccine, said Dr. Jonathan Gold, a pediatrician at MSU Health Care, who also chairs the governmental affairs and advocacy committee of the Michigan Chapter of the American Academy of Pediatrics
"It runs the gamut," he said. "I certainly have some families in my practice who have been asking for months, 'When do you think my kid will get on the list?' … There are families who ask questions, but they're a bit more nervous, and then there's the group that says, 'I don't plan on giving my kid a vaccine.'"
He said he tries to reassure them.
"I trust the process, and that's what I tell the families," he said. "I already had those discussions with (families) of 12- to 17-year-olds. We have lots of data. The data is reassuring. The vaccine is safe. The vaccines are effective."
For its part, MSU Health Care, which had been delivering vaccines to older children through its pharmacy, will now shift the effort toward pediatric offices where children may feel more comfortable, MSU Health Care pharmacy manager Sandy Campbell said.
Vaccinating young children isn't new, but the enormity of it happening so quickly is the latest challenge for a healthcare system that has been feverishly reworking protocols and practices during the pandemic. Campbell moved the pharmacy to online scheduling, delivery and curb-side pick-up, and established its first drive-through program for flu shots.
"We've had some very long hours," she said. "It's about thinking outside, way outside, the box and moving quickly and being flexible and being able to mold into whatever comes up in (a COVID reality) that is ever-changing."
We're not just a news organization, we're also your neighbors
We've been there for you with daily Michigan COVID-19 news; reporting on the emergence of the virus, daily numbers with our tracker and dashboard, exploding unemployment, and we finally were able to report on mass vaccine distribution. We report because the news impacts all of us. Will you please donate and help us reach our goal of 15,000 members in 2021?