Long COVID patients, dismissed by doctors, turn to art to show their pain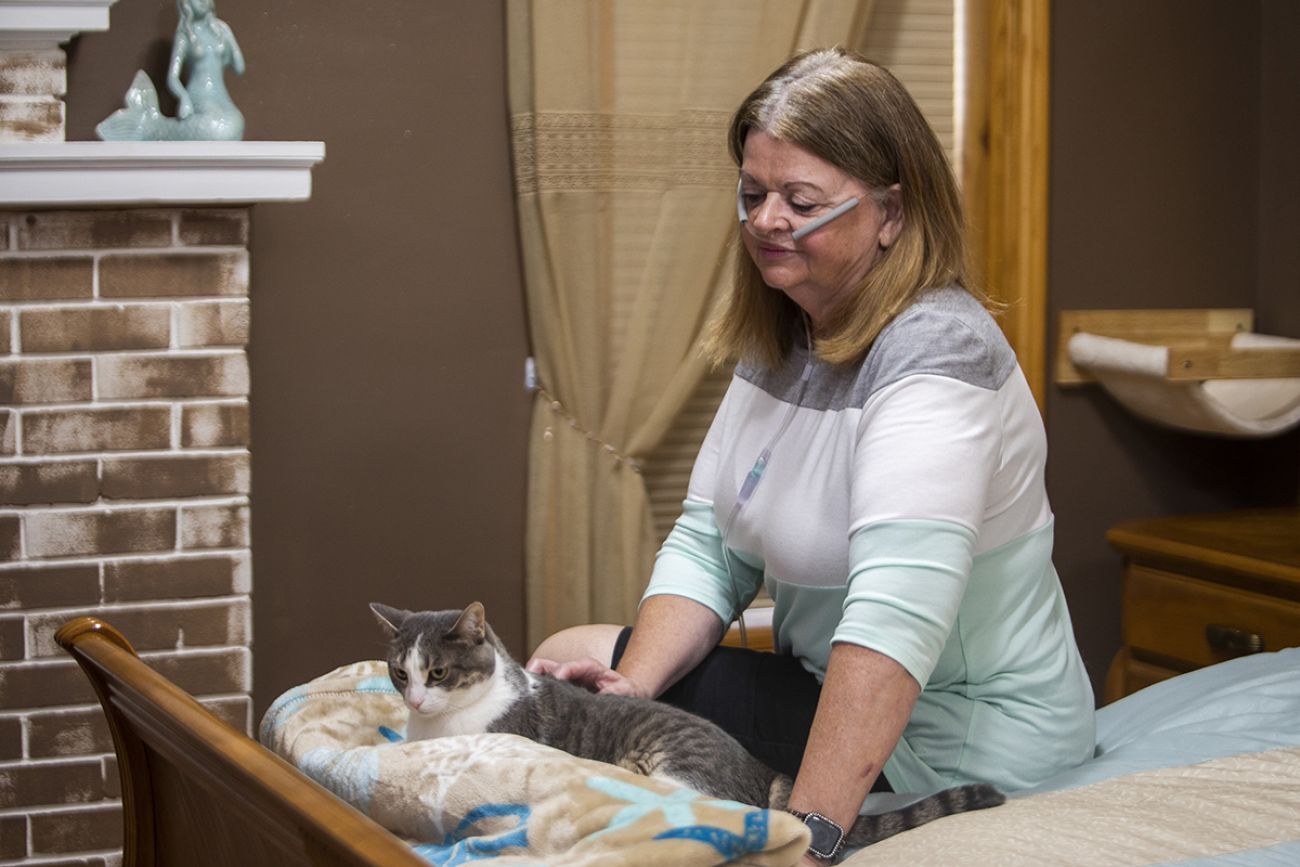 Karen Taylor, 65, pets her cat, Princess, at her home in Caro. A former nurse practitioner and half-marathoner, Taylor used "body mapping" to communicate how she feels she has been dismissed by doctors who don't believe her when she details her long COVID symptoms. (Bridge photo by Katy Kildee)
Long COVID confounds doctors with its sometimes mysterious set of symptoms that vary among patients and come and go
1-in-5 people may suffer from long COVID after infection, but estimates vary
A Detroit body mapping project may help doctors better understand the condition and, hopefully, treatment
---
DETROIT—In bold strokes, bright colors and jagged sketches that scream of pain and disbelief, 19 patients hope to better define what doctors have not fully been able to understand.
A year-and-a-half after first contracting COVID-19, Karen Taylor, formerly a nurse practitioner and avid runner, gets so winded some days walking to get her mail, she has to sit on the lawn and rest. She is one in a growing number of Americans suffering the lingering effects of COVID long after infection.
"You could write a book on everything that has happened," Taylor said.
Faced with a six-foot roll of brown paper that arrived at her home in Caro, in Michigan's thumb, Taylor is one of 19 patients with long COVID asked to visualize what Sara Santarossa, the scientific director of the Henry Ford Health Patient Engaged Research Center, called their "COVID journey."
"You ask (yourself): What is the message I want to tell? Because you could just write pages and pages," Taylor said.
Related:
The challenge for the patients and as it turns out, for doctors and researchers, too, is where to start.
Long COVID has proven insidiously ambiguous and tough to define. The constellation of life-altering symptoms reported by some patients with COVID vary from person to person, and in some cases can flicker on and off.
Medical instruments can reveal some of COVID's lingering problems — things like blood clots, kidney failure, or respiratory issues. Rashes and hair loss are easy to see, and persistent coughing easy to hear.
But patients also have complained of a constellation of symptoms that aren't as easily confirmed — brain fog, memory loss, fatigue and anxiety and pain that may come and go unexpectedly.
In Detroit, health researcher Sara Santarossa wondered: Could patients communicate their experiences more deeply by visually mapping them?
"A lot of time research is done from the top down," Santarossa said. "The scientists decide what the research questions are and what we're going to study. This, you can think of in the reverse.
"We're going to the patients first: What is important to them. What do we need to look at to help and support them?" she said.
This winter, tubes of six-foot brown paper arrived in FedEx tubes at the homes of the 19 patients across Michigan, including the Upper Peninsula, along with bubble-wrapped crayons and paints.
"I looked at this like 'What am I supposed to do with that?' said LaQuitta Brown, a 42-year-old Detroit mom of three, laughing at the memory.
But over time, the participants' symptoms began to take shape in brilliant colors and cut-outs of pictures and words cut from magazines or printed from websites.
At the center of Taylor's body map are her lungs, constricted with strands of barbed wire that tangle around her left arm. A yellow caution sign takes the place of her head: "Subject to dense fog," it reads.
For Brown, there's the burning sensation on her arms and neck that comes unpredictably, followed by the rash that lingers then disappears. There are the migraines, too — colored in bold black strokes on her body outline. There are squiggly red lines up and down her arms and legs — pain that appears, radiates, then vanishes.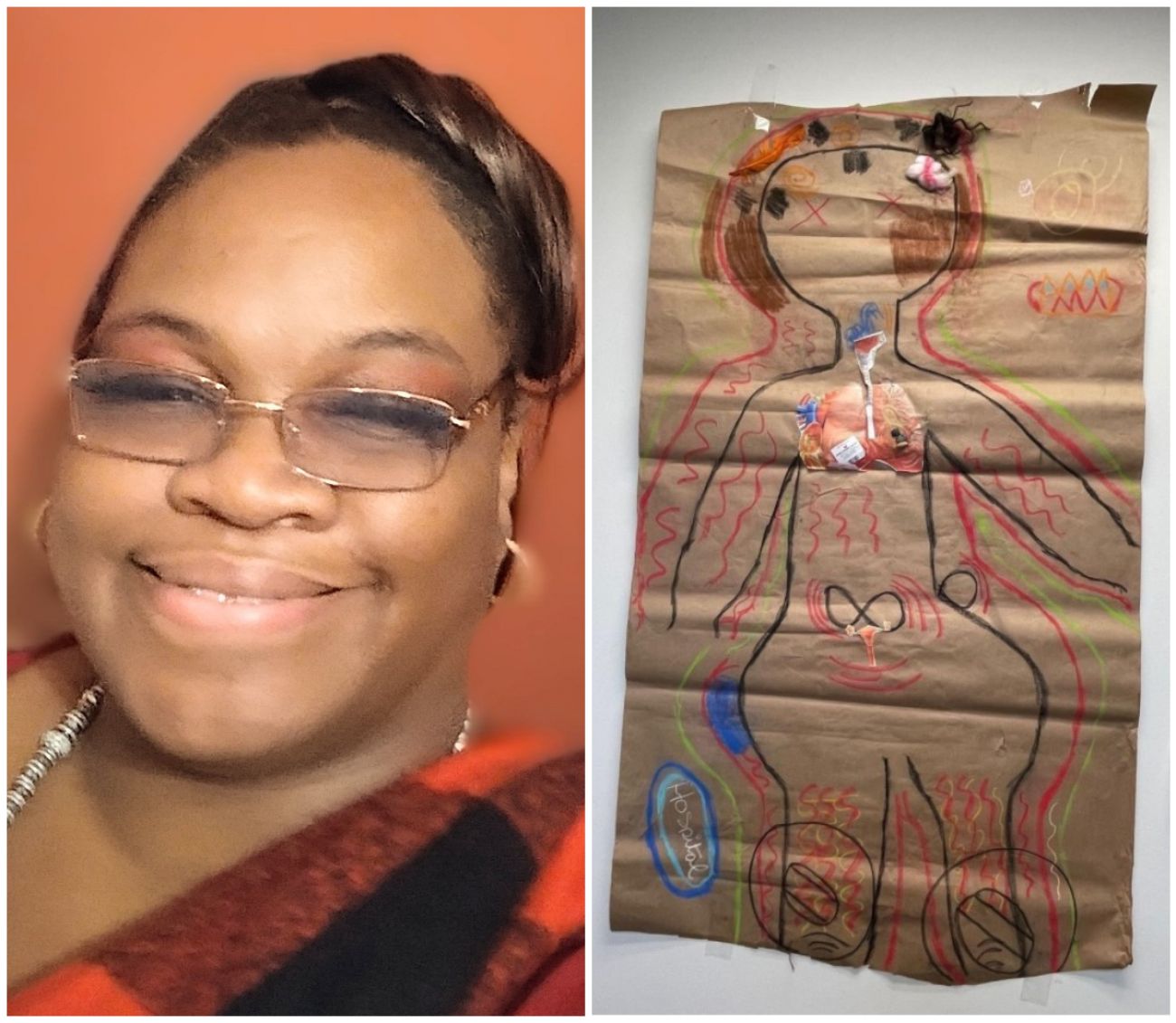 (Courtesy photos)
And there are three pebbles glued to her lungs. Purchased at a dollar store, she said they represent the inability to catch her breath at times.
Many sufferers, few answers
Estimates vary on the number of people who suffer from what the Centers for Disease Control and Prevention calls post-COVID conditions or, more technically, "post-acute sequelae of COVID-19."
Nearly one in five adults who have had COVID report suffering from long COVID symptoms three or more months past initial infection, or about 16 million working-age adults, according to a recent survey by the U.S. Census Bureau in its Household Pulse Survey. Those numbers echoed similar findings in May based on medical records data by the CDC.
Another estimate, by the U.S. Government Accountability Office in March, said the number could be as high as 23 million people.
With long COVID's mysterious, flickering symptoms, there's also a question of timing. At what point does a lingering symptom of infection become a diagnosable condition with defined treatment plans that can be billed to insurers?
And some patients, including those in health care professions, say doctors are sometimes skeptical when they describe their symptoms.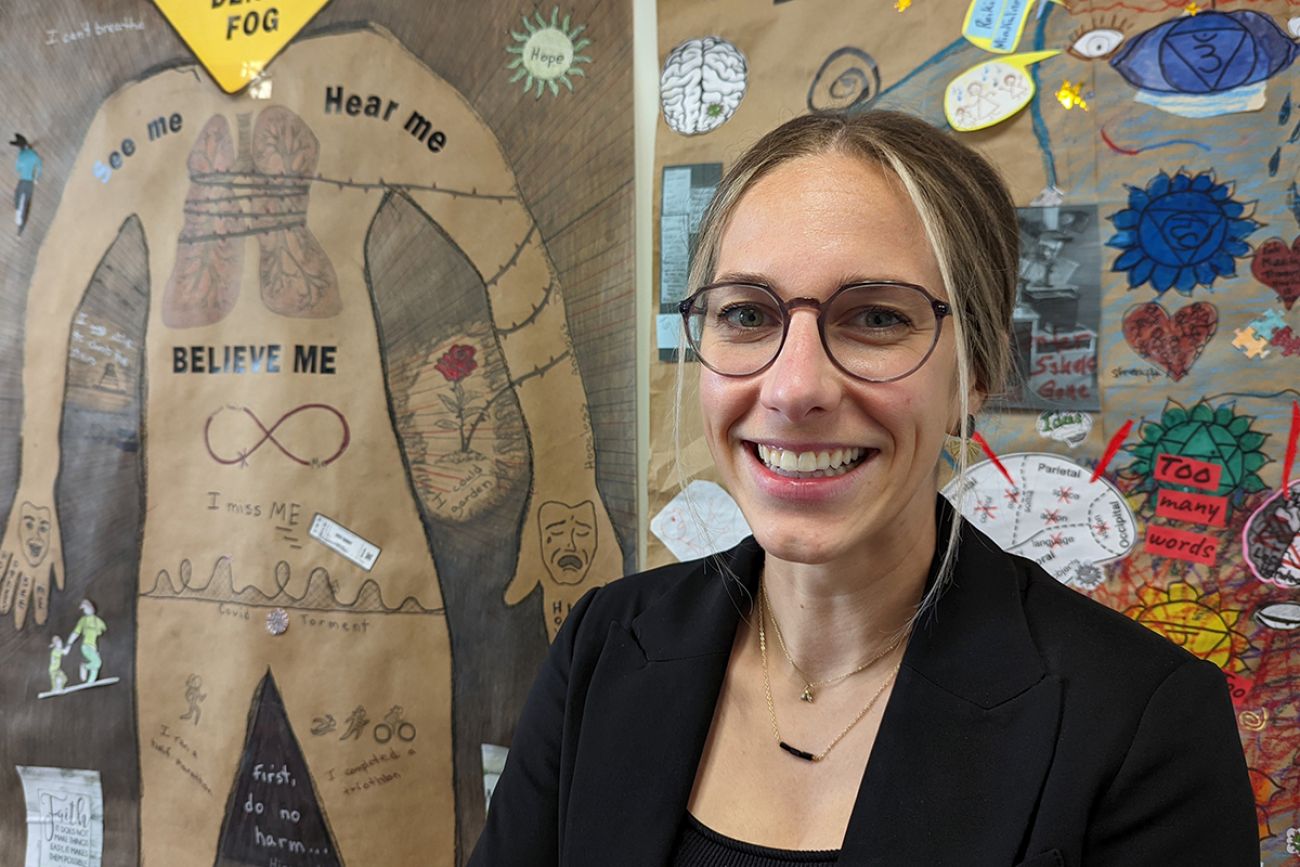 At Henry Ford Health in Detroit, researcher Sara Santarossa said frustrated patient-artists want their stories heard. Behind her, Karen Taylor's body mapping shows her lungs constricted by barbed wire. (Bridge photo by Robin Erb)
Among them is Taylor, who said her body mapping theme was clear soon after the cardboard tube and bubble-wrapped art supplies arrived earlier this year: She wanted to show her anger and frustration for not being believed.
Taylor was infected by COVID in the spring of 2021 and struggled so hard to breathe at times she said she feared she would die.
In one of her drawings, the Grim Reaper stands in her bedroom over her body as she sleeps. An angel rests on a fireplace mantel.
At doctor's appointments since her infection, Taylor has brought readings from her own pulse oximeter to doctors, showing them her blood oxygen levels at times dipped into the 70s, from the normal 95 to 100. A half-marathoner just a few years ago, she now struggles to breathe during simple tasks, like collecting her mail.
"I've had to sit down on the floor of a Hobby Lobby," she said. "I thought I was going to pass out."
She said that when she relayed her symptoms to one doctor — not at Henry Ford — she was told to go home and drink tea and honey; another suggested she see a psychiatrist.
Taylor was furious.
"I had known him for five minutes," she said.
That doctors have doubted her is particularly hurtful, she said, given her past as a nurse practitioner.
As a health care worker, she said, "you look at the medical community as your work family. It's not like we have VIP treatment, but at least you would have a level of believability because of your degree in the medical field," she said.
"That doctor gave me a diagnosis of a behavioral disorder, which is now a permanent part of my chart that I can never have removed," she said.
Conversations like those, she said, inspired one of her sketches: "I am NOT crazy," it reads.
And across Taylor's body mapping are bold black letters: "See me. Hear me. Believe me."
The frustration of not being taken seriously can feel even more acute for women of color, many of whom with long COVID have joined support groups with other women. Some Michigan hospital systems have also organized support groups for patients with long COVID.
Frustration, along with the uncertainty of long COVID, was a recurring conversation between Santarossa and project manager, Dana Murphy, and the 19 patient-artists during a series of virtual meetings.
In another patient's body mapping, reads this black scrawl on an orange sticky note: "We don't have Covid here."
For her part, Brown, of Detroit, said her doctor believed her and suggested she enroll in the body mapping project. Daunted at first, she said her confidence grew as the body mapping took shape — the outline of her body in black, with radiating red lines of COVID pain around it and the green of today when there are pain-free days, too.
"I stood back and looked at it when I was done, and it was 'Goodness!'" she said. "It's hard to describe it because it's a painful reminder of COVID, but also a victorious picture that I survived."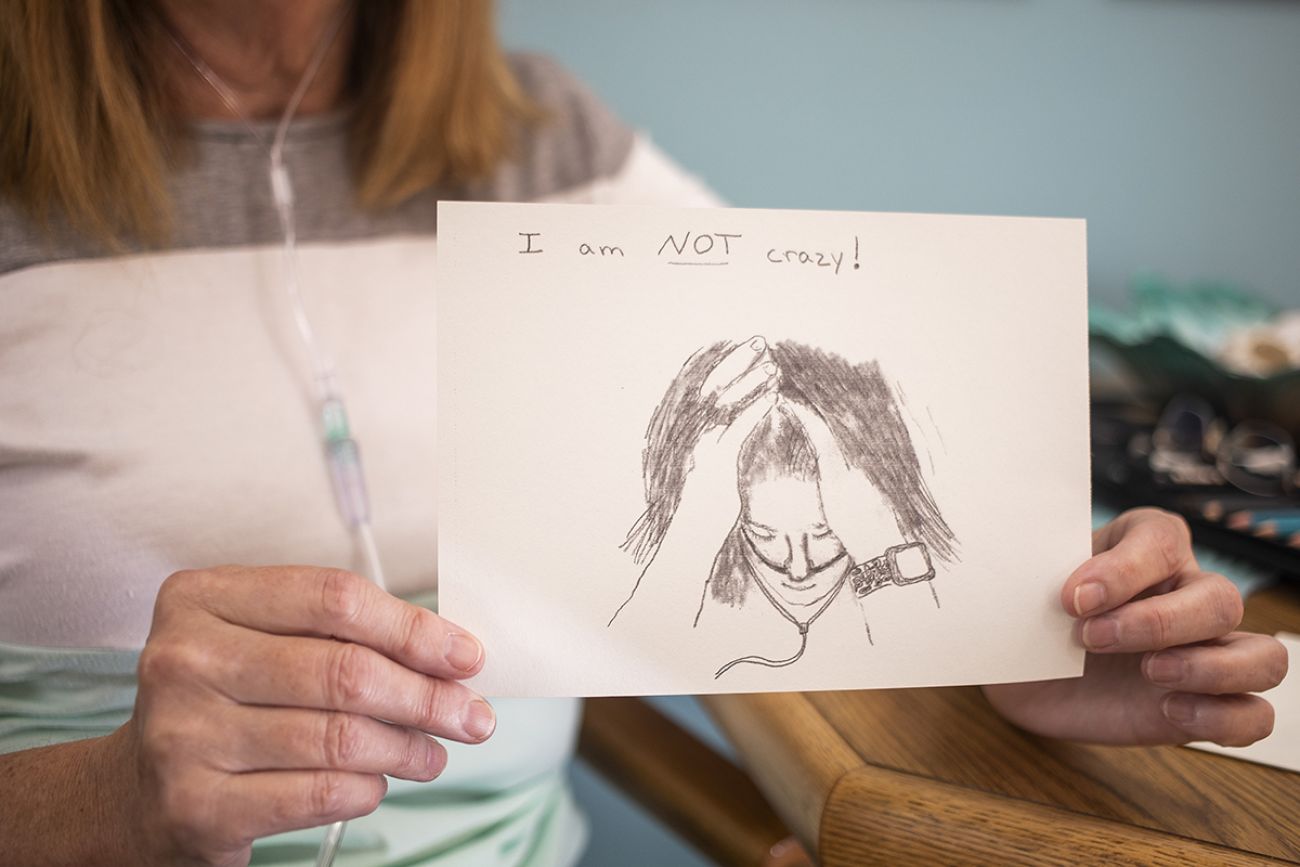 Karen Taylor, 65, a former nurse practitioner, said she was stunned and hurt by medical personnel who didn't believe her symptoms. (Bridge photo by Katy Kildee)
"Yellow is my happy," said another participant about her artwork, in comments submitted to researchers. "This portrays God. Blue is sad. Tears."
Santarossa said there's "a lot of anxiety. Life has changed for all of the people and there's just so many unknowns."
But, she said, the participants also see a silver lining. Their experiences may help bring more medical research to long COVID, help practitioners feel their patients' frustration and, if all goes well, offer a foundation for research questions that one day may offer insight to treatment.
"A lot of them are also coming from a place of hope and positivity," Santarossa said. "Even though they're frustrated, they're really looking for some sort of treatment options."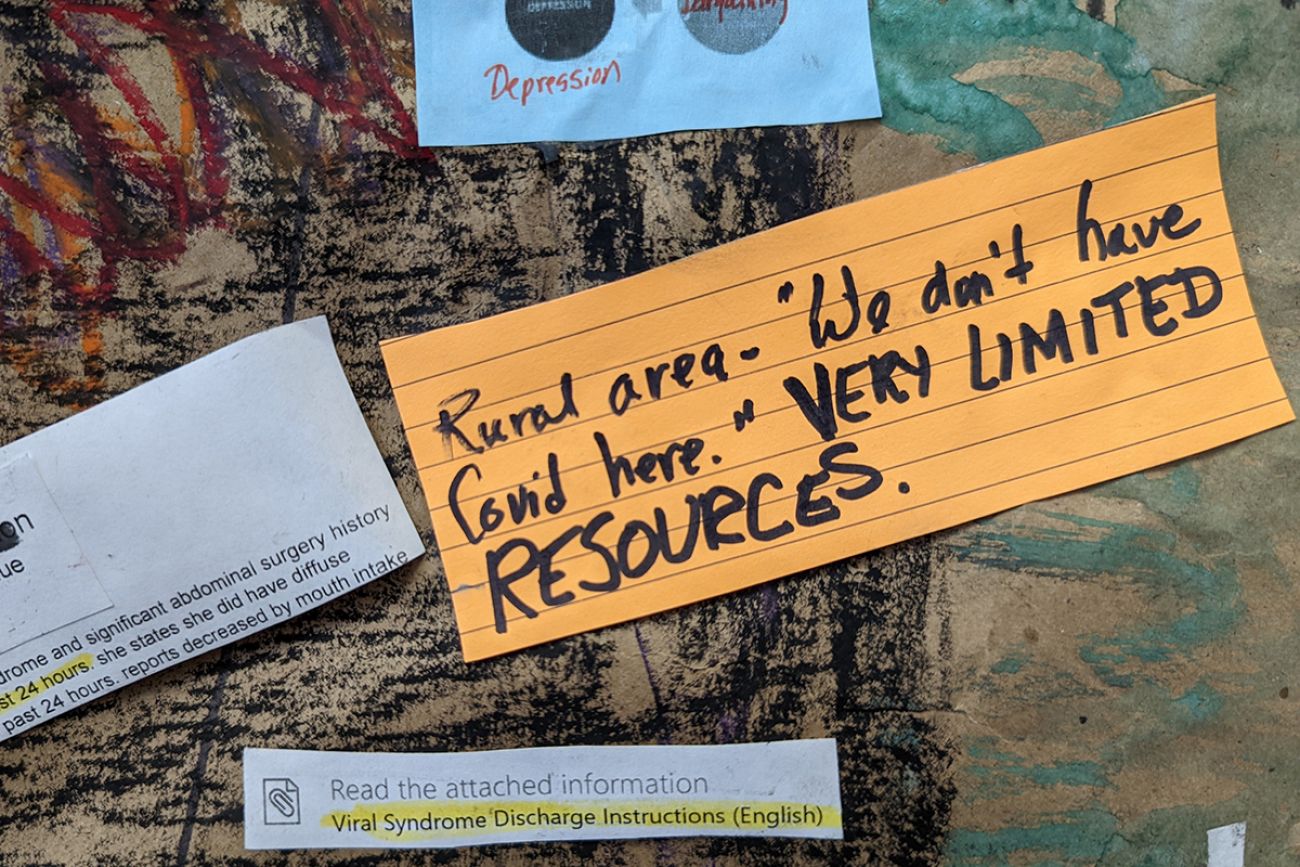 In addition to the pain and fatigue of Long COVID, there is the frustration of not being believed. (Bridge photo by Robin Erb)
The Patient-Centered Outcomes Research Institute, a Washington-based nonprofit that funds patient-centered clinical research, is paying for the project with $160,000.
The 19 body maps will be on display at the Henry Ford Cancer Institute from September 1 until October 1.
More than 100 people have been invited to a "closing reception" October 1. Surveys of the attendees, then, become the second step of the research, Santarossa said. Among the questions: Did the artwork change the perception of long COVID, and if so, how?
Those answers, turned into data, will help create a research agenda, or "drive forward ideas for treatments, ideas for future research studies," all with an eye toward keeping the patient at the center of medical decisions, Santarossa said.
Santarossa and Murphy said they originally envisioned a celebratory, museum-type gallery closing event for the public, but the patients had a different idea: a toned-down event with special invitations to doctors and other medical providers, though the public is welcome, too.
"They want their perspectives to be seen," Santarossa said.
Taylor agreed.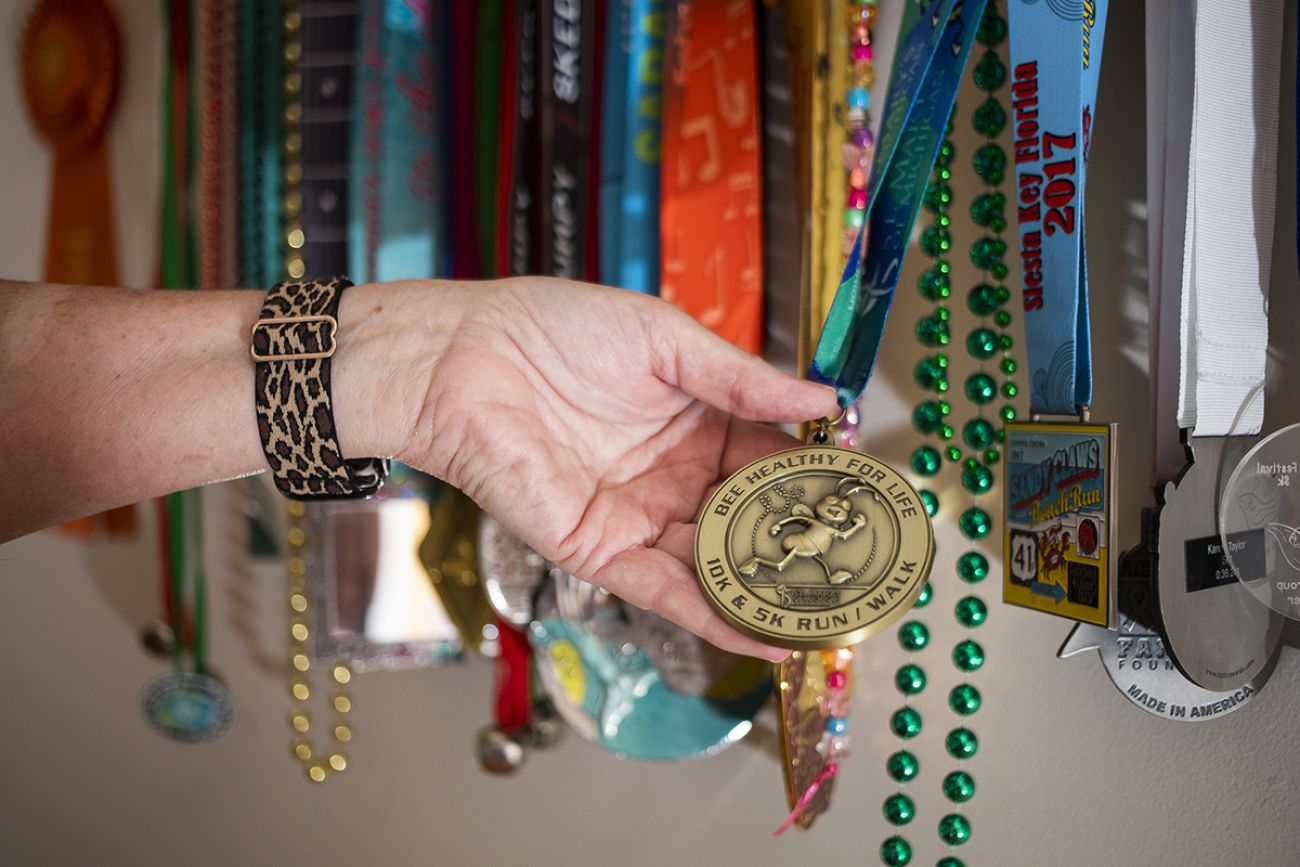 A half-marathoner before COVID, former nurse practitioner Karen Taylor said she has had to fight to keep medical equipment in her house so she can breathe — a problem that developed after a bout with COVID in 2021. Bridge photo by Katy Kildee)
"I want people to believe there is such a thing as long COVID. I want their families to be supportive," she said.
"If there are caregivers, doctors and nurses, nurse practitioners, I want them to believe. It's hard not being believed."
Only donate if we've informed you about important Michigan issues
See what new members are saying about why they donated to Bridge Michigan:
"In order for this information to be accurate and unbiased it must be underwritten by its readers, not by special interests." - Larry S.
"Not many other media sources report on the topics Bridge does." - Susan B.
"Your journalism is outstanding and rare these days." - Mark S.
If you want to ensure the future of nonpartisan, nonprofit Michigan journalism, please become a member today. You, too, will be asked why you donated and maybe we'll feature your quote next time!