Meet Moxi, the newest nurse assistant of Trinity Michigan medical team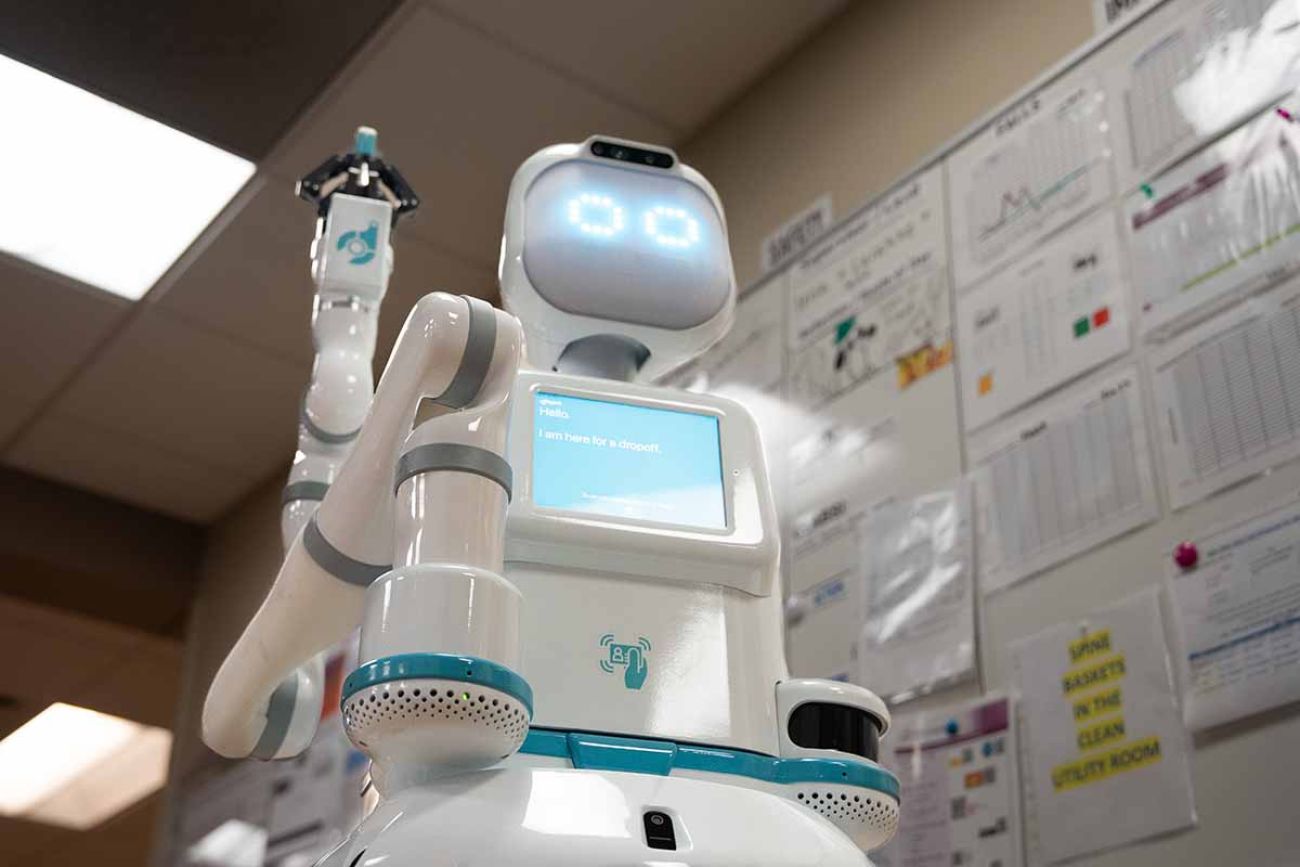 Amid an acute worker shortage, backers of the Moxi medical assistant say it can be an essential asset in quality patient care. (Bridge photo by Brayan Gutierrez)
Michigan's hospitals say they're critically understaffed.
A robot named Moxi can run errands for nurses, keeping them at the bedside.
At Trinity Oakland, two units have been assisting since July.
---
If it had one, Moxi's resume would offer it as an apparent near-perfect medical assistant -- a worker both capable and willing to work nearly around-the-clock and who requires no vacation time or health benefits.
Moxi needs no sick time or sleep, either -- save for a two-hour a day "deep charge" at a charging port.
And complaining -- like when an elevator or sliding door is frustrating-- is a lilting, polysyllabic chirp, as if to question a passerby: "Help, please?"
"She's programmed to be polite," said Shannon Mavis, nurse education coordinator at Trinity Health Oakland. Mavis refers to Moxi as a she, but not everyone at the hospital does.
Related:
Moxi is a small, nonhuman solution to a very large human problem: the nation's critical shortage of health care workers.
In under three years, Michigan hospitals have taken more than 1,600 beds offline because of worker shortages, and 13 percent of hospital positions throughout the state are unfilled, according to the most recent figures from the Michigan Health & Hospital Association.
And last year, two in five nurses reported they planned to leave their roles over the next twelve months.
"This was occurring before the pandemic," Elizabeth Kutter, MHA's senior director of government and political affairs told those who gathered earlier this week at the Michigan Health Policy Forum to discuss the state's shortage in healthcare workers.
The pandemic, Kutter said, "really accelerated and exacerbated the problem. It's impacting real people and real people's access to care."
Enter Moxi, who has been quietly rolling through the hallways since July at Trinity Oakland, the first Michigan hospital to test Moxi out, according to Moxi's creator, Texas-based Diligent Robotics.
Moxi's autonomous AI mapping and sensor system allow for internalizing directions, pass through doors, and - in most instances -- reach its destination without help. Moxi can detect passersby, stopping abruptly to allow them to pass. And with a flexible arm and precise gripper, Moxi can fetch meds, equipment or lab specimens, delivering them in abadge-swipe-only, secure torso front drawer.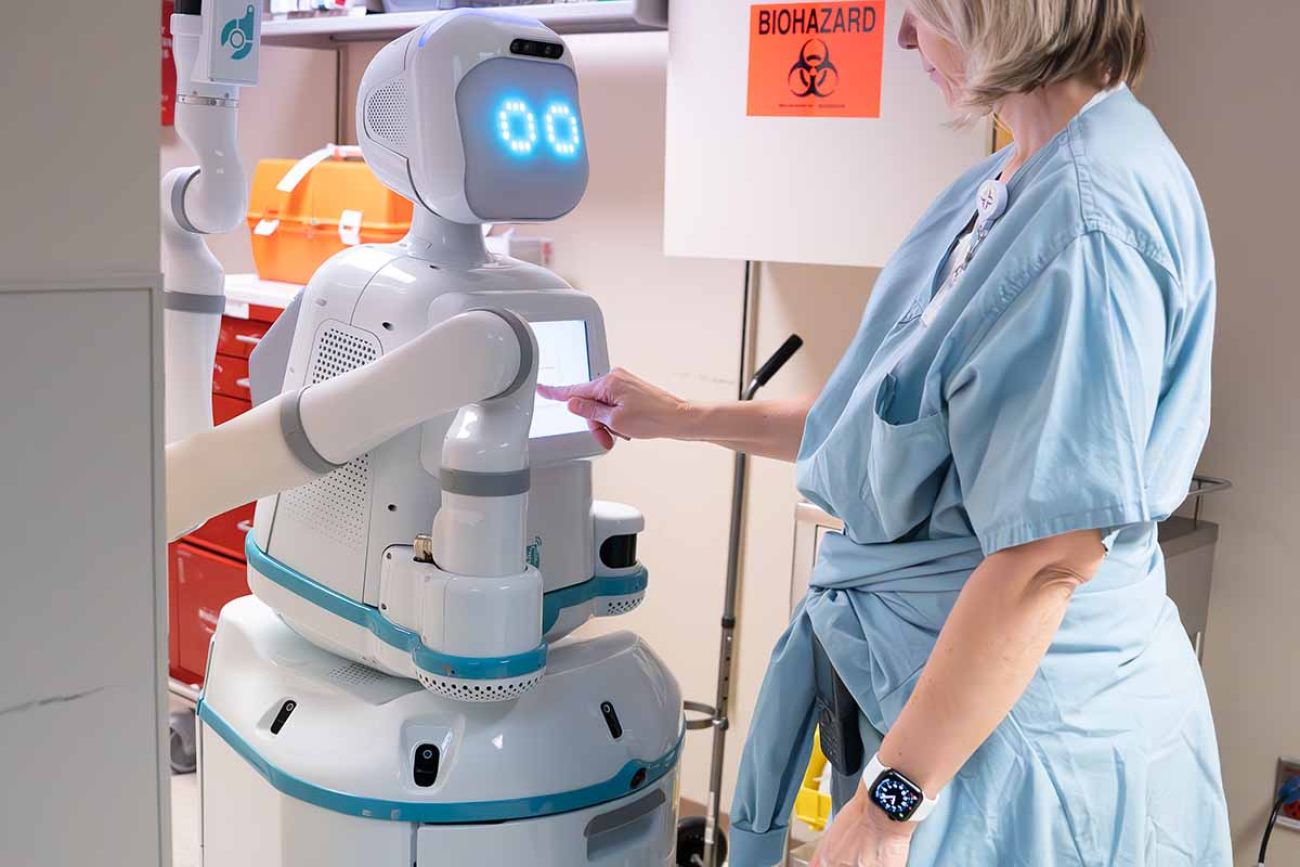 Moxi is equipped with multiple sensors and a tablet interface, allowing it to navigate through hospital environments, pick up orders, and interact with staff members and patients in a human-like way. (Bridge Photo by Brayan Gutierrez)
Each of these tasks eat away at a nurse's 12-hour shift -- footsteps down a hallway, minutes waiting at an elevator, at a pharmacy or lab, and additional minutes in the hallways and elevators on the return trip.
"Any time away from the bedside, like to grab a boxed lunch for a patient -- that's time away from the care we need to do," said Olivia Keesee, Clinical Nurse Specialist at Trinity Health Oakland. With 850 nurses throughout the hospital, "that can be thousands of hours over a year," she said.
Now instead - through keystrokes at specialized tablets throughout the hospital - nurses, pharmacists, lab staff and others can delegate some tasks to one of two Moxi units at Trinity.
By design, the 3D printed, high-grade plastic nurse assistant doesn't work at the bedside, nor does it interact with patients unless they happen to pass Moxi in the hallways.
But behind the scenes, the hospital's Moxi units had made 15,829 deliveries over 7,814 hours, by mid-May, according to Trinity.
A $45,000 grant from The Trinity Foundation covered the start-up costs for the two units. Monthly fees are $2 an hour to have the robots at-the-ready, in addition to $14 an hour for each of Moxi's working hours, according to Trinity.
That amounts to about $11,625 per month, he said.
On one recent weekday at Trinity's south tower, where patients were recovering from surgery, one of the two Moxi units had just arrived with its instructions. A patient needed cardiac readings - captured on a monitor - to be read by the telemetry lab downstairs.
Now with the patient's monitor secured inside the torso drawer, Moxi swiveled and slid toward the double door, spinning its head noiselessly to scan checkerboard code next to the door to reorient it. The door swung open, and Moxi rolled toward an elevator to head to the lab.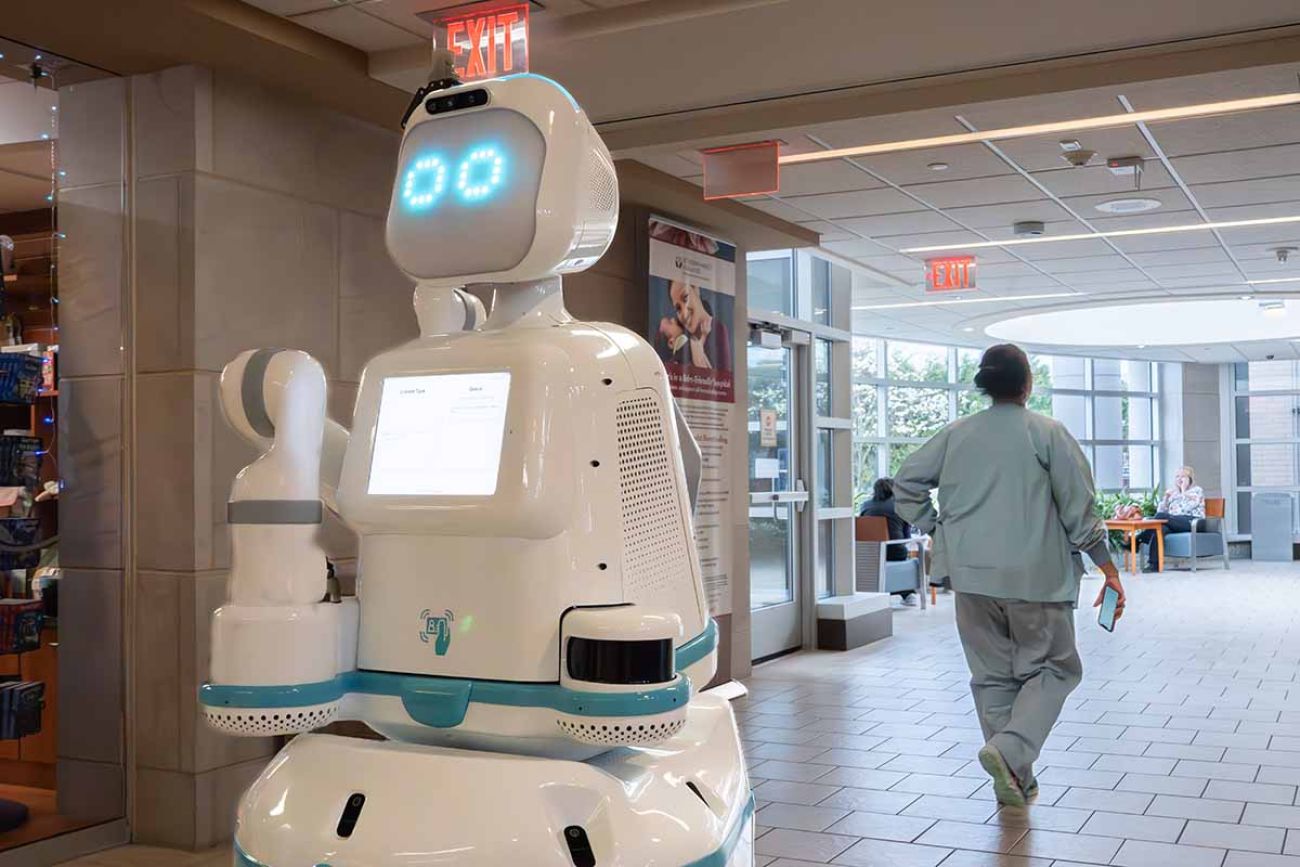 There are two Moxi units at Trinity Health Oakland, and a third one is being tested out this month. (Bridge photo by Brayan Gutierrez)
Do healthcare robots make a difference?
Precisely how much time nurses are at bedsides has been difficult to nail down, in part, because their tasks are so varied and often don't fit into neat time-study categories. Still, two 2018 time studies are enlightening.
In one, Washington University in St. Louis researchers summarized their findings by describing a four-hour increment of a nurse's shift. In that time, nurses spent about 57 minutes communicating with patients as well as other nurses and about 53 minutes charting and reviewing medical records. Another 16 minutes was spent on administering medication.
In the time left in the four-hour increment, the nurses spent about 8 minutes getting medications and an additional 14 minutes on "delegable tasks," that included fetching supplies or delivering food trays.
University of Michigan researchers who observed nurses over a five-week period likewise found that the bulk of the nurses' time was spent in communicating and charting - tasks that obviously can't be delegated, according to U-M's Christopher Friese, a nurse and professor, who wasn't involved in the study.
But it was Friese's own research last year that two in five nurses said they planned to leave their roles over the next twelve months -- a frequent result of too many hours, too few nurses and the resulting burnout.
Bottom line: Moxi's use is limited, Friese said.
"Expecting this kind of technology to make a huge dent in the problem is overly optimistic, in my opinion," Friese told Bridge in an email. "We really need to recognize that hospitals have chronically understaffed for a decade and begin the difficult process of increasing the amount of nursing care delivered to patients to ease workloads."
Jeremy Lapham, a long-time nurse who sits on the Michigan Nurses Association and teaches nursing research at Eastern Michigan University. Among his topics are the ethics of AI in medicine.
Lapham said AI and robots like Moxi will continue to appear in health care settings, but there are concerns along with any promised benefits, and he, too, stressed their limitations.
There's something very human about a health care team that robots will never have, he said -- the ability to anticipate each other's actions and to find workarounds in crisis, for example.
If a nurse needs a catheter for a blood draw, he or she might also remember in the supply room that the gauze supply is low back on the floor and grab an extra roll. But Moxi would have to be specifically instructed. And if computers go down, staff can quickly turn to paperwork in a pinch -- a human workaround.
Any kind of technological device must be used only in limited ways and with humans overseeing the work. And they must not put patients ill at ease, he said.
"I am a huge advocate of all things tech, but we need to ensure that they're rolled out responsibly," he said.
'A bit Star-Trekish' at first
On this recent day at Trinity, Moxi was stuck momentarily at the elevator. There are still bugs, such as the complications of operating, and on this day, a Diligent operator followed nearby, on the lookout for glitches.
"Can you call an elevator going down?" Moxi chirped at a couple of staff passing by. Staff is used to Moxi now, explained Mavis, the nurse educator.
The button punched, Moxi rolled into the elevator.
"Fourth floor, rear, please," Moxi asked fellow riders.
Moments later, Moxi had reached the point of destination, the patient monitoring department. The letters on the torso screen rearranged, signaling a new intent: "Hello. I'm here for a dropoff."
In just more than a minute, a lab staff had stepped out of the lab, swiped open Moxi's drawer, pulled out the equipment, and pivoted to return to his work inside the lab.
Granted, Moxi didn't receive a warm welcome at first as Renay Gagleard, the hospital's executive director of nursing and advanced practice professionals escorted Moxi from floor to floor and to the hospital's governance meetings to make introductions to the staff.
It didn't matter that Moxi's pop-out drawer was full of chocolate candy as an ice-breaker.
Staff saw instead a metal gripper in place of warm hands. They worried that leaders were trying to substitute an AI system for the compassion and intuition of a good nurse, said Doug Dascenzo, chief nursing officer of the Trinity's Michigan region.
They were curious, sure, but Moxi seemed "a bit Star Trekish" at first, he acknowledged.
But Gagleard and others began honing their introductions with Moxi: "We focused the conversations on 'How can she help you?'" Dascenzo said.
The nurses' feedback then was programmed into Moxi, so it prioritizes tasks when multiple directions come in from different units of the hospitals. Delivering patient cardiac monitors is always the first priority, followed by medication deliveries and lab runs.
And there are safeguards against mix-ups. Items are placed in and removed from Moxi's drawer only with a swipe of a staff's ID. And nurses double-check medications before administering them, Mavis said.
That Moxi is "socially intelligent" undoubtedly eased tensions, too, Gagleard said.
In addition to stopping for passersby, Moxi's two eyes -- actually constellations of LED dots -- rearrange themselves throughout the day to blink and wink. At times, they form two soft blue hearts.
Staff have been known to high-five Moxi, and the hospital's long-term patients and regular visitors have been heard greeting Moxi in the hallways, even if they expect no response, according to Mavis and Gegleard.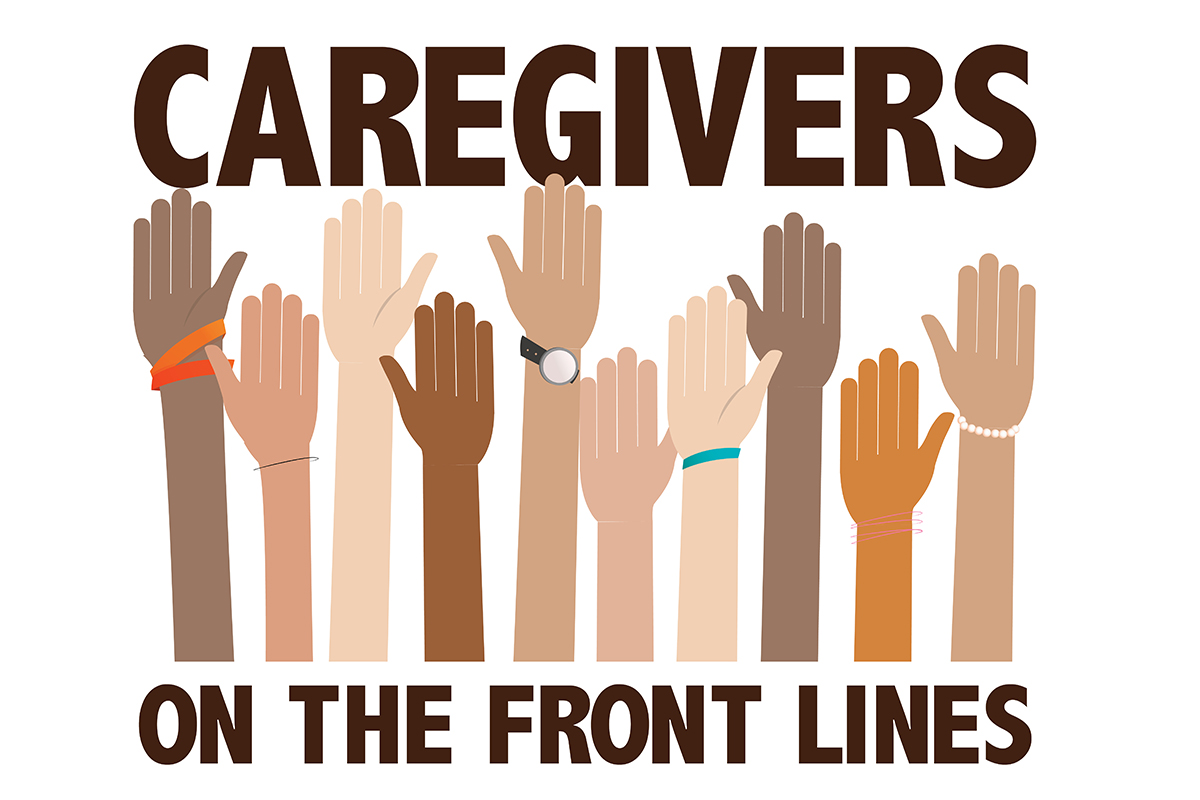 This story was produced with support from the New York & Michigan Solutions Journalism Collaborative, a partnership of news organizations and community partners dedicated to rigorous and compelling reporting about successful responses to social problems. The group is supported by the Solutions Journalism Network. Read related stories at nymisojo.com. The collaborative also has compiled a detailed Caregiving Resource Guide with links to online information about various issues of interest to caregivers.
In reality, Moxi is "gender-neutral," according to Christy Warring, head of Diligent's marketing.
"We just refer to Moxi … but lots of people choose a gender. When they do assign one, we find most people tend to say her," she told Bridge in an email.
Moxi's male coworkers at Trinity in Pontiac assign the robot male pronouns; the women tend to call Moxi a "she," Gegleard said.
As Moxi rolled into the afternoon shift on this recent day, a Trinity visitor, Dennis Tamburo, stepped out of a waiting room, fumbling to take a video glimpse of the robot with his cell phone -- a video he later shared to his Facebook page.
The former Chrysler supervisor who said he retired early because of the computerization of his work, Tamburo shook his head, as he reviewed his video.
"It's genius," Tamburo said. "I mean, it's a bit strange, too, but if it helps the nurses, I guess that's a good thing. You have to wonder what's next though."
Patients need not worry, said the hospital's Dascenzo. AI boards and metal grippers will never be able to replace the insight, compassion and healing touch of a human nurse, he said.
"Moxi was never intended to take anyone's job," he said. "Moxi enhances their job."
Only donate if we've informed you about important Michigan issues
See what new members are saying about why they donated to Bridge Michigan:
"In order for this information to be accurate and unbiased it must be underwritten by its readers, not by special interests." - Larry S.
"Not many other media sources report on the topics Bridge does." - Susan B.
"Your journalism is outstanding and rare these days." - Mark S.
If you want to ensure the future of nonpartisan, nonprofit Michigan journalism, please become a member today. You, too, will be asked why you donated and maybe we'll feature your quote next time!