Michigan COVID nurses reach their limit: 'I know I can't do this forever'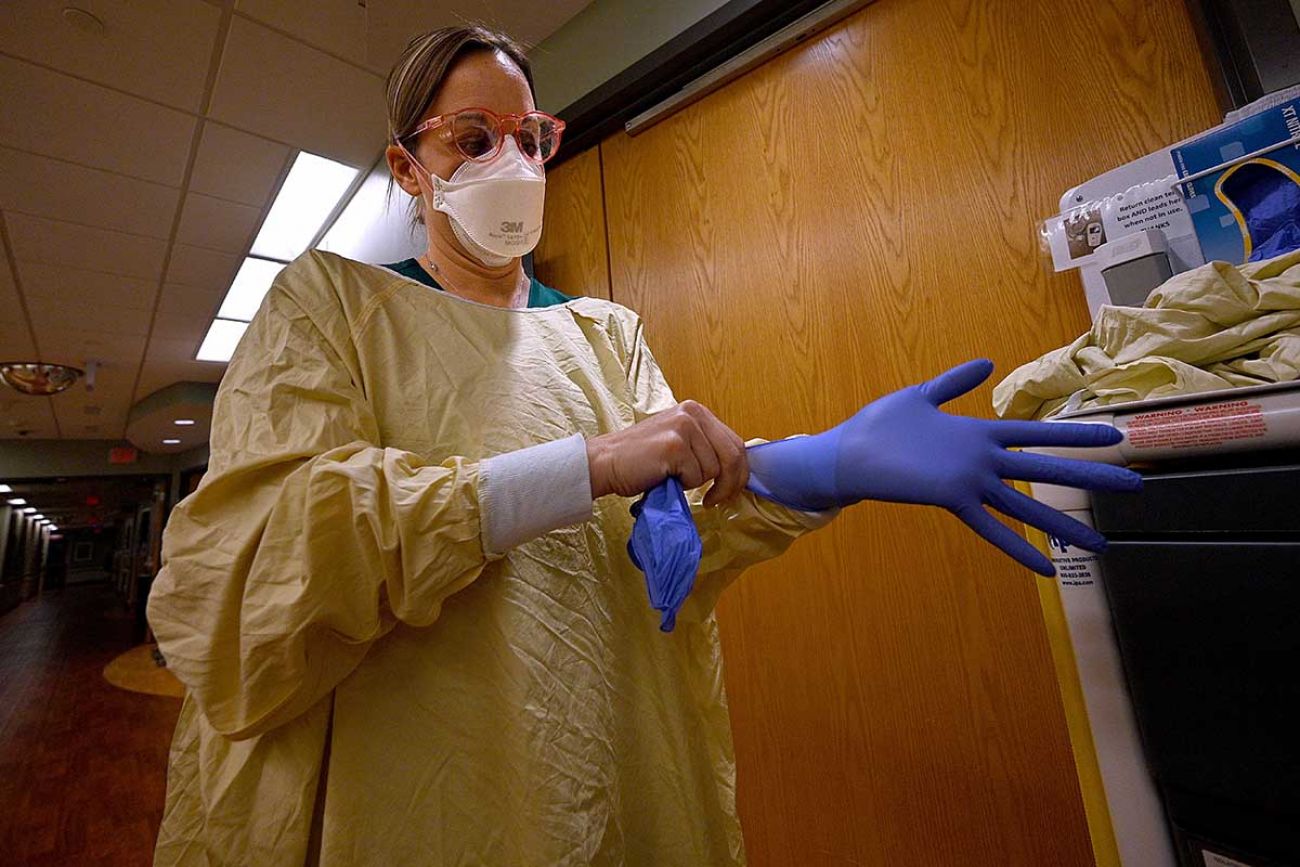 Sparrow Hospital nurse Leah Rasch prepares to check on another COVID-19 patient. (Bridge photo by Dale Young)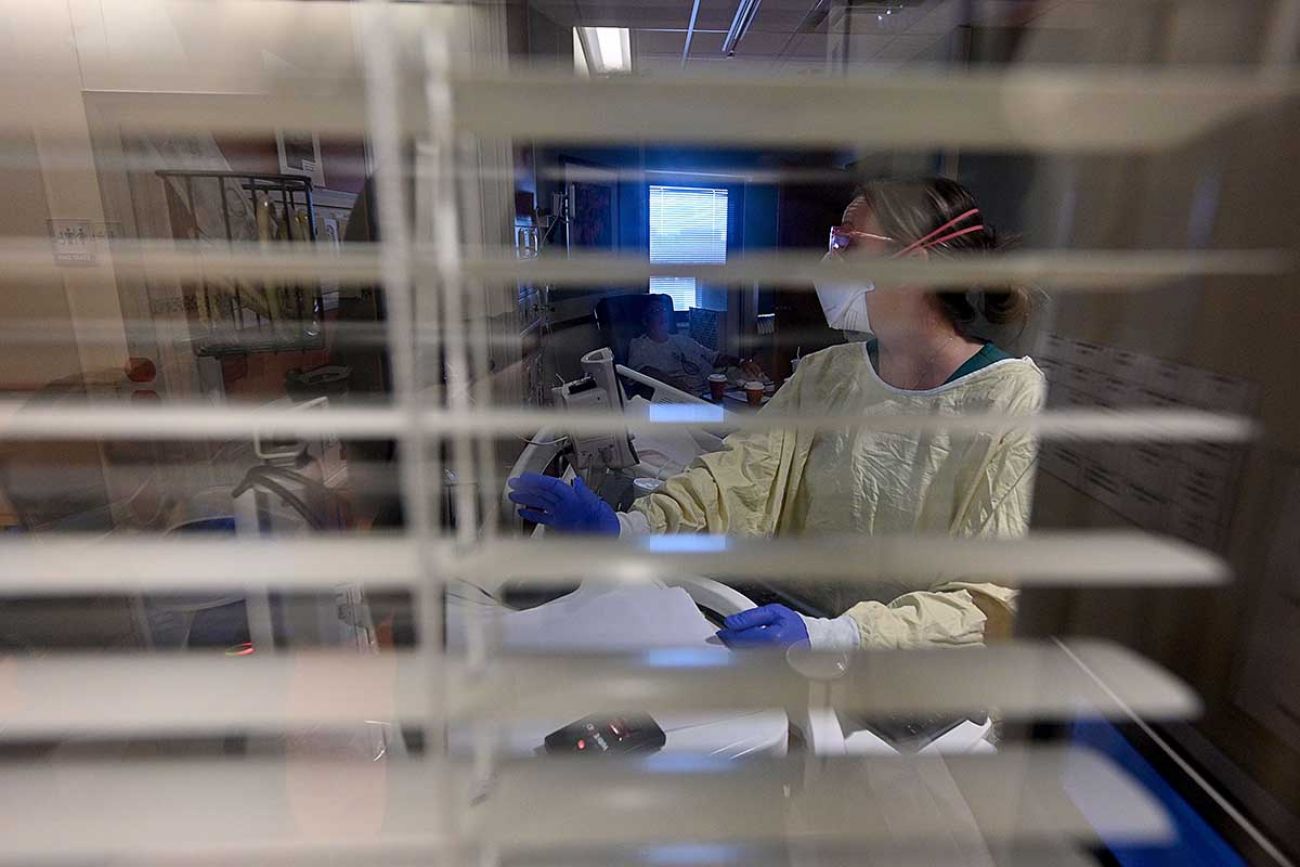 COVID-19 nurse Leah Rasch tends to a patient near the end of her 12-hour shift at Sparrow Hospital. (Bridge photo by Dale Young)
"I wanted a normal Christmas for my kids and my family," Rasch recalled. "Let's pretend the world isn't awful."
An hour or two later, after a round of gift opening, Rasch lay in bed, exhausted from another 12-hour shift filled with patients' last breaths. And that wall crumbled.
Related:
"I was crying so hard that I couldn't get my breath. My husband just held me. I said to him, 'I can't. It's just so hard.'"
Nine months later, Rasch is still masking up, battling to save people from COVID.
But she's now facing a fourth wave of COVID amid a continuing shortage of staff and stacks of critically ill patients who refused to be vaccinated. Most nurses she worked with at the start of the pandemic are gone, she said, some to other nursing jobs or other hospitals ─ and one who left the medical field entirely.
"I haven't burned out yet," Rasch told Bridge Michigan. "But I'm not saying it's not coming down the road."
Michigan health leaders say the pandemic has deepened staff shortages that had been underway for years at hospitals across the state, particularly among nurses and other frontline workers. As a stopgap, hospitals are paying big bucks to traveling nurses to help care for the patients repopulating COVID wards. Many in the industry say the shortage will be felt for years
"We knew that burnout was an issue before the pandemic," said Brian Peters, CEO of the Michigan Health & Hospital Association, an industry group.
"But it's a bigger problem than ever now. It's affecting virtually every hospital in the state in some way, shape or form, whether it's a small rural hospital or a large hospital in one of our urban centers."
While no statewide numbers are available on hospital staffing shortages, Peters said the MHA has begun collecting that data and expects to finish that analysis within months.
Bridge Michigan spent time with three nurses who've been through the crucible of COVID care — two at Sparrow, and a third at a suburban hospital near Detroit. Rasch and the Detroit-area nurse are still in the profession, though the pandemic is prompting them to rethink hospital work. The third left nursing in July to work in a BBQ joint as he reconsiders his career path.
A recent national survey by the Washington Post and KFF (formerly Kaiser Family Foundation) confirmed the pandemic's toll on health care workers. Released in April, before delta hit, the survey found that 62 percent of health care workers said stress related to COVID had a negative impact on their mental health; 55 percent felt "burned out" and nearly three in ten weighed leaving the profession.
Nursing defections have direct repercussions for patient care. As of Monday, just over 1,500 patients were in Michigan hospitals with confirmed or suspected cases of COVID-19. That's well below the more than 4,400 hospitalized patients in April. But Peters and other hospital leaders noted at a press conference last week that there are now far fewer nurses and other staff to care for infected patients. As a result, he said, hospital staffing is now stressed "to a level that we have not seen previously."
Will vaccine mandate drive off more nurses?
The Biden vaccine mandate for healthcare workers adds another layer of uncertainty to hospital staffing in Michigan. Hospital officials and health experts generally praised the plan, saying that it will help ensure health workers in direct contact with vulnerable patients are better protected against a deadly virus.
But the Michigan Nurses Association remains opposed to mandates, saying they will drive vaccine-hesitant nurses to quit rather than submit to inoculation. The union contends such decisions are "best decided democratically by health care workers themselves and need to be subject to collective bargaining."
A recent survey by the American Nurses Association found that roughly 13 percent of nurses did not plan to get vaccinated or remained unsure. In contrast, vaccination is nearly universal among physicians.
Even before Biden's announcement, several major health systems in Michigan imposed staff vaccine edicts this summer, including Henry Ford Health System, Grand Rapids-based Spectrum Health, Beaumont Health and Livonia-based Trinity Health. Unvaccinated staffers were given deadlines to get shots or potentially lose their jobs.
At Henry Ford, the gambit appears to have paid off: 98 percent of its workers are now fully vaccinated, the health system announced Monday, three days after a deadline the hospital set for workers to get shots. At Spectrum Health, 72 percent of employees have been vaccinated to date, though the vaccination deadline at Spectrum is not until late October.
Hospitals shelling out for contract nurses
As frontline nurses retire early or rotate out of COVID units, hospitals have become desperate for employees willing to treat infected patients. But that comes at a price.
Hospitals are increasingly turning to travel nurses, roaming professionals who work on temporary contracts that can pay upwards of $75,000 for three months of work.
A recent job posting at St. Joseph Mercy Oakland Hospital in Pontiac sought a travel nurse to work in its intensive care unit (ICU) for four 12-hour weekly night shifts. The pay: $6,460 a week ─ or $77,520 for the 12-week contract. The listed start date: "ASAP". Health care job site Vivian.com listed dozens of similar openings in all regions of Michigan, for nursing jobs in ICUs, emergency departments, medical-surgical units and long-term care.
Jamie Brown, president of the Michigan Nurses Association and a critical-care nurse at Ascension Borgess Hospital in Kalamazoo, said nurses around the state reported on a recent conference call that "just about every hospital is short-staffed with nurses. I've never seen staffing the way it is now."
Brown said at Ascension Borgess, there are currently about a hundred travel nurses in an overall nursing staff of about 600, with shortages throughout the hospital.
"Some of our units are entirely staffed by travelers," she said, adding that the nurses are overburdened and need help..
Ascension Borgess spokesperson Chris Hunt said in a statement the hospital is "experiencing the same staffing challenges that are impacting our national industry, but our associates are strong and determined and show up each and every day to continue to fulfill our mission of caring for those most in need."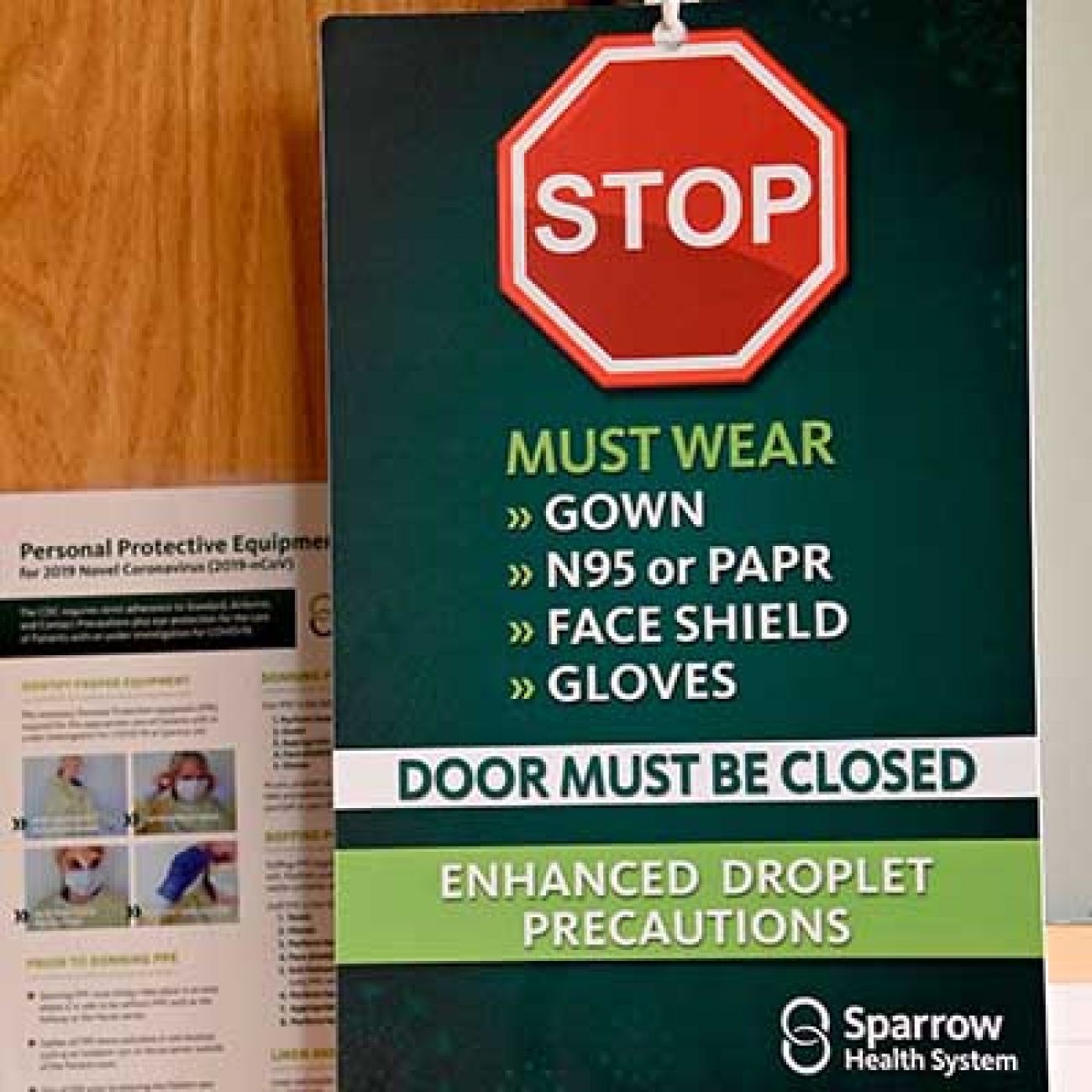 Infection precautions are a minute-by-minute fact of life in Sparrow Hospital's COVID-19 unit. (Bridge photo by Dale Young)
At Sparrow Hospital, chief nursing officer Amy Brown estimated that between 50 to 70 nurses are travel nurses out of its overall nursing staff of 1,600.
"That number fluctuates. Sometimes they will just leave their contract. They just don't show up," she said.
"They are going where the money is and, as a hospital, we just can't compete with that."
Brown said Sparrow Health System — which encompasses seven hospitals in mid-Michigan — has about 900 overall open positions out of 8,000 system-wide.
'It's all stress, all fear'
About 35 miles northwest of Detroit, at DMC Huron Valley-Sinai Hospital in Oakland County, Brenna Tresidder, a registered nurse, has been on the COVID-19 frontlines since the start.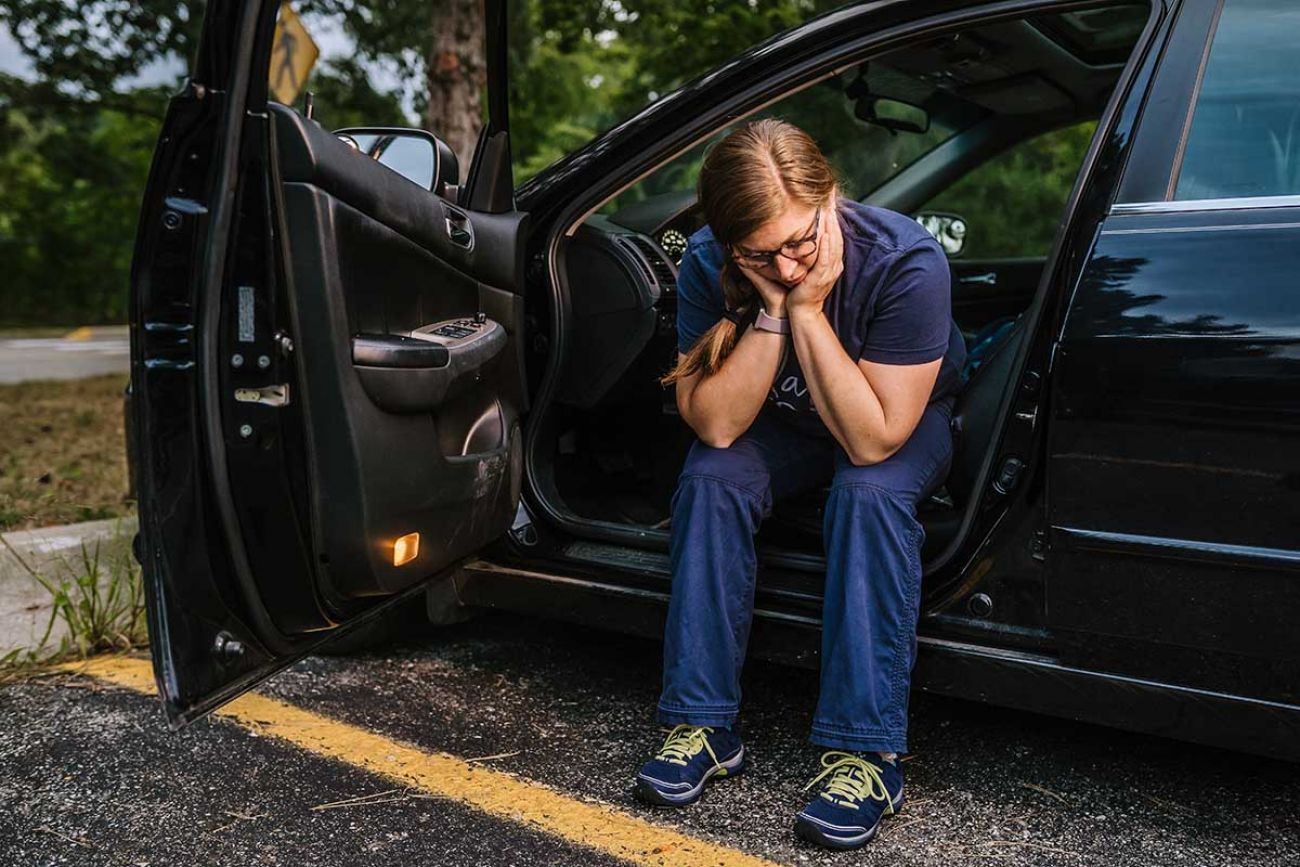 Brenna Tresidder, a COVID-19 nurse at DMC Huron Valley-Sinai Hospital in Oakland County, said the pandemic has worn out frontline nurses in her unit. (Bridge photo by Val Waller)
"I remember when I started at the hospital, we used to call ourselves Happy Valley," Tresidder told Bridge of her seven years at the facility..
"That's not the atmosphere any more. It's all stress, all fear. It's all skeleton crew. Nurses are leaving because the staffing is so poor."
Asked to respond, Brian Taylor, director of communications for Detroit Medical Center, made a pitch for more help.
"Like every other health system in our region and across the country, the Detroit Medical Center is recruiting nurses in the midst of the ongoing nationwide nursing shortage," he said in a statement. "To help mitigate the impact of the labor shortage, we augment our staffing with contract nurse labor in addition to offering existing staff the opportunity to pick up shifts for additional compensation. We offer competitive sign-on bonuses as part of our recruitment efforts as well."
As the pandemic exploded in the spring of 2020, Tresidder said, some fellow nurses elected to stay in motels for fear of infecting their family. But she and her husband, who have two young boys, decided it would be best for her and the family if she continued to come home.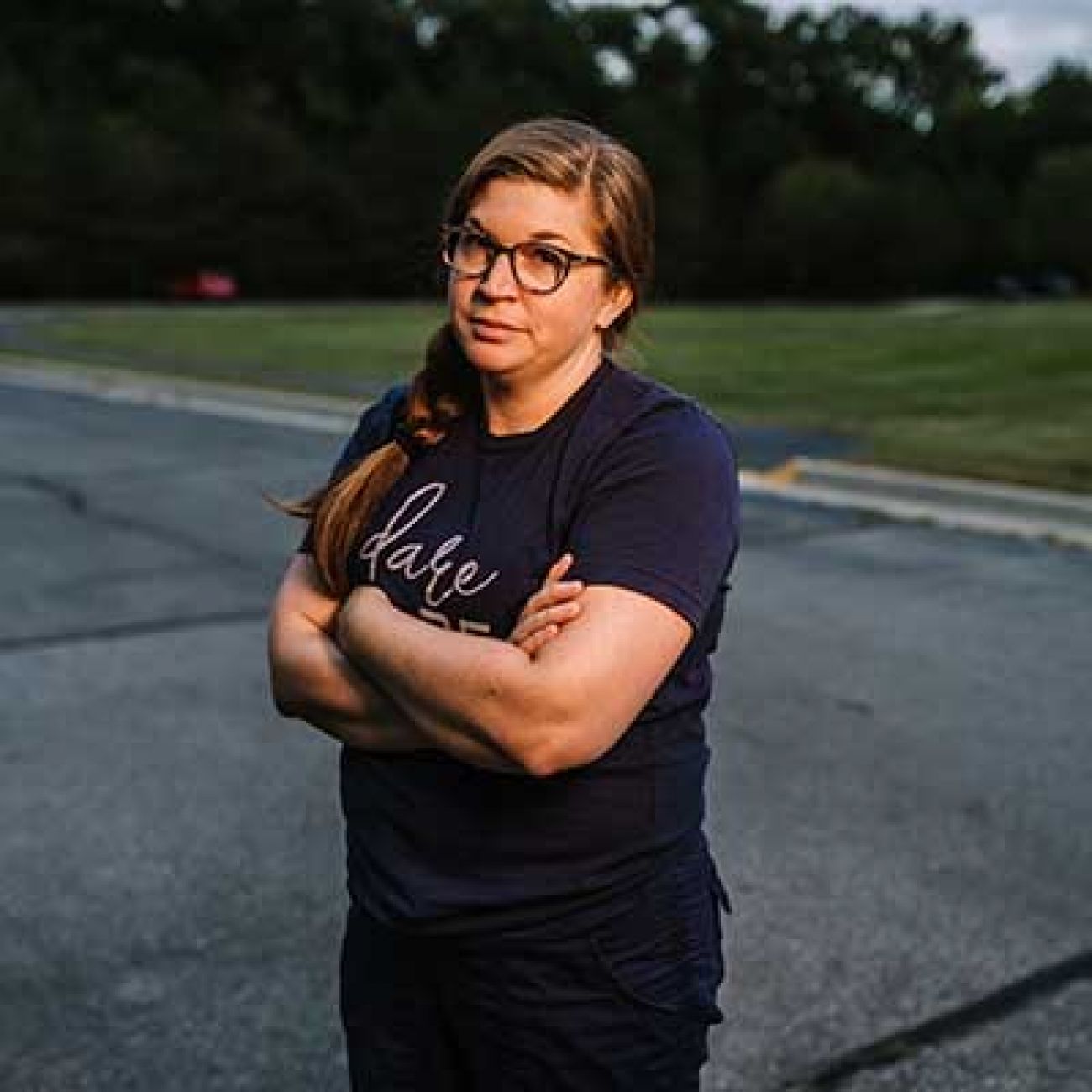 After 18 months on the frontlines of the pandemic, Brenna Tresidder said she has plans to leave direct patient care. (Bridge photo by Val Waller)
"I needed their love to keep on doing my job," she said. "I would undress in the garage and almost streak through the house to go take a shower. It was very confusing for my loved ones."
Like many health workers, Tresidder hoped the pandemic was fading earlier this summer. But as the delta variant spread, she said she now fights growing anger over patients who refused a vaccine.
"We had a woman and a man next door to each in the unit, both very, very sick. Her husband died, and she still will not get the vaccine.
"I have this internal battle. I take care of anyone, regardless of the situation. But part of me is like, 'How dare you? I'm so angry at you.' You want to shake these people and say, 'Wake up,' but you can't do that. It's frowned upon."
Tresidder said DMC is constantly offering financial incentives for nurses to take extra shifts.
On one of her recent shifts, she said she was promised time-and-a-half pay, plus $30 for every four hours worked on a 12-hour shift, plus a bonus of $750.
Despite the prospect of more money, Tresidder plans to exit direct patient care. She said she intends to enroll in classes in January toward earning a nurse practitioner license. The degree would give her more discretion to independently diagnose and treat patients. And NP's tend to work more in private practice than in emergency or surgical settings. She envisions a job outside the hospital.
"The past 18 months definitely propelled me to make that decision," Tresidder said. "I know I can't do this forever."
Less stress, more brisket
The stress of COVID recently drove nurse Eric Kumor from the profession. Like Leah Rasch, Kumor worked on the seventh-floor COVID-19 unit at Sparrow.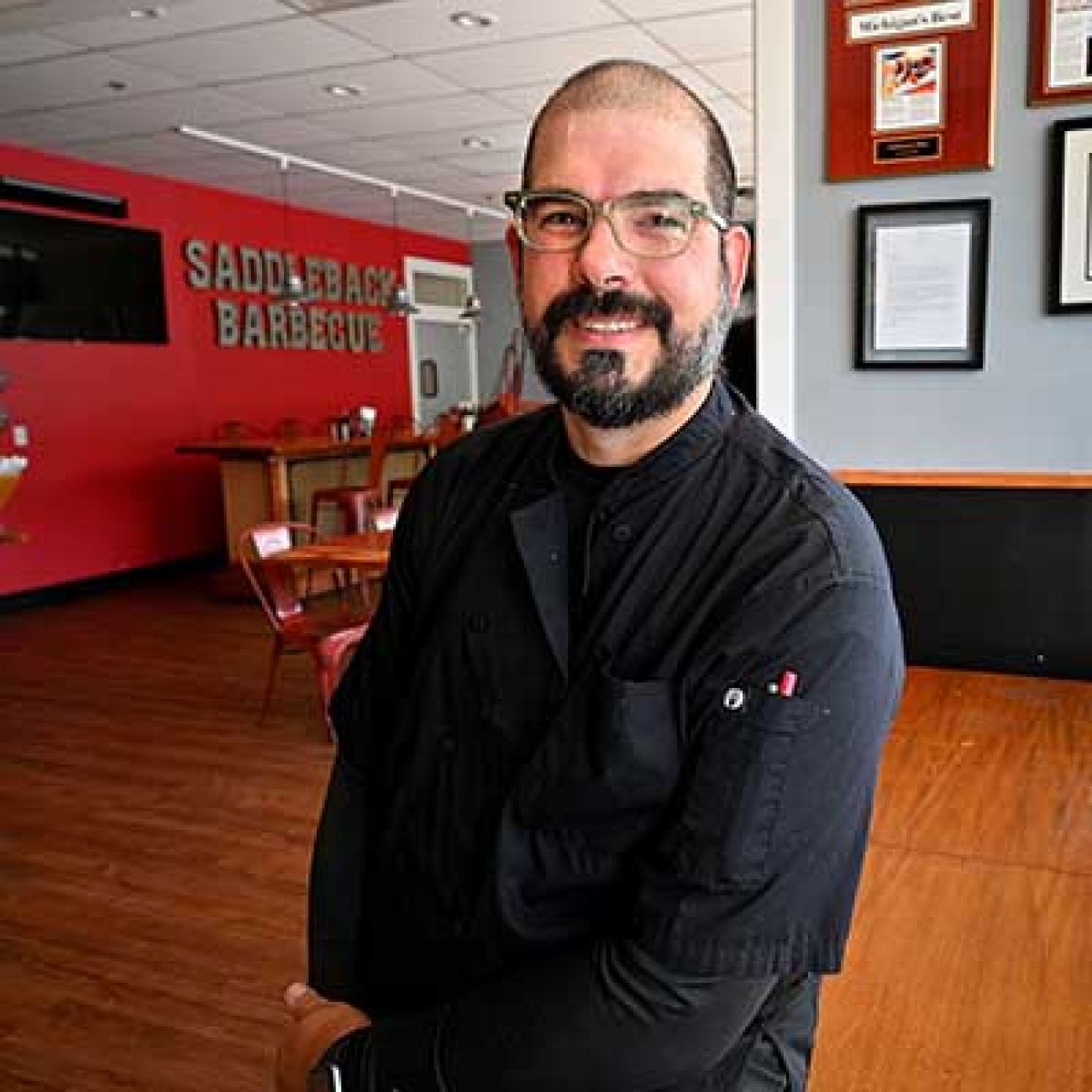 After more than a year treating COVID-19 patients, Eric Kumor stepped away in July from his nursing job at Sparrow Hospital. (Bridge photo by Dale Young)
As the third COVID wave hit Michigan in March and April, Kumor said, some of his colleagues began to leave.
"A lot of the staff decided they were going to transfer to a different hospital or do home health care or any option other than working on that unit."
Kumor said he began taking anti-depressant medications in March. That was about the same time his mother's breast cancer returned.
"I decided I couldn't take any additional stress in my life."
After talking it over with his wife, he left Sparrow Hospital in July.
"I gave myself a year off to think about things. I'm proud of myself. I made the decision before I burned out," he said.
He's found a job in a suburban Lansing restaurant, Saddleback BBQ, where he's a line cook, caterer and tends to the bbq smoker.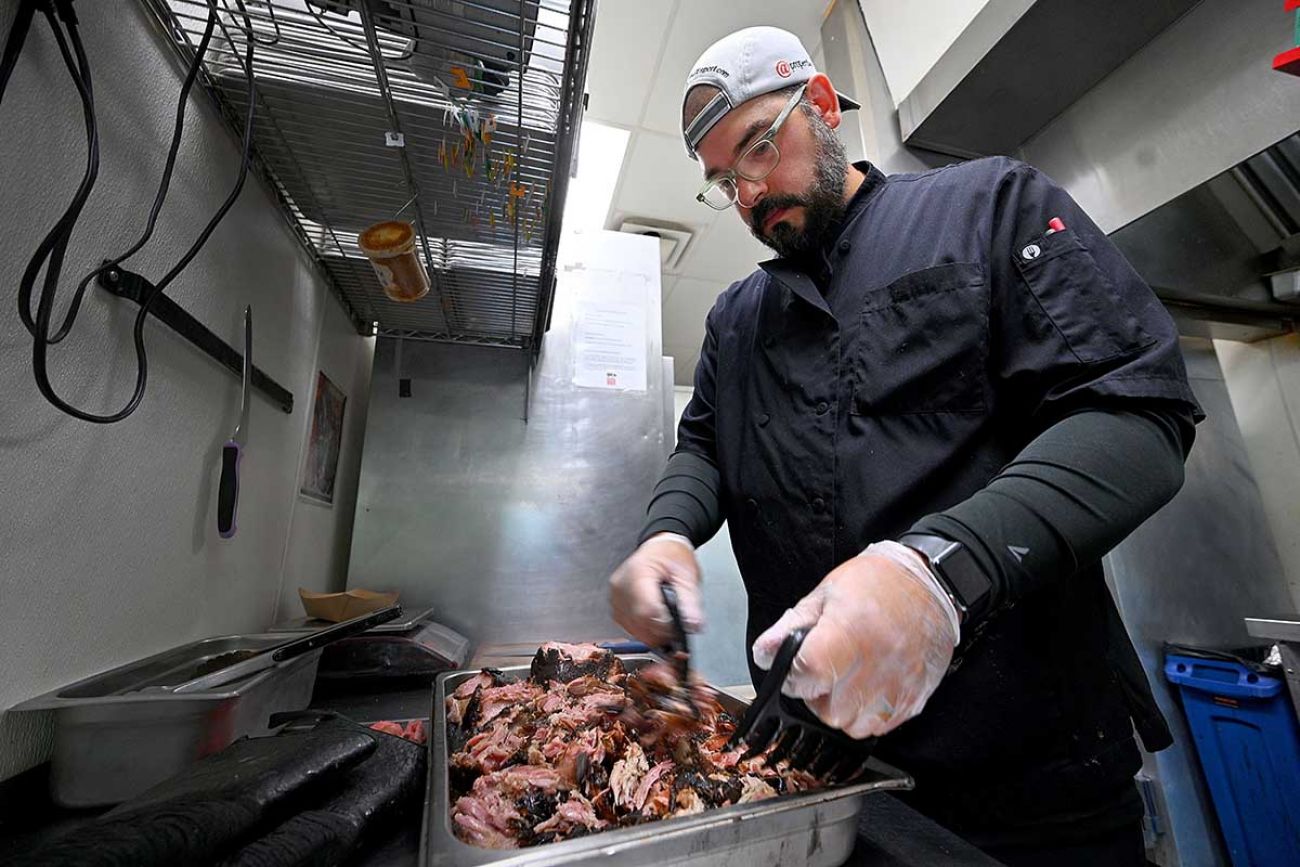 Former Sparrow Hospital nurse Eric Kumor slices barbecued pork at a suburban Lansing restaurant. (Bridge photo by Dale Young)
"I wanted a job where I wasn't responsible for anyone's life," Kumor said. "At least if I burn the brisket, no one's going to die."
Meanwhile, Rasch, his former colleague, continues to work on the seventh floor COVID unit.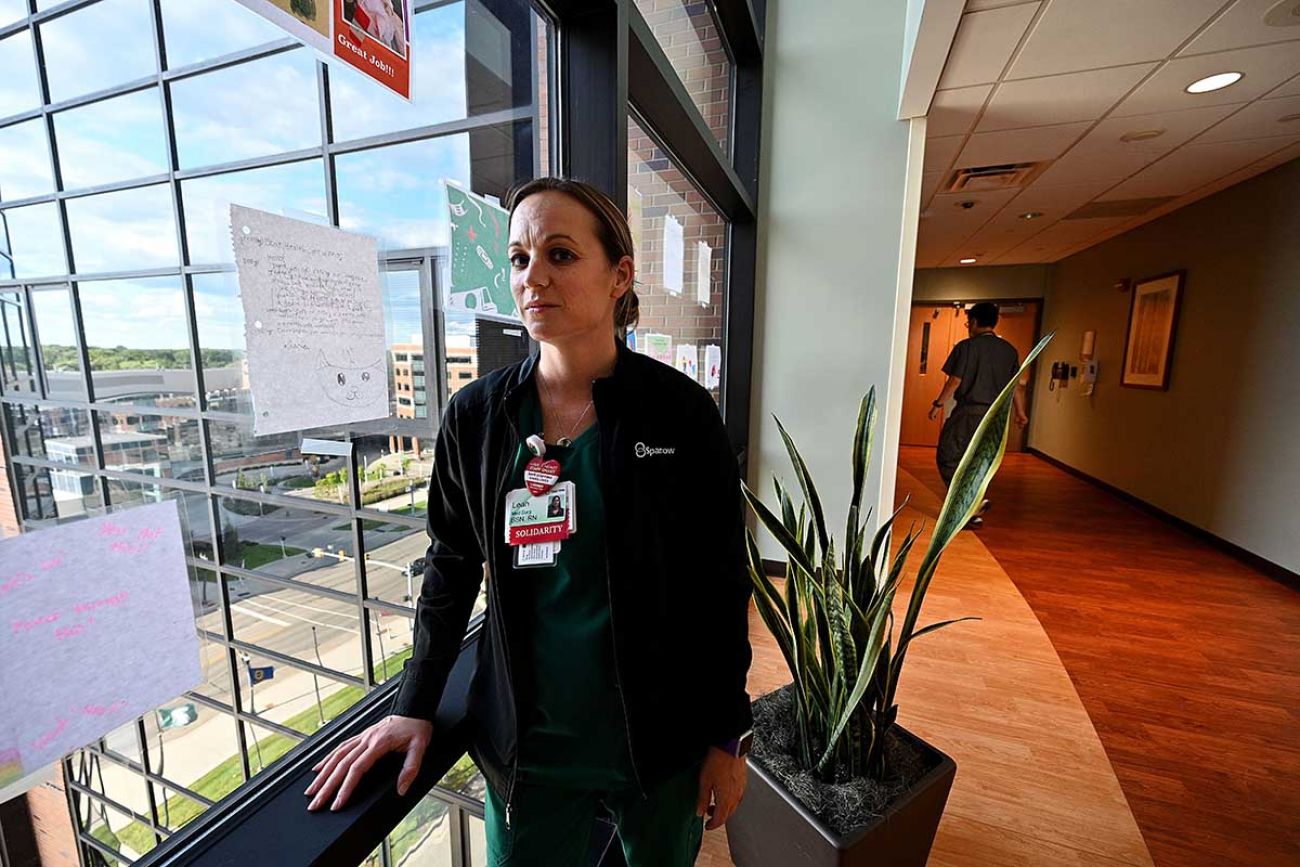 Sparrow Hospital COVID-19 nurse Leah Rasch: "I haven't burned out yet. But I'm not saying it's not coming down the road." (Bridge photo by Dale Young)
On one recent Wednesday, it was full ─ 30 patients, some of them gravely sick. A few weeks ago, it was about half that number.
Pausing in the hallway near the end of her 12-hour shift, she recalled that at the pandemic's peak, five floors at Sparrow were filled with COVID patients. She fears something close to it could happen again.
"I think from what we've seen before, we'll fill out at least two more floors," she said. "I hope I'm wrong, but I think it will go higher."
Only donate if we've informed you about important Michigan issues
See what new members are saying about why they donated to Bridge Michigan:
"In order for this information to be accurate and unbiased it must be underwritten by its readers, not by special interests." - Larry S.
"Not many other media sources report on the topics Bridge does." - Susan B.
"Your journalism is outstanding and rare these days." - Mark S.
If you want to ensure the future of nonpartisan, nonprofit Michigan journalism, please become a member today. You, too, will be asked why you donated and maybe we'll feature your quote next time!