A Michigan doctor goes to Facebook over dying, unvaccinated COVID patients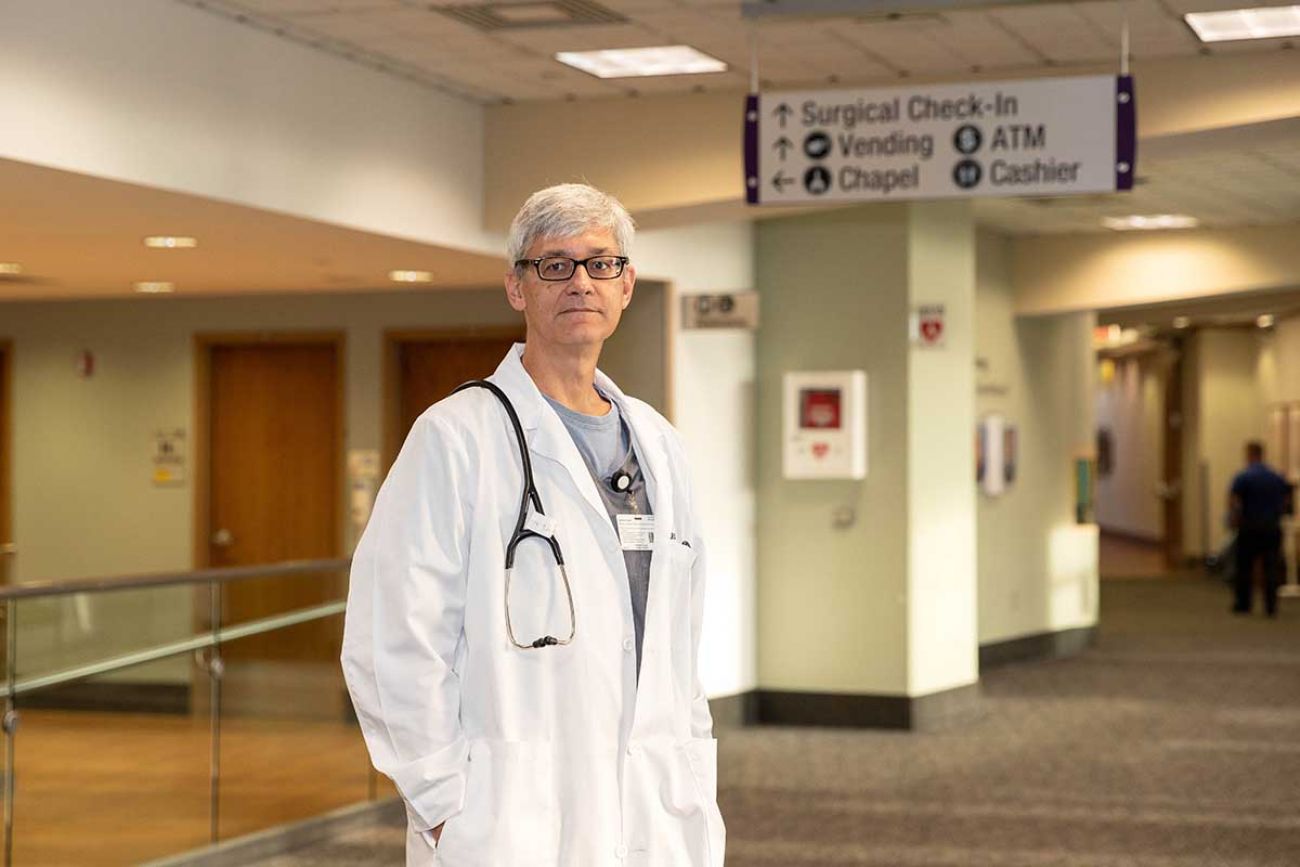 Exhausted after 18 months of treating COVID, health care workers like Dr. Matthew Trunsky are becoming exasperated by COVID patients who refused the vaccine and now lash out at medical staff, sometimes even as they're dying. (Bridge photo by Elaine Cromie)
Dec. 3: Michigan hospitals at COVID-induced capacities, as moods turn angrier
Oct. 13: Michigan ER patients left on stretchers, then recliners, in swamped wards
Oct. 6: Education levels drive Michigan vaccines. What's rate in your neighborhood?
Oct. 5: 400 workers out, 1,900 exempt after Henry Ford COVID vaccine mandate
It had been another grueling weekend for doctors and staff battling to save COVID patients at Beaumont Hospital in Troy. People gasping for breath, some dying. Patients' panic mixed with bewilderment and grief.
Dr. Matthew Trunsky had slogged through plenty of these shifts since the pandemic began last year: rushing from room to room, ordering up drug cocktails, reviewing charts, trying to communicate with patients through a mask and face shield over the din of breathing machines, and having to tell families their loved one was about to die.
But a series of troubling interactions this past weekend triggered something powerful inside Trunsky. Maybe it was the long hours. But mostly, he said, it was the unending thicket of misinformation and conspiracy theories he was hearing from patients who had not been vaccinated, many of them critically ill.
Related:
So on Saturday — fresh off another 12-hour shift and still in his black scrubs — Dr. Trunsky grabbed a ham sandwich, walked to his back patio, and tapped out the following on a cell phone keyboard, which he uploaded to Facebook:
In my last two days of work I have heard the following:

1) "you're wrong doctor. I'm too healthy. I don't have Covid. I'm fine." (In reality, he's fighting for his life).

2) "I demand ivermectin or you'll hear from my lawyer."

3) "I demand hydroxychloroquine."

4) "I don't care what you say. I'm going to leave." (Response: "That is your prerogative but you'll be dead before you get to your car.")

5) "I'd rather die then take the vaccine." [You may get your wish.]

6) "I didn't take it because my son told me it would kill me." (The patient is currently fighting for his life — in fact it was the son's advice that may kill him.)

7. "I want a different doctor. I don't believe you."

8. From a woman whose husband died of Covid, "I would never feel comfortable recommending the vaccine for family and friends."
And with a click of a button, Trunsky — a specialist in pulmonology, critical care and hospice and palliative care — joined the growing ranks of U.S. health care workers who are publicly venting their exasperation with the unvaccinated, who comprise the vast majority of COVID patients in hospital emergency rooms and ICU's.
"They've screwed up. They didn't get vaccinated," Trunsky told Bridge Michigan in an interview about his Facebook post. "And now they're begging for care."
Some of that desperation is taken out on the medical teams caring for them, Trunsky continues on Facebook:
This is not to mention the anger the people have towards the physicians in the nurses who are really doing our best — and who are delivering exceptionally excellent care. Of course the answer was to have been vaccinated — but they were not and now they're angry at the medical community for their failure.

Numbers are on the rise. Get your vaccine.
Indeed, Beaumont Health announced Wednesday that all 10 emergency rooms in its system were nearing capacity — not just with COVID, but with patients suffering from other conditions who had delayed getting care during the pandemic.
Trunsky said he wants to be clear: Doctors and hospital staff are working just as hard to treat unvaccinated patients as those who received vaccines.
"We took the oath, we take all comers," he said. "And I think deep down that's the reason most of us went into medicine — to take care of patients. And it doesn't really matter who they are and what decisions they make."
Doctors and nurses may ask a patient why they are unvaccinated, he said, but "you don't want to go in with a chip on your shoulder, ready to say, 'You're stupid.'"
Fighting 'compassion fatigue'
Medical ethicists and those who track physician well-being said unvaccinated patients pose a particular strain on hospital workers.
Dr. Jessica Gold, an assistant professor of psychiatry at Washington University in St. Louis, recently told a medical publication it's not unusual for doctors to encounter "compassion fatigue" in their work. People forget, she said, that even though physicians must adhere to the Hippocratic oath they are also human.
"I think that you're allowed to be angry and still be a good doctor," said Gold, whose clinical and research work includes physician mental health. You're allowed to "be anxious and still be a good doctor. And it doesn't mean that people aren't taking care of their patients."
Dr. Kristin Jacob, who oversees the wellness program at Grand Rapids-based Spectrum Health, told Bridge that the strain can be acute among already stressed hospital workers who've spent more than a year working long hours with limited staff while enduring their own "exposure to trauma."
Now we have vaccines that can help end the pandemic, "and our community is not taking advantage of it. That causes a lot of moral distress for all of our caregivers," Jacob said. There's "a natural inclination to feel defensive and really continue to worsen that compassion fatigue. That's hard to talk about. No one wants to admit that."
Trunsky told Bridge he feels guilty for having these feelings, but added they do not extend to every unvaccinated patient.
"The patients who are remorseful, to some degree, when they come and say, 'I never thought this could happen. I'm really sorry. I've already talked to my friends and family telling them to (get vaccinated),' — it just makes it easier to care for them," he said.
He also recalled a new mom who skipped the vaccine, saying she had lingering doubts about government recommendations that nursing and pregnant women could be safely vaccinated against COVID. She was breastfeeding at the time, and still not comfortable with it, Trunsky said.
"It's hard to have anger towards a 29-year-old new mom who's got a 10-month old at home," he said. "You just can't."
But compassion didn't always come as easily for patients like those Trunsky referenced on Facebook.
That included the man in the ER who could barely breath even as machinery delivered 15 liters of oxygen per minute into his lungs, but who declared he was leaving the hospital, anyway.
"He's just not going to live if he goes home," Trunsky said.
Or the wife of a COVID patient who threatened to call her attorney if doctors did not immediately order up ivermectin, a deworming drug that, in humans, is used to treat some parasitic worms, head lice and skin conditions. While there are clinical trials assessing ivermectin's ability to prevent or treat COVID-19, the drug has not been approved by the Food and Drug Administration and there is not yet data to show it is effective.
Trunsky said multiple patients argued with him about peer-review research relating to COVID, citing conspiracy theories they had read about on social media or formulated on their own.
Some lashed out at young nurses and overworked ER staff.
"They are looking for someone to get angry at because they screwed up, and that's not fair," Trunsky said.
"It's not fair to the doctors, the nurses, the respiratory therapists, the physician assistants, and nurse practitioners who are taking the brunt of people's anger when we're the ones that are telling them what to do and they didn't listen."
Across the country, doctors, nurses, respiratory therapists and other medical staff are voicing similar frustrations, including a doctor in Alabama who told patients that, after Oct. 1, he will no longer see patients who are not vaccinated against COVID.
"I cannot and will not force anyone to take the vaccine," he said in a letter posted online, "but I also cannot continue to watch my patients suffer and die from an eminently preventable disease."
In South Florida, another doctor announced last week she will no longer treat unvaccinated patients in-person.
A 'moral injury'
Certainly, physicians are used to handling emergencies involving patients who made risky health or lifestyle choices — smoking, drug abuse, unprotected sex, too much salt or fried foods. And choosing a career in medicine carries the risk of exposure to a global range of contagions.
But COVID is unprecedented in scale, and doctors, nurses and others who have spoken out say that the cause-and-effect of refusing to take an approved vaccine is too obvious to ignore. Last week, for instance, the CDC released a new study based on a review of more than 600,000 COVID cases. It found that unvaccinated people who get COVID are 10 times more likely to be hospitalized and 11 times more likely to die.
"It's highly preventable," Trunsky said of the virus, "and it's lethal."
What Trunsky is feeling is a "moral injury," Sean Valles, director and associate professor of the Center for Bioethics and Social Justice at Michigan State University, said of the doctor's Facebook sentiments.
"When we're confronted with situations we either participate in or have to watch that are just like so contrary to our moral code, it takes a toll on us," Valles said.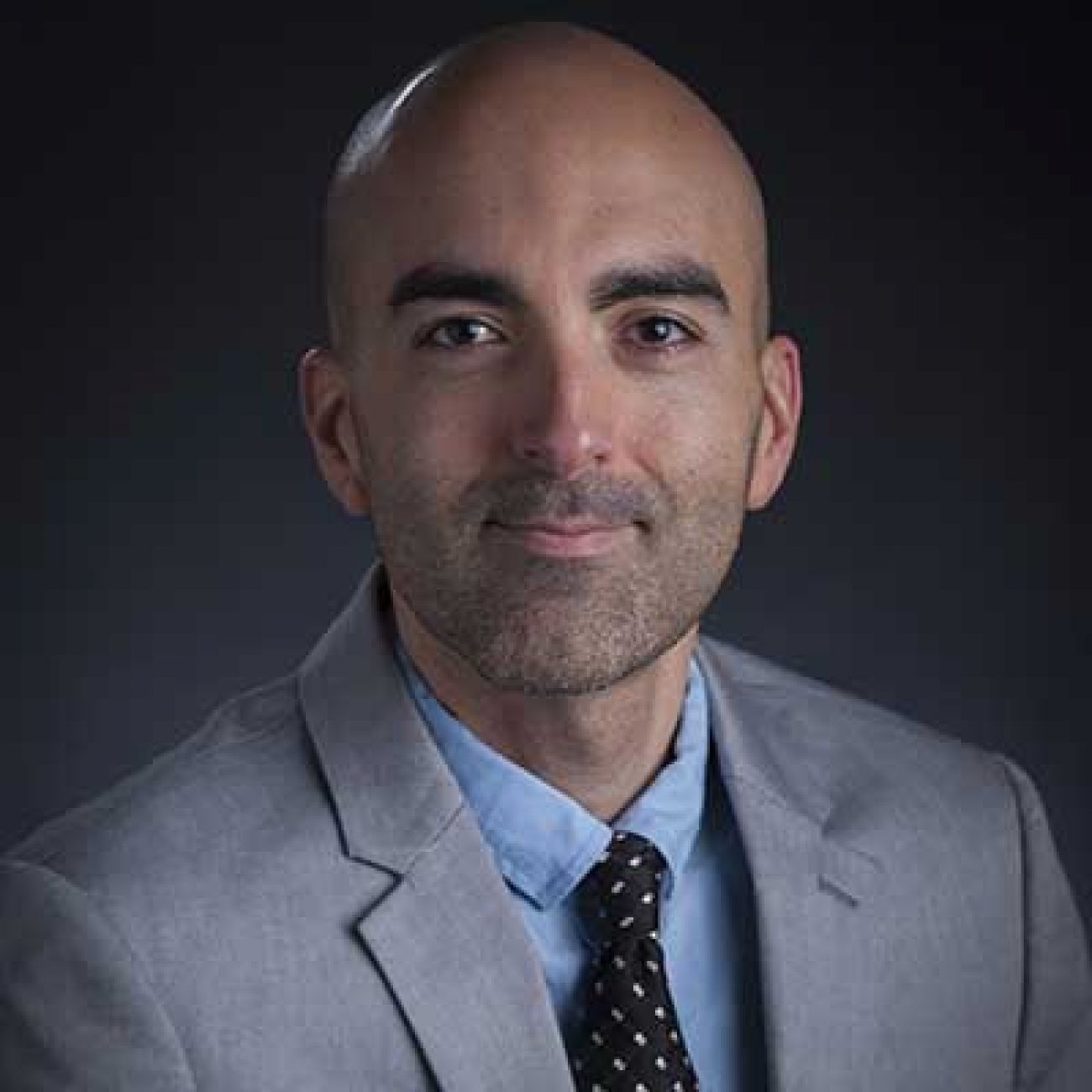 Many doctors and other medical staff feel a "moral injury" as they treat COVID patients who skipped a vaccine, said Sean Valles, director of the Michigan State University's Center for Bioethics and Social Justice. (Courtesy photo)
For a worker on the frontline of this pandemic, "you see folks coming into the hospital and being admitted for COVID symptoms, and you have the sense that this didn't have to happen … There's anger and frustration in seeing it again and again."
Some workers say they take steps to try and avoid those feelings.
At Spectrum Health Zeeland Community Hospital, respiratory therapist Kari Thoreson has spent much of the past year and a half intubating the sickest COVID patients. She tries not to know whether they are vaccinated.
These are patients she has gotten to know: she's learned their children's names, the church they attend, the crops they planted.
"It's just devastating because I know there's something out there that can help them," Thoreson said. "I know there's something out there that could have helped them, and to have these patients then beg for the vaccine as we're intubating them it's like, 'It's too late, we can't do it now.'"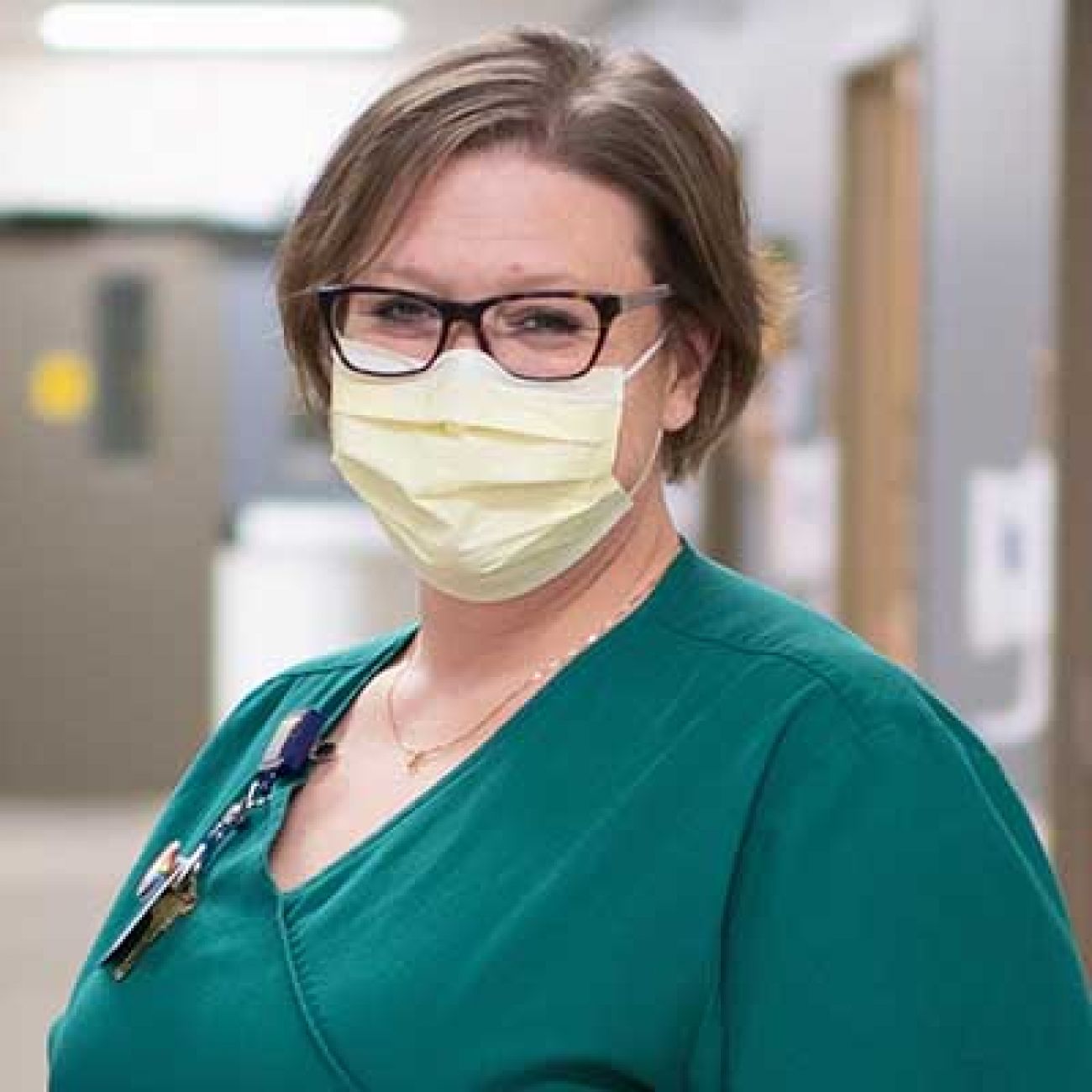 Respiratory therapist Kari Thoreson tries not to find out whether a patient is vaccinated as one way to guard against becoming frustrated by patients who don't take available health precautions. (Courtesy photo)
Thoreson often holds a phone to their face as they say good-bye to family.
"Then when we remove the tube, and we know that they probably have just minutes, if not seconds, before they pass," she said Wednesday. "It's hard to hear those families wail. It's just so hard."
Thoreson recounted the adult children of one patient who recently said good-bye to their dying father. Thoreson urged them to get vaccinated, but the dying man's children still weren't convinced.
"I try to have a lot of empathy with everybody and I understand people need to sort through their own information and everything is really a personal decision," Thoreson said.
"But on the inside, do I say sometimes, 'What the heck?'"
Jacob, the doctor who oversees wellness at Spectrum, said the reluctance to discuss such feelings is understandable, but mounting frustration has a cost. While doctors tell themselves they treat all patients alike, subtle behavioral differences that can seep into patient care.
A clinician may listen more deeply or linger longer in the room of those who aren't testing their patience, she said.
"Sufficient compassion has a direct correlation with positive health outcomes," Jacob said.
Trunsky told Bridge that since he wrote the post Saturday, some of the patients he referenced have died, despite "exceptional care" delivered by Beaumont's team.
He read down through his post as he talked.
"He's still alive, but he may die."
"He's still alive."
"She's alive but she may die."
He said that last patient told him, "If it's God's time for me, then it's God's time for me. I don't care but I'm not taking that vaccine.'"
Another of the patients died Wednesday, days after telling the doctor, "I'm too healthy. I don't have COVID." The patient's wife, also hospitalized for COVID, returned home.
That's the thing about COVID, he said, you can't predict.
"You can't tell who's going to get worse, who is going to get better, who will be here for a week, who will be here for a month, who will be here for three months, who will live and who will die."
Only donate if we've informed you about important Michigan issues
See what new members are saying about why they donated to Bridge Michigan:
"In order for this information to be accurate and unbiased it must be underwritten by its readers, not by special interests." - Larry S.
"Not many other media sources report on the topics Bridge does." - Susan B.
"Your journalism is outstanding and rare these days." - Mark S.
If you want to ensure the future of nonpartisan, nonprofit Michigan journalism, please become a member today. You, too, will be asked why you donated and maybe we'll feature your quote next time!