Michigan has just half the child psychiatrists it needs amid health crisis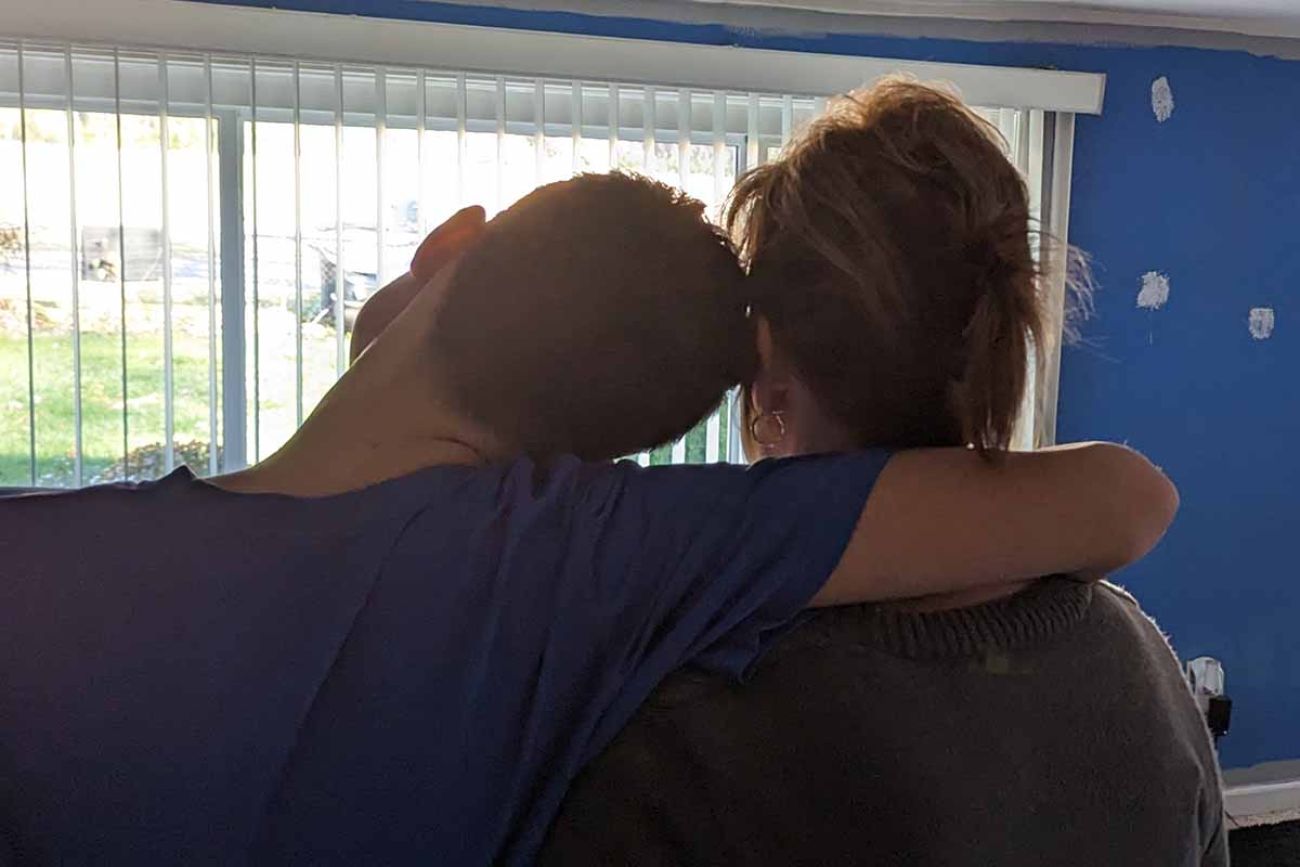 Michigan families say a lack of child psychiatrists leaves their children without the expertise to manage their children's serious mental illness. (Bridge photo by Robin Erb)
The state has just half of the child psychiatrists it needs
Michigan families turn to family doctors and pediatricians — providers with too little training for complex cases, experts say
Psychiatric nurse practitioners say they can help. But one family advocate argues: They're not qualified.
---
LAMBERTVILLE—Michigan's mental health system is hobbled by a shortage of workers, but perhaps none will be more difficult to fill than those at the very top of the skill chart: child psychiatrists.
The apex providers in the mental health system after training for 13 years or more, they theoretically take the most complex cases and oversee countless others. Yet child psychiatrists are located in just 39 of Michigan's 83 counties, according to a workforce shortage tool by the American Academy of Child & Adolescent Psychiatrists.
"It's commonplace" now to be without a child psychiatrist, said Dan McKinney, CEO at Hiawatha Behavioral Health, which provides mental health care in three eastern Upper Peninsula counties, in part, by contracting with a Texas-based child psychiatrist.
Related:
The Texas psychiatrist offers telehealth, working with Hiawatha for about a half day once a week, McKinney said. It means that some of the 109 children served by Hiawatha may not get enough hours, he conceded.
"We haven't had a doctor on site for 15 years or more — not on site, not in our building on a regular basis," McKinney said. "We're making due."
As mental health needs increase across the state, it's a scarcity problem not confined to Michigan's rural stretches.
In fact, nearly 6 million Michiganders live in areas known as "health care professional shortage areas" or HPSAs, for psychiatrists serving both adults and children, according to an analysis this month by KFF, a San Francisco-based healthcare research nonprofit.
The state would need another 249 psychiatrists of all types to reach a rate of one psychiatrist for every 30,000 people in the population — the rate at which areas are typically no longer deemed underserved, according to federal standards.
In Lambertville, a small town just north of Toledo, 13 half-empty bottles of pills represent chapters of one mother's years-long struggle to get her son help.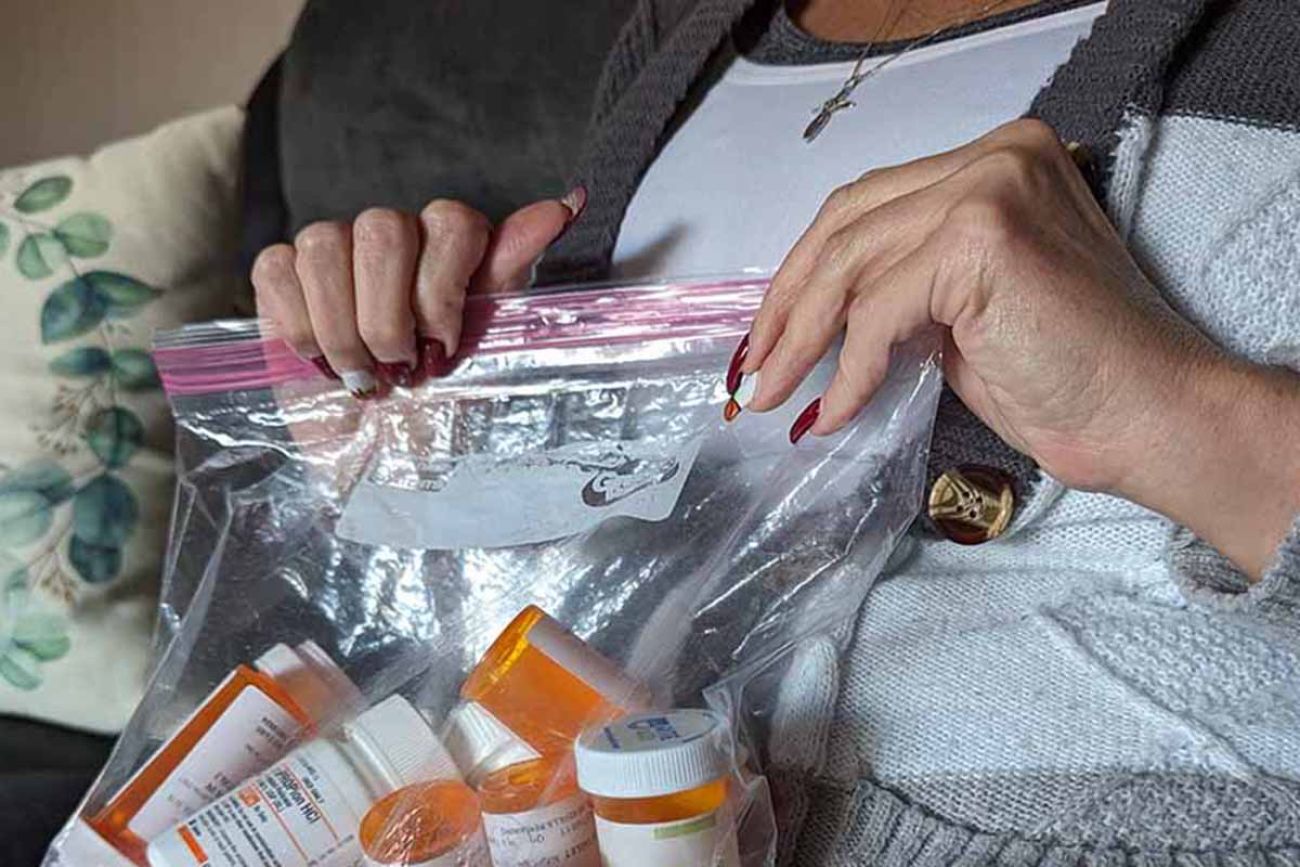 In southeast Michigan, a Lambertville mother has been trying for months to find a child psychiatrist for her son, even as he moves from medication to medication in an attempt to get his impulsivity and anger under control. (Bridge photo by Robin Erb)
Among them are Ritalin, Focalin, Qelbree and Adderall — all used to treat attention deficit hyperactivity disorder, Wellbutrin to treat depression and Zoloft to treat depression as well as panic attacks, obsessive compulsive disorder, post-traumatic stress disorder, social anxiety disorder.
And yet, her teen son — who, in his bedroom this morning, is building a digital farmland on his computer with his dog, Diablo, at his side — has been suspended from school once again. In a recent incident, the boy had warned another student that he was on a "list."
At another time, he mentioned a "shooting at the school," his mother acknowledged.
According to the mom,the boy is impulsive and mouthy, but nonviolent — all talk, no bite, much like his dog.
For this single mom, it has been a years-long battle to find providers, she said. Child psychiatrists' offices say they don't take her insurance, or they're not taking new clients, she said. Monroe County, where she lives, is home to more than 32,000 youth but has just two child psychiatrists, according to the national mapping tool.
She rattles the bag of pill bottles inside a plastic bag — pills that were prescribed by a general pediatrician or physician's assistants, among others, because there are no specialists in the area.
She said her son, now 16, has not seen a child psychiatrist since he was diagnosed at 6 years old with ADD and obsessive-compulsive disorder, or OCD.
"I need a child psychiatrist. I need somebody that specializes in this and knows … these are serious medicines he's on," she said.
"He's just tired of being in trouble all the time, like he could never do anything right," she said. "He's like 'I can't be a kid.'"
Bridge Michigan isn't identifying the four mothers interviewed for this story to protect their children's privacy. Each spoke to Bridge about their struggles in finding a psychiatrist specializing in child and adolescent mental health.
Northwest of Lansing, one mother said her teen-age son with autism has "caused several thousands of dollars in property damage" at schools. He last saw a child psychiatrist more than eight years ago.
In recent months, she has called several child psychiatrists on a list of providers given to her by a local mental health agency. Some numbers were out of service. One provider said they couldn't serve her son "because of his high level of needs," she said.
One psychiatrist had become "private pay only," meaning they no longer were taking insurance. It's a common occurrence in Michigan where these specialists are few, allowing them to avoid insurance paperwork and command fees higher than insurers are willing to pay from parents desperate to get their children help.
Another "didn't even return my phone calls," the mother said.
In Troy, a 47-year-old mother said she, too, has tried unsuccessfully to get an appointment for her daughter despite more than a half-dozen calls: "I have a second-grader who is throwing chairs at people. She has been on three different medications, and all were catastrophic…. She's manic. She's screaming," she said.
She has tried to find a child psychiatrist.
"No one is taking new patients, or if they are, they don't take Medicaid," she said.
In Oak Park, a stay-at-home mother of three whose husband works as a cashier said she searches for child psychiatrists "by Google, but they don't take Medicaid… One place wanted $250 just to start."
These are not unusual stories, said Dominick Pallone, executive director of the Michigan Association of Health Plans, which represents most of the state's insurers.
Pallone said he has struggled to find care for his own son. He, too, has heard the familiar refrain at the other end of the phone call: "Sorry, we're not taking new patients."
Under their contracts with insurers, Pallone said, child psychiatrists and other providers are supposed to alert insurers when they are at patient capacity. Most often, Pallone said, the offices don't bother.
"So there are not a lot of child psychiatrists in the first place, and when you get through to one, (finding one who is) 'taking new patients' is your next hurdle," he said.
The shortage of child psychiatrists is part of the larger picture of staff shortages throughout the healthcare system, including social workers, direct care workers, case managers and, in psychiatric hospitals, resident aides and security personel,
But few shortages are as hard to cure as psychiatry.
"You hear stories of children waiting months, even longer, to see a child psychiatrist. You hear of these kids sitting in ERs, awaiting psychiatric help," said Dr. Shama Faheem, a child and adolescent psychiatrist and the chief medical officer at the Detroit Wayne Integrated Health Network.
"The need exceeds the availability," she said.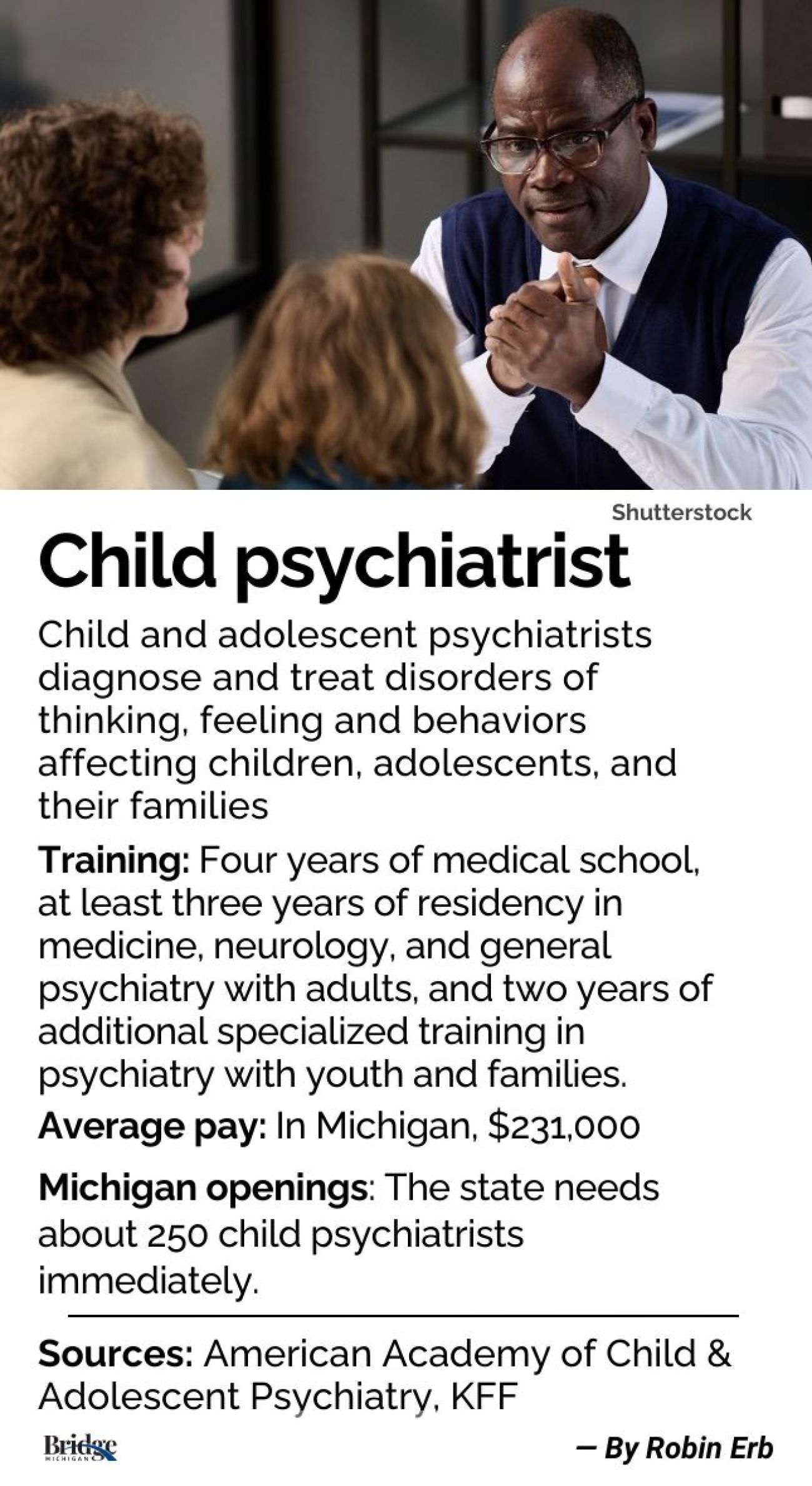 Extraordinary training
With few options,families commonly rely on family doctors and pediatricians to address their children's mental health problems. But such clinicians lack the training and time to untangle the most complicated mental health problems, experts and parents told Bridge.
"They see kids in 15-minute chunks," said Dr. Jared Magen, chair of Michigan State University's Department of Psychiatry and past president of the Michigan Psychiatric Society. "Psychiatric disorders are inherently very complex and multicausal."
A first episode of depression may seem driven by the fact a student didn't make the cut for marching band or a second time because of a failing grade in chemistry, Magen said.
But depression eventually can "(take) on a life of its own. It's environment and biology — it's some kind of mix of those," Magen said. "Maybe there's (a need for) medication, but you also have to look at what is triggering this. You can't tackle that in a 15-minute conversation."
At the Detroit health agency, Faheem agrees.
Especially in complex mental health cases, she said, "you need someone who is trained extensively in those areas. It takes a whole psychiatric evaluation .. and that's two or three hours."
Alternatives
Even when psychiatrists' offices tell parents they're taking new patients, children instead often see the practice's nurse practitioner or physician's assistant instead, said Marcie Lipsitt, a long-time advocate for students with special education needs.
In Michigan, psychiatric nurse practitioners and physician's assistants can prescribe psychiatric medications. But certain narcotics, including benzodiazepines — Xanax and Valium, for example — used to treat anxiety, stress and sleep disorders, require a signature from a collaborating physician, too.
That extra signature constricts the ability of some of Michigan's nurse practitioners to fully care for mental health patients. That's because a limited number of physicians will enter into such collaborative agreements and those that do often charge the nurse practitioners thousands of dollars a year, said Dawn Goldstein, program director for Michigan State University's Psychiatric Mental Health Nurse Practitioner Program.
Psychiatric nurse practitioners have experience as nurses and an additional two to four years of training in psychiatric care for children and adults, she said.
State Sen. Jeff Irwin, D—Ann Arbor, introduced a bill in April to further expand nurse practitioners' authority in Michigan, but it moved nowhere — a frustration for Goldstein and others.
Such a bill, she said, "is about opening up access to care, especially in rural regions."
But Lipsitt, the consumer advocate, argues that only specially trained child psychiatrists should be able to prescribe such powerful medications, anyway: "The issue is (a) licensed physician is not overseeing and never sees the child," she said.
In Lambertville, the 16-year-old boy is quiet in his room on this day — a relaxed kid enjoying a video game and more like himself than any impulsive words he hurls at school, his mother said.
The mom is fiddling with the pill bottles, as she recalls the toddler he once was — furious when his siblings would change the order of his crayons or disturb his lines of toy dinosaurs.
She wonders about the long-term effect of chemically controlling those behaviors, constantly tweaking doses and drug combinations to find precisely the right one.
She steps outside and surveys an empty nearby field, brown and dry under an autumn sun, taking a deep breath before stepping back inside: "We just need help. I just don't know what else I'm supposed to do."
Michigan workers vacancies
In this occasional series, we examine the scope of critical worker shortages in 2023, from doctors and police officers to math teachers and social workers. To view more stories in this series click here.
Only donate if we've informed you about important Michigan issues
See what new members are saying about why they donated to Bridge Michigan:
"In order for this information to be accurate and unbiased it must be underwritten by its readers, not by special interests." - Larry S.
"Not many other media sources report on the topics Bridge does." - Susan B.
"Your journalism is outstanding and rare these days." - Mark S.
If you want to ensure the future of nonpartisan, nonprofit Michigan journalism, please become a member today. You, too, will be asked why you donated and maybe we'll feature your quote next time!