Michigan schools must teach in-person, get waiver, or lose funding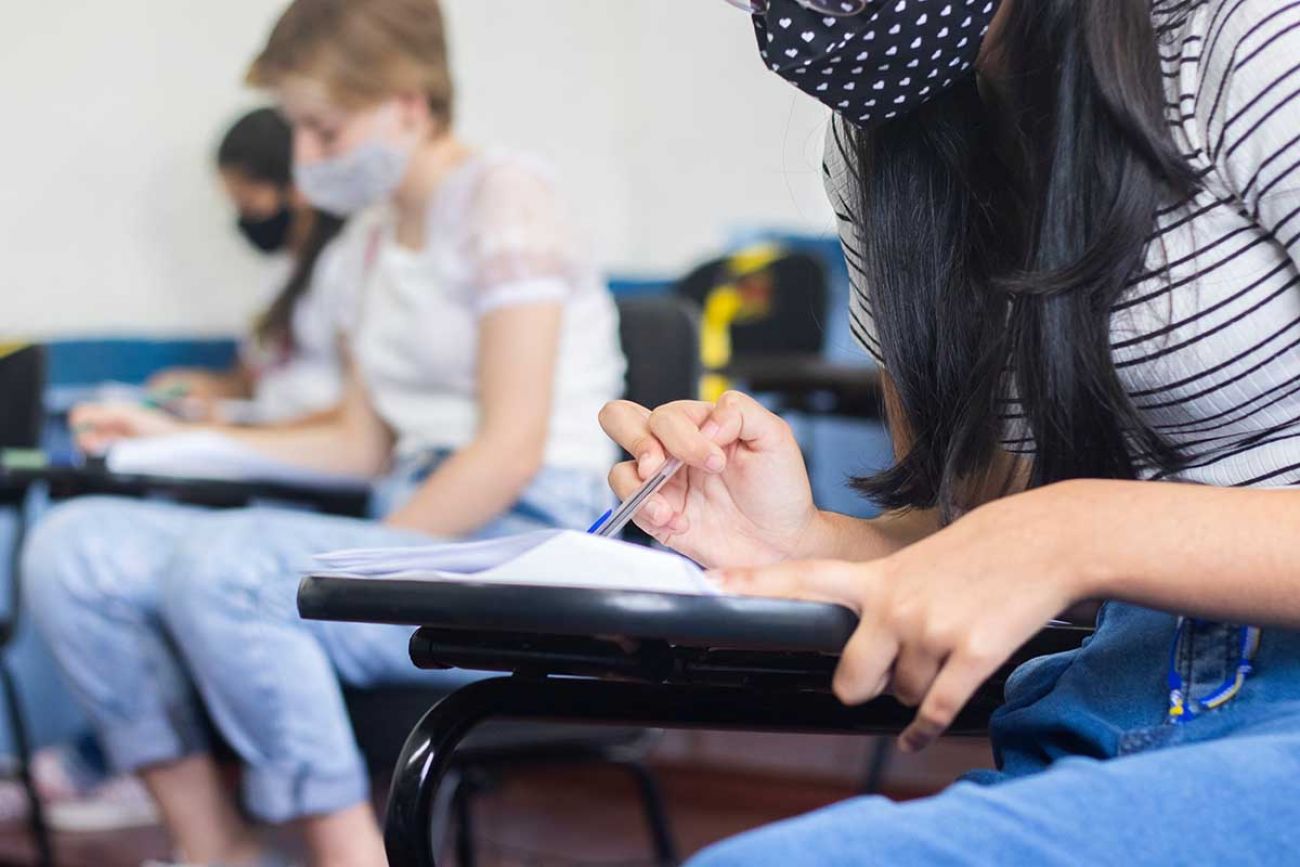 The state is expecting Michigan schools to remain open to in-class learning this year, and has made it harder for districts to switch to remote instruction. (Shutterstock)
Aug. 17: Michigan school mask tracker: Find rules in your district
LANSING—Michigan public schools are expected to offer a full week of in-class instruction this fall. And districts that close classrooms could lose crucial state funding unless they obtain a special waiver — which may be hard to secure.
Gone from the state's budget for the upcoming school year is the "maximum flexibility" the state gave school districts last year to hold school remotely as educators faced an unprecedented global pandemic and were forced to adapt on the fly.
All this means more uncertainty for superintendents who already face a barrage of angry parents, difficult decisions, and a rapidly climbing, Delta-variant-fueled COVID spread.
Related:
"Everybody's intention is to offer in-person learning. There's no question," said Robert McCann, executive director of the K-12 Alliance of Michigan, an education policy organization.
But, he said, if the local or state health department orders a school or schools to close their doors because of spiking COVID cases, "we don't have a lot of flexibility right now to accommodate that ... What are we supposed to do?"
For others, a limit on online learning is welcome news.
Nicholas Bagley, a father of an 11- and 13-year-old who attend school in Ann Arbor, testified at the Michigan Senate Education Committee in February about the difficulties of remote learning.
"My daughter used to love school," Bagley told lawmakers then. "Now, when she trudges back to her bedroom, she says 'Here comes more misery.'"
Many schools closed their classrooms last school year to contain the spread of COVID, but countless children and their families struggled amid shattered routines and the social isolation of online learning. Depression and attempted suicides were up. There's evidence, too, of an increase in eating disorders among youth, as some students neared their breaking point.
"School districts, before the pandemic, didn't have the freedom to shut down just because they felt it was unsafe," Bagley, a law professor at the University of Michigan, told Bridge Michigan this week.
Schools that remained online only, or offered instruction for limited hours a week, "have time and again placed the interests of their most fear-filled teachers over at the expense of their students," he said.
The budget change is "really a return to the status quo," said Bagley, who tweeted approvingly of the policy shift.
The new school appropriations law will push a return toward pre-pandemic normalcy statewide, 17 months after COVID pushed Gov. Gretchen Whitmer to halt in-school learning to slow the virus.
The budget approved by the Republican-led Legislature and signed into law last month by the Democratic governor does not include language — inserted into last year's pandemic-inspired budget — that offered schools "maximum flexibility to adapt their educational programs" to the pandemic.
The new law effectively restores the traditional requirement that districts offer at least 180 days and 1,098 hours of in-school instruction, which had been loosened to allow for various forms of remote and virtual learning.
Schools can still offer a virtual option this year, according to recent guidance from the state, but parents must agree to virtual enrollment on a student-by-student basis.
The "vast majority" of Michigan schools already resumed some form of in-person instruction by the end of last year, and Whitmer hopes they will continue "offering a normal mode" of learning this year, Whitmer spokesperson Bobby Leddy said Tuesday.
Administrators could apply for an instructional time waiver if "circumstances outside of a district's control require the move to remote learning," he said.
But that process has "not been tested" in the context of COVID-19, said Peter Spadafore of the Michigan Association of Superintendents and Administrators, which is urging lawmakers to give districts additional flexibility to go remote if warranted by the pandemic.
Under longstanding state law, districts can apply for a waiver if they offer an "alternative education program or another innovative program" approved by the Michigan Department of Education.
But it's not immediately clear if state Superintendent Michael Rice would approve a COVID-related waiver for remote schooling. Spokespeople for MDE and the governor did not immediately respond Tuesday to follow-up questions about that process.
"I look forward to working with the department to see if this seat-time waiver process is something that we can look to should pandemic learning be necessary," Spadafore told Bridge Michigan.
In a late-July memo to local school administrators, MDE told districts they can still offer students the option to take all classes remotely and online.
But state law does not allow schools to enroll students in virtual programs without the consent of their parents, which means superintendents cannot simply flip a switch and go fully virtual in the event of a COVID-19 outbreak.
Instead, to receive state funding, districts will be required to provide in-person instruction throughout the year for students whose parents do not agree to enroll them in virtual classes.
Schools also no longer have the authority to go to packet-based and offline remote learning, said Martin Ackley, director of public and governmental affairs for the Michigan Department of Education.
"Those flexibilities were intentionally removed by the state Legislature for next school year," Ackley said Monday.
Legislators who pushed to restore strict in-school attendance requirements that had been waived early in the pandemic were flooded with calls from upset parents last year, said state Rep. Pam Hornberger, R-Chesterfield Township, chair of the House Education Committee.
"They see that life outside of school has gotten back to normal, or close to normal, for pretty much most people, and they want their kids back in school," she said.
In the event of a COVID-19 outbreak, schools will have to work with their local health department to determine next steps, "just like they would if there was an outbreak of something like norovirus" or the common flu, Hornberger told Bridge Michigan.
A different kind of year. Maybe.
And that's probably okay this year, said Carl Shultz, superintendent of Bedford Public Schools in southeast Michigan.
He said COVID-19 cases would have had to be "egregiously high" before the school would go to online-only learning again.
Bedford went that route in November, just days before the Michigan Department of Health and Human Services required high schools, colleges and universities to shift to in-class learning.
Don't get him wrong, Shultz said, he takes COVID seriously. He was in bed with the virus about a week and a half last year, and "there were a lot of people who lost lives and a lot of people who lost loved ones," he said.
"I take it all into account when I look at these decisions," he added.
But this year is different. In addition to the availability of vaccines, schools are better equipped — literally — to fight the threat, Shultz said.
Hand sanitizer, social distancing and daily deep cleaning with specialized new equipment are all part of routine now.
And while Bedford Public is only encouraging, not mandating, masks for now, that can change quickly as district leaders monitor case rates and keep in regular contact with the Monroe County Public Health department, he said.
"We can transition from optional masks to mandatory masks in a day, even within the hour, really. We have masks on hand," Shultz said.
Yes, he said, if push comes to shove — if cases reach the same deadly levels they did in prior surges — he'll push to shut down the school.
But, he added, "I believe we can do this, and we can do this safely."
Some wiggle room
Michigan law already provides leeway for districts who cannot meet the 180-day instruction requirement.
Schools can cancel up to six days of class in the event of "epidemics" or other unpredictable circumstances like severe storms or fires. And they can request a three-day waiver for "unusual and extenuating occurrences resulting from conditions not within the control of school authorities."
But absent a broader waiver, "there is no mechanism" in state law that would allow schools to close their doors and go fully virtual in case of an outbreak, and that's worrisome, said Spadafore of the state superintendents group.
"It leaves districts in a very precarious position as we try to navigate the ever changing landscape of COVID-19," he said.
"Obviously (local school) leaders prefer to have our students in the classrooms with in-person, face-to-face instruction. But as we've learned the last 18 months, COVID-19 is unpredictable, so the laws should reflect that."
We're not just a news organization, we're also your neighbors
We've been there for you with daily Michigan COVID-19 news; reporting on the emergence of the virus, daily numbers with our tracker and dashboard, exploding unemployment, and we finally were able to report on mass vaccine distribution. We report because the news impacts all of us. Will you please support our nonprofit newsroom?