Northern Michigan pushback to clean needle programs for drug users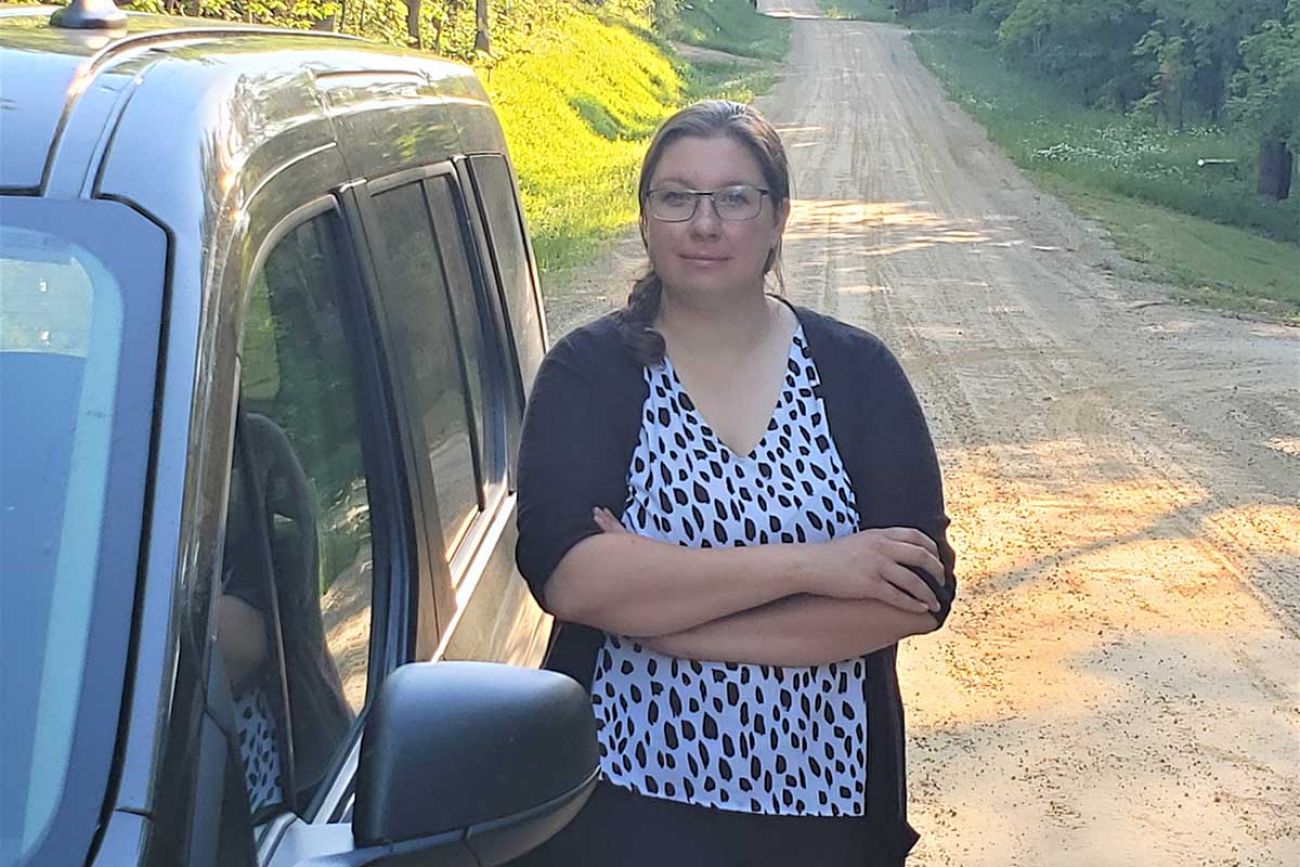 In the Upper Peninsula, nurse Monica Eriksen drives a mobile van on back roads to deliver clean needles and overdose prevention kits to people injecting illegal drugs in a bid to ward off health problems and educate them on treatment options. (Courtesy photo)
About a dozen miles east of Traverse City, a tiny community in Kalkaska County confronted a specter many might expect in a big city.
Local residents in Rapid City were finding used syringes in a city park or under a bridge, sure signs to some that injection drug use was out of control.
"It's not the first time people have found needles," said Jordan Acker, zoning administrator for Clearwater Township, which encompasses the unincorporated community of Rapid City.
Related:
"Our town has a major drug problem ─ hard drugs, meth, heroin, stuff like that."
But Acker and other officials attribute the reports they received of discarded syringes to a source beyond mere drug use: a needle exchange program gone awry.
In Acker's view, reports of discarded needles coincided with a community needle exchange program launched without local approval in 2020 by Harm Reduction Michigan, a nonprofit that works with drug users to reduce harm, based in Traverse City.
When local officials learned of the program a few weeks ago, and complained about it, Harm Reduction agreed to shut it down pending further discussions about its operation.
"We finally had enough," Acker told Bridge Michigan.
A backlash to needle exchange programs also extends to Grand Traverse County, where officials balked at funding them and the sheriff worried that providing needles encouraged illicit drug use.
But decades of peer-reviewed research show needle exchange programs reduce incidents of HIV, hepatitis and other viral infections from contaminated needles, are more likely to persuade people addicted to drugs to seek treatment, and generally save taxpayer money. A recent study also indicated drug users participating in needle exchanges are less likely to have an overdose-associated hospital admission.
"We offer sterile needles to people who inject illicit drugs, and who are going to do that whether they bought a dirty needle from someone or found one on the street or they had access to a sterile needle," Pamela Lynch, director of Harm Reduction Michigan, told Bridge in an interview.
"We are not condoning illicit drug use."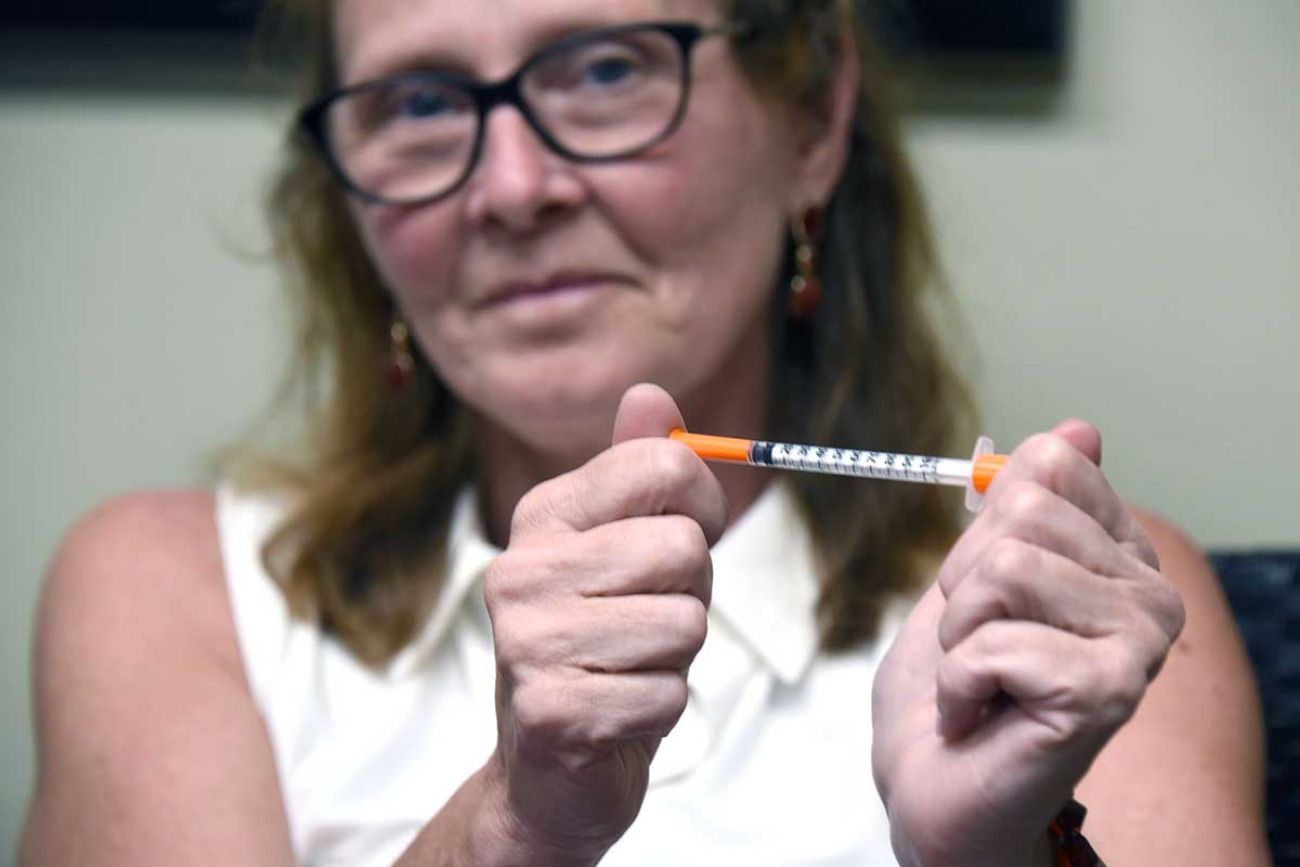 Pamela Lynch, director of Harm Reduction Michigan: "Do we want to be somewhere people don't want us to be?" (Bridge photo by John L. Russell)
In recent years, needle exchange programs have quietly spread through Michigan, usually with little fanfare or controversy.
And health officials say that parts of rural Michigan ─ including Kalkaska County ─ are more vulnerable to the very health risks needle programs are intended to reduce: the sharing of contaminated syringes.
An HIV outbreak in rural Indiana reveals what is potentially at stake.
In 2015, then-Indiana Gov. Mike Pence reversed himself on drug policy and reluctantly backed a needle exchange program for Scott County, after dozens of cases of HIV were linked to the sharing of syringes by injection drug users.
"I will tell you that I do not support needle exchange as anti-drug policy," Pence said at the time. "But this is a public health emergency."
In all, 235 residents of Scott County (with roughly 24,000 people north of Louisville) became infected with HIV. One study concluded the outbreak could have been largely prevented by a combination of needle exchange and drug treatment programs.
A follow-up analysis by the U.S. Centers for Disease Control and Prevention identified 220 U.S. counties at higher risk of HIV. The list included 11 counties in rural Michigan. All were in the northern half of the Lower Peninsula, ranging from Lake and Clare counties south of Traverse City, to Kalkaska County and Cheboygan County south of the Mackinac Bridge.
In identifying high-risk counties, the CDC considered such factors as the rate of drug overdoses and prescription opioid sales, unemployment levels and the percentage of the population that is white.
A separate breakdown by Michigan's Department of Health and Human Services identified 18 counties at highest risk for HIV outbreak, including six rural counties in the Upper Peninsula and five in the northern third of the lower peninsula. MDHHS found most of those counties also had higher rates of hepatitis C and prescription opioids and lacked established needle exchange programs.
"We don't want to wait for a Scott County in Michigan to happen," Joe Coyle, an MDHHS epidemiologist, told Bridge Michigan.
Citing data from the CDC, Coyle said there's broad agreement that needle exchanges ─ also known as Syringe Service Programs (SSP) ─ help reduce transmission of hepatitis C and HIV, potentially deadly viral infections that are commonly spread by the sharing of dirty needles by injection drug users.
"The evidence behind SSP is real strong," Coyle said.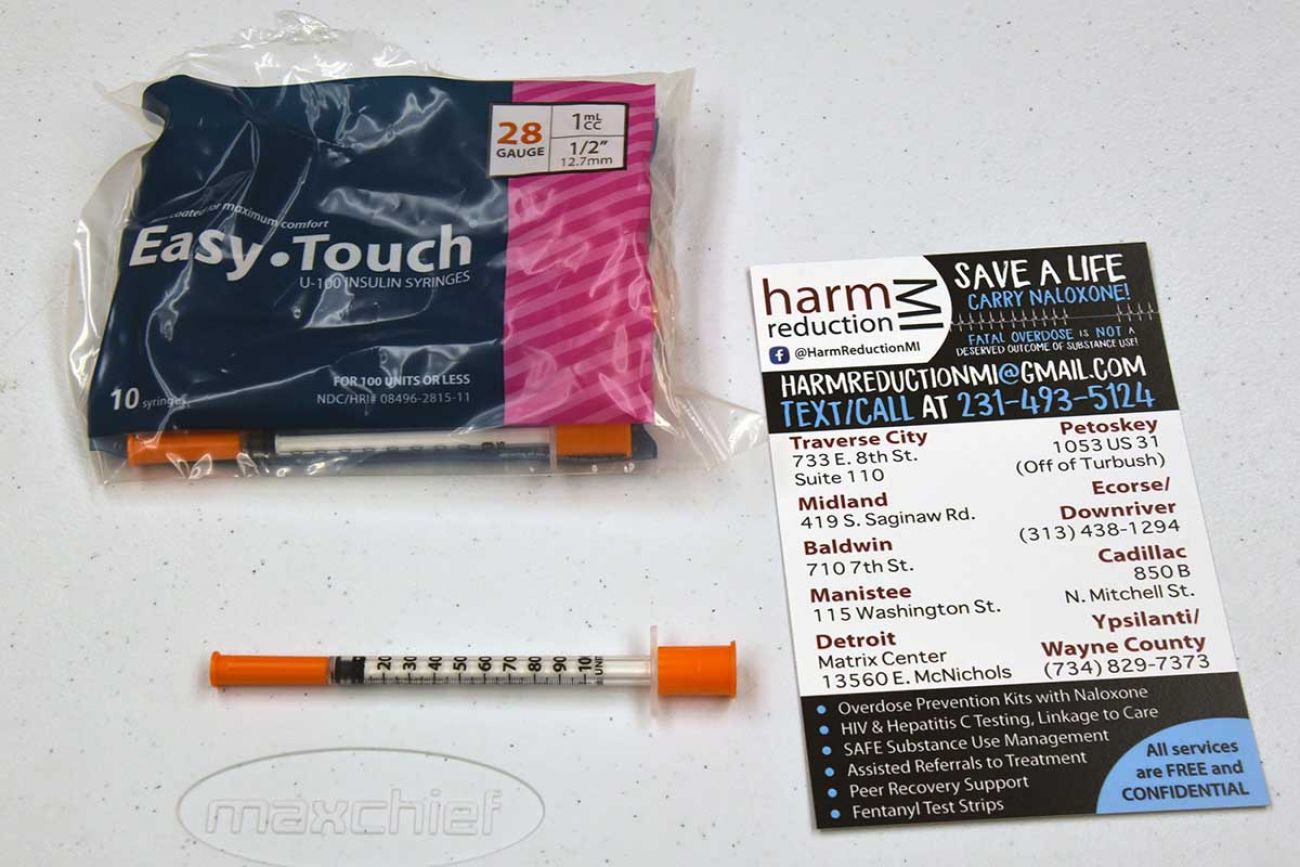 Harm Reduction Michigan is a nonprofit that supplies clean needles to drug users to reduce the chance they contract HIV, hepatitis C or other illness from a contaminated syringe. (Bridge photo by John L. Russell)
Indeed, according to the CDC, drug users who first enter a needle exchange are five times more likely to seek treatment than those who do not participate in such programs.
In 2016, according to Coyle, Michigan had four needle exchange programs: in Detroit, Grand Rapids, Ypsilanti and Flint.
There are now more than 60 scattered across the state, some temporarily closed because of the pandemic. The majority are supported with funding help from the state. According to MDHHS, the state has funneled $7.1 million to needle exchange programs since fiscal 2019.
The expansion of programs to rural corners of the state corresponds to the growing reality that injection drug use ─ and diseases like HIV ─ are not confined to Michigan's urban areas.
And as opioid use grew in rural Michigan, so, too, did the risk of HIV and hepatitis C. Though treatable in many cases with antiviral medications, hepatitis C also can lead to chronic infection, liver disease and, in some cases, death.
In 2019, according to MDHHS, of the 12 counties with highest rates of chronic hepatitis C, nine were in the U.P. and northern third of the Lower Peninsula.
By and large, Coyle said, needle exchange programs have been accepted with little controversy in Michigan.
"There has not been much resistance, even in some of our conservative communities," he said.
Nonetheless, a recent proposal to expand needle exchange initiatives in Grand Traverse County met resistance from elected officials and law enforcement.
In 2019, county commissioners voted 3-2 against funding an existing needle exchange program run by Harm Reduction Michigan and a second by a local addiction treatment agency.
Commissioner Rob Hentschel, who voted against funding expansion, said: "It felt like they weren't shooting us straight. The name of the request and the name of the grant was all about distributing needles, but they're saying, 'Oh, but we're not buying needles. We're only supporting staff that distributes needles to people.'
"It's a very tough call because my heart does go out to people that are suffering from addiction."
Before the vote, Grand Traverse County Sheriff Tom Bensley let his views be known.
"The majority of these users are probably illegal drug users," he said.
"This only serves to promote safe illegal drug use. The sheriff's office is in the business of stopping illegal drug use whether it's safe or not. … By approving this, you are endorsing safe, illegal drug use."
Bensley told Bridge Michigan he stands by that statement today, adding he's seen no evidence that local needle exchange has curtailed the spread of HIV and hepatitis C or led more drug users into treatment.
"There's no way to know if the program works," he said.
Bridge reached out to the Grand Traverse Health Department to seek information on the effectiveness of its needle exchange program but did not hear back.
In Scott County, Indiana, opponents of needle exchanges never really went away, even after the HIV outbreak.
To the dismay of local health officials, the county decided this month to pull the plug on the needle exchange program that helped bring new cases of HIV under control. CDC researchers also found that the portion of drug users sharing needles had dropped from 74 percent to 22 percent between 2015 and 2018.
Nevertheless, Scott County Commission President Mike Jones ─ who joined another commissioner in a 2-1 vote to end the program ─ said he worried that access to needles was paving the way to more overdoses.
"I know people that are alcoholics, and I don't buy him a bottle of whiskey," Jones said. "I have a hard time handing a needle to somebody that I know they're going to hurt theirself with."
There has been no such controversy in Michigan's eastern Upper Peninsula, where the four-county LMAS Health Department started a mobile needle exchange program in March of last year.
Monica Eriksen, a department nurse who spearheads the program, said it's operated thus far with little notice or opposition, adding: "We haven't received much negative feedback at all."
She estimates she logs 400 miles a week in a department van as she shuttles with a peer recovery coach to remote locations throughout a region that includes Luce, Mackinac, Alger, and Schoolcraft counties.
"We meet people in their homes, at a gas station, whatever is most convenient for them," she said.
As is standard with most needle exchange programs, Eriksen also hands out kits with naloxone, an antidote to prescription opioids or heroin that can prevent fatal overdoses.
Eriksen views these encounters as a chance to open doors to recovery, whether it's support for a job, transportation, medical assistance or referral to a drug treatment program.
"We don't push anything on people. But every conversation I have with somebody is aimed at getting people to a better place. The recovery piece is a very important part of what we do."
Eriksen also hands out sharps disposal containers to clients, hard plastic boxes for the safe disposal of syringes and other sharp medical equipment. Results from the first year are encouraging.
"Our data shows that we received more syringes back than we gave out. People were storing (used needles) at home before the program started and were afraid to get rid of them. But they have become more comfortable returning them and the ones they got before we started."
As Harm Reduction Michigan negotiates for a return of its needle exchange program in Rapid City, Lynch, the director, concedes it might have been helpful to gain local approval before launching its program.
"'Don't be operating in our community without us knowing,' I can appreciate that," she told Bridge.
Lynch said the Rapid City program began about a year ago in a church parking lot, initially with a focus on overdose prevention and distribution of naloxone kits. It expanded to needle exchange when "people began asking for syringes," Lynch said.
Though the program is now on hold, Lynch said she will keep talking with local officials in hopes will approve its restart.
"It clearly is going to require some education," she said. "But do we want to be somewhere people don't want us to be?"
Only donate if we've informed you about important Michigan issues
See what new members are saying about why they donated to Bridge Michigan:
"In order for this information to be accurate and unbiased it must be underwritten by its readers, not by special interests." - Larry S.
"Not many other media sources report on the topics Bridge does." - Susan B.
"Your journalism is outstanding and rare these days." - Mark S.
If you want to ensure the future of nonpartisan, nonprofit Michigan journalism, please become a member today. You, too, will be asked why you donated and maybe we'll feature your quote next time!