Part nurse, part detective: A day in the life of a Michigan contact tracer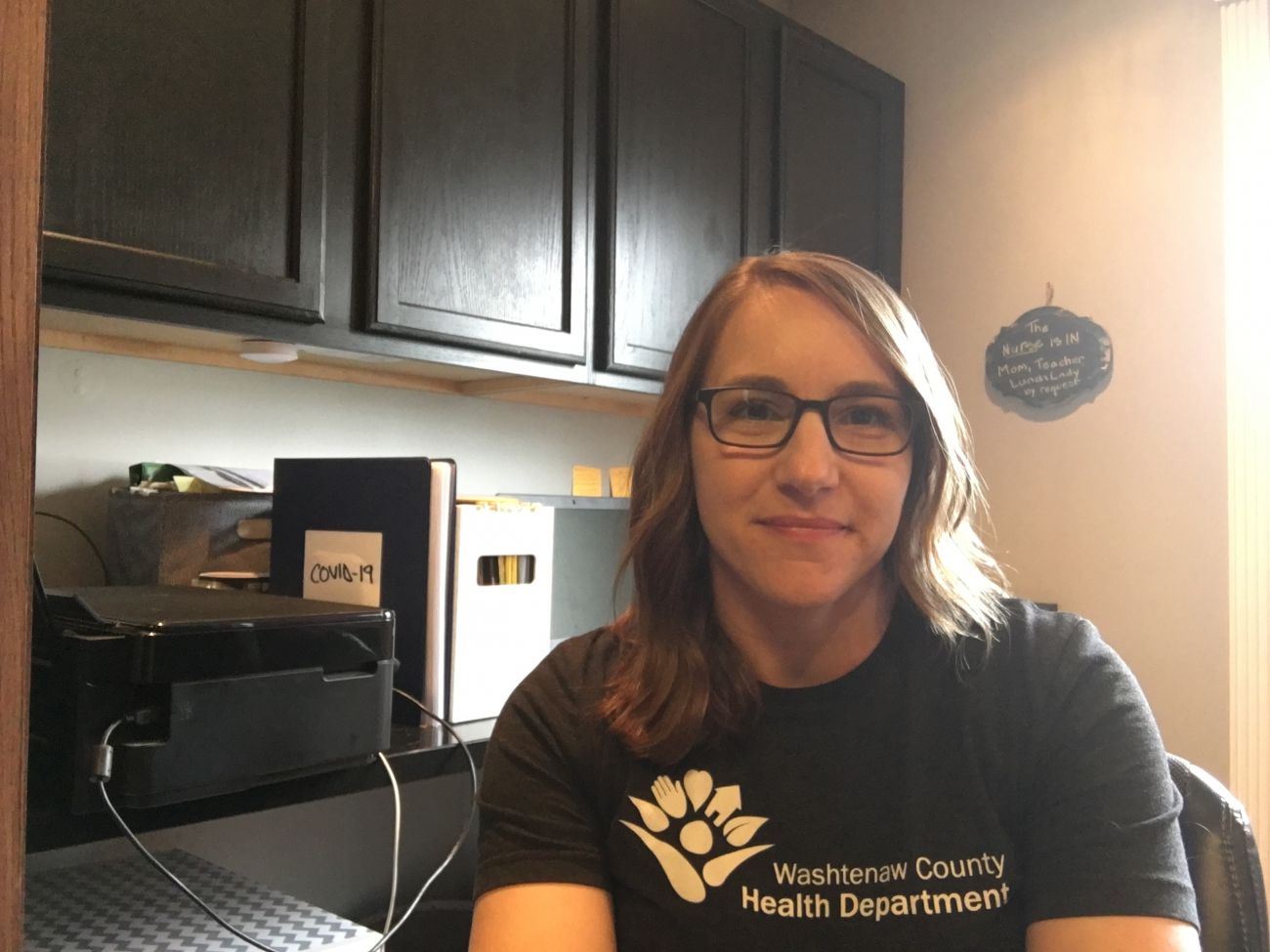 Christina Zilke's first interaction with her patients is often unpleasant.
As a contact tracer with the Washtenaw County Health Department, she must ask them to relive the onset of an illness that has made them a statistic in a global pandemic.
Zilke knows how important it is to interview COVID-19 patients as soon as possible after they contract the virus. The earlier she can learn where they were and who they saw before testing positive, the faster she can reach those people and quarantine them to stop the disease from spreading.
But often, her patients don't want to talk. They may have already been asked to provide this information to several other people. They're frustrated and scared. Sometimes, they're so sick that they struggle to talk.
"It's retraumatizing to make them think of every little place they were, who they talked to," she said, adding that she's learned to recognize not to take it personally if patients are rude or angry.
It's a whole new skill set for Zilke, a nurse who until recently worked as the health department's education and outreach coordinator. That was before COVID-19 slammed into Michigan, forcing the state's public health system into pandemic-response mode.
Washtenaw and other southeast Michigan counties have experienced some of the highest infection rates in the state. At one point, things were so bad in Detroit that Dr. Anthony Fauci, the nation's top infectious disease expert, declared it to be one of the nation's hot spots. As of Saturday morning, 1,160 people have tested positive for the virus in Washtenaw County, and 80 have died.
In the absence of a coordinated statewide effort to conduct contact tracing, local health departments have independently decided whether to ramp up tracing capabilities locally.
With many of the Washtenaw County Health Department's usual activities on hold while Michiganders are under orders to stay home with exceptions only for essential needs, county health officials reassigned Zilke and many of her colleagues to serve as public health detectives.
Related: What to know about Michigan's contact tracing program
She now spends her days keeping tabs on dozens who either have coronavirus, or have come into close contact with a COVID-positive patient. Since the pandemic hit Michigan, she has traced more than 80 cases.
The routine starts with a daily 9 a.m. conference call.
A supervisor, armed with a list of the latest Washtenaw County residents to test positive for COVID-19, begins assigning each patient to a tracer. Once they have their caseload, Zilke and her colleagues start making phone calls to the names on their list.
"Our goal," she said, "is to figure out, when did you get sick? When did your symptoms start? What were your symptoms, and how have they progressed?"
Once she pinpoints the date the patient started feeling off, Zilke backtracks 48 hours. Then, more questions: Where did you go? Who did you see? She's aiming to identify and then contact any person who had close contact with the COVID-19 patient before the patient entered isolation.
Those close contacts are advised to quarantine at home for two weeks in case they, too, are carrying the virus. They shouldn't even interact with their own family members, if they can help it.
If they leave the house, "it's really important that they stay masked all the time," Zilke said, "because if they start to become sick, they're already putting people at risk."
For people who have tested positive, the recommended restrictions are even tighter. Unless they live alone, they shouldn't leave their room. Zilke directs family members to leave food at the door, then retrieve and immediately wash empty dishes. This routine continues until the patient's symptoms have disappeared for at least three days.
That's easy enough for patients who live in homes with ample room to isolate. But what about those who share a single bathroom with family members? What about those who are responsible for taking care of someone in their household? Or those who have no house in which to isolate? For them, isolation may be impossible.
"At that point," Zilke said, "it's really important to talk to them about how you clean the bathroom after using it."
She's trained as a nurse, but Zilke has learned that as a contact tracer, she must also often act as a de facto social worker, emotional support coach and advocate for her patients.
With Zilke and her colleagues' help, some homeless patients and others with no way to isolate at home have checked into a local Red Roof Inn. Once they're isolated, Zilke checks in on her patients every couple of days to ask them how they're feeling and whether they need any assistance.
With a current caseload of 40 people, she has to write names on a homemade calendar to make sure nobody falls through the cracks.
In addition to monitoring their symptoms, Zilke and her colleagues connect their patients with help fulfilling daily needs, from restocking their groceries to filling prescriptions.
And they coach them through the grueling mental and emotional experience of prolonged solitude. One of Zilke's current patients was in the hospital for four days, then forced to isolate at home for more than a month as his symptoms lingered.
"It's very hard for him, but also his family members," she said, who must resist their instincts to help and comfort their suffering loved one.
The job is also hard on the tracers. Sometimes, patients die, leaving behind sick family members who must wrestle with grief while wondering whether they're next.
She and her colleagues cope by checking in via text or Facebook, sharing photos of their pets to lighten the mood.
"And I eat a lot of ice cream," Zilke said.
Still, there are days when she cries after learning that a patient has died in one of Michigan's hard-hit long term care facilities. "I think about my own grandmother, and how they're dying all at once and how the staff in that facility must be heartbroken."
But as much as the job can be tragic, it's also gratifying. Most of Zilke's sick patients recover from COVID-19. Often, by the time they're released from her care, they've come to appreciate all of her relentless questions.
"I've had people tell me," Zilke said, "'when the pandemic is over, I'd love to meet you.'"
We're not just a news organization, we're also your neighbors
We've been there for you with daily Michigan COVID-19 news; reporting on the emergence of the virus, daily numbers with our tracker and dashboard, exploding unemployment, and we finally were able to report on mass vaccine distribution. We report because the news impacts all of us. Will you please support our nonprofit newsroom?