Suicide stalks rural Michigan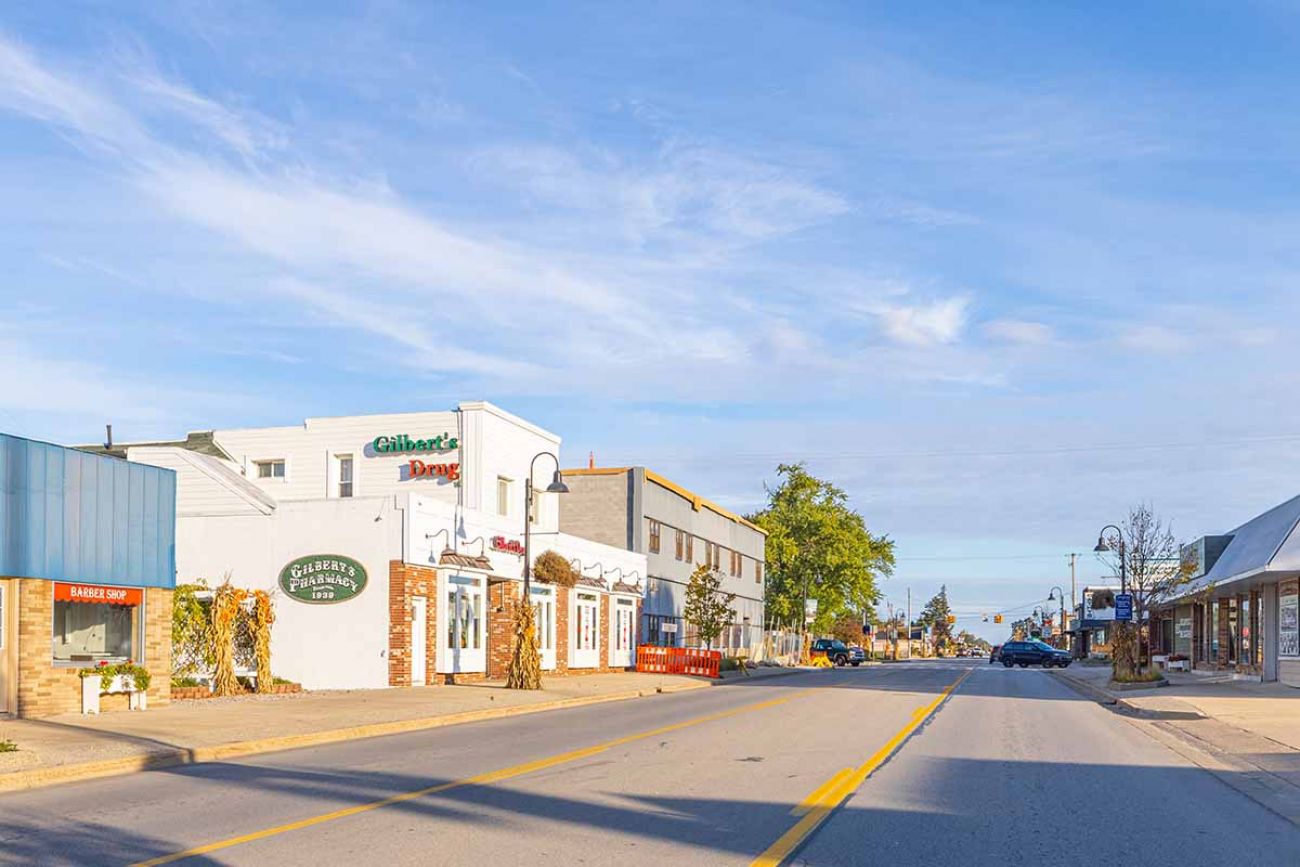 In the northeast Lower Peninsula, sparsely populated Iosco County had one of the state's highest suicide rate in Michigan from 2005 to 2020. Shown here is downtown Oscoda, which is in Iosco County. (Roberto Galan / Shutterstock.com)
Tucked away in the northeast Lower Peninsula, a cluster of sparsely populated Michigan counties is best known to some as a destination for remote camping and prized trout fishing.
But this forested landscape is also home to a grim fact of life that's been quietly present for decades ─ it's the state epicenter of death by suicide.
Eighty miles north of Bay City, Oscoda County topped the state in its suicide rate from 2005 to 2020, at 30.6 deaths per 100,000 population, more than twice the state average of 13.2 suicide deaths per 100,000 over those years.
Related:
Its next-door neighbor, Alcona County, posted the second-highest suicide rate over that period. Five adjoining counties ─ Roscommon, Ogemaw, Montmorency, Presque Isle and Iosco ─ make the top 15 over those years in Michigan.
Across Michigan, the 15 counties with the highest suicide rates were all rural, with six in the Upper Peninsula, mostly in the western region.
These counties have something else in common: By and large, they suffer from a marked shortage of mental health resources, ranging from psychiatrists and psychologists to mental health and substance use disorder counselors.
Indeed, a 2019 report on mental health treatment found that 10 Michigan counties ─ all in the U.P. or northern half of the Lower Peninsula ─ had no psychiatrist or psychologist. Sixteen Michigan counties, all rural and all but one in the U.P. or northern Lower Peninsula, had no substance use disorder treatment centers.
Combined with greater access to guns, an eroded economic base and a higher concentration of military veterans, experts say, it's a recipe for ongoing personal and family tragedy in rural Michigan.
Ron Samarian, chief of psychiatry at Beaumont Hospital in Royal Oak, said he sees multiple factors beyond a lack of mental health services that have made rural Michigan a breeding ground for suicide.
Where to get help
If you or someone you know is contemplating suicide, there are people who can help. Call the National Suicide Prevention Lifeline at 800-273-8255 (800-273-TALK) 24/7. The group also lists resources for anyone who may be contemplating suicide online.
There also are resources for those who served in the military. People can text 838255 to the Veterans Crisis Line or chat online.
The state's Michigan Warm Line — 888-PEER-753 (888-733-7753) — provides people with mental illness with emotional support from a certified peer support specialist or peer recovery coach every day from 10 a.m. to 2 a.m.
In Oakland County and the Upper Peninsula, residents may call the new Michigan Crisis and Access line at 844-44-MICAL (844-446-4225) or chat live through this webpage.
"It is a population that in some ways has been left behind," said Samarian, who has been in private psychiatric practice for 35 years, with many of his patients from rural communities.
"I think for a lot of people in rural Michigan, there has been a loss of self-worth. You used to be able to get a job in mining. Those jobs don't exist. You combine that with a strong presence of firearms and alcohol or drug use and that is a lethal combination," he said.
To be sure, the total number of suicide deaths in rural Michigan pale by comparison to those in populous areas like Wayne, Oakland and Kent counties ─ which between them had more than 6,700 suicides from 2005 to 2020. Suicides in the 15 counties with the highest rates totalled 770 deaths over the same period.
Still, the difference in suicide rates between urban and rural counties is stark. Oscoda County's cumulative suicide rate over the 16 years was 2.7 times that in Wayne County, and nearly three times that in Kent County.
After predictions the COVID-19 pandemic would drive up suicides, Michigan's overall suicide count actually fell slightly in 2020, the most recent year for which data is available, from 1,471 2019 to 1,432 in 2020.
But Michigan's 2020 suicide total is 47 percent higher than the 975 suicides recorded in 2000, while the overall rate of suicide climbed 41 percent over that period. The upward swing echoes a national rise in suicides over the past two decades.
Debra Pinals medical director for behavioral health for the Michigan's Department of Health and Human Services, acknowledged that suicide in rural Michigan "is obviously a serious issue."
In response, she noted, the state launched a mental health crisis hotline in April 2021 that focused on the U.P. as among its early targets, adding, "We recognize there is a great need for resources there."
Pinals also pointed to the MDHHS student loan repayment program that offers physicians, nurses and an array of mental health specialists up to $300,000 in loan repayment if they commit to provide services for a set number of years in underserved areas of Michigan.
Pinals said MDHHS also funds nine mobile substance use disorder units to reach residents who might not live near a treatment center, including one each in the U.P. and northeast Lower Peninsula. "Really trying to get access to those populations is something Michigan has been invested in," she said.
Overall, men account for about 70 percent of suicides in Michigan ─ with more than half of men using a gun. White residents in Michigan are 1.8 times more likely to die by suicide than Black residents and 1.6 times more likely than Latino residents.
That racial differance offers another clue why suicide casts such a shadow over rural Michigan, as most of the top 15 counties in suicide rate are overwhelmingly white. White residents in Oscoda and Alcona counties accounted for 98 percent of the population in 2020, and exceed 90 percent in 11 of the top 15 counties.
Like much of rural Michigan, these counties have been hollowed out by a combination of job and population loss. Oscoda County, for instance, posted a March unemployment rate twice that of the state rate of 4.4 percent, while its population has fallen 13 percent since 2000.
Underlining the economic stress facing rural Michigan, a 2019 University of Michigan study found that counties in the U.P. and northern Lower Peninsula led the state in the percentage of households struggling to meet basic expenses and the percentage of children who were homeless by fifth grade.
In the western U.P., the economic slide has been steeper, as jobs tied to mining began to dry up decades ago, punctuated by the 1995 closing of the White Pine copper mine in Ontonagon County that once employed 3,000 workers. Research has found that job loss and rising suicide rates are linked.
The population in Gogebic, the westernmost U.P. county fell by 41 percent over 60 years, to 14,380 in 2020. It has Michigan's sixth highest suicide rate. In neighboring Ontonagon County, with the 11th highest suicide rate from 2005 to 2020, the population tumbled 45 percent over the past 60 years, to 5,816 in 2020. Both counties also are more than 90 percent white.
And if self-harm is a cry for help, the regions' despair may also help explain rural voters' embrace of the populist message of Donald Trump. He carried rural Michigan by landslide proportions in the presidential races of 2016 and 2020, with some of his widest margins in counties near the top in suicide rate.
Eric Lupher, president of the Citizens Research Council of Michigan, a Lansing-based nonprofit policy research group, sees those vote margins as symptomatic of growing alienation in rural Michigan. In a 2018 report, CRC detailed the rural-urban divide in Michigan, highlighting gaps in economics and health care, as well as presidential vote preferences.
"It's clear that Trump was appealing to white voters who feel they are being left behind and forgotten about," Lupher told Bridge.
"This (rural) suicide rate is one indicator of many long-simmering problems that are coming to a head," he said.
The CRC report also found that Michigan's population of military veterans is "highly concentrated" in the U.P. and upper half of the Lower Peninsula. That's likely one more contributor to the high suicide rate, as Michigan veterans were 1.65 times more likely to die from suicide in 2019 than the overall population.
On the west side of the U.P., Gogebic County resident Pat Gallinagh has made the issue of suicide a personal crusade.
He's president of the Gogebic Range Suicide Prevention Council, which raises awareness of the risks for suicide in a region where four counties ─ Gogebic, Baraga, Ontonagon and Iron ─ rank among Michigan's top 15.
Gallinagh said he knows from personal experience how critical mental health diagnosis and treatment can be.
In 1971 ─ after hours of drinking, on top of medication he was taking for depression ─ Gallinagh sped in his car late at night toward a dock at the edge of Lake Superior, bent on plunging into its frigid waters. He woke up in the morning 50 yards off the road, "lucky," he said, "that I didn't hit a tree or kill someone."
The following year, a psychiatrist diagnosed Gallinagh with what was then called manic depression ─ now identified as bipolar disorder ─ and he was prescribed medication to treat it.
"I have no doubt that saved my life," he told Bridge Michigan.
Retired from Ironwood Area Schools after three decades of teaching, he now spends much of his spare time trying to save others.
"We want people to know it's not a sign of weakness if you are suffering and reach out for help," Gallinagh said.
But Gallinagh said the path to suicide in the U.P. might be easier for some, simply because so many homes have firearms.
"We have a love of guns up here," he said, a sentiment backed by data that shows residents in the U.P. and northern Lower Peninsula also have the highest percentage of hunting licenses and concealed weapons permits in the state.
Though she's seven years removed from the day she nearly lost her son to suicide, Gogebic County resident Crystal Suzik continues to spotlight the issue as vice president of the Gogebic Range Suicide Prevention Council.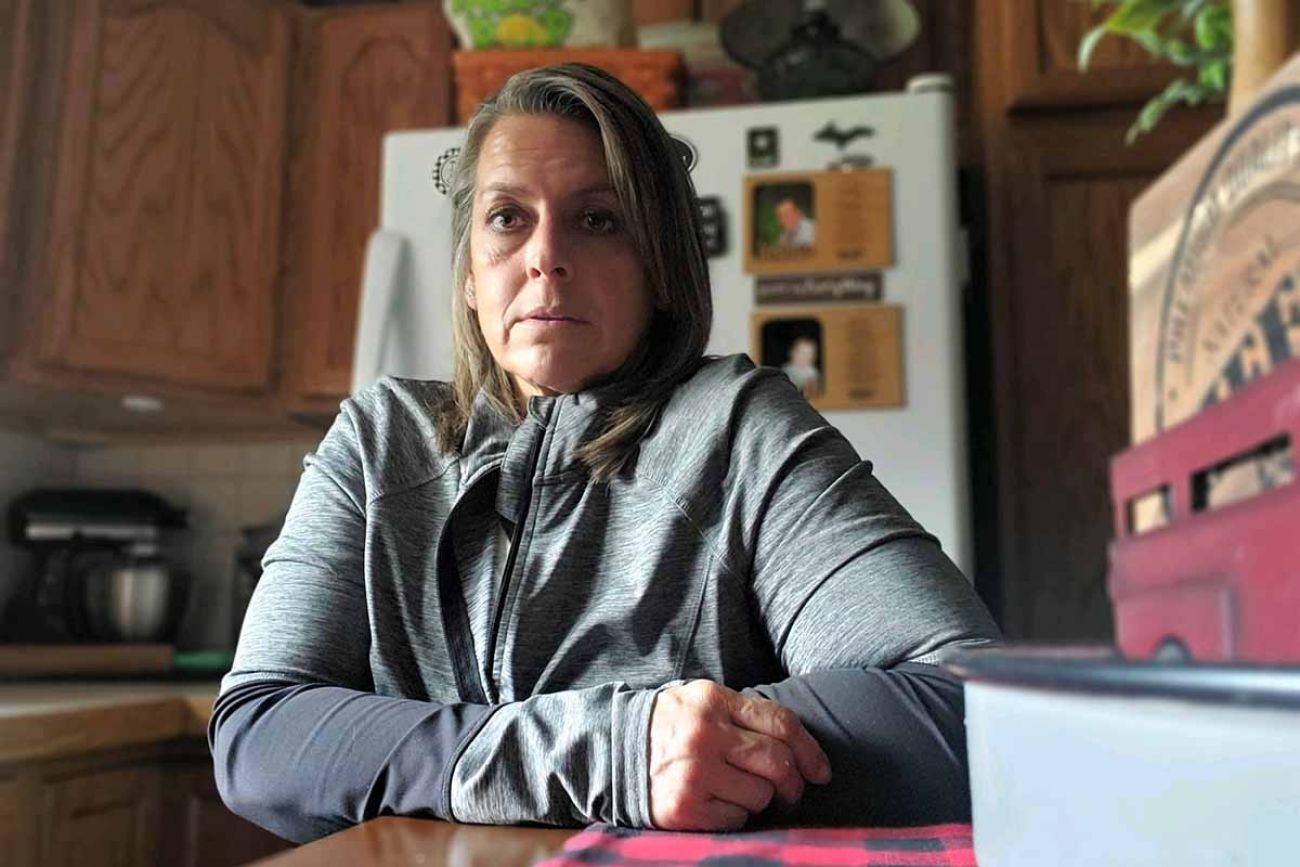 Upper Peninsula resident Crystal Suzik nearly lost her son to suicide in 2015: "We kind of have these boulders that keep stacking up against us, and they keep getting higher and higher." (Courtesy photo)
"We have to fight for everybody to find a voice. I consider myself more than lucky. I still have a son," she told Bridge.
In the fall of 2015, Suzik said, her oldest son, Joshua, departed by himself for some grouse hunting at the family hunting camp near Ironwood. He was 18.
Suzik speculates that a chain of events led to his impulsive decision to end his life.
"He was extremely sleep deprived," she said, adding that he had been working two jobs, at a local sporting goods store and on a township work crew.
He was drinking. He got into a four-wheeler parked at the camp, headed out for a trail, and rolled it on the way back. He tried to retrieve the four-wheeler, but his truck wouldn't start.
Shortly thereafter, Joshua pointed a shotgun at his face and blew out a large part of his jaw. Somehow, when he awoke, he managed to walk to a nearby house and ask for help.
After more than two dozen surgeries over the course of several years, Suzik said, her son is "thriving. He graduated just under a year ago from firefighter school and he's a volunteer firefighter for three area firefighter companies."
Looking back, Suzik is not inclined to blame her son's access to a gun for what happened that day.
"I know for a fact that wasn't his intent when he went to the camp. He had always been trustworthy using firearms. It was a spur of the moment crisis."
But Suzik wonders if others will be as fortunate as her son. She fears this part of Michigan will continue to be fertile ground for suicide, as she recalled the impact of the White Pine mine shutdown on an entire region.
"I saw the desperation in the families and the men that were working at the mine," she said.
"We kind of have these boulders that keep stacking up against us, and they keep getting higher and higher."
Only donate if we've informed you about important Michigan issues
See what new members are saying about why they donated to Bridge Michigan:
"In order for this information to be accurate and unbiased it must be underwritten by its readers, not by special interests." - Larry S.
"Not many other media sources report on the topics Bridge does." - Susan B.
"Your journalism is outstanding and rare these days." - Mark S.
If you want to ensure the future of nonpartisan, nonprofit Michigan journalism, please become a member today. You, too, will be asked why you donated and maybe we'll feature your quote next time!