Up North businesses are buying housing just to lure summer staff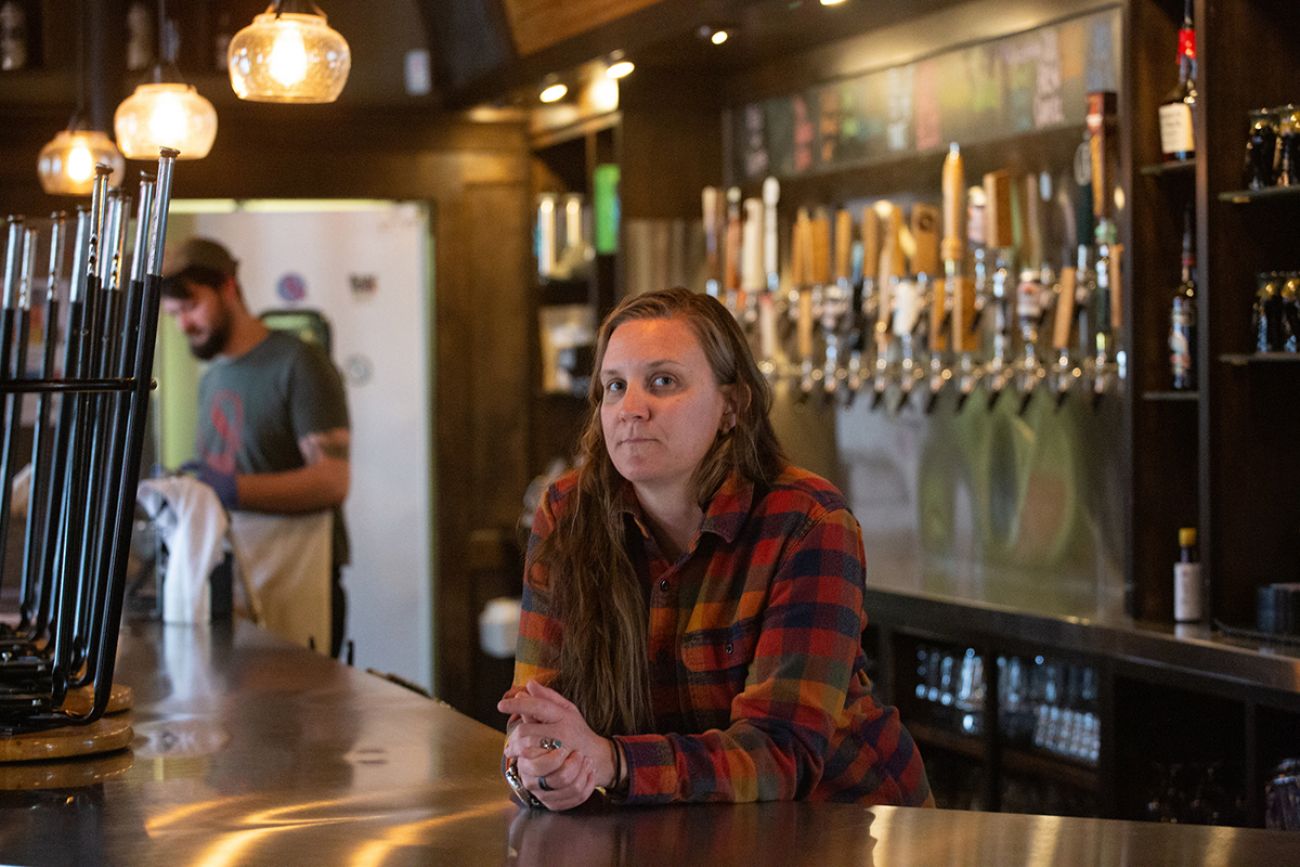 Tina Schuett, owner of Rare Bird Brewpub in Traverse City, has struggled this year to find affordable housing for her employees. She also struggled when she attempted to buy housing for her workers. (Bridge photo by Tessa Lighty)
FRANKFORT — Rick Schmitt put out a call for help this spring, asking his community on the Lake Michigan shoreline to help him find what he called on social media posts "a needle in a haystack."
In return, he got two loaner RVs, a three-bedroom apartment at one-fifth the cost of an AirBNB rental and the promise of a barn loft (with a bathroom but no kitchen).
Those housing options, along with the apartments in a triplex that he bought in 2021, will give Schmitt's Stormcloud Brewing Co. a chance at finding what it desperately needs this summer: Workers.
Related:
Housing shortages aren't new in northern Michigan, where business leaders, elected officials and nonprofits keep ratcheting up pressure to solve it, yet prices keep climbing and new homes come slowly.
But this summer, as tourism peaks and prepares to send billions of dollars into the state's economy, northern Michigan stands to lose as the red-hot housing market, driven in part by vacation rentals, collides with workforce shortages.
The result is so few affordable temporary housing options that many employers are finding their own solutions:
Cherry Republic is spending $75,000 to add three bedrooms to the basement of a house it bought about 10 miles from its campus in Glen Arbor, and it renovated two mobile homes that neighboring Anderson's Market will use for its summer staff.
Neighbors around Sleeping Bear Dunes National Lakeshore park are being asked to rent rooms to summer workers as 1.7 million visitors are expected in July and August.
Businesses are signing deals for season-long space at campgrounds so that they can attract traveling workers with RVs or, like Schmitt at Stormcloud, borrow them for staff.
Short's Brewery in Bellaire last week bought a 26-room motel to convert to worker housing.
These examples and more show that Michigan's seasonal economy risks stalling as summer housing disappears for the critical temporary workforce, which numbers in the thousands.
"It's just unrealistic to think seasonal workers can afford what the going rate is for renting to tourists," said Schmitt, co-owner of the brewery. "They can't do it."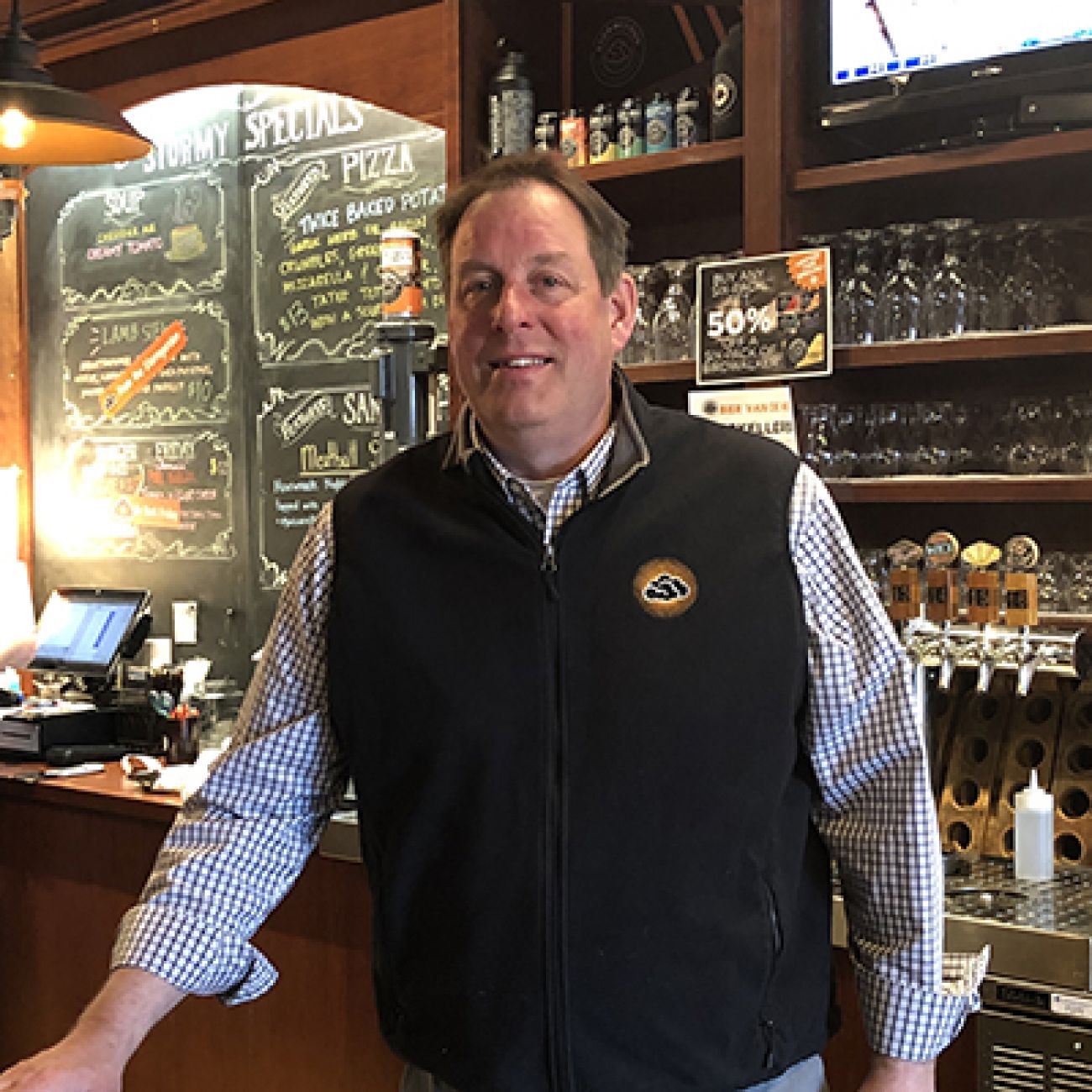 Rick Schmitt, co-owner of Stormcloud Brewing Co. in Frankfort, bought a triplex to house workers last summer. This year, he's adding more spaces for staff, including a rental apartment and two borrowed RVs. (Bridge photo by Paula Gardner)
A shortage of workers is the top concern among northern Michigan businesses, said Warren Call, president and CEO of Traverse Connect, regional economic developers. "And the reason they point to is housing."
Estimates from Housing North, a regional nonprofit advocating for housing solutions across 10 counties in the northwest Lower Peninsula, from Manistee to the Mackinac Bridge, says the region will be short 15,500 units by 2025.
No one is tracking the lack of seasonal housing, but experts say it, too, is reaching a critical point.
The situation is acute as the region braces for a surge of visitors and businesses count on them for their revenue. Instead of operating at full steam, businesses that can't hire face turning to reduced hours or days open — and tourists may face long lines and limited choices.
And while tourism faces the most obvious risks, other businesses struggle, too. Construction, road crews and health care all are affected.
If businesses can't operate at capacity, Call said, "then you've got a real economic issue. And that's what we're seeing.
"I've had businesses say to me that they've never seen the talent shortages this bad," Call said. "And that they frankly don't know how they're going to operate at full capacity this summer."
At Stormcloud, Schmitt needs to double his staff during the summer season, when the Benzie County population quadruples and nearby areas, like Leelanau County and Traverse City, send customers into his two brewpubs in Frankfort.
The beer business keeps Schmitt busy, and he's active in the community. Adding landlord to his job description wasn't in his plan.
"I don't want to be one," Schmitt said. "But it's just the reality."
The housing market
The Rare Bird Brewpub in downtown Traverse City struggled to hire enough staff in summer 2021, and co-owner Tina Schuett thought she came up with a great answer for this year: Buying a place where her workers could live.
Housing, she said, "is just the bottleneck" for most problems facing businesses in the area.
So for this summer she decided to look in town for a house with up to five bedrooms. Or a duplex. Or even a small apartment building.
She found prices that she calls "astronomical." They were so high that Schuett, with her budget of up to $500,000, never even found a Realtor to help her get serious about the search.
"We can't purchase it for a decent price," she said. "We can't rent it for a decent price."
So, she said, "it all just kind of got pushed to the side once we realized it just wasn't attainable."
The average rental rate in fast-growing Grand Traverse County leapt 16.1 percent from 2019. Now at $1,388, it's the second most expensive place to rent housing in the state, behind Washtenaw County — which includes Ann Arbor, and is 6 percent more at $1,475, according to recent data from The Washington Post. The statewide average is $1,206, according to rent.com.
The difference exists for home buyers, too. In Grand Traverse County, the median list price is $392,500, according to the National Association of Realtors. By comparison, it's $299,900 in Ottawa County and $255,000 in Kent County, the two fastest-growing counties in the state.
In northern Michigan, skyrocketing sale prices are driving cultural change.
"The rental houses or the rental apartments that work for seasonal workers, slowly they've just gone away because people want to live here," said Schmitt of Stormcloud.
A buyer of a house that once would be a primary or secondary residence for a family now competes with the short-term rental market and cash buyers from all over the U.S. who consider northern Michigan a bargain. The value for a house that's a rental is based on income, not intangibles like pride of ownership and location.
And, business owners say, the short-term rental usually wins. Prices of still-available homes for the month of July in Frankfort range from about $4,000 to $54,000. Starting wages for many seasonal jobs will range from $12 to $16 per hour, employers said.
"The advent of Airbnb and VRBO just exacerbated the problem of seasonal workforce housing," said Mike Rivard, the president of the Sleeping Bear Gateways Council, which was formed in 2018
"Prior to that, if someone had a cabin or vacation home and it wasn't being used, they might lease it out to a summer worker for a fairly reasonable amount," Rivard said.
But with a short-term rental, "obviously you can make as much in a weekend as you can in a month in many areas," Rivard told Bridge Michigan. " And so that really has driven the market in a whole different direction."
Traverse City Tourism said the region accounts for 22 percent of the state's short-term rentals but only 1.5 percent of its population. It also found that short-term rentals grew 30 percent from 2020 to 2021, going from 2,886 units to 3,739.
Across the state, seasonal rentals are prompting scrutiny of local regulations and potential statewide rules for operators like AirBNB.
Some in the Traverse City region are cautious about criticizing short-term rentals. Schmitt recognizes that they help his business in peak travel months, but they also make it difficult to offer year-round services in a town where many homes sit empty for months.
Meanwhile, housing advocates are trying to increase awareness of the broader housing problem and explore policy changes to address it.
Yarrow Brown, executive director of Housing North, said many of its communities are considering whether housing bills in the state Legislature could alleviate the broader housing shortage in the region and across the state. Among proposals supported by Housing Michigan are bills that would create tax incentives for building and renovating workforce housing.
That, some say, could change the development dynamic and increase options for middle-class buyers and, ultimately, places where summer workers could live.
"It's really hard to see all these new, high-end condos being built every place you look in Traverse City," Schuett of Rare Bird said. "It's only making the problem worse.
"It seems like we have to find some sort of balance."
Business solutions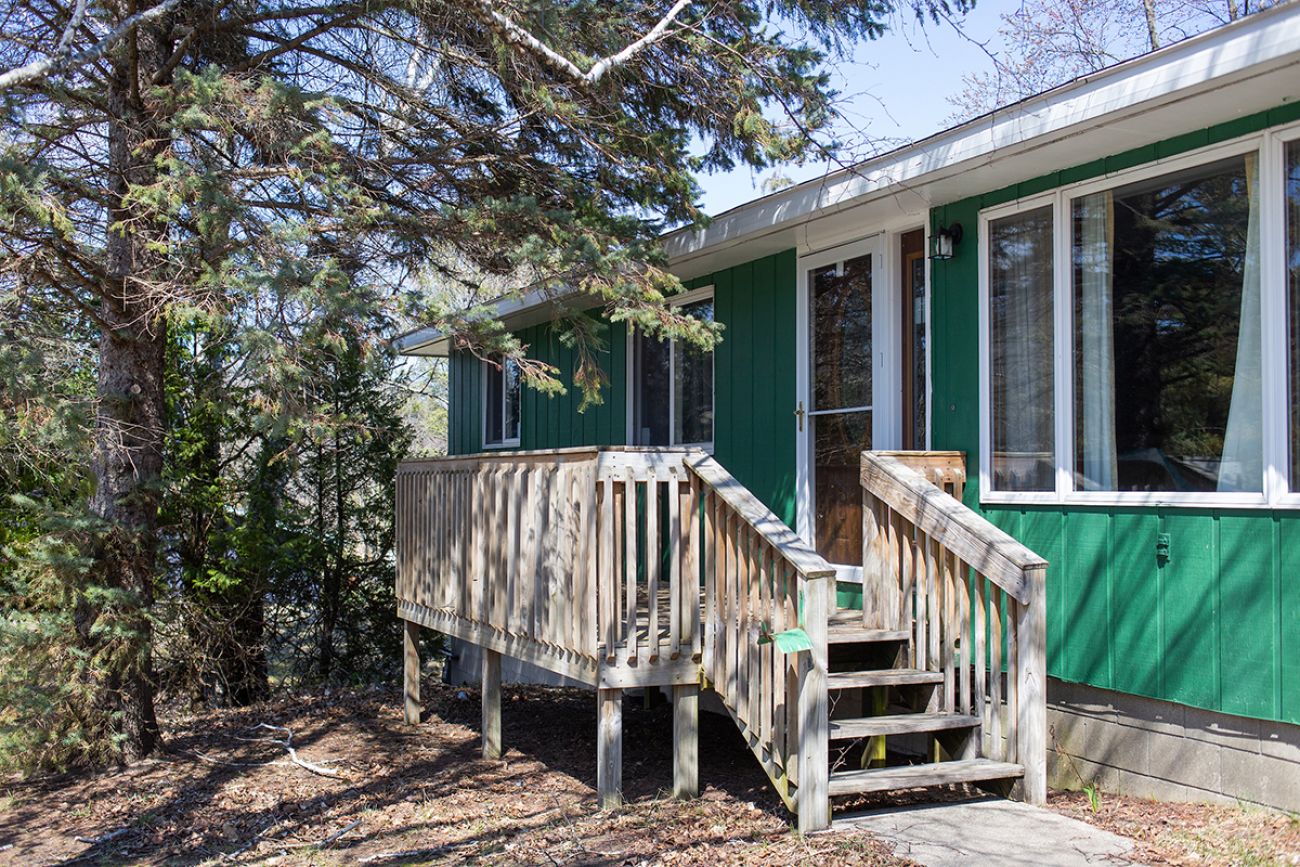 Cherry Republic bought this house in Maple City, about 10 miles east of Glen Arbor, to house workers. This spring, it's spending $75,000 to add three bedrooms and a bathroom to the basement so that it can increase capacity. (Bridge photo by Tessa Lighty)
Cherry Republic, like a lot of Michigan's employers that need more seasonal workers than it can find, turns to international students under a federal visa program.
But as competition for those workers grows, landing temporary staff from other countries, including international students who can work for the summer, can't be taken for granted.
That's a problem for the company that adds at least 100 workers over the summer as it staffs up its stores, restaurant, winery and production facilities in Empire.
The Glen Arbor retailer now considers itself a developer of workforce housing now that it has space for 50 workers, said Leah Moskovitz, work groups and housing supervisor for Cherry Republic.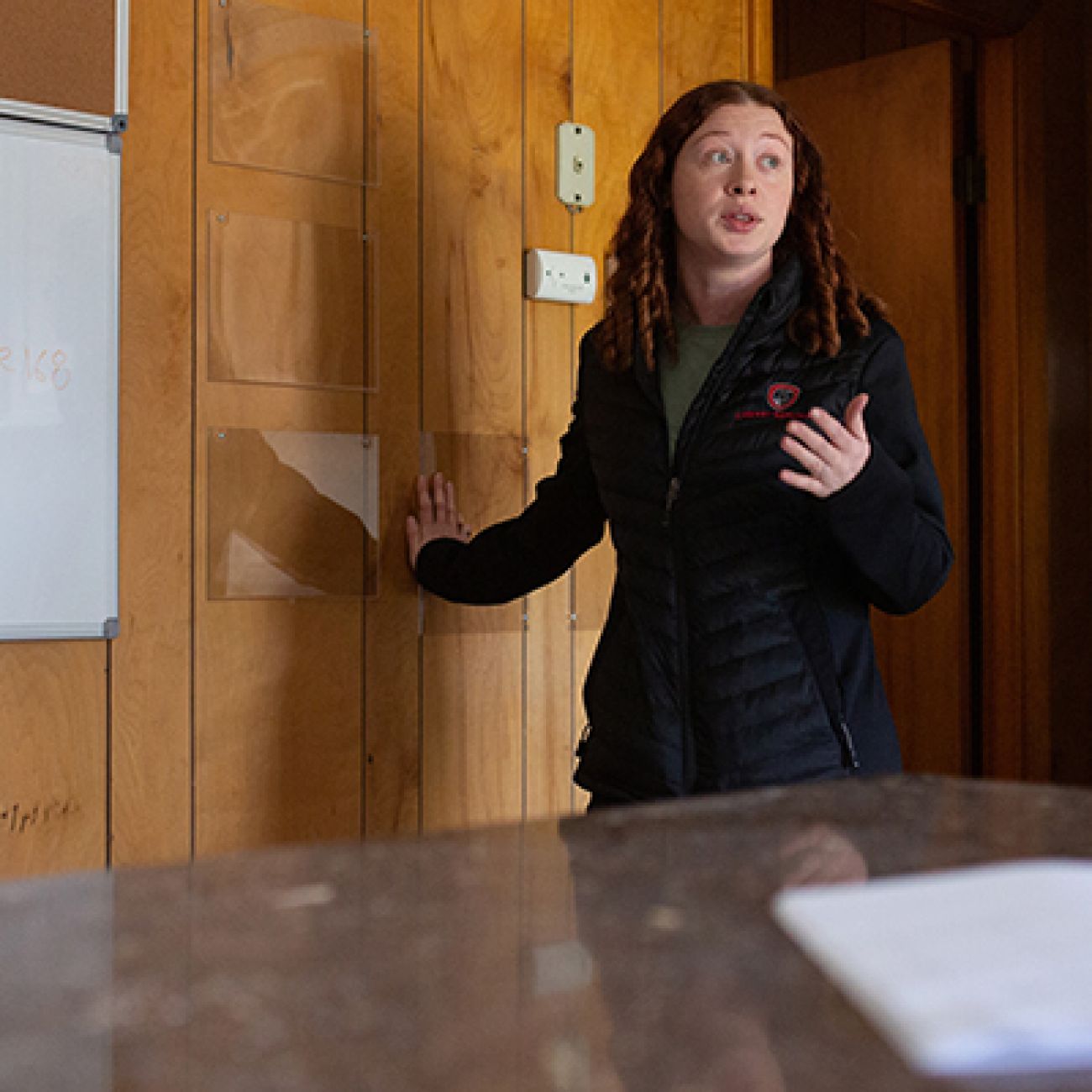 Leah Moskovitz, housing director for Cherry Republic, thinks that the business will increase its housing footprint in coming years. (Bridge photo by Tessa Lighty)
It owns two houses that can house a total of 26 workers, and it shares other housing with other employers. Last year, it leased campground space for Workampers, who travel for work. Other workers will live in a dormitory on the Leelanau Schools property, which Cherry Republic leases.
"Without the houses, we wouldn't be able to support the retail stores," Moskovitz said.
Many of the people using the business-owned housing will pay $400 per month to share a room in the houses, which have been outfitted with kitchen supplies and furniture, some of it donated by the community. The workers sign leases and Moskovitz keeps track of problems and provides what the tenants need. Many can take buses to their jobs.
Cherry Republic started recruiting for this summer in July 2021. The housing option lets them offer positions to workers who they know would like to come back.
Even with the housing, it still doesn't have enough staff. But it's closer, Moskovitz said.
As the housing stock changes in the region, Moskovitz said Cherry Republic is likely to keep developing its housing program. It's already planning to move its downtown Traverse City store to a building where it can add housing to upper levels.
"I really do see us further expanding this, and even being an example to how businesses can staff more employees," she said. "To say this is how we've done it, and would love to help … with creatively solving this problem."
Crystal Mountain Resort in Thompsonville, southwest of Traverse City, also has offered housing for several years — and it, too, is expanding it this year to fill its openings.
"If you build it, I'll fill it," Jennifer King, vice president of human resources, said she promised resort management.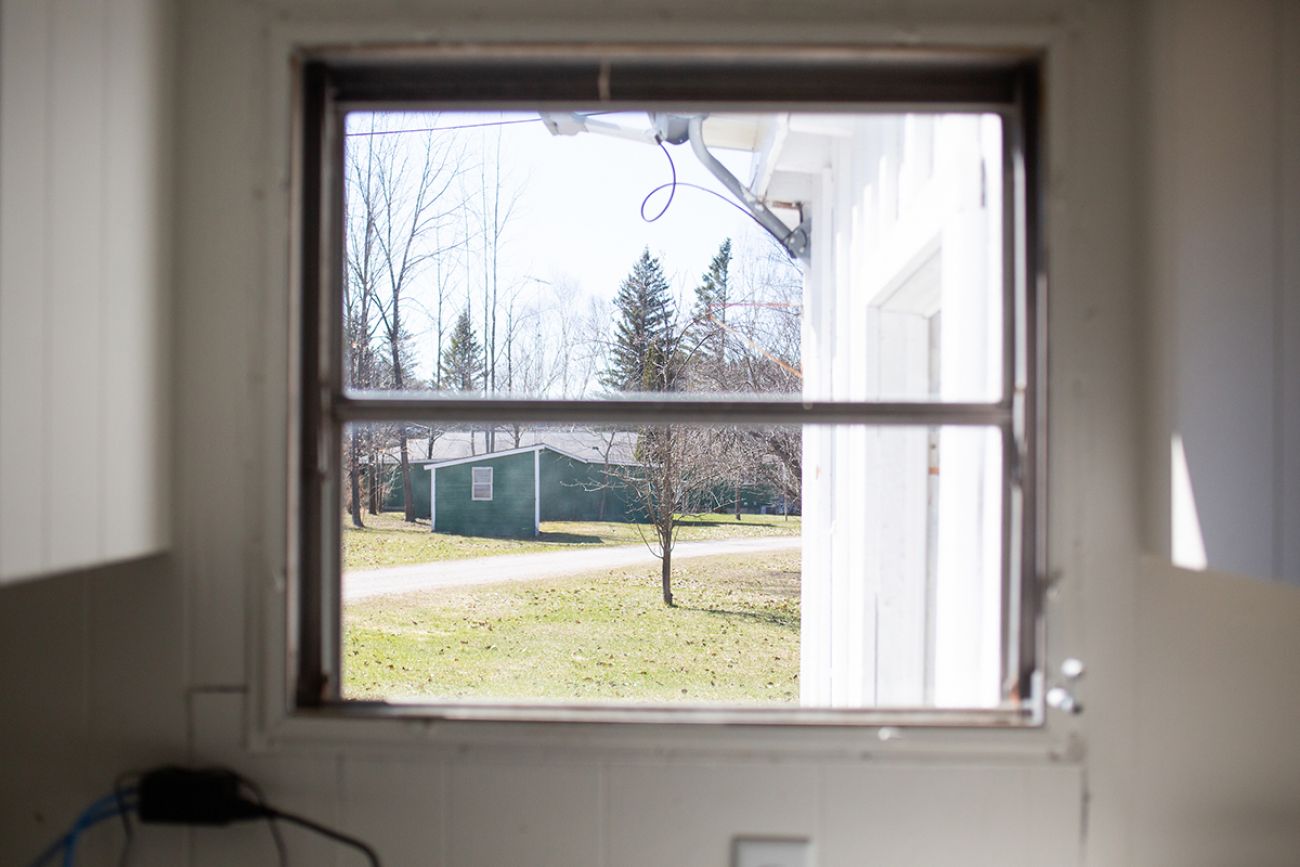 Two unused mobile homes on Cherry Republic's newest property in Maple City were renovated over the winter to add more housing for Glen Arbor businesses. (Bridge photo by Tessa Lighty)
So the year-round resort that offers skiing in winter and golf in summer added 12 beds for workers since December. It now has 36 in the southwest corner of its campus, allowing tenant workers who pay $70 a week for space in a bedroom to ride a shuttle bus to the main property.
Crystal Mountain so far is about 50 workers short of what it needs to run this summer. It's reaching out to owners of homes around the resort to see if they will consider positions, which come with perks like golfing privileges.
Taking these steps likely aren't temporary, King said. It's what a resort in northern Michigan will have to do to stay staffed.
"This is the future … this is the way it's going to be."
The Sleeping Bear Gateways Council is following the lead of the national park, which turned to the community for housing its workers in 2020, resulting in dozens of placements.
The council is using that model this summer to try to find places for the hundreds of workers that businesses in Benzie and Leelanau counties say could use temporary housing. A mailing in mid-April to home owners will be followed next week by a postcard reminder of the new program.
So far, director Elise Kraft told Bridge, six people have offered housing. Four options remain available.
Those numbers are not significant for this year's workforce, but Kraft is hopeful that they represent a start for later seasons. The opportunity for homeowners to participate in a solution is important, too, she added.
"So often we look to others … to fix the housing crisis," she said. But by asking individuals to welcome temporary workers into their homes, "we can shift how we think about the problem."
Short's and the Bellaire Inn
Joe Short, founder and owner of Short's Brewery in Bellaire, wants to boost the village with new development that adds housing and jobs. He had to buy a 26-room motel just to have the housing he needs for summer hiring. (Bridge photo by Paula Gardner)
Community development is a passion for Joe Short, who hopes to build a mixed-use building across from his eponymous pub in Bellaire, a village of 1,000 people in Antrim County, just east of Torch Lake and Grand Traverse Bay.
He already owns the property, including the wine store and pharmacy, and the vacant land used most recently as a pavilion sheltered by former shipping containers. He also owns the town's post office.
"That was a purchase that wasn't really something we pursued, it was something that somebody reached out to us and they felt like we would be proper stewards of that property," he told Bridge Michigan.
His latest purchase also wasn't planned: The founder and owner of Short's Brewery bought the 26-room Bellaire Inn last week.
"Just the fact that we exist in Bellaire right now is an anomaly," Short said. "We employ a lot of people. And they're struggling with housing."
Many of the 150 or so year-round workers at the destination brewpub are driving from places that have lower-cost housing and available rentals, like Mancelona or Kalkaska. Seasonal workers — like all over the region — find fewer options.
But now Short's can offer rooms at the former motel. And it already has resulted in a job offer: A woman from Arizona wanted to work at the brewery for the summer, Short said, and offering the room closed the deal.
"People in the hospitality world can't afford what the market has," Short said.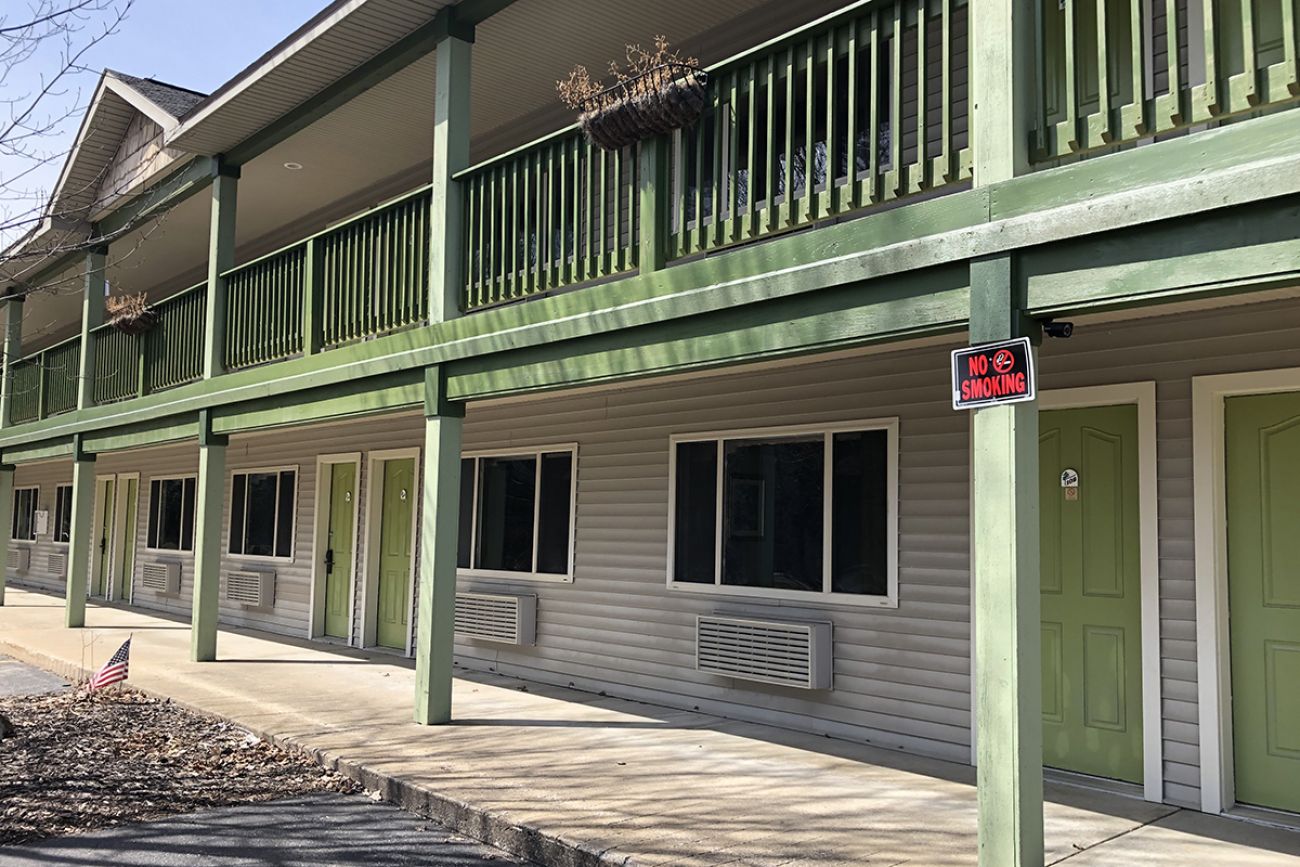 The Bellaire Inn will be used this summer by temporary workers at Short's. Next year, a few rooms could be converted to year-round apartments. (Bridge photo by Paula Gardner)
The purchase came after Short once again considered how summer recruiting might go. During the pandemic, the brewery cut hours amid a staff shortage, a move that kept people from having to work 60 to 70 hours per week, he said. He could face hours cuts again, at a time when customers line up to get into the brewery.
The goal for the motel is to use it this summer, charging $495 per month, then convert some of the rooms into year-round apartments.
He hopes that the hotel purchase, for an undisclosed price, can pay for itself so that brewery revenue can support its core operations.
But, he said, "if you don't have workers, you can't operate. So it was kind of a necessary evil."
As Short becomes a reluctant landlord, he said he hopes that municipalities take a lead in addressing housing.
"The bummer is that I don't really think it should be the responsibility of the business community," Short said. "I feel like we're already kind of holding up both ends of the economy. We really need our local units of government to lean into this effort, and be strategic."
Using federal Build Back Better funds would be a starting point, he added.
"Basically find a way to make municipalities economically viable," he said. "You need humans to work. Humans need childcare, they need housing. And we're just not setting ourselves up for success."
Business Watch
Covering the intersection of business and policy, and informing Michigan employers and workers on the long road back from coronavirus.
Thanks to Business Watch sponsor:

Support Bridge's nonprofit civic journalism. Donate today.
Only donate if we've informed you about important Michigan issues
See what new members are saying about why they donated to Bridge Michigan:
"In order for this information to be accurate and unbiased it must be underwritten by its readers, not by special interests." - Larry S.
"Not many other media sources report on the topics Bridge does." - Susan B.
"Your journalism is outstanding and rare these days." - Mark S.
If you want to ensure the future of nonpartisan, nonprofit Michigan journalism, please become a member today. You, too, will be asked why you donated and maybe we'll feature your quote next time!