Surviving COVID, but with life changed, and the future less certain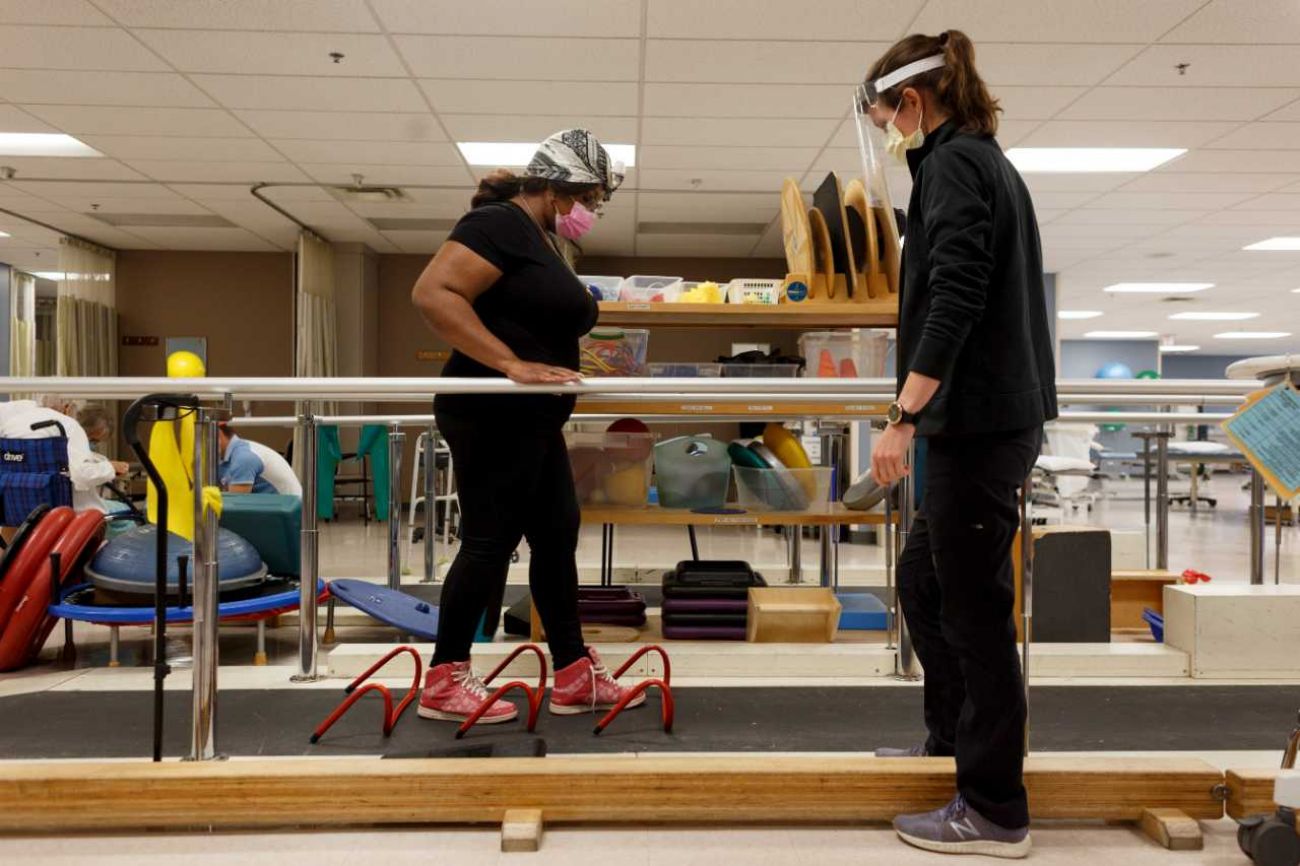 Heather-Elizabeth Brown, left, works on her balance during a strengthening exercise with Dr. Sarah Knipper, at Beaumont Health and Wellness Center in Royal Oak. (Bridge photo by Elaine Cromie)
Curiosity and surprise overtook her panic, even as her life dangled amid the breathing tubes that had filled her lungs for the 31 days she lay in a coma.
Eyes, peering over masks, hovered over her. A medical team.
Confusion. Where was she?
A woman with bangs to her left. It's OK, the woman was saying, try to breathe.
Heather-Elizabeth Brown's mouth gaped open, hoping to take in glorious breaths of air on her own.
Related stories:
Nothing happened.
Just a noise, a terrible long o-o-o-h. "Nothing more than an echo of a breath," Brown would recall.
"Breathing — you don't think about the mechanics of it. I opened my mouth to breathe and it failed, and it was just confusing," Brown said.
Someone was closing in with an oxygen mask. Try again, said the woman with bangs.
This time, a tiny bit of air seemed to dribble into her weakened lungs, and Brown slipped back to sleep — away from what she called "a bad sci-fi movie I never signed up for."
With that first, hard-fought breath on this side of COVID, thus began what may become a lasting effort to claw back her life.
Brown, 35, a corporate trainer and police chaplain from Southfield with no previous health problems, is among a growing group of COVID's longtime victims, or "long-haulers" — those whose bodies have been left battered and weakened by a virus about which little remains known.
Pain lingers, among some who survive. Exhaustion overwhelms. Clots and infections can appear. Weird symptoms come and go — shortness of breath, chest tightness, racing heartbeats, brain fog, even hair loss.
Perhaps most daunting are the gaping unknowns, said Dr. Eva Feldman, director of the NeuroNetwork for Emerging Therapies at the University of Michigan, which is spearheading an effort to open a clinic for patients with persistent symptoms.
The clinic, which Feldman and others hope to open this fall if they get enough funding, will focus on diabetic patients who had COVID-19. Doctors realized early on that diabetes predisposes patients to COVID-19's worst outcomes; now there is evidence that the virus can trigger diabetes, too.
Early, still-evolving evidence shows that those who survive COVID-19 can experience extreme swelling and inflammation of the brain, perhaps leaving some patients more vulnerable to dementia. Researchers also are studying possible links to heart or kidney complications.
In July, the United Kingdom announced one of the largest studies of post-COVID symptoms, the Post-hospitalisation COVID-19 study (PHOSP-COVID). In addition to improving recovery for those already infected with COVID-19, researchers say the effort may sharpen treatment options for future patients in a second wave of the pandemic.
Playing with the brain's wiring
In Ann Arbor, brain scans of COVID-19 patients referred to Feldman in the early days of the pandemic featured brilliant white clusters of inflammation that literally squeezed their brain tissue and killed neurons as the patients teetered precariously between life and death.
When COVID strikes the brain, she said, "those wires are being clipped by all those white areas of infection, and you lose your conductivity, your brain wiring," she told Bridge Michigan.
For those who survive, "there are clear, long-term effects of COVID-19 syndrome — short-term memory loss, cognitive decline, the inability to perform activities of daily living," Feldman said.
"These symptoms — they are really frightening." .
To be sure, those with the most severe, long-term COVID symptoms appear to represent but a small number of those infected with the virus, in part, because only a small number of those infected by COVID-19 show serious complications and hospitalizations. According to the most recent data from the U.S. Centers for Disease Control and Prevention, that amounted to about 166.9 people among every 100,000.
Still, in one study of 143 hospitalized patients, just 18 reported being symptom-free 60 days after the onset of the first COVID-19 symptoms. The most common after-effects were fatigue and dyspnea (shortness of breath).
And close to half of the patients reported a lower quality of life, according to the study.
"What we're seeing now is the tip of the iceberg," said Dr. Jay Jagannathan, a neurosurgeon who treats patients in metro Detroit and northern Michigan. "Undoubtedly, there are manifestations that we're not seeing yet."
In the weeks after she was released from the hospital on June 1, Brown said her thick, healthy hair came out in clumps. Hand tremors erupted then faded away, she said.
And despite weekly rounds of physical therapy, she still struggles to climb the steps at her home. Carrying groceries? Out of the question.
"I have no control over my body," she said.
She said doctors have told her she may have suffered a mini-stroke, the result of blood clots that COVID patients continue to face.
"Will this affect me one day when I want to have children? When I'm pregnant or when I give birth? How will this affect me in my 40s? It's a big question mark," she said. "No one knows."
John Lloyd, 63, a retired Wayne County sheriff's deputy, said a COVID infection flattened him in early March — when confirmed cases in Michigan were few and testing was so limited that staff at an emergency room told him to go home and recuperate.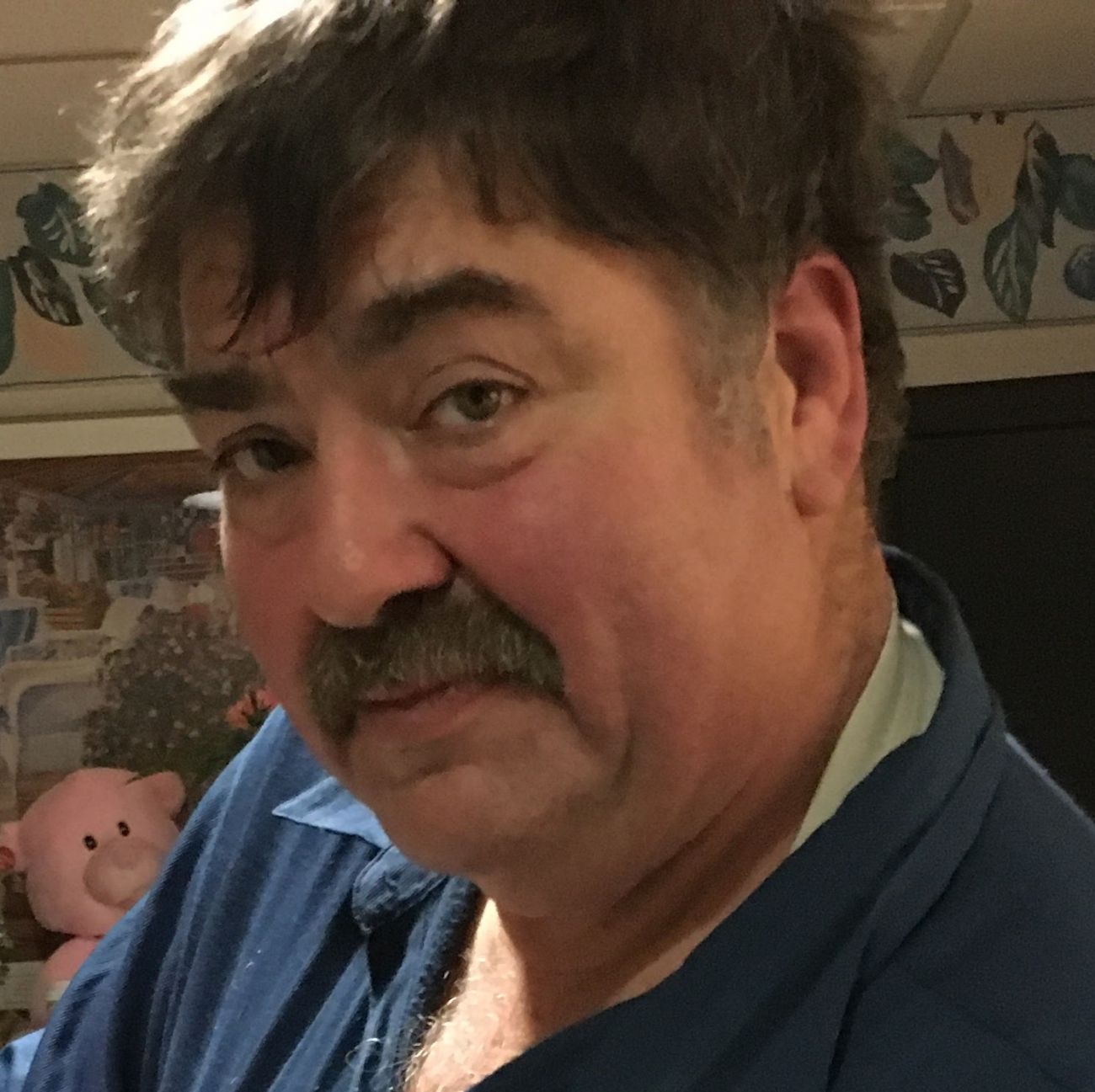 Fighting COVID infection and its aftermath is like a chain reaction vehicle accident, said John Lloyd, a retired Wayne County deputy sheriff. (Courtesy photo)
The initial infection was cruel enough, he said.
But since March, he's been hospitalized for a blood clot in his lung. And a "dried crack" in his foot sent an infection deep into his bones requiring six weeks of intravenous antibiotics.
He now says the simple act of reading takes extraordinary focus. Dropping off old blankets at an animal shelter, recently, Lloyd temporarily forgot where it was, though it's been in the same place for years.
And though a blood test confirmed he carries antibodies for the virus, confirming a past infection, Lloyd said he's fought with his insurance company over coverage because nobody gave him a COVID diagnostic test when he was sick in March.
The insurance fight, he said last week, now appears to be resolved.
But the onslaught of physical ailments seems relentless, like a chain reaction car accident.
Once the initial infection is over, he said, "it's like the car has stopped. You look around and you realize you survived, and you think everyone is OK.
"Then all of a sudden, like in the movies," he said, "the Mack truck just blasts you."
What is still not known
It's still unclear why the virus so violently batters some otherwise healthy people while leaving others unscathed.
COVID-19 appeared early on to set off a hyperinflammatory syndrome in which the body overreacts to the threat of the virus, triggering a cytokine storm in which the immune system — trying to fight off the virus — attacks its own tissues and organs as well.
It may be a major reason why those patients with cardiovascular disease or diabetes are particularly susceptible to the virus; their bodies already are in a constant state of inflammation, said Dr. Salim Hayek, a U-M cardiologist working with Feldman in establishing a COVID clinic.
Several studies found connections between COVID-19 infections and the heart.
In one review, more than half of 1,216 COVID-19 patients diagnosed with, or believed to have, COVID-19 had various forms of heart damage. Some have gone so far as to suggest that exercise after a COVID-19 infection might be dangerous.
A group of doctors reviewing MRIs of 26 Ohio State University athletes found that four showed signs of myocarditis, or inflammation in the heart muscle, according to a research letter published this month in the Journal of the American Medical Association.
But early findings connecting the virus to heart damage are just that — early, Hayek noted. Some fall far short of academic rigor. In the uncertainty of a pandemic, some may even cause more panic than tease out the truth, he added, reflecting a worry among many physicians who sent a letter to several medical societies Sept. 9 urging caution in drawing early conclusions.
While people with heart disease have some of the worst COVID outcomes, is that because of the heart disease itself? Or is it because they also tend to be older? asks Hayek of U-M.
And as evidence mounts that heart disease predisposes patients to more severe COVID outcomes, to what extent does the virus severely damage an otherwise healthy heart? he asked.
Hayek emphasized that cardiovascular complications are rare among the larger universe of people infected with COVID.
Still, this much is clear: Time will reveal more about the long-term effects of COVID-19: "We don't have long-term evidence yet," he said.
Meanwhile, some doctors suggest a link between COVID-19 and the onset of Guillain‐Barré syndrome, a rare neurological disorder in which the body's immune system mistakenly attacks the nerves outside of the brain and spinal cord. But again, it's not clear what role COVID-19 may play.
Short- and long-term symptoms aren't going to be easy to define, nor will they be easy to connect with COVID, said Dr. Anurag Malani, medical director of infection prevention at St. Joseph Mercy Ann Arbor Hospital.
For one thing, some symptoms are tough to measure and are confounded by recall bias, he said.
Consider the readings of severely sick COVID patients, whose oxygen saturation levels drop to exceedingly low levels: "Hypoxia — that's something you can measure. A cough? You can listen to the chest," he said.
Fatigue, though, is tougher to quantify. Tougher still, are patients' ability to accurately recall their exhaustion levels before COVID to compare them with post-COVID fatigue, Malani said.
What tomorrow brings
For some patients, there's an added challenge of making their voices heard.
The mysterious pain in Emmanuelle Marquis' feet at first perplexed her urgent care doctor. Marquis said the doctor suggested she had "COVID-19 toes" — painful rashes and swelling that appear on the toes and feet and are thought to have some connection to a COVID infection.
It was March, and testing was limited. She was never officially diagnosed with COVID-19, despite fever that followed, and the urgent care doctor's assumption of a COVID infection.
Since then, Marquis said she fights exhaustion that can be overwhelming at times. Her words sometimes tumble out of order.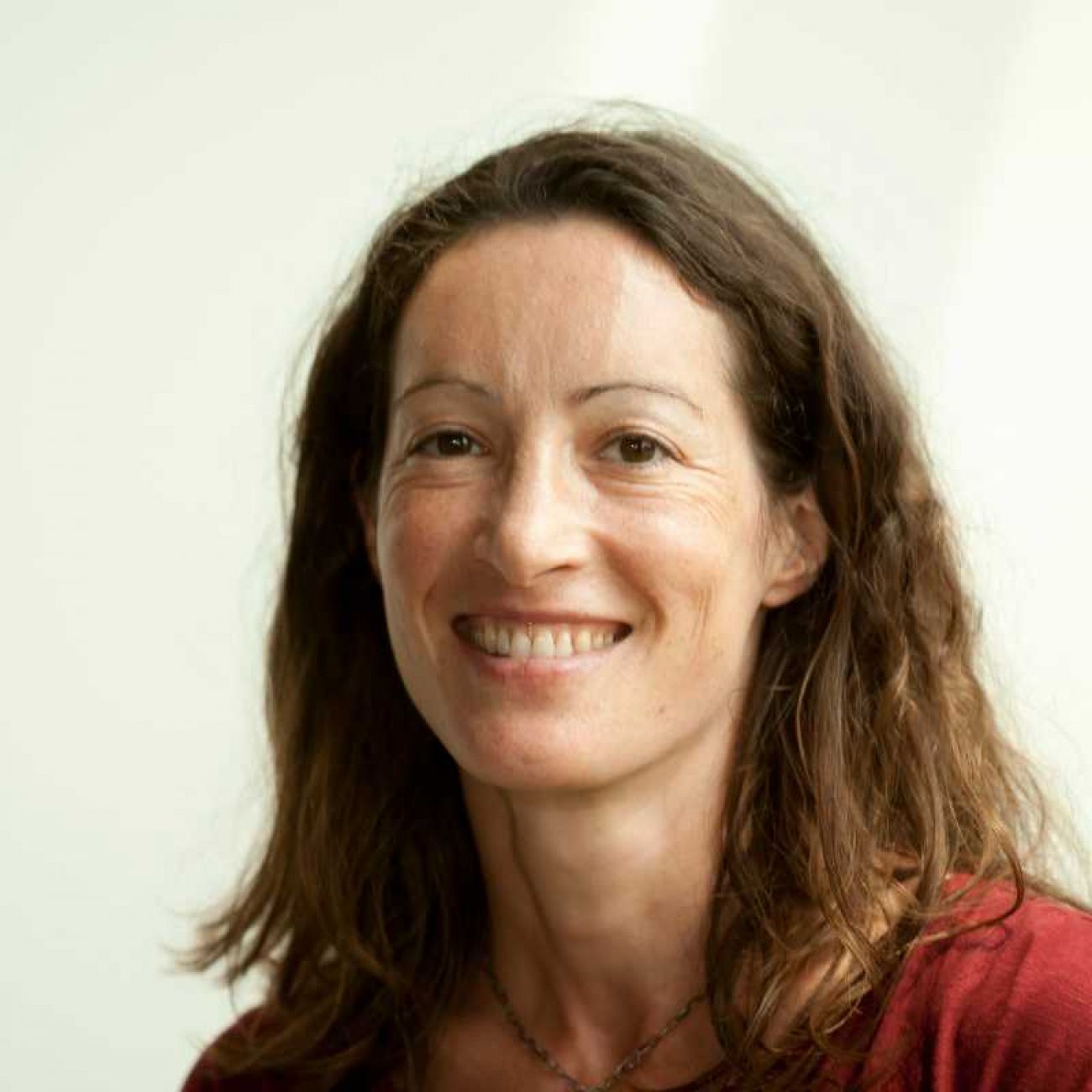 Emmanuelle Marquis, an engineering professor and researcher at the University of Michigan, said exhaustion can be overwhelming at times, ever since her illness in spring that a doctor told her was most likely a COVID infection. (Courtesy photo by James M. Rotz)
One day, Marquis — an engineering researcher who studies atomic structures of metals — said she couldn't add 12 and 11. For a time, she could read words and sentences, but could make no sense of them.
"Huge chunks of my memory were gone," she said.
Doctors, she said, have blamed anxiety and depression for her symptoms: "Anyone would be anxious at this. I'm not clinically anxious," she said.
Like others, Marquis said her symptoms come and go. She sometimes feels she is getting better, and she worries about the classes she is scheduled to teach in the spring.
"Today I feel fine," she said. "But who knows what tomorrow will bring."
Only donate if we've informed you about important Michigan issues
See what new members are saying about why they donated to Bridge Michigan:
"In order for this information to be accurate and unbiased it must be underwritten by its readers, not by special interests." - Larry S.
"Not many other media sources report on the topics Bridge does." - Susan B.
"Your journalism is outstanding and rare these days." - Mark S.
If you want to ensure the future of nonpartisan, nonprofit Michigan journalism, please become a member today. You, too, will be asked why you donated and maybe we'll feature your quote next time!