Wanted: Michigan blood samples — lots of them — in fight against COVID-19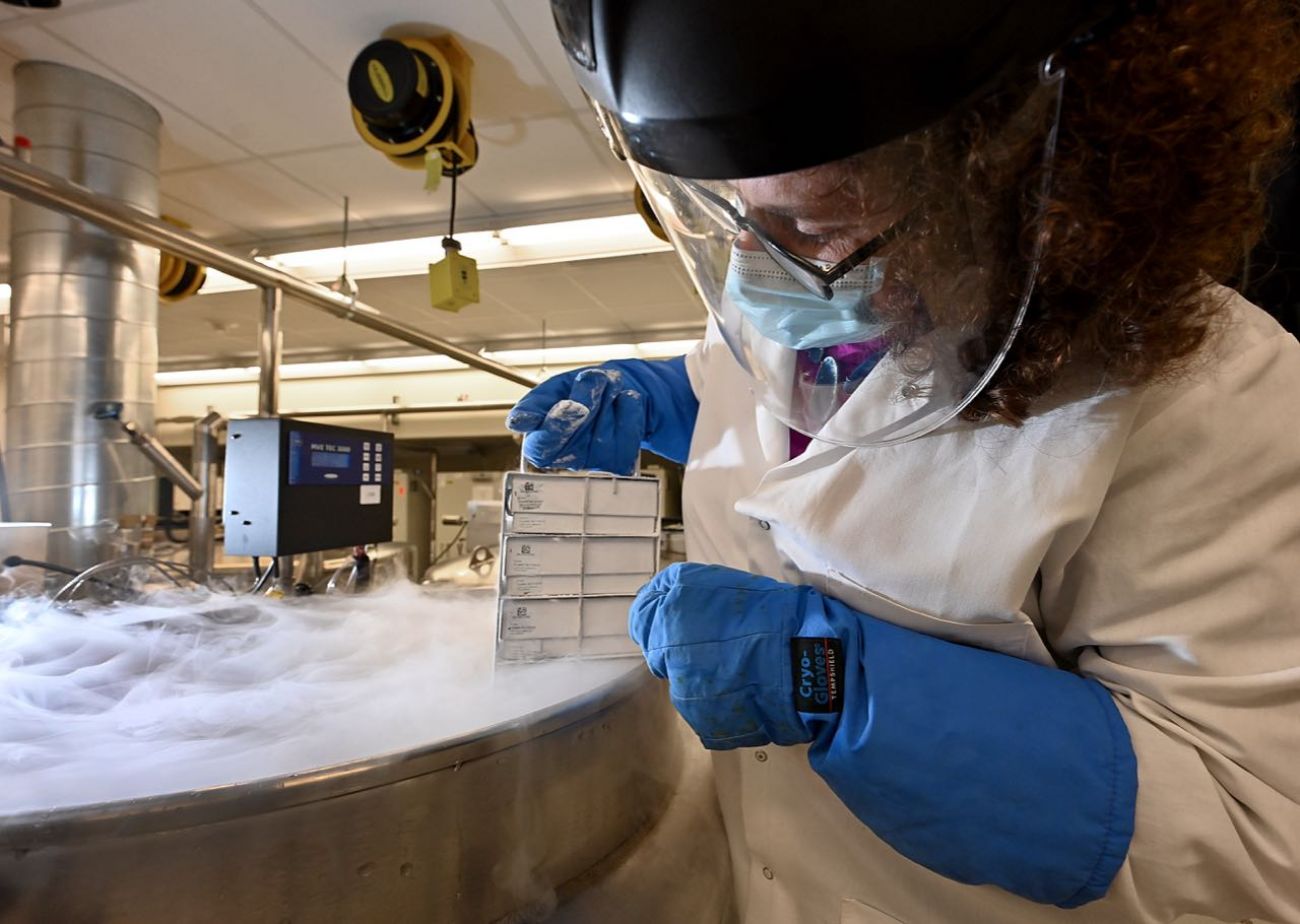 ANN ARBOR — The secrets of COVID-19 — why it kills some and goes unnoticed in others, how it spreads, and even how to stop it once and for all — may lie deep in liquid nitrogen in this basement laboratory of the University of Michigan's Central Repository.
Already stocked with more than 500,000 samples of blood, serum, plasma, tissue, spinal fluid, hair, stool, urine and other biomaterials, the repository is now recruiting blood donors for research into COVID-19. Much remains unknown about the virus identified in December in Wuhan, China — its killing ability, its interplay with genetics, its lasting effects and how to stop it.
Researchers hope the blood samples may offer answers to these questions and countless others, including those that haven't yet been asked.
They're recruiting both donors who were sick with COVID-19, but also those who were not.
"If we are only able to get samples from those who are hospitalized, that's a very incomplete picture," said Dr. Anna Lok, assistant dean for clinical research in the University of Michigan Medical School. "The only way to fight this is if we all fight this together."
Stacy Plum didn't need much convincing— not after her mid-March hell.
For an 11-day stretch that began on St. Patrick's Day, her husband, Chris, endured an unrelenting fever, nausea and muscle pain. She fought through her own crushing fatigue and headache, and sought answers about the virus from Google (unsuccessfully.) Their teenage daughters took over the duties of the household.
COVID-19 "was a disaster," Plum, 49, said.
"I felt like I had 15 tons of bricks on my ribs," said Plum, an account manager for the medical research company, Novartis. "I'd be sitting there and it would just nearly take me to my knees."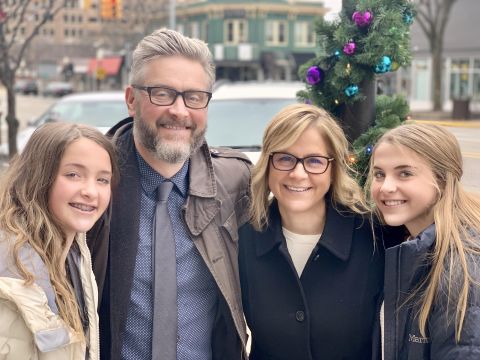 By the time she walked into a lab for a blood draw Thursday, the virus had killed more than 357,000 worldwide, including more than 100,000 in the U.S. and at least 5,300 in Michigan.
Plum wonders why her husband had some symptoms and she had others. Both are healthy otherwise; he had finished a mountain bike race in November and she does circuit training four to five days a week.
Why, too, did her 15-year-old daughter, Ava, lose her appetite and suffer headaches, while 13-year-old Claire felt nothing at all?
"I'll do what I can to help so that someone doesn't have to go through it, too," she said. "Knowledge is power in my mind."
Questions that haven't been asked
While some biobank collections are for specific research — tumor samples to study a particular breast cancer research, for example — recruitment for COVID-19 research at the U-M biorepository is more open-ended.
Participants consent to allow their samples, which include genetic material, to be used indefinitely and in ways both related and unrelated to COVID-19.
Although the priority is for academic research, the samples could be shared with for-profit pharmaceutical and research companies. The samples would be shared only after a review of the research and if the outside company agrees to take on a U-M researcher as a partner on the research, said biorepository director Dr. Vici Blanc.
The samples aren't intended as a money-maker. However, the lab may one day charge for samples to help cover costs of running the biorepository, she said.
As of Thursday, the biorepository already has stocked 17,627 samples from more than 800 COVID-19 patients at U-M hospital and other participants, but the earliest samples are severely restricted. Some are from leftover blood that had been taken while a patient was treated. Some of those patients died, and the university's institutional review board — a panel established to protect human subjects in research — tightly restricts research on those residual samples, Blanc said.
Other donations are limited because researchers request signed consent from patients at the time when the infection is most acute and the patient is just trying to survive, said Lok, the assistant dean for clinical research.
It's a big ask — requesting samples when it's not even clear yet what they will be used for, Blanc and Lok acknowledged.
But scientists are racing against time and what surely will be a diminishing interest among the public as the virus fades, perhaps only temporarily before a second wave if some predictions are correct.
There's another consideration too: It's also not clear how long antibodies linger after infection — yet another question to be answered.
"We can't sit and wait and think too long," Lok said.
The donations
Plum's donation Thursday of about six teaspoons of blood will be stripped of her name and other personal identifiers, though it can later be connected to her certain details in her medical record.
That means researchers won't know, for example, who she is, but will know her age and any medical history.
Separated into color-coded tubes identified only with barcodes, Plum's donation will be processed and separated into individual cryovials, then slipped into vaporized liquid nitrogen in a stainless steel tank where the only sound is usually the industrial hum of the HVAC system.
Stored at 190 degrees below zero Celsius, the samples can be kept indefinitely.
The U-M lab, accredited by the College of American Pathologists (CAP), is one of countless biobanks across the nation now collecting samples for COVID-19 research, said Dr. Philip Branton, chair of the CAP's accreditation program committee.
It may take "20, 30 years" before the virus is fully understood, Branton said: "The whole world is getting a crash course in how messy the world of scientific research can be."
In Michigan, potential donors can find out more about donating to the U-M biorepository via the U-M Health Research Registry.
Early clues?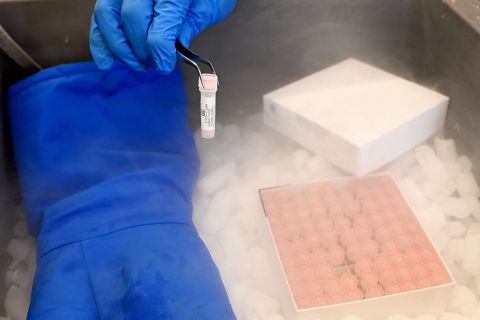 Already, there are promising signs from the blood samples and a step toward a clinical trial to test dipyridamole, a drug used to prevent blood clots after heart valve surgery, among COVID-19 patients.
In that effort, University of Michigan researchers found what may be clues behind the inflammatory response — the cytokine storm — that can lead to the deadly respiratory failure in some COVID-19 patients.
Rheumatologists Dr. Jason Knight and Dr. Yu (Ray) Zuo and cardiologist Dr. Yogen Kanthi studied a type of white blood cell known as "neutrophils" using blood samples from 50 COVID-19 patients.
White blood cells, including neutrophils, are the body's defenders and fight infection. Chinese scientists had observed high levels of neutrophils early in the pandemic, Knight said.
Little else was known about COVID-19 neutrophils, in part because they die quickly in labs, making them difficult to study. So science had relegated neutrophils as sort of "minion" status among the body's more well-known immune responders.
Still, scientists have known that neutrophils carry an extraordinary weapon in the battle against infection. Neutrophils sometimes shoot out sticky strands of DNA and toxic proteins — called neutrophil extracellular traps, or NETs — to create a web to ensnare pathogens. The NETs are a last-ditch tactical response, focused on containment more so than killing.
Knight said other white blood cells may employ similar tactics in creating these webs, but "it seems pretty clear that neutrophils are the best at it and are optimally designed for it."
Knight and his colleagues confirmed both the high levels of neutrophils in COVID-19 patients and, notably, these potentially toxic NETs, publishing the findings May 21 in JCI Insight, a peer-reviewed journal of the American Society for Clinical Investigation.
Their effort reframes neutrophils from being little-understood henchmen in the body's immune response to being early drivers of the over-the-top immune response to the virus — possibly a crucial distinction as doctors try to better understand why COVID-19 infections affect people so differently, Knight said.
We're not just a news organization, we're also your neighbors
We've been there for you with daily Michigan COVID-19 news; reporting on the emergence of the virus, daily numbers with our tracker and dashboard, exploding unemployment, and we finally were able to report on mass vaccine distribution. We report because the news impacts all of us. Will you please donate and help us reach our goal of 15,000 members in 2021?