Xavier DeGroat has plumbed charm, authenticity and an ability to build a contact list that would make the most seasoned politician jealous.
He's met presidents Trump and Obama, and the Dalai Lama. He counts among his friends the likes of Trump lawyer and former New York mayor Rudy Giuliani and former Michigan Democrat gubernatorial candidate Virg Bernero.
He persuaded civil rights icon John Lewis to tape a video promoting autism awareness and rights, and took a breakfast meeting with former California Gov. Arnold Schwarzenneger to do the same.
A guest on the Mike Huckabee show? Done.
Race car drivers? He's met them, too.
Star athletes and scientists? Muhammad Ali? Rachael Ray? 
Check, check, check and check.
Now, DeGroat says, he's landed a White House internship this fall — a position he said he was offered through his relationship with Guiliani. 
Not bad for a regular guy from Delta Township, the son of a bus driver and a factory supervisor.
"If there's a star around, he'll get himself there," said Kellie Dean, president & CEO of Dean Transportation, and now vice-chair of the Xavier DeGroat Foundation, which raises money for autism awareness events and programs for people with autism and their families.
Related:
At times, DeGroat's relentless networking can put him in a pickle. He was in Republican state Sen. Tom Barrett's office on one occasion when DeGroat suddenly turned to walk away.
"Rudolph Giuliani was calling for something, and he was, like, 'Hey, I gotta step away, Rudy's calling me,'" Barrett recalled.
Barrett said "we have a betting pool in my office [with] the over-under on when Xavier is going to meet the pope."
But DeGroat's efforts are about more than photo opps. They are about advocating for people with disabilities who, like him, find it difficult — and sometimes even dangerous — to navigate the gray areas and hidden meanings in everyday interactions.
Pushed by DeGroat's persistence ("He wears you down," Dean said), Barrett helped shepherd a three-bill package into law in June that allows people on the autism spectrum to indicate on driver's licenses and vehicle registrations that they have "communication impediment" — a key piece of information for law enforcement who may otherwise misinterpret a person's behavior or responses during, say, a traffic stop. 
Two of the three bills were sponsored by Democratic Sen. Curtis Hertel of East Lansing and Rep. Frank Liberati of Allen Park. The package passed with bipartisan support.
DeGroat was "absolutely critical" to the success of the bills — a reminder that "not everything has to be a fight," Barrett said.
"While we have a laundry list of policy differences and political differences … the issues that are nonpartisan and are not divisive are great examples of what we can and should be doing," Barrett said of the Legislature's work.
DeGroat said he pushed for the laws after he was pulled over for speeding several years ago in Lansing. He was, as it happens, on his cellphone at the time talking to Tom Hanks' staff, trying to get on the actor's schedule.
As DeGroat tells it, the officer approached his window asking for his license and registration. DeGroat said he didn't want to miss out on getting Hanks' rep on the phone. 
DeGroat and the officer's voices grew louder, talking over each other — the officer demanding that he roll down his window while DeGroat trying to talk on the phone. A demand for a driver's license. A whirling light bar.
The thought of an officer's gun.
"And then I kind of got an attack from anxiety, like, 'What are you doing? What am I doing wrong? Are you mad at me? Can you turn that light off behind me because it's making me worried that you're going to hurt me,'" DeGroat recalled.
While law enforcement agencies have received more training in recent years on working with people with disabilities, the experience led DeGroat to conclude there must be better ways to alert police when they are dealing with someone with autism or other conditions that make communications difficult. He hopes to create a notification law on the federal level similar to the one passed in Michigan.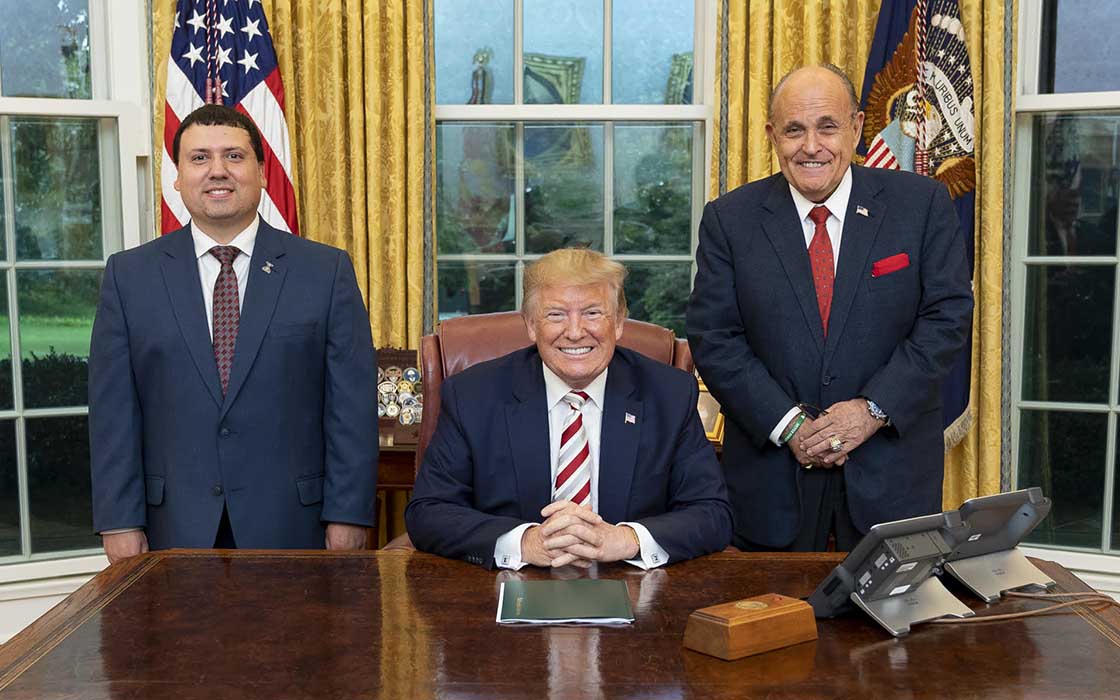 Xavier DeGroat says his White House internship begins Sept. 16. Republican State Sen. Tom Barrett said his office has a bet on when DeGroat meets Pope Francis. (Photo courtesy of The White House)
Working across partisan lines 
DeGroat's ability to access leaders on both ends of the political spectrum is extraordinary. 
In 2015, he discussed respect for people with disabilities with Georgia Democratic congressman and civil rights giant John Lewis, about a month before then-GOP presidential candidate Donald Trump was criticized for mocking a disabled reporter. 
While Lewis and now-President Trump mostly avoided one another before Lewis' recent death, DeGroat met with Trump last summer to push his cause.   
DeGroat said he was able to put aside the mocking incident involving the reporter because he prefers to view individuals as a whole person rather than through a single moment. 
"When you get to kind of see the person and talk with him, you think differently about them than when you see them on TV," he said of the president.
The late U.S. Rep. John Lewis and Xavier DeGroat spoke in 2015 about dignity, respect and the civil rights of people with disabilities. (Courtesy photo)
DeGroat said he looks for ways to find common ground, rather than straying into unwinnable areas such as by talking about the border wall. He learned, for example, that he and Trump both enjoy a good burger. 
Seeing past ideologies enables him to admire Republican presidents Trump and Ronald Reagan as well as Democrats Jimmy Carter, Bill Clinton and Barack Obama and, crucially, engage them in his activism. 
Autism is nonpartisan. And DeGroat's most remarkable power, say those who know him best, is his unspoken ability to force civility at a time ripped jagged by politics and anxiety. 
When DeGroat's around, people are just a bit nicer. 
In DeGroat's presence, former Lansing mayor and Michigan gubernatorial candidate Virg Bernero said he is much more careful to criticize ideas rather than the people who push them. And he's noticed the same thing with lawmakers in DeGroat's company.
"He's turning [an autism diagnosis] into a blessing," Bernero said.
"He is opening doors. Obviously it's not just because of autism. It's the unique attributes of Xavier, the way he wraps it up and the way he puts it together." 
Feeling on the outside 
DeGroat was diagnosed with autism at age 4, and grew up as many children with disabilities do — taunted, misunderstood and feeling on the outside, said his mother, Firdous DeGroat, who was interviewed for this article with Xavier at her side.
Disagreements, bullying and an inability to sort through "sarcasm, gray languages and nuances" landed him in the principal's office on more than one occasion, his mother said. (Missed social cues and communications is part of the criteria used to define Autism Spectrum Disorders.) 
At 29, DeGroat said it's taking longer than he'd like to wrap up a four-year business degree at the Lansing Community College's University Center, or find a more permanent job to ensure his financial independence. 
But the matter-of-factness and clarity others may see as "odd or different or weird," according to his mother, has made DeGroat more passionate about his work. 
As a teen, he turned to visionaries like Helen Keller, Gandhi, Dr. Martin Luther King Jr. and Temple Grandin for inspiration.
King "had to get loud and tough in order for [President] Kennedy and everybody to listen to him for civil rights," DeGroat said. 
"That kind of made me feel I've got to do that so I can make my school principal and my people know that I'm not going to tolerate them… I know I'm a good guy. I know I'm not doing anything wrong."
He said he's getting better at it.
"It was hard for me to kind of cope with communicating properly," he said. "But now I'm so good at it; now I'm good at going out and publicly speaking."
In 2016, DeGroat spoke at the Els for Autism Pro-Am, a fundraiser held each year by pro golfer Ernie Els, who has a son with autism. It was there that one of the guests — Giuliani — congratulated him on his speech.
Since then, DeGroat told Bridge, the two have become friends. Which is how DeGroat found himself lunching with Guiliani, the president's lawyer, at the Trump hotel in Washington, D.C., last summer, before the pair headed to an Oval Office meeting with the president.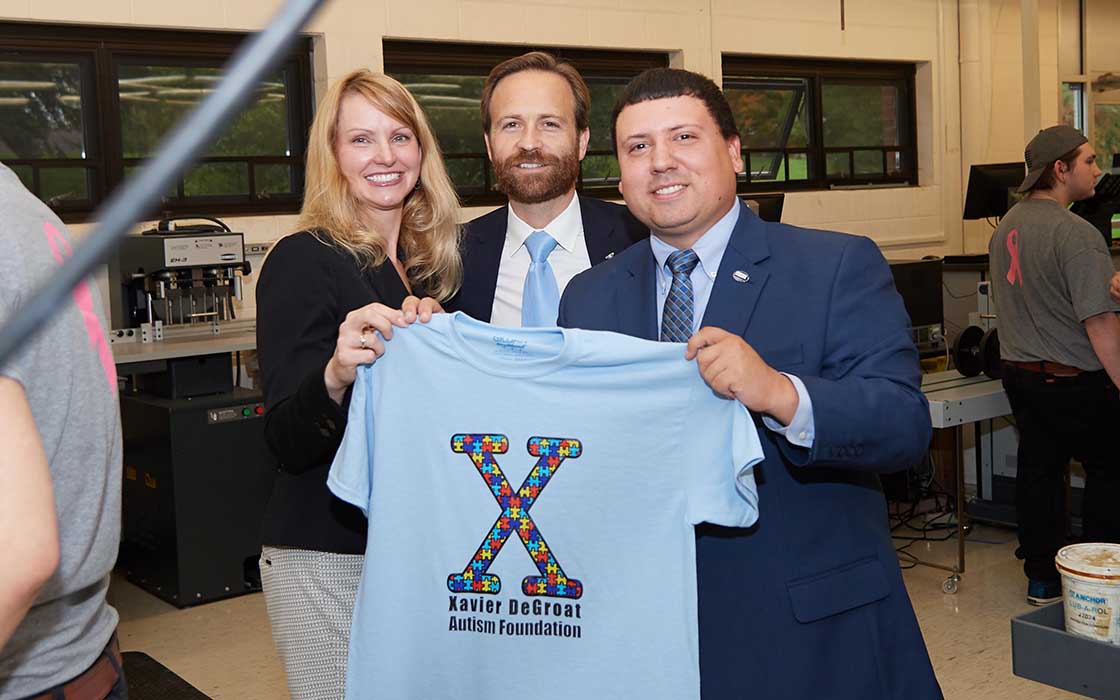 Among those Xavier DeGroat counts as friends are former Michigan Lt. Governor Brian Calley and his wife, Julie, whose daughter, Reagan, has been diagnosed with autism. (Courtesy photo)
Dean, whose company provides school bus services in Michigan, first met DeGroat in 2015 when DeGroat asked for a meeting to discuss transportation. Inspired by the 1963 March on Washington, DeGroat wanted to organize an event in the nation's capital to raise awareness about autism.
Though Washington proved an overreach, Dean — a former special education teacher— helped organize more than 50 activists to travel to Chicago to celebrate the 25th anniversary of the Americans with Disabilities Act.
"Before I knew it, I had donated a motor coach to his cause," Dean said.
He believes autism has given DeGroat some abilities that others do not — and arguably cannot — possess.
His tone is clear and even; his words matter-of-fact. His persistence can border on irritating but, somehow, Dean said, DeGroat pulls it off.
"Some people will just help him because they know he'll come over and sit in his lobby and not leave," Dean said.
Several years ago, DeGroat helped the Lansing police department develop card-sized handouts explaining autism to the department's officers.
By then, everyone on the chief's staff knew of DeGroat. He was often in their offices, asking for another letter of referral to meet another dignitary.
"The problem is that he's the classic 'I need everyone to do this for me,'" said Bob Merritt, police spokesman. 
Chuckling, he recalled DeGroat once told a staff member to run out to pay his meter for him. She refused. "She had to say 'Xavier, I work for the chief, not you.'" 
But though some pushed back against DeGroat's strong will, they've also admired what he has accomplished.
"He uses one [meeting] to parlay into the next," Merritt said. "He can sometimes put the cart before the horse, but I think what he's done is amazing." 
For an ordinary citizen working the hallways in Lansing, that doggedness is key, said Barrett, the state senator. 
"The secret sauce of what it takes to get legislation done is just getting it even to a point where it gets voted," he said. 
"So many things get introduced as good ideas [but] never really get off the ground because they get crowded out by a lot of bigger picture things. [DeGroat] made sure that that didn't happen with these bills."
DeGroat agrees. "I'm a relentless guy who goes on and on and on."
His strategy is both savvy and sincere. He calls his contacts as often with requests as for advice, and disarms strangers by calling out his diagnosis from the get-go.
"He's smart and he's upfront about [autism] and it's opened up a lot of doors for him," said former Lt. Governor Brian Calley, whose daughter is diagnosed with autism and is himself an advocate for people with autism.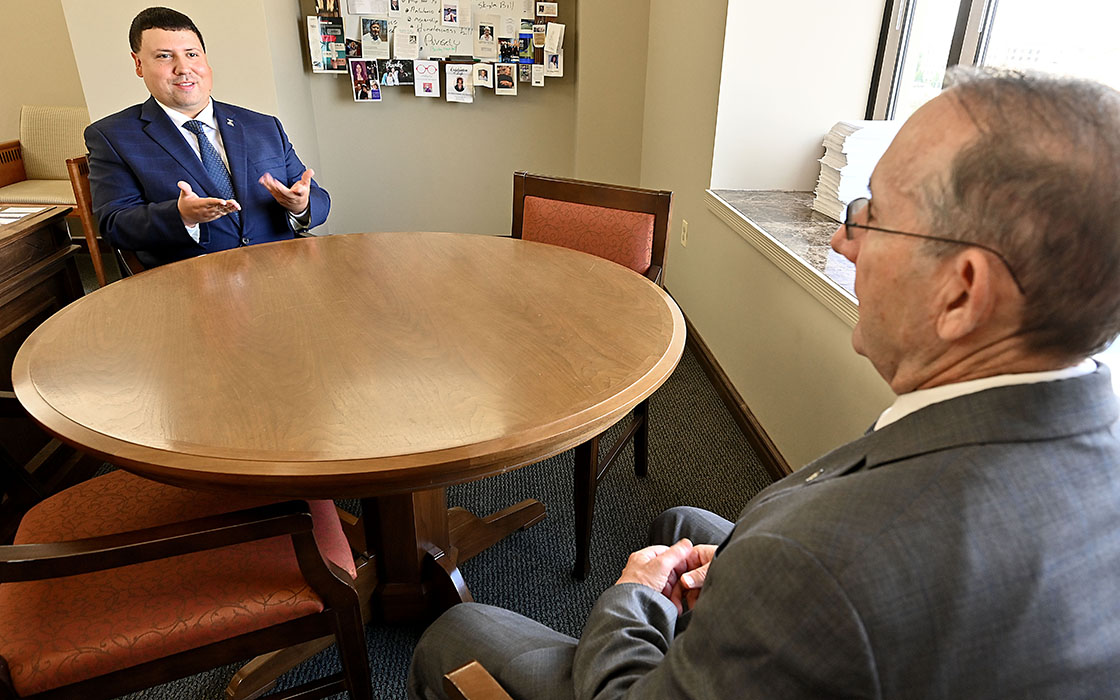 Working with both political parties in Michigan recently to pass a law that may close communication gaps between people with autism and police, Xavier DeGroat recently met with State Rep. Tommy Brann (R-Wyoming) to discuss another autism fundraiser. (Bridge photo by Dale Young)
On to Washington
DeGroat said he begins a White House internship this month. The White House declined to discuss the fall internship class, saying it does not comment on personnel matters.
You'll have to trust me, DeGroat told Bridge Michigan. 
"I got doubted when I was a kid. 'You're never going to meet the Dalai Lama [and] you're never going to do this or that," he said. "That's the exact kind of thing I don't appreciate in people."
For now, his photos, social media, YouTube videos with icons, his friends, and his political connections offer a bit of balance to any doubts. 
Lansing public relations executive John Truscott said he remembers questioning DeGroat when he talked about the famous people he'd met. So DeGroat whipped out his phone and began scrolling through photos.
"He's passionate," said Dean, who is planning a small Lansing gathering for DeGroat next week as a ceremonial send-off to Washington. 
"All his work — it's all about someone else."