Michigan Truth Squad | Brian Calley misses on Bill Schuette off-duty swipe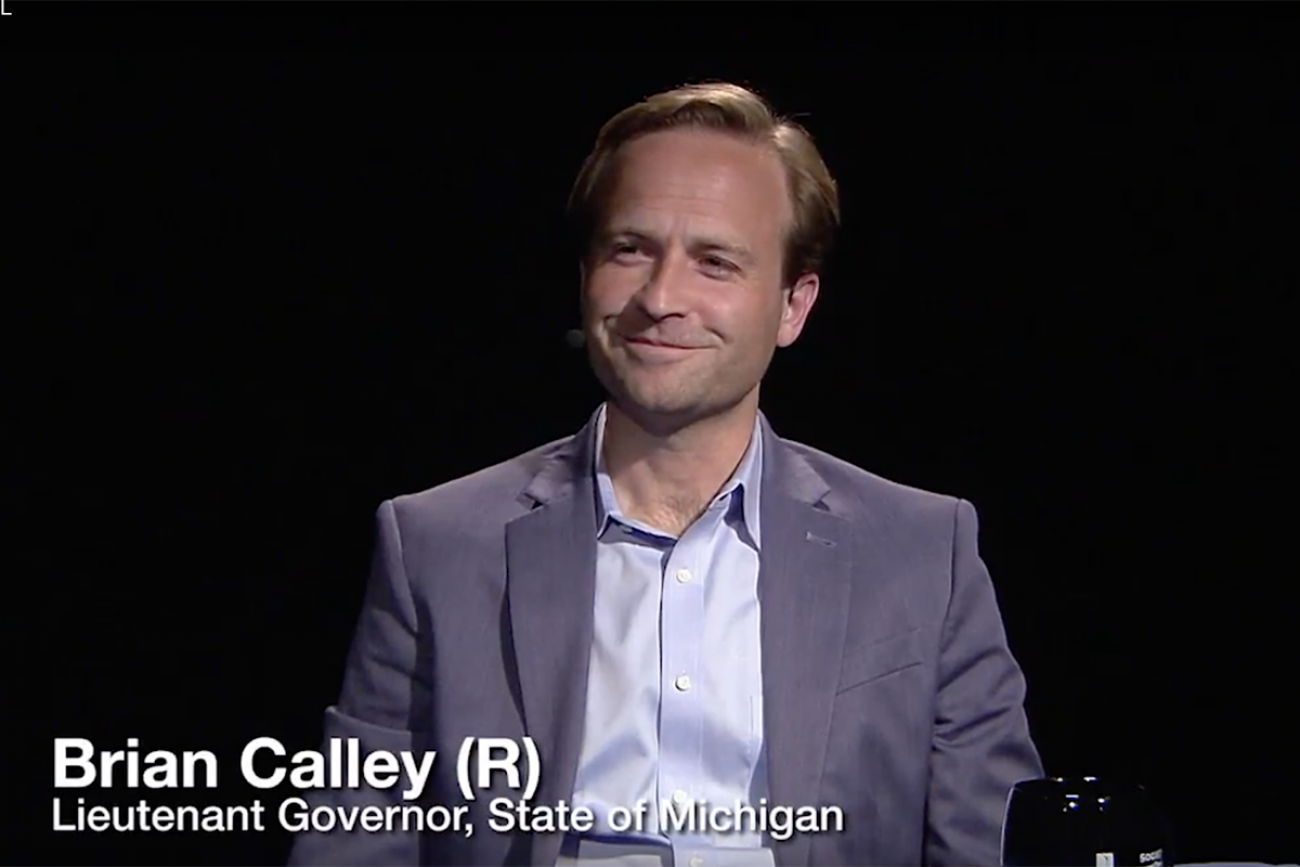 August 2018 update: Bill Schuette wins Republican nod for Michigan governor
As the Michigan GOP primary race for governor enters its last days, the chief rivals have traded blows over which candidate has skipped more work.
In June, Attorney General Bill Schuette hit Lt. Gov. Brian Calley with the charge he "skipped one third of legislative sessions" to jet off for classes at Harvard University. That was based on reporting that Calley missed 62 of 177 session days in 2013 and 2014 to attend classes at Harvard's Kennedy School of Government as he pursued a master's degree in public administration. Calley said then he was able to work remotely on his government duties while at Harvard, calling himself "a full-time worker who's pursuing higher education."
Now Calley strikes back, with a TV ad airing the last two weeks of the race that says Schuette is "off duty," alleging he worked just over 100 full days in nearly eight years as attorney general. The startling claim is entirely based on the campaign's analysis of Schuette's official work calendar, obtained through a Freedom of Information Act request.
We rate the claim inaccurate even as Calley raises legitimate concerns about Schuette's alleged penchant for mixing work duties with political or campaign efforts.
The claim
"Bill Schuette is off duty. Schuette is paid over $100,000 a year by taxpayers. But Schuette barely worked 100 full days in nearly eight years. Less than one full day every three weeks."
The facts
In a July 24 news conference tied to the launch of the ad, Calley said that analysis of Schuette's office calendar found that he worked just 104 "full" eight-hour days out of nearly 2,000 working days since he took office in 2011. He said that averaged out to less than one full work day for every 3.75 weeks, for a job that pays Schuette $112,410.
A full work day, by Calley's definition, is any day in which there were at least eight hours between Schuette's first event of the day and the end of the last.
Calley acknowledged Schuette could have been working during times when his schedule showed no events, meetings or other official duties. But he said he was "very generous" in how he calculated Schuette's schedule, noting that on many days the calendar was blank.
"There are very wide amounts of nothing on there," Calley said, speculating that Schuette spent much of his time as the state's chief legal officer on unrelated political activities.
Calley campaign spokesman Michael Schrimpf said in a statement to Truth Squad: "The notion that the Attorney General's office does not keep a detailed schedule of where he is, what he's working on and when he is meeting with staff, visitors, etc. is utterly ridiculous."
He asserted that "either the majority of his schedule is political and the work portion is as sparse as the Attorney General has represented, or they violated FOIA and didn't share the full work schedule as required by law. Either way, a full time, statewide elected official does not just wing it every day."
Schrimpf pointed to a report Tuesday in the Detroit Free Press that Schuette in 2015 asked state employees to join him on a 2015 weekday conference call to discuss presidential politics as "clear evidence that Schuette was spending his work days on political work."
"He sent political emails, scheduled and conducted political calls and encouraged senior staff in the AG's office to do the same thing," Schrimpf told Truth Squad.
The campaign also pointed to a potentially explosive report released Wednesday by Progress Michigan, a liberal Lansing advocacy group, that alleges Schuette and his staff used public time and resources over nearly a decade to conduct political activity.
Calley told Truth Squad there is a stark contrast between what he says is on his own crowded calendar and the emptiness of Schuette's schedule.
"In my office, we get maybe a hundred schedule requests a week. Even when I am meeting with staff, that's on the schedule. Are we to believe that everything (in Schuette's office) happens in a surprise fashion, that most days everybody is completely winging it?"
It's worth noting that the date of that reported 2015 presidential politics conference call – Aug. 17 – Schuette's official calendar was blank.
Schuette campaign strategist John Sellek pushed back on Calley's claims, saying Calley is "losing and desperate" to hide his own work schedule while attending Harvard between 2013 and 2015, "during the time the Flint water crisis exploded."
Indeed, Calley, who touts his own breakneck office schedule, declined to release his calendar – which is not subject to public records requests because the state's executive branch is exempt from FOIA. "The problem is that by releasing my calendar it releases other people's calendars in my office," Calley told Truth Squad. Calley said this even as he continues to say he favors changing the FOIA law so the executive branch is not exempt.
Schuette spokesperson Andrea Bitely says Schuette does lots of work that doesn't show up on the calendar.
"Anyone that thinks Bill Schuette doesn't put in his time each week is flat out wrong," she said. "I've known Bill Schuette for close to four years. I've seen him work hard every day of the week, including weekends, making himself available to Michigan residents, local prosecutors and sheriffs and most importantly, to victims of Michigan crime and their families."
She added: "Attorney General Schuette runs a 500-person law firm that handles 40,000 cases a year, including some of the largest and most important cases in the history of our state that everyone knows about," she said, including prosecutions in the Flint water crisis and of Michigan State University sports doctor and sexual predator Larry Nassar.
Truth Squad picked a couple weeks from March 2018 that seemed typical of Schuette's schedule and asked his campaign to account for his time those weeks.
His schedule for March 5 through March 11 shows three days with nothing scheduled – Tuesday through Thursday, along with one item on the calendar Monday and two on Friday. The next week Schuette also had nothing scheduled Tuesday through Thursday, with five entries on Monday and two on Friday.
Bitely said Schuette was with family on personal time March 5 through March 8 celebrating his son's completion of a master's degree. The following week, when the calendar showed nothing for March 13, Bitely said Schuette gave a speech to the Rochester Rotary Club about trafficking and illegal drugs, and "did state work" during the 1 hour and 38-minute drive to and from the event.
On March 15 – when his calendar also showed nothing – and on the following day, Bitely said Schuette was in Washington D.C. for a St. Patrick's Day event hosting the prime minister of Ireland at the invitation of President Trump, then at similar event at the invitation of Vice President Mike Pence. She shared an email of the vice presidential invitation. Both Washington D.C. events were labeled as official – as opposed to political – events.
Bitely said it was not a political trip, even though Schuette's been endorsed by Trump, a fact Schuette repeats at every opportunity on the campaign trail.
"He was invited in his official capacity as attorney general," Bitely said. "At each event, AG Schuette met leaders from across the country in his official capacity as attorney general."
She said these instances are "proof that not everything the AG does in his state capacity makes it on the calendar…"
Bitely said the Rotary event and the Washington D.C. trip were inadvertently left off the calendar, explaining, "Our schedulers are human."
False
Brian Calley
Schuette off duty
Calley's claim that Schuette is "off duty" rests on a dubious leap in logic: If Schuette has nothing on his schedule, that means he's not working. That's possible – but so is the opposite. And the burden is on the candidate making the accusation to support it.
Calley admits himself that Schuette may have been working during times when his calendar is blank, as Schuette spokesperson Bitely argues the record for his March activities reveals.
Calley's campaign suggests that the empty calendar days meant Schuette was working on political matters instead. It offers as proof recent reports that Schuette mixed politics with state business, reports that raise legitimate questions about Schuette's priorities as attorney general.
The debate over what's-official-versus-political travel is hardly new, nor is it confined to state politics. The nonpartisan Washington, D.C.-based Campaign Legal Center has wrestled with such questions for years, and suggests a reporting system that errs on the side of transparency by forcing members of Congress to identify their official travel "on the Internet in a searchable, sortable, and downloadable database format." Perhaps Lansing could require the same.
In the end, the accounts of Schuette's mingling of political with official business, however troubling, do not justify the more sensational conclusion that Schuette "barely worked 100 full days in nearly eight years" in public office. And Calley's standing to make this charge is hardly burnished by the fact he won't release his own calendar.
TRUTH SQUAD RATINGS
Truth Squad assigns five ratings to the political statements we review, in descending levels of accuracy:

ACCURATE ‒ No factual inaccuracies in the statement and no important information is missing

MOSTLY ACCURATE ‒ While the statement is largely accurate, it omits or exaggerates facts, or needs some clarification

HALF ACCURATE ‒ Truths are interspersed with mistruths, or the speaker left out significant facts that render his/her remarks misleading in important respects

MOSTLY INACCURATE ‒ The major point or points made are untrue or misleading, even while some aspects of the claim may be accurate

FALSE ‒ The statement is false, or based on false underlying facts
Only donate if we've informed you about important Michigan issues
See what new members are saying about why they donated to Bridge Michigan:
"In order for this information to be accurate and unbiased it must be underwritten by its readers, not by special interests." - Larry S.
"Not many other media sources report on the topics Bridge does." - Susan B.
"Your journalism is outstanding and rare these days." - Mark S.
If you want to ensure the future of nonpartisan, nonprofit Michigan journalism, please become a member today. You, too, will be asked why you donated and maybe we'll feature your quote next time!