An election. An inauguration. A divided state.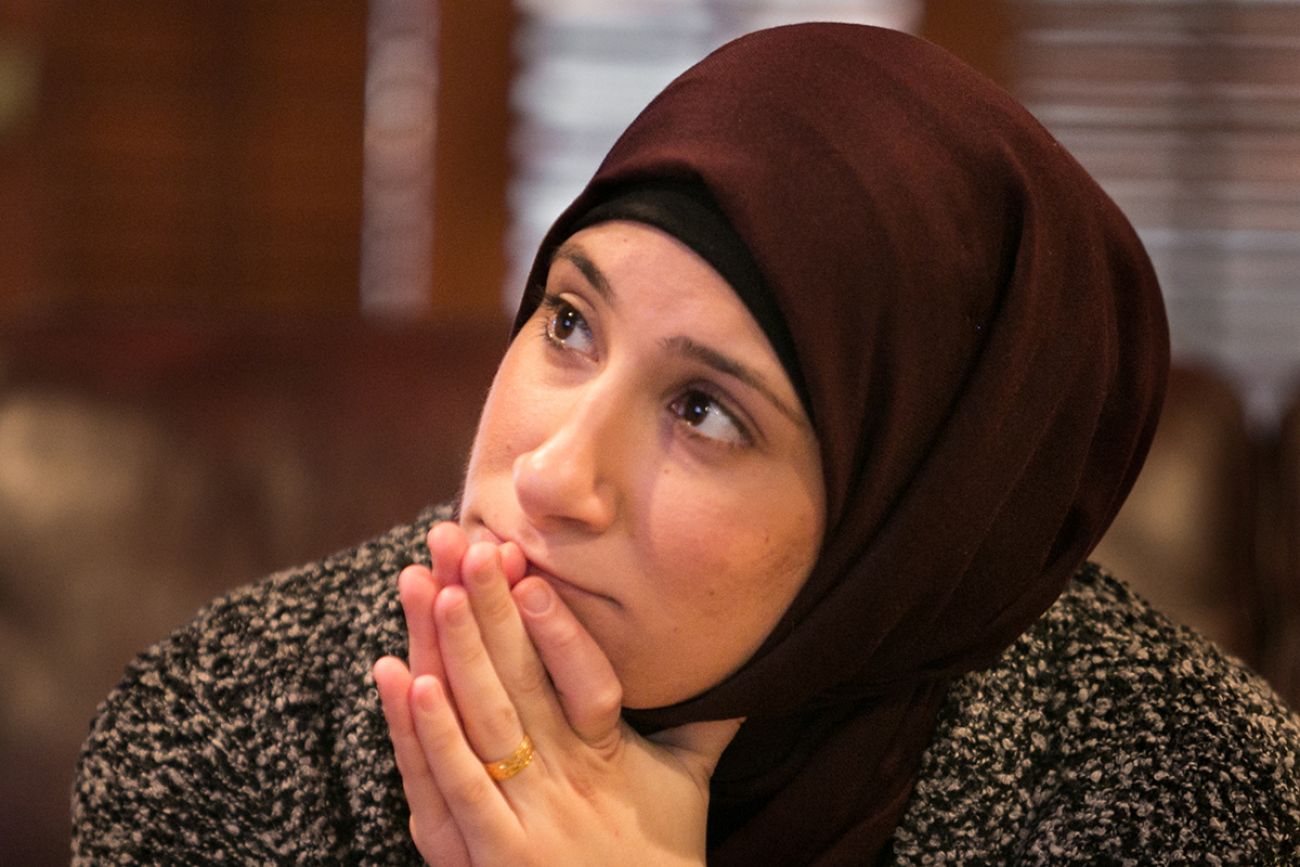 One is a retired engineer who believed Hillary Clinton would be "the end of the America as we know it." Another is a poetry teacher who in "conspiratorial moments" after Donald Trump's election, worried about prison work camps. There's the U.P. family that stocked up on ammunition, believing Clinton would impose harsh gun control, and the college-educated woman who, in a fleeting bit of panic, considered buying extra birth control before Trump took office.
The 2016 presidential election exposed deepening fault lines in Michigan. Bridge is following 11 people and families throughout 2017 in an effort to pierce the bubbles in which they, and the rest of us, live. Our reporters and photojournalists will check in on these very different residents throughout the year to see how their aspirations or fears from the election play out, and to learn more about their hopes — some shared, some not — for a state they all love.
Dave and Sherri Frohriep spent the first day of the Trump presidency like they had too many days of the Obama presidency – unemployed.
They didn't watch the inauguration of the man they and many of their U.P. neighbors voted for. They can't afford satellite TV, and their home in Luce County is too remote to pick up stations with rabbit ears. Instead, Dave Frohriep stacked wood in the basement of their home to feed their wood-burning furnace. A storm was blowing in, so he shoveled snow against the side of the house to shield it from the wind.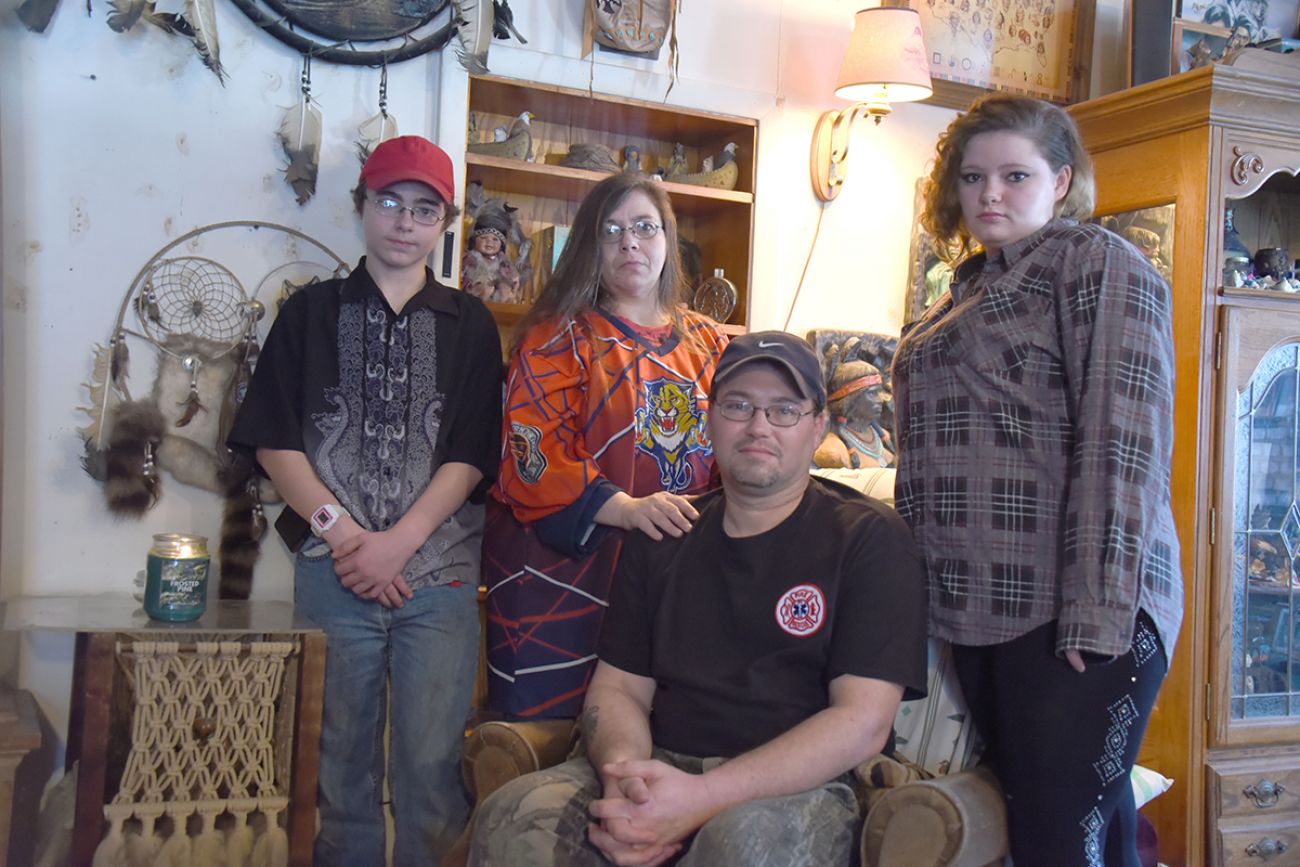 In his inauguration speech, Donald Trump vowed "you will never be ignored again." The Frohrieps hope so. In this snow-covered slab of Michigan bordering Lake Superior, where incomes are low and teen pregnancy rates high, residents feel like the world has passed them by. Trump promised to shake things up, and that sounded good to Dave and Sherri, who, along with two children, a rescue dog and a 250-pound rescue pig, survive on less than $20,000 a year.
"He said he'd bring back jobs," Dave Frohriep said. "I hope so. That's what everybody needs here."
Almost 400 miles south, another low-income family was preparing for a new president from a decidedly different perspective. Mariam Charara spent Inauguration Day chasing her toddler, Madina, through their Dearborn home. Her husband, Hussein, was in his first weeks of student teaching at Edsel Ford High School, and Madina stood at the living-room window looking for her "baba," who likes to wave at her there when he's outside.
Mariam and Hussein limit screen time for Madina. But on Friday the TV was on, tuned to the news, where the candidate who made terrorism perpetrated by Muslims a focus of his campaign was being sworn in as the 45th president. Mariam, a Muslim who found that rhetoric unnerving, was watching in the modern fashion: one eye on the TV, the other on Twitter.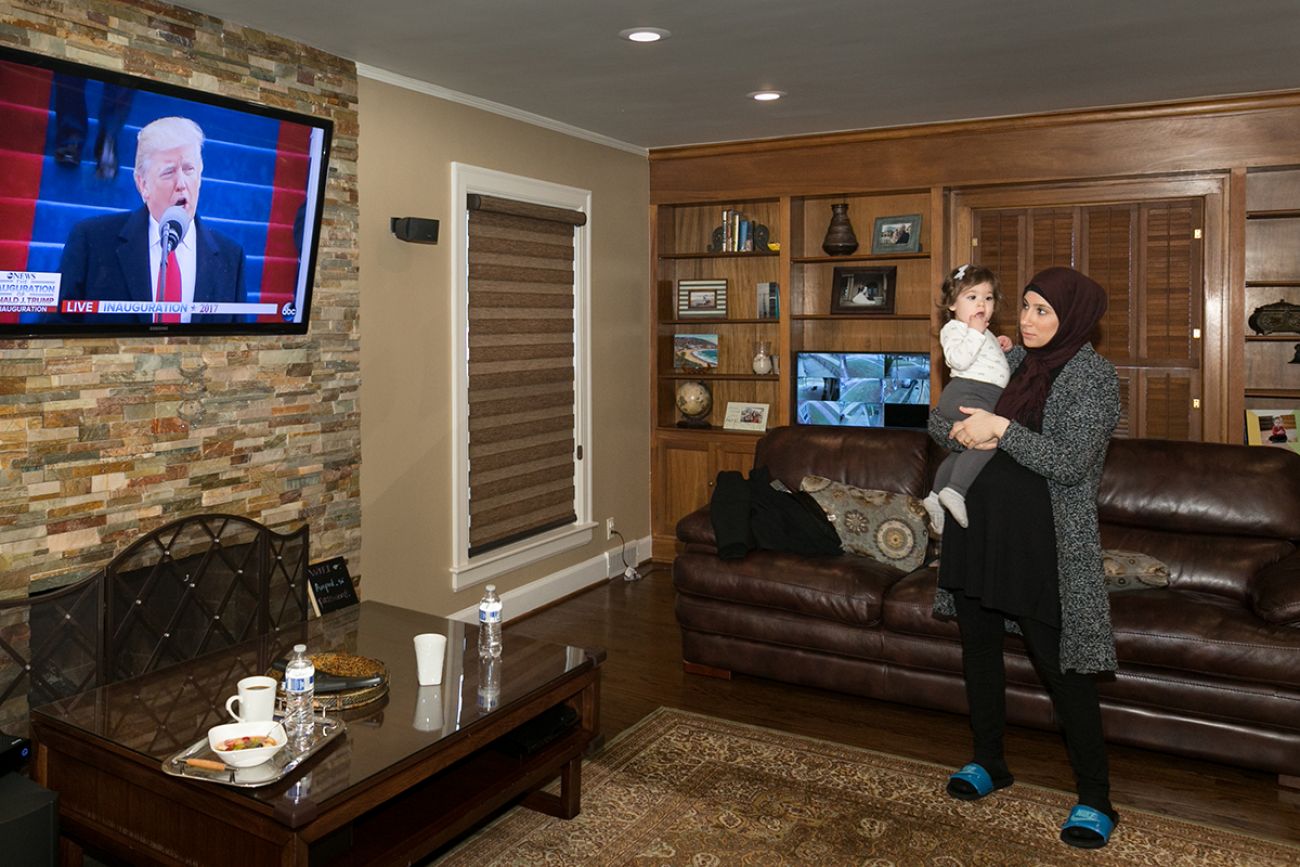 "We are transferring power from Washington, D.C. and giving it back to you, the people," Trump said. "Who is you, though?" Mariam retorted from the couch. "Who is you?"
"I will never let you down," Trump proclaimed from the podium. "You already did," said Mariam.
"When you open your heart to patriotism," the new President said, "there is no room for prejudice."
Mariam Charara responded with a derisive sound that was half guffaw, half snort.
Trump's speech received a warmer reaction in a modest bungalow in Holland, where Ron Price had the TV tuned to Fox News while his laptop streamed live video from right-wing conspiracy theorist Alex Jones.
The 27-year-old reads mainstream media, but gives alternate web sites equal credibility.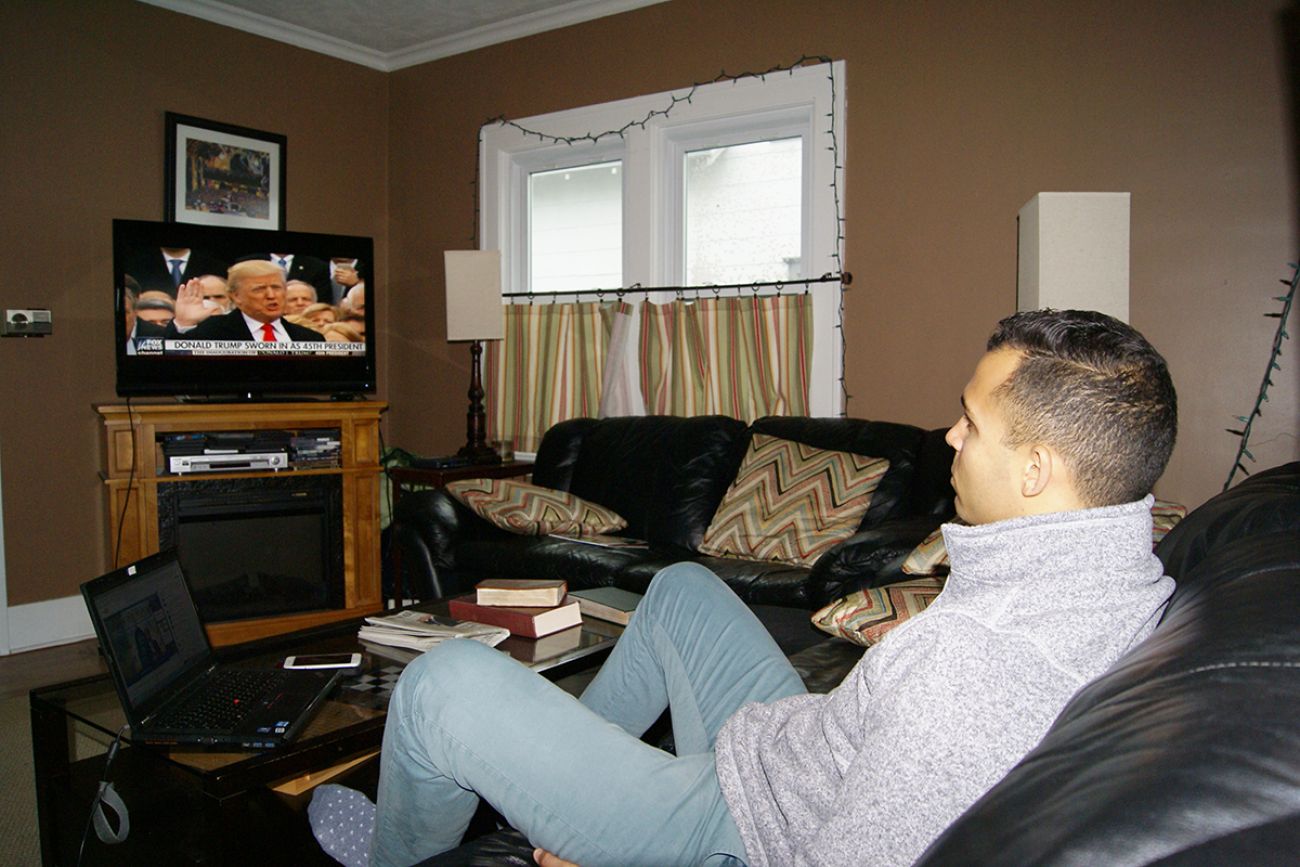 "The average citizen doesn't care about this kind of stuff," he said, tossing a copy of The Wall Street Journal onto the coffee table next to two Bibles. "The average citizen cares about football, the Golden Globes," stuff like that.
For those who get their news from mainstream news organizations, and for those who don't, the country and indeed the state can look very different. The former may see a strong nation with undeniable problems, but rising employment and job growth. But for the latter, Trump's description of "American carnage" in his inaugural address speaks to the unease they've felt in their own lives for far too long. While progressives touted the righteousness of Black Lives Matter, for example, Breitbart covered the surge in gun deaths in inner-city Chicago, accusing more mainstream outlets of staying "largely mum on the soaring death rate."
One example of the news source gulf: Price believes that Clinton campaign manager John Podesta may be a Satanist, a claim some on the right drew from passages in hacked emails that were exposed in Wikileaks. (Editor's note: An earlier version of this story included a link to an article tying Podesta to Satanism. Price asked that the link be changed to a source which he said he used in part to establish his conclusion that Podesta may be a Satanist)
About 650 miles away in Washington on Inauguration Day, Tom Herbon was watching the speech from row ZZ. He and his wife woke up at 3:15 a.m. in a Gettysburg hotel, packing peanut butter sandwiches and fruit cups and heading out the door to make it to the National Mall in time to claim a good spot. The retired IBM engineer always votes Republican, but for him, Trump was special.
"His speech was spot-on," Herbon said Friday night after returning to Gettysburg, the closest reasonably-priced hotel he could find. He pointed to one phrase in Trump's inaugural speech that thrilled him:
"He said 'America first,'" Herbon said. "Who's going to disagree with that?"
Well, two live in Ann Arbor, and with five academic degrees between them, they found the historic roots of the phrase "America first" chilling.
The America First slogan was connected with anti-Semitism before World War II. "That power, even if it's not intended, still exists," said Aric Knuth, who teaches poetry and fiction writing.
"America first" sounds good, but "there's something very troubling when we don't acknowledge that this language once had the power to manifest and encourage a dark moment in American history," Knuth said.
It's a slogan likely to drive the wedge deeper between elites – the highly educated, mostly liberal academics clustered in communities like Ann Arbor and East Lansing – and Michigan's still struggling blue-collar middle class, who have seen jobs leave the U.S. and often find themselves working longer hours for less pay.
At the same time an exhilarated Herbon was returning to his Gettysburg hotel Friday night, Knuth and his husband Jim Leija were a million miles away, culturally, watching a performance by the Meredith Monk Vocal Ensemble – an experimental "ecological art work" of dance and vocal sounds called "On Behalf of Nature." The couple, who both work at the University of Michigan, spent Friday trying to avoid news of the inauguration. They both voted for Clinton, and were worried what Trump could mean for minority and LGBT rights.
In the lobby afterward, Knuth said the performance, "weird" even for him, made him think about the growing gulf between people, a gulf highlighted by the presidential election but that expands far beyond politics.
"This is not the kind of event that Trump supporters would like," Knuth said, much as Clinton voters were turned off by the new president's nationalistic inauguration speech.
Cynthia Shafer was watching television at 3 a.m. on inauguration day from her home in Harbor Springs – not because she couldn't wait to see Trump sworn in, but because she had undergone a minor operation the previous day and was awake on painkillers.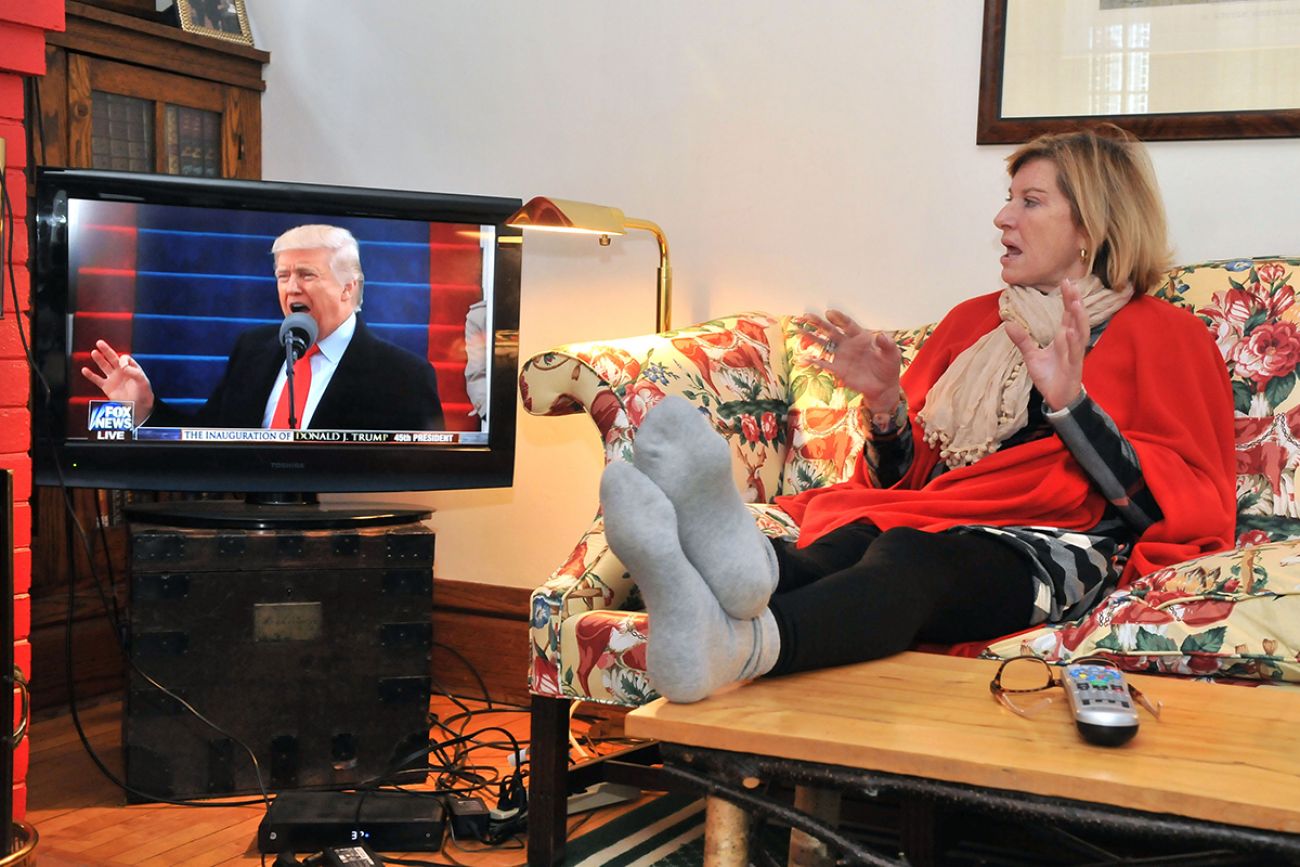 The dinner she was to host that night for a dozen other Trump supporters (all of whom had been with her on election night) had been cancelled as she recovered from surgery. Her "Make America Great Again" t-shirt, "Build the Wall" button, Trump bobblehead doll, stars and stripes tablecloth, and "Drain the Swamp" cheese dip would have to re-emerge the following week.
As the sun rose, Shafer, lucid but sleepy, wrapped herself in a red shawl and cuddled on the sofa next to Lady, her teacup Yorkie, to watch the inauguration, frantically texting her daughter and Googling to find out who had designed Melania's coat (Ralph Lauren).
Shafer is on one side of a stark dividing line: the reaction among women to Trump's sometimes crude behavior toward women.
"I don't give a rat's ass about that tape with Billy Bush (in which Trump talked about grabbing a woman by the genitals). I got hit on all the time in my job in the corporate world."
Lisa King is on the other side of that dividing line. A lifelong Democrat, the 34-year-old from East Lansing had not planned to watch the inauguration. Curiosity led her to turn on the TV, and she immediately regretted it. "I was disgusted," she said. "He's always me-first."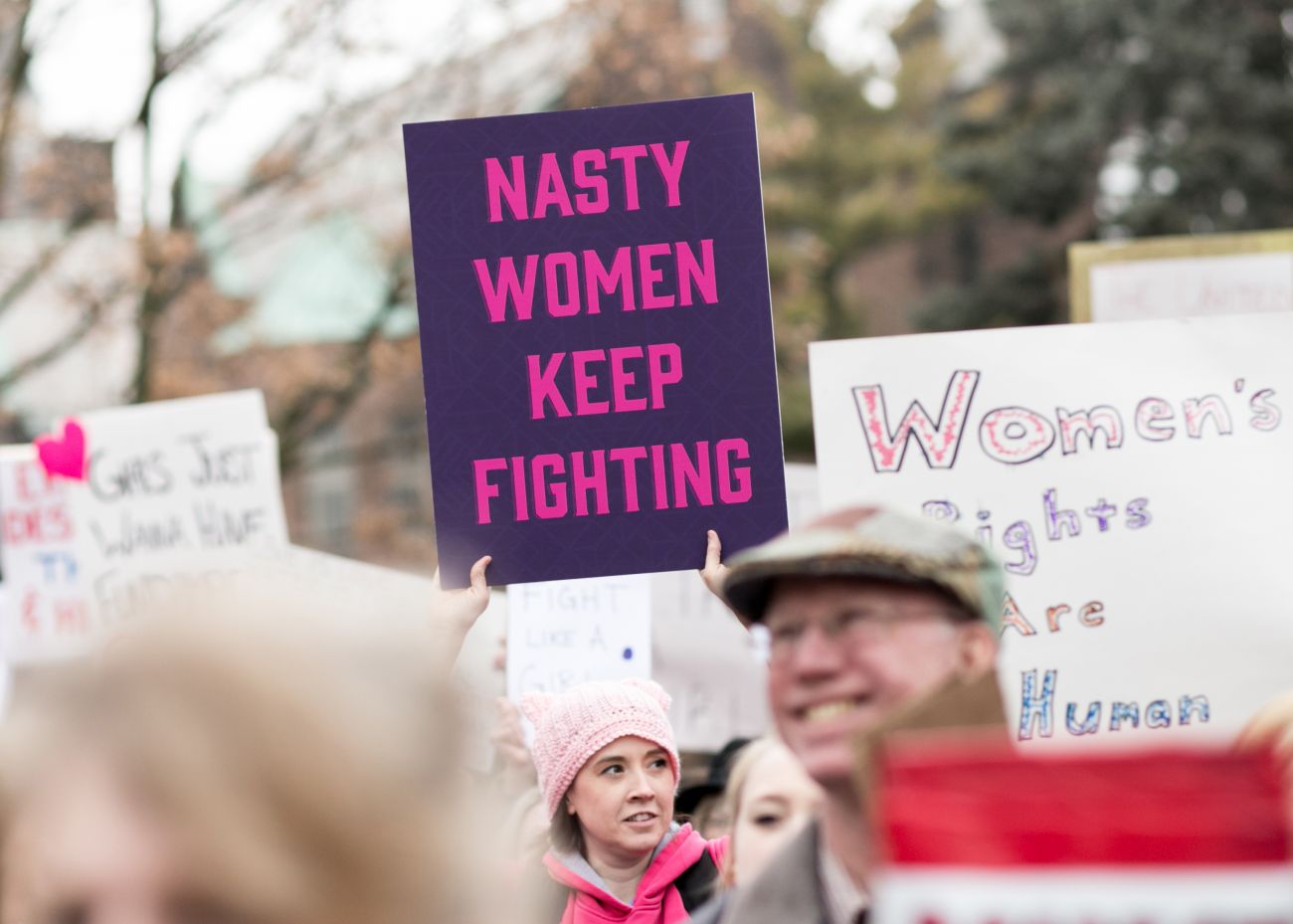 By the following afternoon, disgust had turned to determination. On social media, King tracked friends attending the women's protest march in Washington, D.C., while she met up with other friends who'd gathered in Lansing for a similar rally at the state Capitol. Wearing a pink crochet hat, she stood in the middle of a crowd estimated at 8,000, cheering and waving a sign that read "Nasty Women Keep Fighting."
"Standing here right now, looking at the capitol, around all these people who feel like I do, I'm really inspired," said King.
The mother of two young children has become more involved politically since the election, writing letters and making phone calls to legislators on her support for the Affordable Care Act and her opposition to Betsy DeVos, Trump's nominee to be Secretary of Education.
As Trump took the oath of office, Wilfredo Diaz was pulling up at a relative's house in Delaware. He'd driven all night from his suburban Grand Rapids home in his 2008 BMW. He kept the radio off, too depressed to listen to what the new president was saying, afraid his life was about to change, and not in the way he had hoped.
Diaz, 22, is a one of more than 700,000 "Dreamers" brought to the U.S. as children who were granted a reprieve from deportation by an executive order signed by Obama. Trump has vowed to repeal the order. Diaz's cousin and her boyfriend, who made the trip with him, are also undocumented immigrants.
After Trump was elected, a co-worker joked to Diaz, "We're going to send you back."
"I don't laugh," Diaz recalled. "I just look at him. "
For Diaz and immigrants like him, the election is more than a debate over social issues or economic policy. People like him have been attacked as hurting the country he calls home. Since the election, Diaz has been saving as much money as he can — something for him and his family to live on if they are deported.
"It's more frightening now that he's president," Diaz said. "Are his first decisions going to affect me and my family? He can do a whole, 180-degree change in my life."
On Friday morning, 72-year-old John Hulett was running errands near his Eaton County home trying to find time to watch Trump's inauguration. While waiting on appointments, he plugged in ear buds and watched bits and pieces of the inauguration ceremony on his phone. The images on the screen were small, but the Evangelical Christian saw big changes.
"You could just feel the surge of patriotism and the love of America through the crowd," Hulett said. "It confirmed everything I think about (Trump). He resonates a sense of hope."
Hulett and his wife prayed and read the Bible to make a decision about who to vote for. But he also knows there are almost 10 million people in Michigan saying different prayers for different problems, who look at the same man giving the same speech in Washington, D.C., and envision starkly different futures.
"Look at the backdrop of the inauguration. Those buildings, those are ours."
"We own that," Hulett said. "We have a new representative, but that doesn't take away from who we are. In four or eight years, something will change again. That's why we have our 45th president and not just one dictator. That's America."
The fog of politics
The Herbons checked out of their Gettysburg hotel Saturday morning, carefully packing their inauguration tickets as mementos. They set their GPS for their Michigan home, clicked an option to avoid toll roads, and steered their 17-year-old minivan into the early morning fog, confident of the direction they were headed.
It was foggy in Ann Arbor, too, when Aric Knuth came down the stairs Saturday morning. At his computer, he typed an email to a journalist. He'd been thinking about the connections between the experimental dance performance he and Jim had seen the night before, and the growing gulf between people highlighted by the election.
Like the dance performance, sometimes the meaning of things isn't immediately apparent, he wrote. "If you're too quick to assume what something means, you won't ask questions. And I, for one, think there are important questions."
He looked out his front window at the fog, unable to see what lie ahead.
This story was written by Ron French and reported by Ron French, Nancy Derringer, Pat Shellenbarger and Jacob Wheeler.
Only donate if we've informed you about important Michigan issues
See what new members are saying about why they donated to Bridge Michigan:
"In order for this information to be accurate and unbiased it must be underwritten by its readers, not by special interests." - Larry S.
"Not many other media sources report on the topics Bridge does." - Susan B.
"Your journalism is outstanding and rare these days." - Mark S.
If you want to ensure the future of nonpartisan, nonprofit Michigan journalism, please become a member today. You, too, will be asked why you donated and maybe we'll feature your quote next time!