Articles
As 2017 unfolded, six families from vastly different backgrounds said they sometimes felt like Michiganders didn't speak the same language on politics. A Bridge documentary goes in search of what they might share.
The village president's inflammatory Facebook posts leads to an evening standoff along the normally placid main street of Kalkaska.
It wasn't always comfortable. But more than 200 brave souls from around the country (and six nations) switched to news feeds with a different political viewpoint. A few have yet to switch back.
Would you like to participate in your own news source swap? Bridge Magazine will pair you with a participant with significantly different news sources, and we'll publish some of the results.
Bridge creates Michigan's first precinct-level map showing how your neighborhood or community voted in the presidential election.
The "un-American" New York Times and the "nightmare" Drudge Report: A Troy conservative and two Ann Arbor liberals discover just how wide the news divide has become.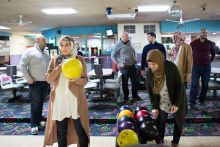 Four couples, two lanes, 10 frames – when the president makes you feel unwelcome, sometimes you just have to go bowling.
Bridge is following 11 Michigan people and families throughout 2017 to try to pierce the bubbles in which they, and the rest of us, live.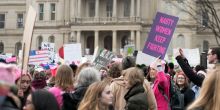 Can 11 passionate Michigan residents and families reach across the political and cultural chasms that too often divide our state?
The gulf between us is bigger than ever. How do we find common ground?