Meet the Milan Bike Guy, making kids happy one free, fixed bike at a time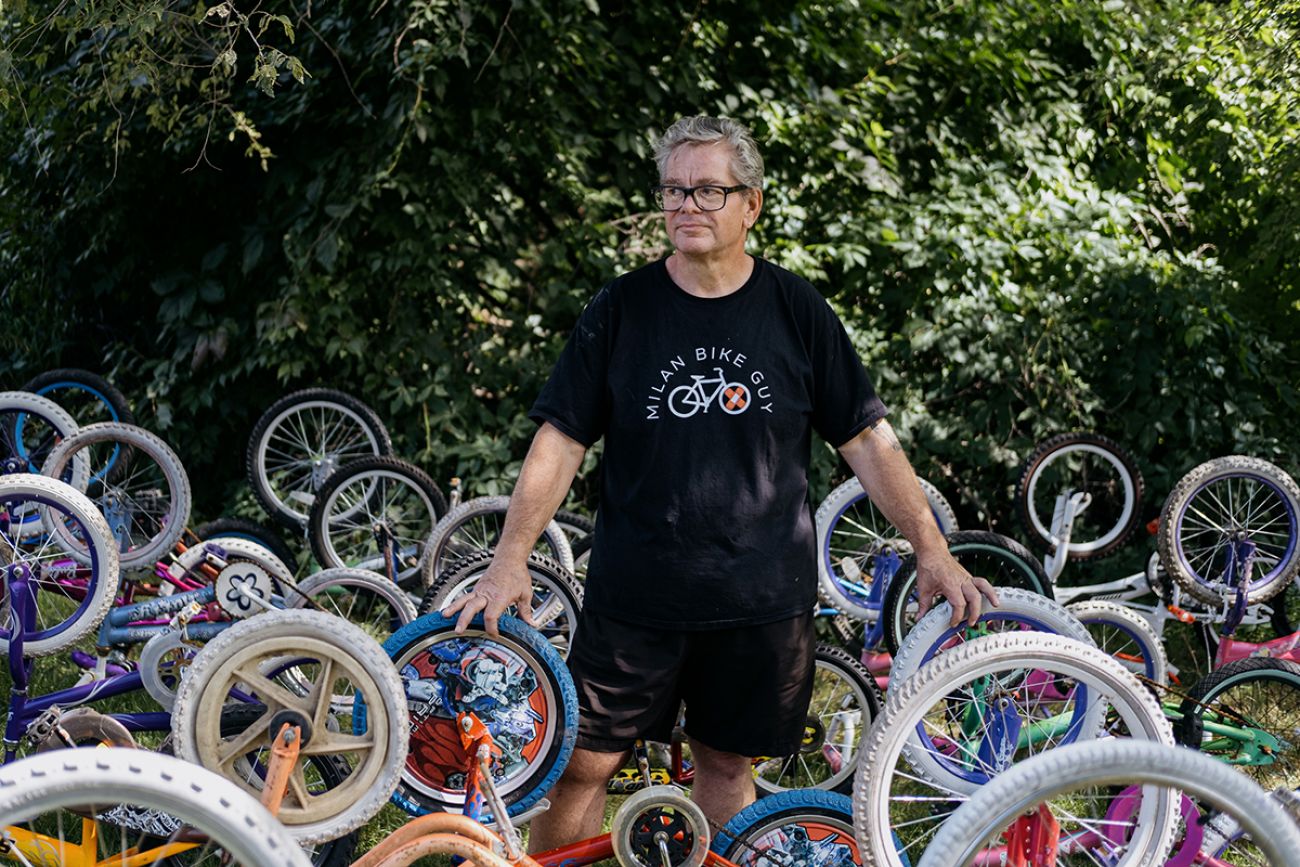 Vern White stands in his "graveyard of bikes," all of which are awaiting repair. That's a task he's been working on for the past two months and will continue into the coming winter. (Bridge photo by Erin Kirkland)
Vern White has spent the summer fixing over 90 used bikes and giving them to community children
He can customize tricycles for individuals with disabilities who can't ride a two-wheeler
More people in Milan are biking and finding ways to give back
---
MILAN — Just across the train tracks from the downtown of the Washtenaw County community of Milan lies Mill Race Shores, a mobile home community that boasts "quality, quiet, comfortable living," on the sign out front. On a warm August afternoon, cricket song and the buzz of cicada wings blend together in the sticky air, accompanied by what residents say has, until recently, been a less frequent melody — the clicking whirl of bike chains.
Children rode bikes past Lot Number 12, where Vern White and his wife have lived in a baby blue mobile home for over two decades. Behind the home is a patch of grass, covered with nearly 60 used bicycles. It's a multicolor array of different sized bikes, lying on their handlebars with their wheels turned upward towards the sun.
"This is my graveyard of bikes," the 53-year-old told Bridge Michigan. "I work on them and bring them back to life."
Related:
The bikes in their yard are not so much a graveyard as they are a hospital, corrected Leslie White, Vern's wife. Since the beginning of the summer, her husband has fixed and rehomed 93 used bicycles — about one a day — giving them away to in-need members of the community. In that time, residents have started to notice more bikes zipping down Milan's sidewalks, as well as what some said is a renewed sense of community.
Milan's bike repair project didn't start with a grand plan from city leaders, and, on paper, White might seem like an unlikely activist. The man who is now swarmed by children has always been an introvert by nature, an itinerant worker who until this summer may have been best known for building custom-made guns. A gold stud pierced in his left ear catches the light as he walks amidst the rows of bicycles in his backyard, offset by its silver partner embedded in his right. The Wile E. Coyote tattooed on the back of one leg will never catch up with the Road Runner on the other.
White's always loved riding bikes, though. White and his silver "franken-bike" — a custom ride that he assembled with parts from four different bicycles — were a regular fixture on the town's streets, riding seven days a week, often more than once a day.
"Vern has been doing laps around Milan since as long as we've been around," Ryan Wilman, the owner of local coffee shop and bar The Owl told Bridge Michigan. "That's over eight years."
"Every day is different. Every bike is different. As long as somebody needs a bike, I'm going to be working on a bike." - Vern White
A knee replacement surgery at the end of March left the avid cyclist unable to ride for six weeks. Immobilized and bored in May, White posted on Facebook, asking his neighbors to donate used children's bicycles they no longer wanted so he could repair them and give them away to the kids on his block.
Half a dozen bikes showed up on his doorstep. After he had fixed and given those away, there were another dozen bikes in need of repair waiting for him in his yard.
The project took on a life of its own, White said. The first set of bikes came from neighbors in Milan. Soon, he and his wife began receiving Facebook messages from people in nearby cities — Ann Arbor, Saline, Dundee, to name a few — asking White to pick up their used bikes and rehome them.
"Originally, I wanted something to do," White said. "I just started working on the bikes to see if I could fix some bikes for anybody and get them out riding. It just took off. And people just kept bringing me bikes and donating funds and donating parts. It's incredible."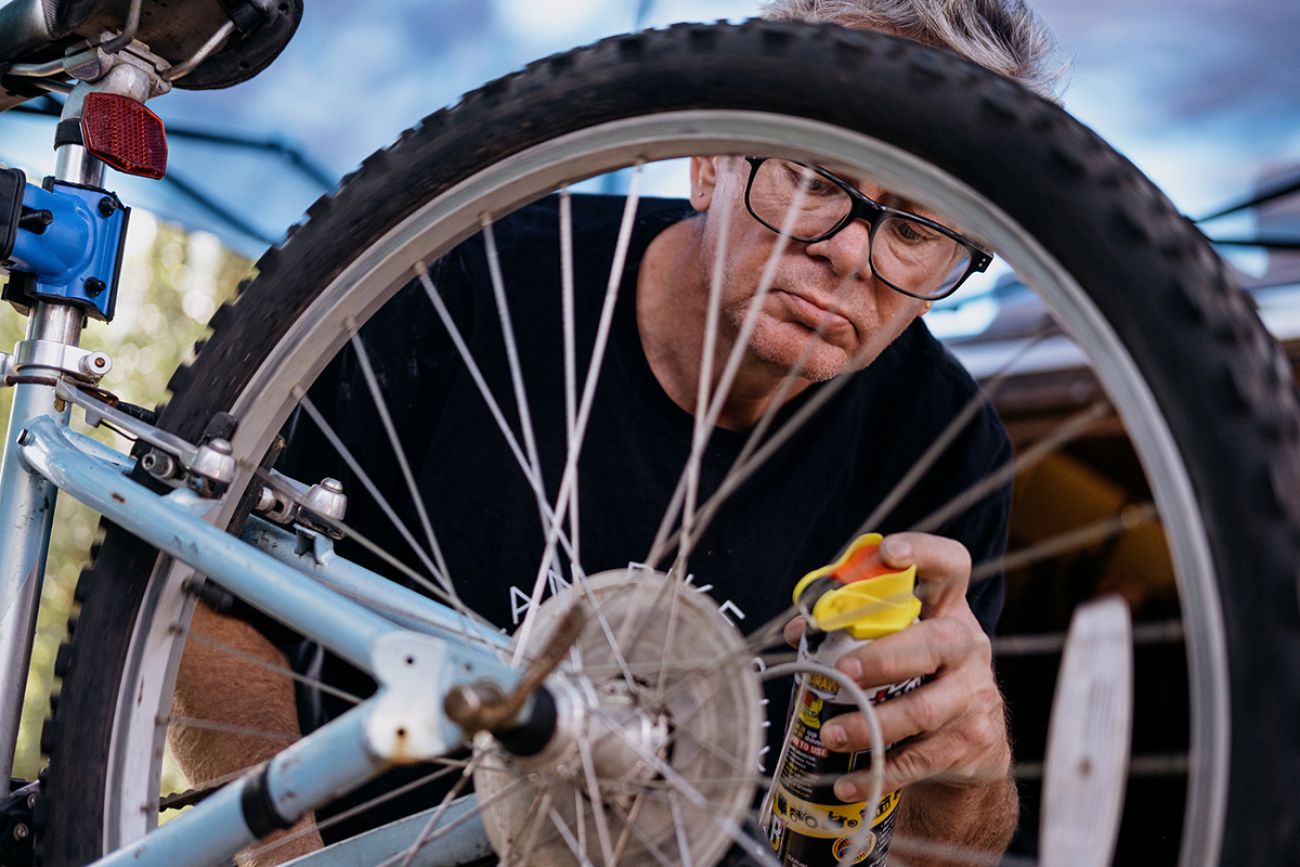 White is refurbishing a 26'' powder blue Giant bike for a girl in Milan who recently donated her old 20'' two-wheeler. (Bridge photo by Erin Kirkland)
White spends an average of $20 and up to 45 minutes on every bike he takes under his wing. He usually has to change the tires and inner tube, and often needs to grease the bike chain or replace cables as well. White's been self-employed for most of his life and is now retired. For replacement bike parts, he has relied on the over $1,700 his wife has raised on GoFundMe. The work itself is a labor of love.
For White, the bikes are what "brought him out of his shell." Since moving to Milan 22 years ago, White said he'd always kept to himself. After eight weeks of giving bikes away though, high school students have started calling out to him as they cycle home from school. Children from all around the block come over to ride with him or help with repairs.
As White changes, he sees his corner of the world changing in little ways too.
"There's kids riding up and down the street," White said. "This wasn't like this at the beginning of the summer."
Though White is happy to give a bike to anyone in need, he has become particularly passionate about modifying bikes for those who are unable to ride a traditional two-wheeler for medical reasons. So far he's customized bikes for five individuals with disabilities including those with autism, visual impairment and cerebral palsy.
One of those bikes went to 11-year-old Justice Mobley, who is blind in her right eye and only partial vision in her left.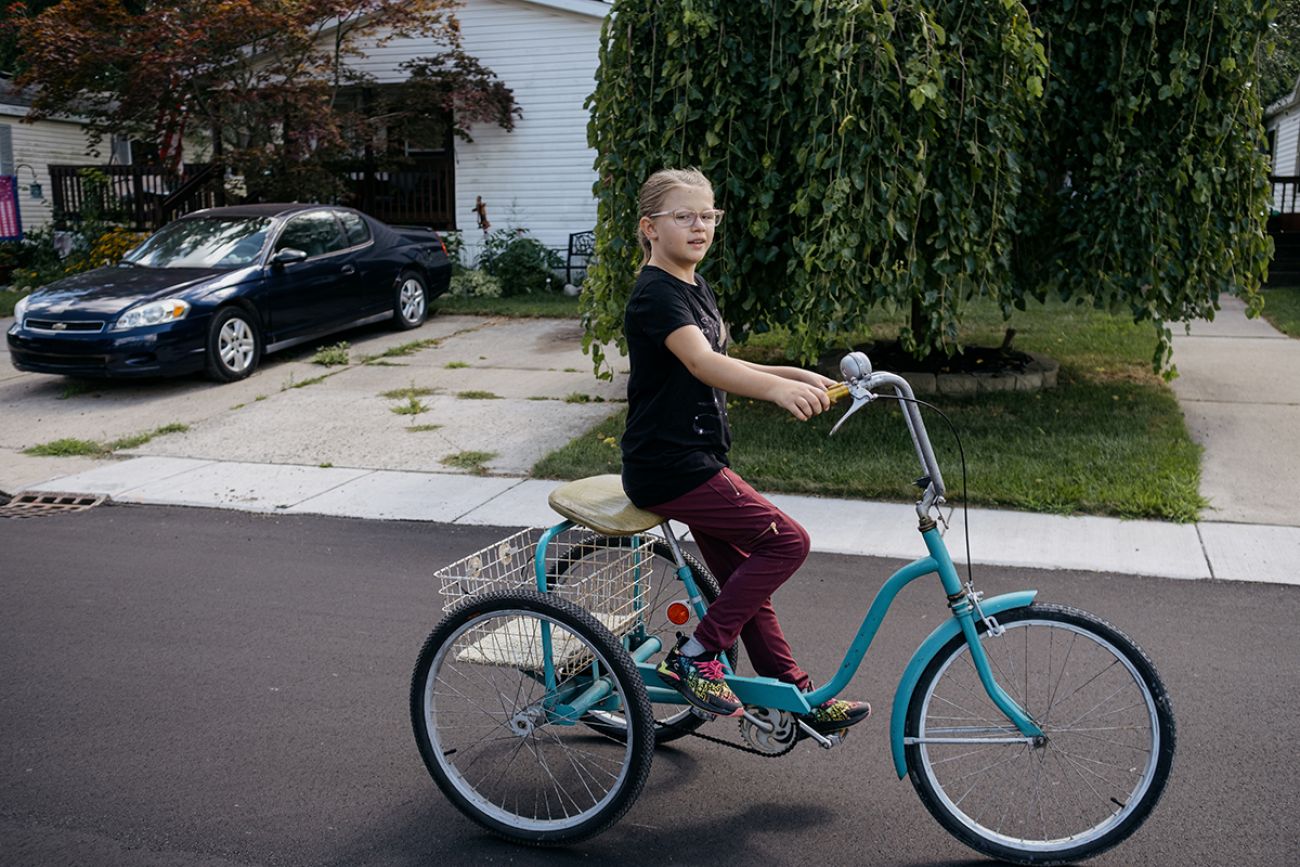 11-year-old Justice Mobley of Saline has never been able to comfortably ride a traditional bike due to a vision impairment. But she has no problem zooming around on the tricycle White fixed up for her. (Bridge photo by Erin Kirkland)
Marley Powers, Mobley's mother, said her daughter has never been able to successfully ride a bike — even one with training wheels.
"She never thought she'd be able to ride a bike in her life," Powers said.
White refurbished and gave a tricycle to the girl.
"Riding a bike is a freedom and a joy that everybody should be able to have whether they can ride on two wheels or three," White said. "It's a freedom that people take for granted sometimes."
As soon as Mobley positioned herself atop the teal trike and her Australian cattle dog, Maisy, had hopped into the wire basket, she was off. All afternoon, her laughter reverberated around Mill Race Shores as she rode, Maisy in tow.
"All I know is, that bike changed bikes for me forever," Mobley said.
Powers and Mobley still come back from Saline to talk and ride with White. They're not the only ones. On a typical day, Milan locals intermingle with residents of Ann Arbor, Clinton and other nearby cities in Vern White's driveway.
Some have received bikes from White in the past. Some are dropping off bikes their children outgrew. Others are there to find a new ride — they roll away with a smile and one of the 10 functional bikes White keeps on the bike rack in front of his yard for riders to borrow or take.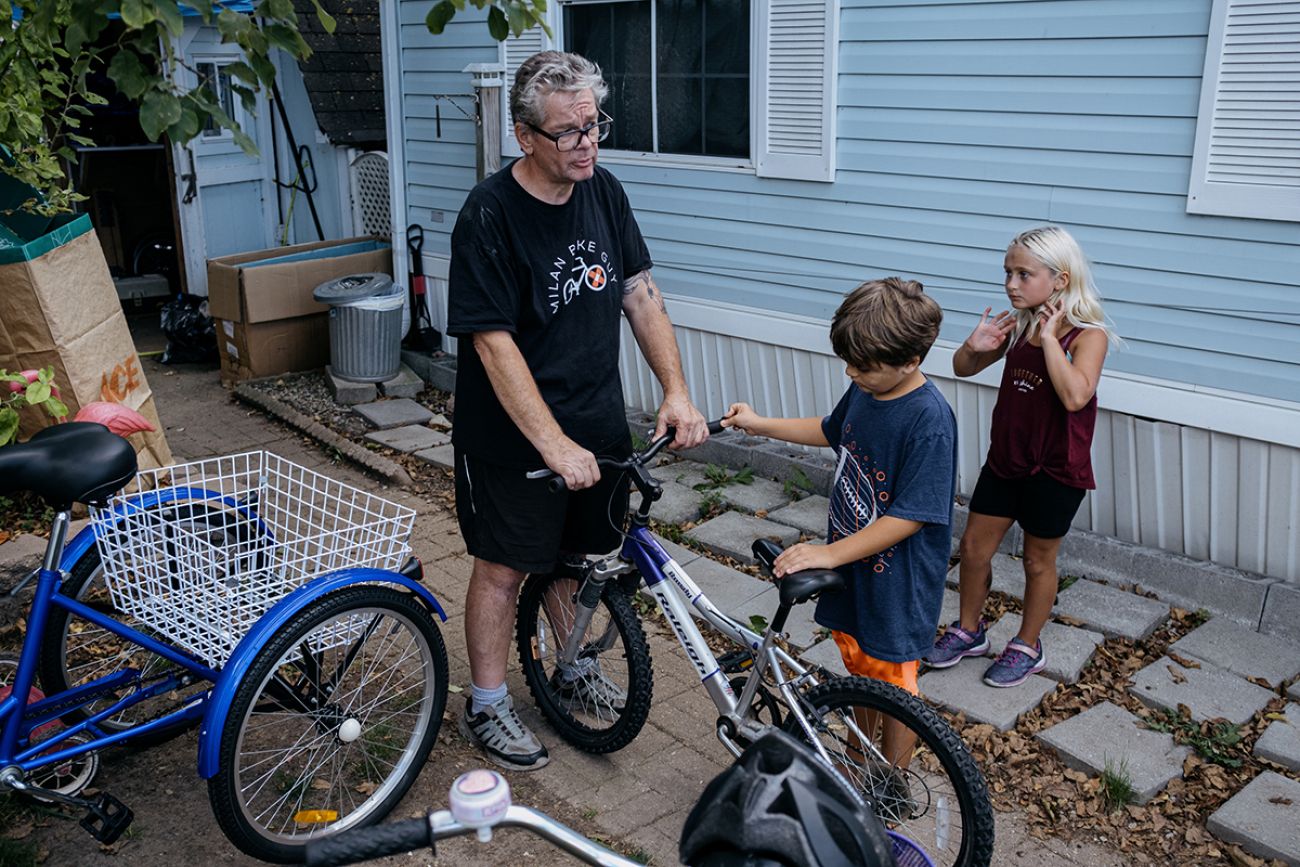 White gets a bike ready to roll for one of the children in his neighborhood. Throughout the day, kids and adults alike come up to him for help fixing their bikes or finding a new one. (Bridge photo by Erin Kirkland)
It's like a bicycle library with used bikes rolling in and then out again once they've been repaired and tested.
On Thursday afternoon, JillAnn Mattingly is part of the crowd sitting on White's porch. Mattingly is a volunteer with local nonprofit Moving Milan Forward and has been working to find sources of funding for White's mission. She said the project's impact is twofold — it prevents usable bikes from ending up in landfills and simultaneously gives those who cannot afford bikes the opportunity to ride.
"If you don't have a bike, Vern's graciously willing to help out," Mattingly said. "If you've got too many bikes, you can help out by giving. So this is an opportunity for this entire community to come together."
According to Mattingly, that's exactly what has happened in Milan. A mother who recently picked up a bike for her daughter returned the next day with a hand-painted sign emblazoned with what has become White's official nickname throughout town — "The Milan Bike Guy."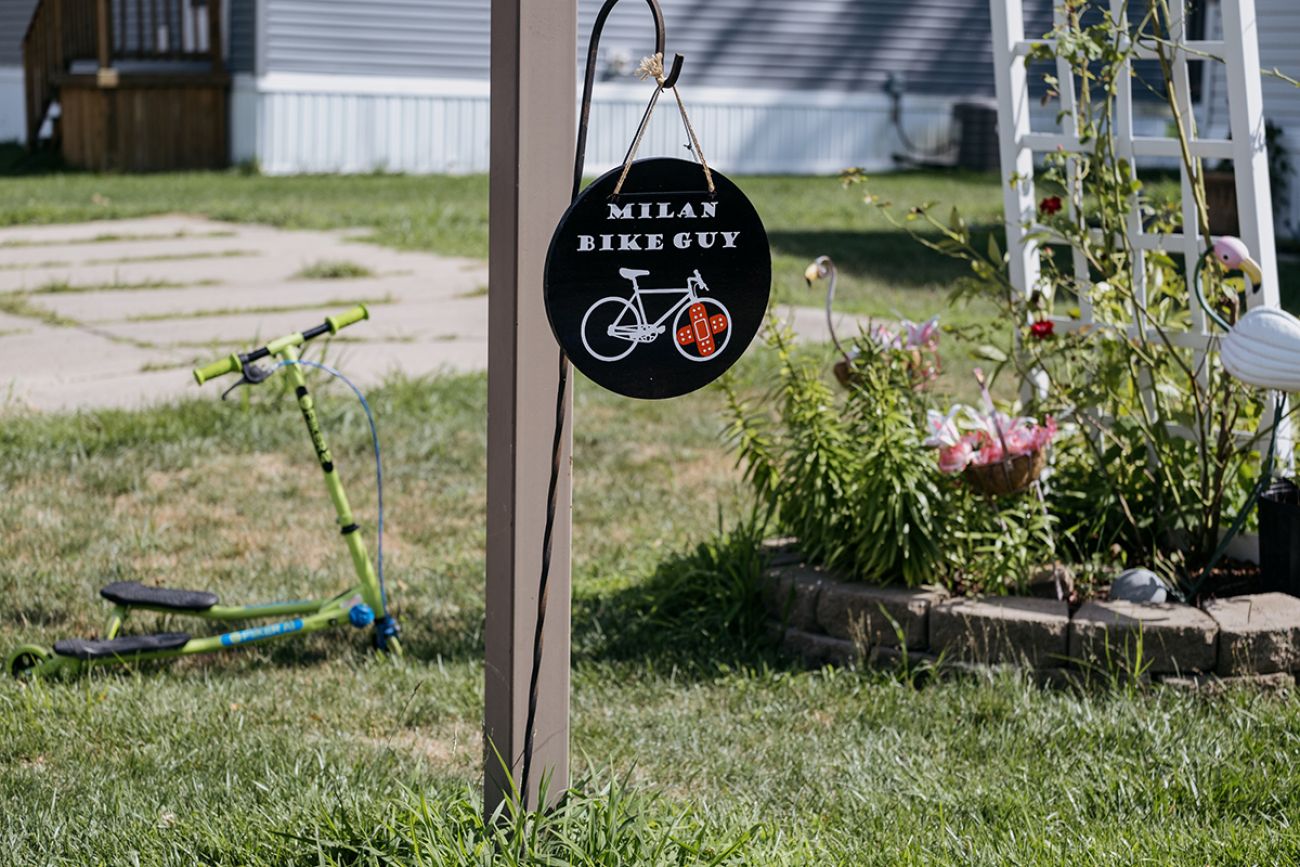 The hand-painted "Milan Bike Guy" sign White was gifted hangs in front of his home in Mill Race Shores whenever he is out working. (Bridge photo by Erin Kirkland)
Another Milan resident used winnings from a game show in California to pitch a turquoise canopy over Vern White's work area so the sun stays off his back. The local Ace Hardware installed a light in his shed so White could keep working in the cooler twilight hours.
It all happened without asking, Mattingly said.
"You'll find other communities that want to do the right thing, or think they ought to be doing the right thing," Mattingly said. "This is a separate thing. It's absolutely authentic."
When asked why the bike exchange has worked so well in Milan, Mattingly, Wilman and the rest of the group standing in White's driveway all pointed to the same person.
"Other communities don't have a Vern," Wilman said. "That's the key."
White said he never expected to become known as "The Milan Bike Guy." He learned to ride a bike when he was five years old. Or more specifically, he started out "rolling down the hill and falling" on his first two-wheeler until he found his balance.
White grew up in Genesee County, near Burton. Since graduating from Davidson Adult Education in Ypsilanti in 1990 at age 21, he's done a bit of everything. He worked for several years with his "dad by choice," following a French-Indian war reenactment group around the state and selling "traditional items" — pots, pans and other items European settlers historically traded with Native Americans.
He later moved to Ann Arbor for a short stint before settling down in Milan. For 11 years, he and his wife operated a daycare out of their home in Mill Race Shores. Then, in the same shed where he now listens to a mix of Blues and rock classics while working on bikes, he made a living building and selling custom hunting rifles.
At age 44, White went to Monroe Community College to pursue a welding certificate. Upon graduation, he worked as a welder and fabricator for seven months — less time than he was in school — before a neck injury forced him to medically retire. While his wife has continued to work as a nanny, he has not been able to return to the workforce.
Since then, White's been riding laps around Milan and searching for a renewed sense of purpose.
Two months ago, he found it.
"The bikes just kind of fell in my lap," White said. "I wanted to try to fix some bikes to get some kids out riding."
That wasn't White's plan even four months ago, but "Like Dad used to say 'if you want to make God laugh, make plans.'"
Now 53, White is the one laughing as he wades four-feet deep through a sea of bicycles.
Fixing and rehoming bikes has turned into a full time job. White spends eight to 10 hours a day working on bikes and meeting with the people who intermittently walk up and down the driveway throughout the day.
"Even at eight o'clock at night, there'll be a knock on the door," White said. "Somebody who's looking for a bike, or needs a bike fixed, or is turning one in."
Looking back on the sudden turn his life has taken since metamorphosing into the "Milan Bike Guy," White said the support of his community was pivotal. White might have been the catalyst for change in Milan, but if the people around him had not added their support, he said he'd just be a guy who had fixed up a couple of bikes one time when he was bored.
"It's not about me. It's about the community — it's about everybody," White said. "If people didn't donate the bikes and donate the funds, I wouldn't be doing this. I wouldn't be the Milan Bike Guy."
As the summer comes to a close, White is already making plans for the next couple of months. On September 3, he'll be riding laps — about 120 miles total from dawn until dusk — around downtown Milan to raise money for the Children's Cancer Research Fund. He hopes the event, "Milan Rides for Kids," will give riders in the Milan community a reason to unite around the two things he sees Milan becoming known for in the future: bikes and positive change.
He also plans to be out in his shed listening to Kiss and B.B. King all winter. Come spring, he'll have dozens more bikes to give away.
White knows that a single bike, or even a hundred of them might not change the world overnight. But for him, it's enough to be able to sit on his porch at the end of the night and watch the people he's helped ride around the block until the sun goes down.
There's no end in sight for the Milan Bike Guy — fixing one bike at a time.
"I don't plan on slowing down," White said. "Every day is different. Every bike is different. As long as somebody needs a bike, I'm going to be working on a bike."
Only donate if we've informed you about important Michigan issues
See what new members are saying about why they donated to Bridge Michigan:
"In order for this information to be accurate and unbiased it must be underwritten by its readers, not by special interests." - Larry S.
"Not many other media sources report on the topics Bridge does." - Susan B.
"Your journalism is outstanding and rare these days." - Mark S.
If you want to ensure the future of nonpartisan, nonprofit Michigan journalism, please become a member today. You, too, will be asked why you donated and maybe we'll feature your quote next time!