Articles
Venture capital is essential to the state's startups. But as in so many sectors of the economy, more investment is needed.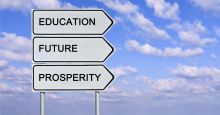 The evidence is clear: The jobs of the future will require post-secondary education, but our data is pretty dismal on that front. Higher ed of all types is the answer.
One way to find out would be to put these economic-development handouts to a vote. San Diego said no to a new stadium, but Detroiters didn't get a voice on theirs.