Left Behind – rural Michigan's dilemma
Articles
High up on Michigan's Mitten, arthritis is creeping into the fingertips. Michigan leads the nation with the most counties with a median age over 50.
Is it better to keep low-income students together despite poor test scores? Or do they benefit from learning alongside middle-class children?
Brenda Greenhoe scours abandoned garages and backwoods lots in rural counties, bringing adrift children to school.
Across Michigan, communities are trying to craft restrictions on panhandling that don't run afoul of First Amendment protections.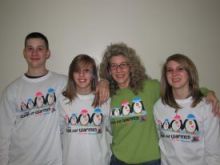 Being poor is tough anywhere. But wanting for basics in Livingston County, the state's most affluent, carries a different kind of sting.
Lake County competes for the unwanted title of Michigan's poorest county. Like many rural areas across the state, Lake residents endure higher poverty, serious health and social ills, and little hope for the future.