With COVID masks gone, Michigan students relearn how to play and study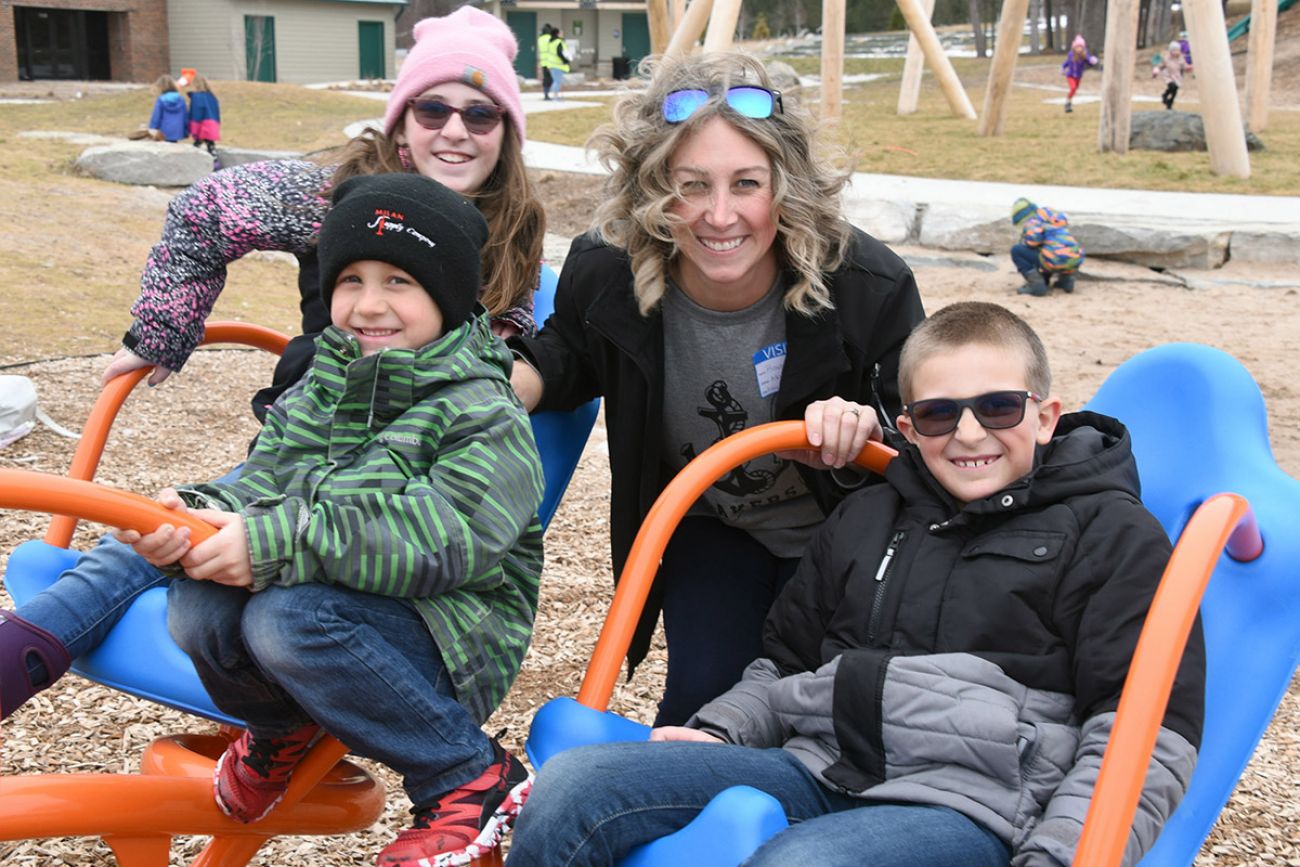 The Verschaeve family, from left to right, Luke, Nora, Rachel and John, at the Glen Lake Elementary playground. Rachel Verschaeve said she worries the pandemic and COVID safety measures have slowed the speech and social-emotional growth of her sons Luke and John. (Bridge photo by John Russell)
MAPLE CITY—Feb.18 was a big day for the Verschaeve boys. For 5-year-old Luke, enrolled in an early-5 class, and his 7-year-old brother, John, a first-grader, it was the first time in their lives they could attend Glen Lake Elementary without a face mask.
"For me, it was a return to normal for them," their mother Rachel Verschaeve said recently.
Nearly two months later, though, the family is one of many in this Leelanau Peninsula community still searching for normal.
Related:
Luke and John struggle to pronounce G's, T's and S's, similar to speech delays of some classmates who have spent their early school years in masks.
Both have trouble identifying the emotions of those around them, their mother said, sometimes struggling to interpret body language and faces. After nearly two years with their friends and classmates wearing masks, "facial expressions are like another language to them," their mother said.
Ryan Schrock, principal of Glen Lake Elementary, located near Maple City, sees that struggle every day on the expansive playground of the 670-student, one-building district. He and education leaders around the state told Bridge Michigan they are seeing more children struggle with speech and social-emotional deficits than in the past — deficits they attribute to COVID and the efforts put in place to try to protect children from the potentially deadly virus.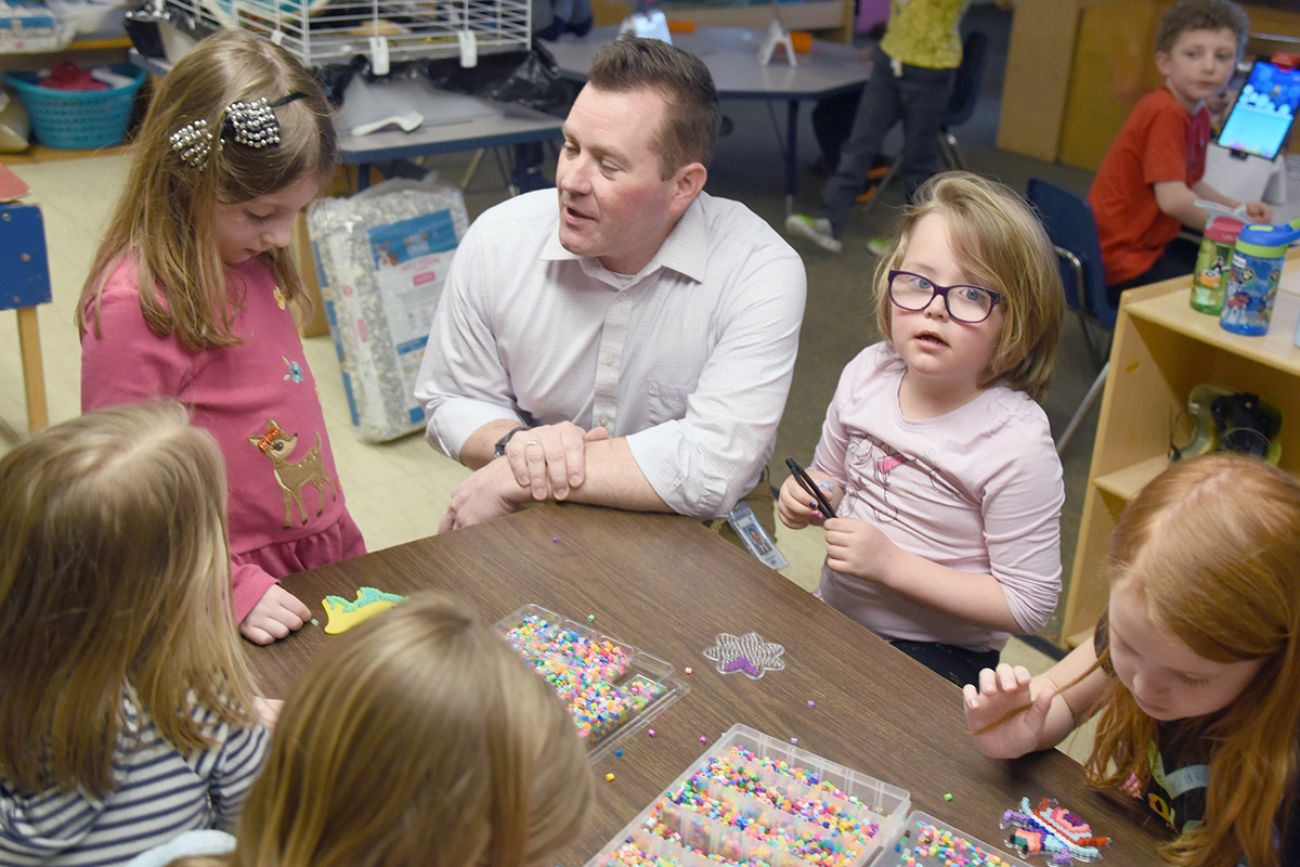 Glen Lake Elementary Principal Ryan Schrock works with kindergarteners on fine motor skills — something the school had not done before this year — because some students arrived not knowing how to hold a pencil or crayon. (Bridge photo by John Russell)
"I think our schools have done everything they could to keep schools safe," Schrock said, "and the unintended consequences are … significant delays in overall child development."
Early test results indicate that, in general, students learned less during the pandemic than in normal school years. Less documented is what elementary educators told Bridge are significant delays in social-emotional learning — the soft skills that help kids play positively with one another, read social cues and grow academically in classrooms.
Most Michigan's students, many of whom lurched between remote learning and classrooms for two years, are back in schools five days a week. Social distancing in classrooms, cafeterias and buses is a thing of the past, as are mask mandates in most districts. Yet for some children, the pandemic's impact continues to linger in the latest speech therapy session or playground dust-up.
"Even when students took their masks down, we are still seeing lagging skills," Schrock said. "It's almost the cusp of a social-emotional disaster."
COVID safety side effects
Speech and character development delays in a COVID generation of young learners are a huge worry for educators across Michigan and the country, according to Paul Liabenow, executive director of the Michigan Elementary and Middle School Principals Association. The delays are repercussions of steps taken by schools and families during the pandemic, similar to the side effects of a drug that helps save your life, he said.
A 2021 Centers for Disease Control and Prevention study found that school mask mandates worked for what they were intended to do: prevent the spread of COVID-19. Schools without mandates were 3.5 times more likely to have COVID-19 outbreaks, the study concluded, findings validated in more recent research.
In the fall of 2021, about six in 10 public schools students in Michigan were required to wear face coverings.
"We had to take measures to protect students from contagions, (and protect) their families and grandparents," Liabenow said. "It was the right thing to do at the time, but the result has been, I won't say a catastrophe, but challenging."
In a January national survey of educators by Education Week, 39 percent of respondents said that the social skills and emotional maturity levels of their current students are "much less advanced" than their pre-pandemic students. Another 41 percent said current students were "somewhat less advanced."
In Michigan, a January survey of members of the Michigan Education Association, the state's largest teacher union, found that 88 percent of respondents were "extremely" or "very" concerned about student behavioral issues and mental health.
Behavior impacts learning, said Mathew Moura, vice president for the early reading program at Teaching Matters, a national professional education organization.
"There are a lot of studies that show, whenever social-emotional disruptions occur for a child, that leaves a child vulnerable to other things, like elevated rates of suspension," Moura said. "When those things happen, that has massive implications to future success."
Veteran Michigan educators who spoke to Bridge were unanimous in their view that the pandemic has caused the largest decline in soft skills among early elementary students that they'd witnessed in their careers.
"In my 22 years, I've never experienced … having such a heavy weight of school-inappropriate behaviors," Glen Lake's Schrock said.
Reading faces
Glen Lake counselor Cassidy Fisher has a collection of photographs she shows to small groups of students from kindergarten through fourth grade. On each printout is the photograph of a face. Is the person in the photo happy? Sad? Disgusted? Worried?
"We did some social-emotional work before, but because there's such a deficit, we're doing more now," Fisher said. Some students are "not able to read each other's faces because of the time wearing masks."
Across Michigan, scores on the state's standardized tests, the M-STEP, are lower in subjects such as reading and math than scores earned by students in the same grades pre-pandemic. The dip occurred across the spectrum, among poor and non-poor, white, Black, Hispanic and Asian students, in urban, rural and suburban classrooms.
Scores dropped at Glen Lake too, and principal Schrock and counselor Fisher say there's a link between academic dips and the soft skill deficits teachers see in classrooms.
"We have children who have trouble following instructions in class," Fisher said. "What we're seeing is a deficit in (ability) to problem-solve, to organize. We see kids who blurt out answers in class. They have a lack of awareness that their behavior impacts others."
That's worrisome to educators, because studies conducted prior to the pandemic found that the level of social-emotional development in children is an indicator of future academic achievement.
At Glen Lake, the problems are most pronounced in early elementary grades, among students whose entire academic experience was in a pandemic, but some upper elementary students also struggle.
Those struggles continue onto the slides and swings at recess. "Kids are having a really hard time playing organized sports on the playground," Fisher said. "There is more physical aggression, an inability to take another person's perspective, to compromise.
"I have some classes where I (try to) provide a social-emotional curriculum, but I can't even get to that lesson because there are so many high emotions that they haven't worked through," Fisher said. "We have to work on just building a sense of security and safety."
The scenes are similar at Harvey Educational Center in Mason Public Schools in Ingham County, where educators have been stunned by the immaturity of students this school year.
"I have been in early childhood education for 18 years, and this is by far the most startling experience we've ever had," said Principal Angie Vandecar, who leads the 500-student school of preschool, pre-K and kindergarten students. "Many kindergarteners (age 5) are coming in with skills we normally see with our 3-year-olds."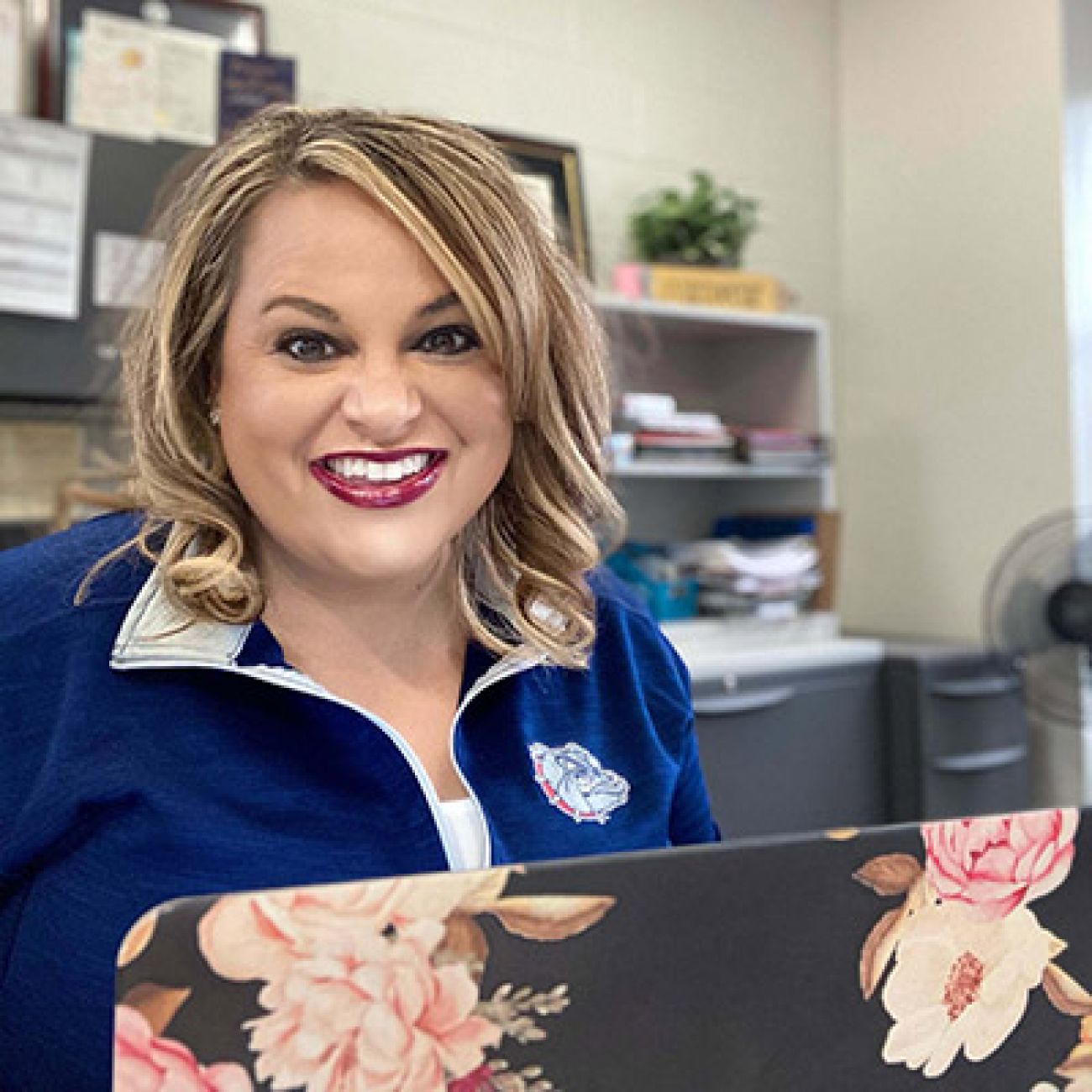 Angie Vandecar, principal of Harvey Education Center in Mason, said pre-K and kindergarten students are arriving at school this year with less developed social skills than she's seen in her career. (Bridge courtesy photo)
She said educators are spending more time than in the past teaching students "how to follow directions, how to be a friend or ask another child to play, taking directions from adults other than a parent. Basic life skills, like holding a pencil or a crayon."
Among the 3-6 year-olds at Vendecar's school, the life skills deficits generally aren't because of COVID protocols imposed over the past two school years, Vandecar said, but from pandemic safety measures taken by parents, such as isolating their children.
She said she's seen children during the pandemic getting fewer "life experiences" than kids their age normally had in pre-pandemic times, such as playing with large groups of friends, eating at restaurants or sitting quietly in church pews.
"Many kindergarteners (age 5) are coming in with skills we normally see with our 3-year-olds." — Principal Angie Vandecar, Harvey Education Center in Mason.
"When you have children who have missed critical years of their development with socialization and play and life experiences, we're seeing long-term impacts," Vendecar said. "We're having to backfill those things in order for children to move on academically."
Critical years missed
Standardized tests taken this past fall indicated John Verschaeve, the first grader, was doing fine in math but behind his classmates (and the state average) in reading and writing – "the subjects with words," as his mother Rachel put it.
She sees the pandemic as the through line that explains the language challenges that John and younger brother Luke are facing now.
The family's fourth-grade daughter, 10-year-old Nora, hasn't faced the same struggles with speech or socialization, which her mother said she believes is because Nora had several years of school under her belt before the pandemic.
"There are times when my five year old, I have a hard time understanding him," Rachel Vershaeve said of Luke. "Now, he's in a school setting and his friends don't understand him and he's repeating himself five or 10 times. He gets sad and frustrated."
Luke and John's speech delays have caused both to become "the quiet kids" in their classes, their mother said. "It's upsetting."
At Benzie Central schools, a half hour south of Maple City, elementary students face similar struggles.
"My second grade students have never had a normal year," Superintendent Amiee Erfourth said. "We're seeing a lot of language delays, just kids learning how to read and make sounds they weren't able to make properly because of masks."
One example: students this school year have trouble recognizing what words rhyme, Erfourth said.
Speech deficits can hobble academic achievement, with a correlation between communications problems and reading and writing.
Glen Lake first grade teacher Julie DuLac has seen another worrisome trend, noting that children emerging from the pandemic "seem more delicate."
"My students are very anxious about just normal things, that in the past may not have been a big deal but now seem hard to overcome," DuLac said. "I have a couple kids in my room, if anything is a little bit out of the normal routine, they fall apart."
Down the hallway, Sarah Shutler said she is teaching social skills to her classroom of third-graders that are normally learned in first grade.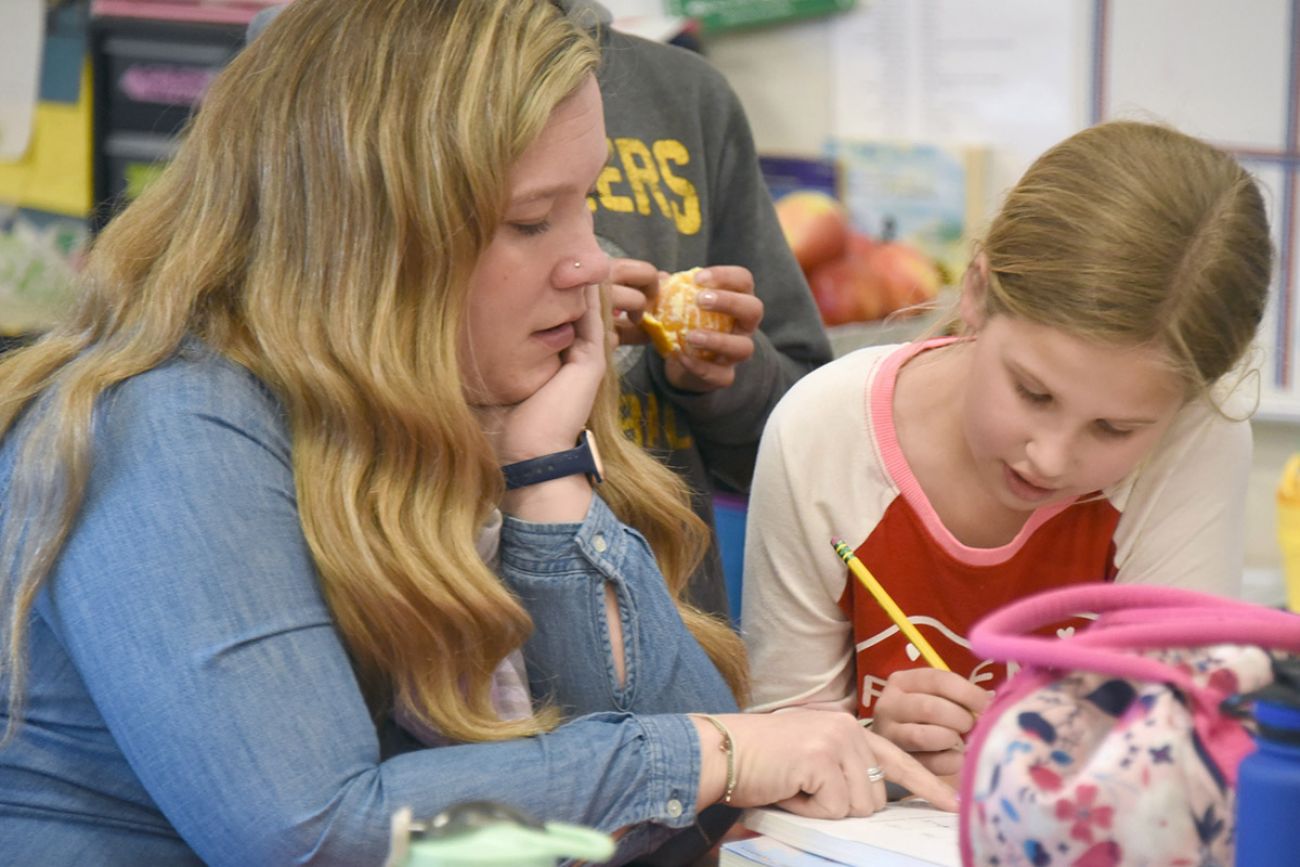 Glen Lake teacher Sarah Shutler said she is teaching social-emotional skills to her third-graders that in pre-pandemic years would have been learned in first grade. (Bridge photo by John Russell)
"We are re-teaching how to talk to each other, how to work through conflict, what tone of voice is and how your body language can be interpreted," Shutler said. "They're either quick to anger with each other or they don't have the vocabulary to talk through what they're feeling."
For students now back in the classroom to even begin to make up academic ground lost during the pandemic, these relationship skills must be addressed first, Shutler said. "We forget that so much of school, especially elementary, is learning those foundational skills beyond reading, math, science and social studies," she said.
"So many things can't happen without the ability to work together, to understand how to ask for help. Those are important regardless of whether they learn their mathematical facts or not."
"They need that certainty in their lives," said DuLac, the first grade teacher. "For a long time, there wasn't certainty."
"I think children are very resilient," DuLac said. "(But) they need certainty in their lives. I don't feel like they have the security they had before. The pandemic has taken that away."
'Nowhere near normal'
School leaders who two years ago scrambled to find ways to keep learning moving forward through remote lessons and socially-distanced classrooms are today searching for ways to address speech and social deficits.
At Benzie Central Schools, a speech pathologist is working with elementary students more than in the past, and educators are focused on making schools feel "safe" again. Children have to "learn how to hug again," said superintendent Erforth.
"We like to say kids are resilient," Erfourth said, "but I feel this has taken a toll on them."
At Harvey Education Center, principal Vandecar said she is working with the Ingham County Intermediate School District to offer training on social-emotional learning techniques normally used with kindergarten age kids and younger to teachers leading classrooms with older students.
"Teachers are feeling the push to move children (forward) academically," she said. "There's this conflict of knowing that children aren't necessarily ready, but nobody is, so nobody is behind.
"We're measuring kids on a system that existed pre-pandemic, when no one had lived through a two-year closure of our society."
At Glen Lake, educators are making a conscious effort to prioritize this learning, even over academics. There is a schoolwide K-12 curriculum called The Positivity Project, in which teachers spend 10 to 15 minutes per day reading stories, showing videos and leading discussions about character traits like leadership and empathy. Schrock, the principal, stars in videos on subjects like gratitude and humility.
"This (the pandemic) has forced us to look at what we want education to be, what skills we want them to have when they leave the graduation stage," Schrock said. "We would rather see good, kind, thoughtful, empathetic human beings, than a kid who knows his algebra II better than anyone else."
Rachel Verschaeve rounded up her two boys and their fourth-grade sister at the end of a recent school day, making a quick stop at the school's playground before heading home. She said she is optimistic her boys will catch up on their speech and social deficits now that the school's mask mandate is over. Just playing freely with their friends on the playground will help get things back to normal.
But at the edge of the playground, principal Schrock said he's no longer sure what normal looks like.
"I hate saying normal anymore," he said. "This is nowhere near normal."
Only donate if we've informed you about important Michigan issues
See what new members are saying about why they donated to Bridge Michigan:
"In order for this information to be accurate and unbiased it must be underwritten by its readers, not by special interests." - Larry S.
"Not many other media sources report on the topics Bridge does." - Susan B.
"Your journalism is outstanding and rare these days." - Mark S.
If you want to ensure the future of nonpartisan, nonprofit Michigan journalism, please become a member today. You, too, will be asked why you donated and maybe we'll feature your quote next time!