Here's why Michigan won't require social distancing in schools this fall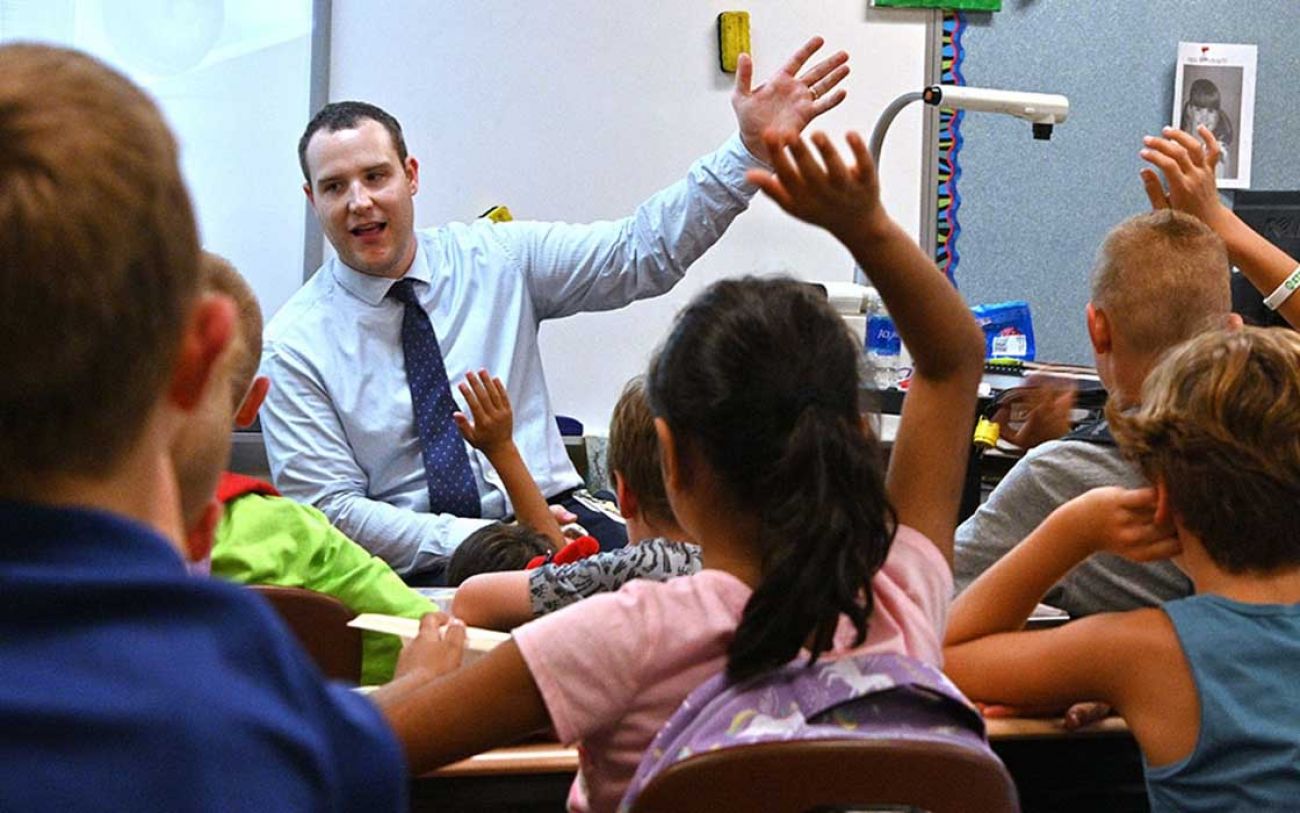 Online event: What will K-12 education in Michigan look like this fall? Join us to discuss.
Michigan school reopening tracker: Find out if your district is starting in person or online
When students return to Michigan schools in September, the state won't order them to stay six feet away from their friends in classrooms or on buses.
But cross the street to indoor seating at an ice cream parlor, and social distancing is required.
The difference has less to do with health recommendations than the immovable realities of classroom size, school budgets and the need to allow parents to return to work, say school leaders who spoke to Bridge before and after Gov. Gretchen Whitmer's school reopening announcement.
Whitmer released a 63-page school reopening plan June 30 that laid out requirements and recommendations for the state's public and private K-12 schools under various pandemic risk phases. There are stringent safety protocols for schools if the state's pandemic status remains as it is today (phase 4 in the Lower Peninsula), including face masks for students in grades 6-12 and face coverings for all teachers and staff.
If Whitmer moves the state to phase 5, safety protocols are loosened. For example the requirement that most students wear face masks is lowered to a "strong recommendation."
While there are numerous safety protocols recommended or required by state health officials in the plan, there's one that is notably missing: the social distancing requirements that are mandated for other places people commonly gather, such as restaurants and bars. For example, restaurants and bars are currently required to have six feet of separation between tables.
Dr. Matthew Sims, infectious disease control expert at Beaumont Health, said he "didn't fully understand the thinking" behind the lack of social distancing requirements in schools. Sims said there was "absolutely no difference" in the health benefits of maintaining six feet whether you're in a restaurant or in a classroom.
Kevin Polston, superintendent of Godfrey-Lee Public Schools near Grand Rapids, who served on a 25-member advisory panel that drafted recommendations for the governor, said the panel wanted to be realistic in its plan.
"We wanted to make sure we had some strict mitigation strategies," Polston said, "(but) we wanted to make sure whatever we put in the plan was actually viable for schools."
School leaders who spoke to Bridge listed several reasons why schools can't social distance if they're going to open their buildings to all students in the fall.
Classrooms are too small
Most schools do not have classrooms large enough to space desks six feet apart. Lou Steigerwald, superintendent of Norway-Vulcan Public Schools in the Upper Peninsula, said his elementary school classrooms would be limited to 13 or 14 desks with social distancing.
The average number of students in Michigan elementary classrooms is 25, according to the National Center for Education Statistics.
Costs, costs, costs
Even in schools that have unused classrooms that could be utilized for social distancing, districts don't have the funds to hire more teachers. In fact, they'll be lucky to keep the number of teachers they had last school year. The School Aid Fund is facing a shortfall of $1.1 billion for the coming school year because of plummeting tax revenue caused by the pandemic lockdown and skyrocketing unemployment.
Coming and going from school creates another social-distancing problem. To social distance on buses would require running two or three-times as many bus routes. The cost of more buses, more bus drivers and more gas "would bankrupt us," said Mark Platt, superintendent of Hart Public Schools, in Oceana County near Lake Michigan.
Parent jobs
For most schools, the only way to maintain social distance between students is to have fewer students in school buildings at any one time. That would require students to attend school some days during the week, and continue homebound, remote learning other days.
Many parents of elementary-age children couldn't hold jobs if their children were home some days, said Hart's Platt, who announced weeks ago that his district's 1,200 students would be returning to classrooms five days a week.
"Do you really want your child to come to school for two days and stay home the rest of the week?" Platt asked. "Let's not forget that schools are needed to educate our kids during the day so our parents can work."
School's role in student health
Polston of the advisory panel said COVID-19 was just "one health factor we weighed, but there were other health factors as well."
By not requiring social distancing in schools, all 1.5 million Michigan K-12 students can return to classrooms every day, which has its own health benefits, Polston said.
"If kids aren't in school, a parent may have to make the impossible decision between staying home with their child or going to work and providing for their family," Polston said, because not having a job could make the difference between having food on the table or a roof over a family's head.
"For some students, the nutritional value of school meals is vital," Polston said. "And there is the social emotional component of being with friends and having a trusted adult like a teacher."
In the end, despite the concerns about increased risk of coronavirus infection by not enforcing social distancing in schools, "we believe it's a public health crisis to not have kids in school," Polston said.
That view was echoed last week by The American Academy of Pediatrics, which recommended that students return to school buildings in the fall.
Beaumont infectious disease specialist Sims acknowledged the benefits of children being in school — his own school-age children have suffered from not being in classrooms, he said. And children who do become infected tend to have milder symptoms or no symptoms at all from COVID-19.
Still, Sims said he worries about the people who come in contact with those children.
"So parent X gets infected, and their kid gets infected from them, and then it spreads through the classroom and they go home and infect their parents," Sims said. "It's not as much about the kids themselves as it is about them being a vector" for disease transmission.
Polston said that possibility is not lost on him.
"We acknowledge it's a reasonable possibility there will be positive (COVID-19) tests among school students in the fall," he said. To mitigate spread, the state plan recommends schools keep elementary students in their home classroom, so that if a student becomes infected, only one class of students is quarantined rather than an entire school.
"We also know that it's reasonable there may be periodic closures throughout the year," Polston said.
We're not just a news organization, we're also your neighbors
We've been there for you with daily Michigan COVID-19 news; reporting on the emergence of the virus, daily numbers with our tracker and dashboard, exploding unemployment, and we finally were able to report on mass vaccine distribution. We report because the news impacts all of us. Will you please support our nonprofit newsroom?