Michigan Christian school shut over COVID, files 'religious liberty' suit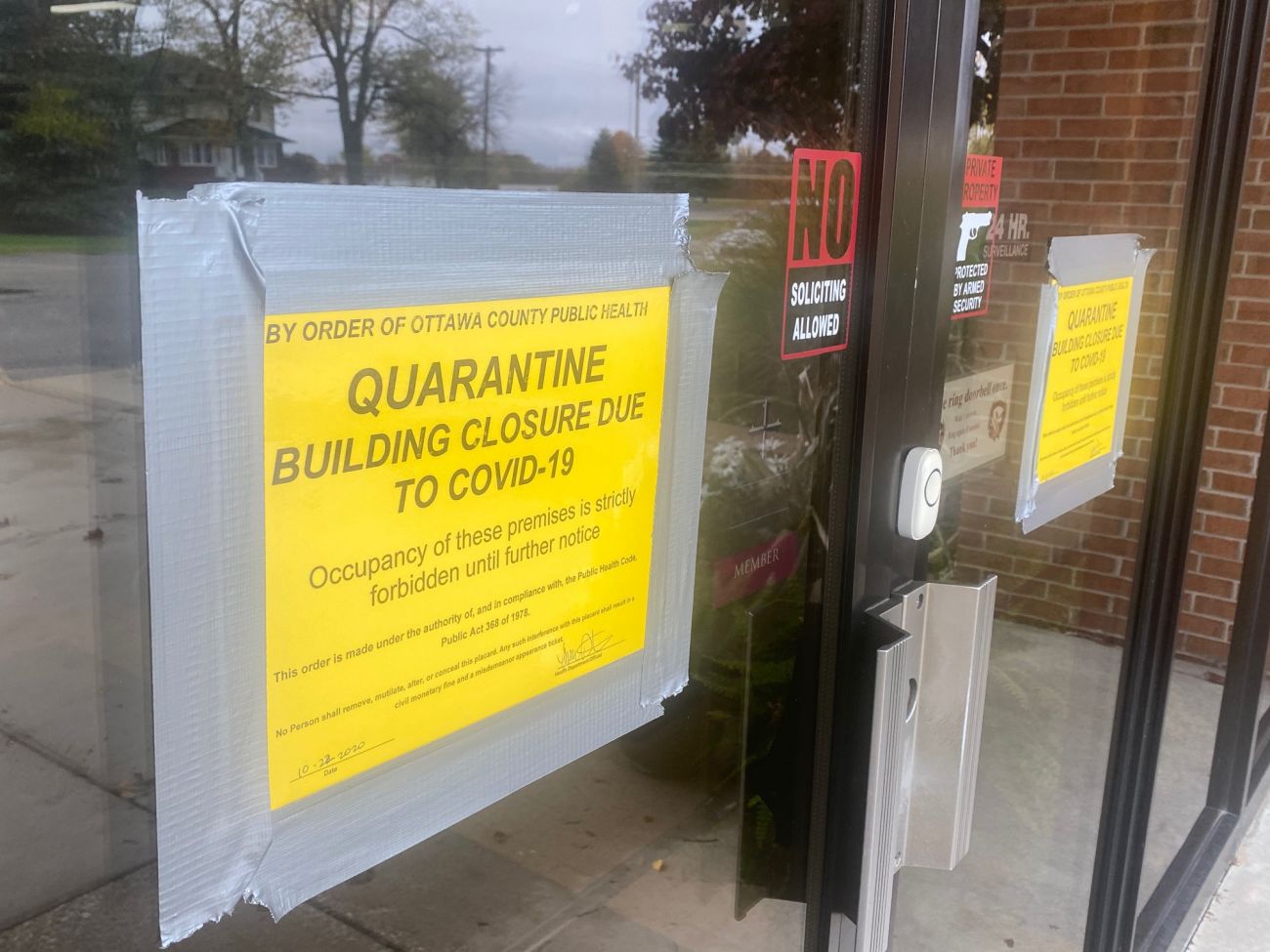 A West Michigan Christian school was closed Thursday by health officials, who accuse the school of repeatedly ignoring orders to follow pandemic safety protocols. The school also failed to notify families that two teachers tested positive last week for COVID-19, officials said.
The closure of the Libertas Christian School in Hudsonville followed a series of skirmishes with health authorities this fall.
Libertas had recently filed suit against state and local officials over the health orders, claiming they infringed on the school's religious liberty. On Thursday evening, as families were emerging from a potluck dinner at the building that doubles as a church and school, the Ottawa County health department posted signs shutting it down.
Both sides have asked U.S. District Court Judge Paul L. Maloney to quickly rule on the dispute. Libertas's actions, Ottawa health officer Lisa Stefanovsky wrote in a three-page cease-and-desist letter, "demonstrate an imminent public health threat to the citizens of Ottawa County."

At least one teacher "taught while she was actively shedding (the) virus without a mask to protect her second-grade class," health officials said in separate court filings.
Stefanovsky's order, the school argues in court documents, "has stripped and will continue to strip Libertas, its teachers, its students, and their families of their right to engage in religious practice and worship."
The school also will lose nearly $5,000 in tuition each day it is closed, it argued in court documents.
On Friday, a Bridge Michigan reporter who visited the school found the doors locked, the parking lot empty, and a public health sign taped to the door saying the building was closed and quarantined "due to COVID 19."
"They've shut down this school indefinitely. It may not recover," said Ian Northun, lead attorney in the lawsuit filed by the school. "And these parents may never come back, they don't want this kind of volatility."
Libertas maintains in its suit that state health orders should not apply to independent religious schools.
"It is inappropriate, unwise, and unconstitutional to try to fit the State's current designs of how an industrialized state-run school should operate to this bible-based association," the school argued in a 26-page complaint.
Both the school and the health department seek preliminary injunctions against the other.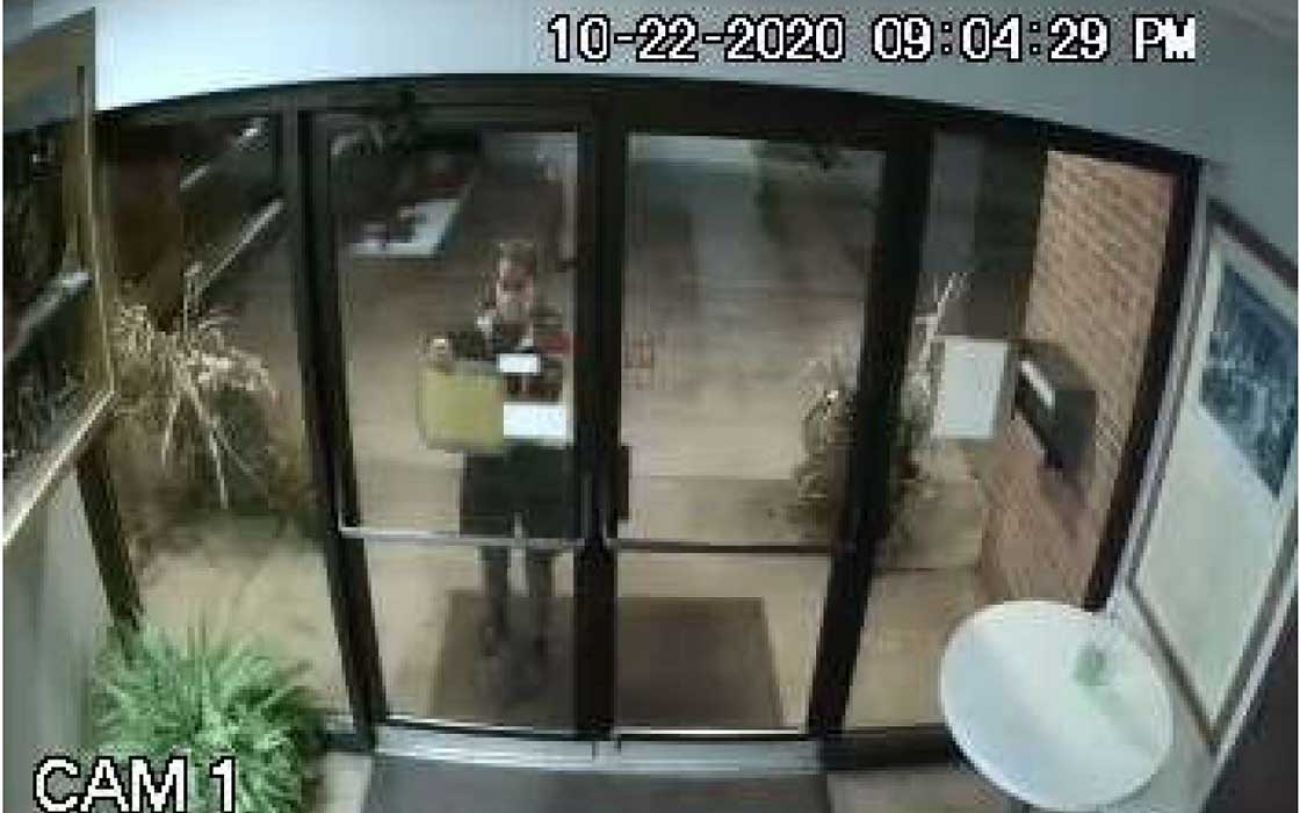 "The Court is well aware of the fluid and evolving nature of this situation," Maloney wrote in a short order scheduling a hearing at 1:30 p.m. Wednesday.
Public health officials were making no comments beyond a news release, Ottawa Health Department spokeswoman Kristina Wieghmink said.
Libertas has an enrollment of about 250 students, according to the school's lawsuit. Full-time students attend classes three days a week, and are home school two days a week.
Before the school opened for the 2020-21 school year, a notice sent to parents said it would be "counter to Scripture, and would have a negative impact on the spiritual, mental, behavioral, and developmental health of our students" for the school not to reopen despite the coronavirus.
According to an "Enhanced Health & Safety plan" on the school's website, the school outlined safety protocols it would follow during the pandemic, including sanitizing classrooms each day with CDC-approved disinfectant. But the notice also said that while students were welcome to wear masks, it would not enforce mask-wearing. The school also would alert parents if a "peer" was diagnosed with communicable disease, including COVID, according to the plan.
The tug-of-war between health officials and the school heated up as COVID cases have surged in West Michigan. Ottawa County currently has its highest rate of new cases per 100,000 people (21 new per day) since the pandemic struck Michigan in March.
Health officials said they had discussed concerns with Headmaster Bob Davis as early as Sept. 4, after an anonymous caller told health officials that students weren't wearing masks, weren't social-distancing, and attended daily worship in close quarters, according to court documents.
At the time, students in Michigan public and private schools in grades 6-12 were required by Gov. Gretchen Whitmer's executive orders (since invalidated) to wear masks at all times, and all staff were required to wear masks. Schools were also required to cooperate with local health departments on contact-tracing when a student or staff member tested positive for COVID-19.
Since Whitmer's emergency authority was struck down earlier this month, K-12 students are now required to wear masks under similar orders from the Michigan Department of Health and Human Services.
The health department received another anonymous call Sept. 21, with similar complaints, and Ottawa County's deputy health administrator Marcia Mansaray issued a "warning letter" to Davis.
Mansaray referred to Gov. Gretchen Whitmer's Return to School Roadmap, which required "facial coverings" by staff except when eating and facial coverings in hallways and common areas and, among older students, in classrooms. The rules also banned "indoor assemblies that bring together students from more than one classroom."
"These requirements and recommendations and requirements are not always easy, but they are necessary," she wrote to Davis, warning that continued noncompliance "could result in enforcement from local or state officials."
On Oct. 18, Libertas filed its lawsuit, claiming that the school was taking appropriate health measures to protect students from becoming infected with the potentially deadly virus. According to the lawsuit, the school had increased cleaning of church and school facilities, encouraged hand-washing and made hand sanitizer and masks available, and established protocols for "keeping sick or exposed but asymptomatic children home."
Other steps Libertas is taking to fight coronavirus, according to the school's complaint: "Prayer, fasting, almsgiving, and traditional spiritual aids to combat disease."
"These safety procedures have proven effective and do not force students, parents, faculty, or staff to compromise sincerely held religious beliefs or misrepresent their well-documented theological tenants," the school's lawsuit says.
The school's lawsuit claims no students have contracted COVID-19, but doesn't address the positive cases of two teachers.
Health officials said the school also failed to share names of staff, teachers, volunteers and children who came in contact with a grade-school teacher who tested positive Oct. 14, according to the cease-and-desist letter, making it more difficult for authorities to alert others who may have come in close contact with that teacher.
The teacher is in isolation until she is released by the health department. Her children also are in quarantine at least until Nov. 3, and the entire grade was in quarantine until Oct. 23, according to the letter.
On Wednesday, an anonymous source alerted public health officials that a second teacher, also named in the letter, had tested positive for COVID-19. Health department records revealed he had tested positive Oct. 14, the same day the first teacher tested positive.
Late Friday, the federal court denied a request by the school for an emergency injunction that would have reopened the school until next Wednesday's hearing, according to school attorney Northon.
Northon told Bridge Michigan that the state's mask mandate should not apply to the school because it is a "religious association" in which education is primarily a religious activity, with prayer and fellowship beginning each class and subjects taught through a Bible-based lens.
"If they're teaching algebra, they believe algebra is an ordering of the universe and God made it," Northon said. "These parents are sincere. This is an informal group and they just want to be left alone.
"What we'd like is a return to the status quo while the lawyers fight," Northon said. "These kids should be able to worship as they please and learn as they please."
That's not how health officials see it.
"Since Libertas has refused to comply with preventative measures such as prohibiting gathering, social distancing and consistently requiring face coverings to be worn, in combination with a known outbreak," Stefanovsky wrote, the health department "has valid epidemiological concern that more school associated cases exist increasing the risk of additional disease spread at the school and in the community."
Ted Roelofs contributed to this report.
We're not just a news organization, we're also your neighbors
We've been there for you with daily Michigan COVID-19 news; reporting on the emergence of the virus, daily numbers with our tracker and dashboard, exploding unemployment, and we finally were able to report on mass vaccine distribution. We report because the news impacts all of us. Will you please support our nonprofit newsroom?