More Michigan teens hit the brakes on learning to drive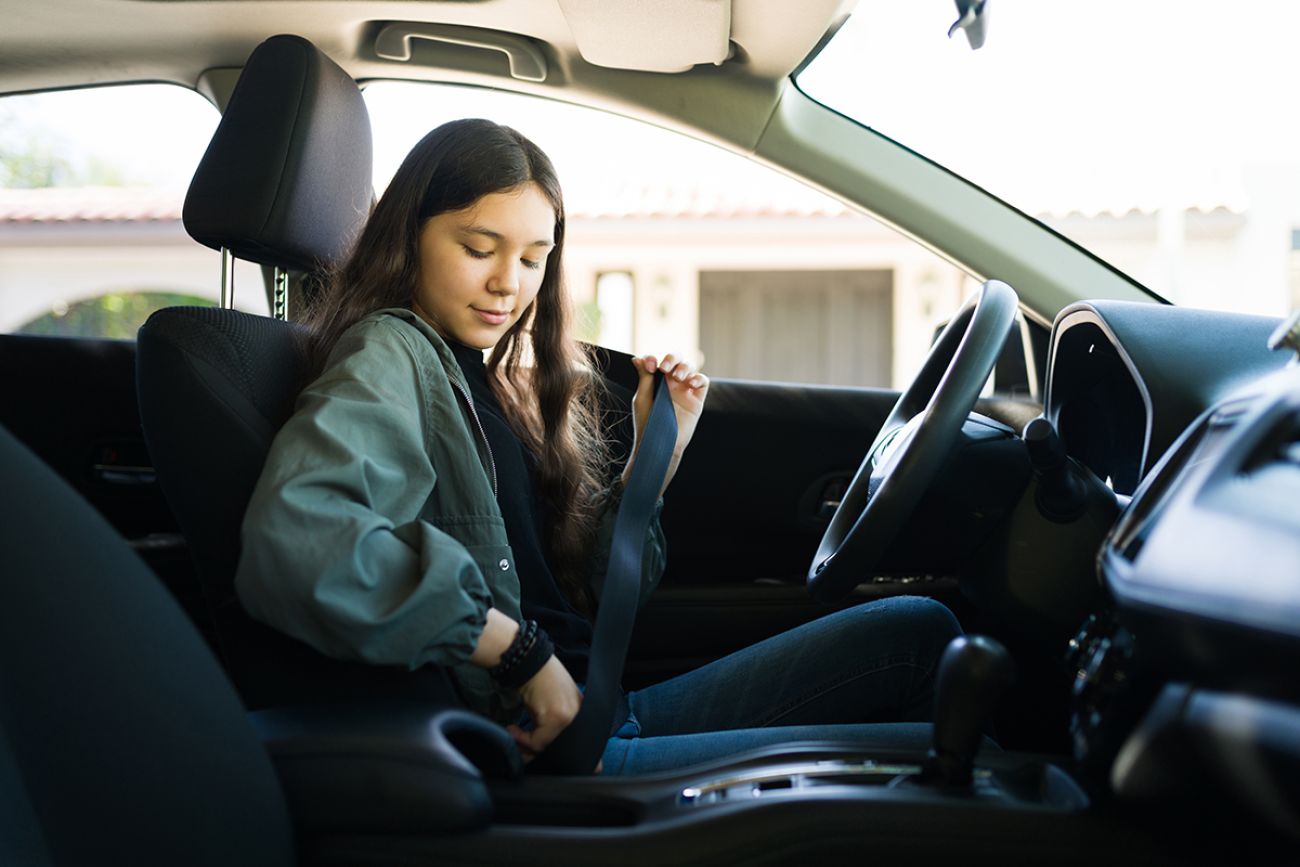 The percentage of Michigan teenagers with driver's licenses has fallen by 10 percent since 2000. (Shutterstock)
56 percent of Michigan teenagers had driver's licenses in 2021, down from 66 percent in 2000
Reasons for the decline include being too busy to learn and high car ownership costs
Cuts in driver's ed funding may be disproportionately impacting Black and low-income teens
---
As the youngest in her grade, Rachel Hammond, a teen in the early 1990s, watched for a year as her peers showed off their new cars and driving skills.
After passing her road test as soon as she turned 16, Hammond was finally able to drive her parents' Honda Civic Hatchback to school and work. Both she and her parents were excited, as she had been "desperate" to get her driver's license, she said.
That desperation is notably absent in her son Parker, whose 16th birthday came and went without a trip to the Secretary of State. Four months later, he still hasn't gotten behind the wheel.
Related:
"For a while I was really putting it off, because I didn't really put too much emphasis on it," he said. "It was kind of an afterthought."
The time requirements for licensing are hefty for a busy family, and Parker is able to depend on his parents to get around. It doesn't seem to be a huge priority for a lot of his friends either, he says.
Delaying the license
He's not the only Michigan teen in no rush to hit the road.
An analysis of Michigan Secretary of State data shows that the percentage of age-eligible teenagers holding driver's licenses in the state fell to about 56 percent in 2021, down from 66 percent in 2000.
This downturn follows a nationwide trend, as the number of teen drivers across the country has steadily declined for the past four decades.
Brandon Schoettle and Michael Sivak, former transportation researchers at the University of Michigan, found that the number of American 18-year-olds with a driver's license dropped from 80 percent in 1983 to 61 percent in 2012, according to research they conducted at U-M. The pattern has only continued in recent years, according to a 2022 report by Sivak.
Reasons for delaying getting behind the wheel can vary.
In a 2013 survey of young adults who had opted against getting a driver's license, non-drivers listed the time commitment to train and test, the costs of car ownership and ability to use other modes of transportation as reasons for not getting a license.
Among the survey participants, 22 percent said they had no intention of obtaining a driver's license in the future.
High costs
The state of Michigan stopped mandating that public schools offer driver's education programs in the late 1990s. State funding for driver's education was then completely eliminated in 2004, with program oversight shifting from the Department of Education to the Secretary of State.
A spokesperson for the Michigan Secretary of State wrote to Bridge Michigan in an email that there are now 286 certified providers of teenage driver's education in the state. Only 37 are part of educational institutions.
Most aspiring drivers now turn to private driving schools, which require access to a car, at least 30 hours of classroom instruction and behind-the-wheel training on the student's own time and money.
Though statewide data by race or income wasn't available, private driver's education can rack up to hundreds of dollars per student, which may lead to low-income and minority teens being disproportionately barred from learning to drive.
A 2012 nationwide study by the AAA Foundation for Traffic Safety, an auto research non-profit organization, reported that only 29 percent of Hispanic teens and 37 percent of non-Hispanic Black teens had their driver's licenses by the age of 18, compared to 67 percent of non-Hispanic white teens.
The same study also found that only one in four teens in households with total incomes under $20,000 a year had their driver's licenses before their 18th birthday. But where household income exceeded $100,000, 79 percent of teens were licensed by the time they turned 18.
Some schools, such as the Ann Arbor-headquartered All Star Driving Education, which generally charges over $500 for classroom and in-car instruction, say they offer scholarships and reduced costs for low-income students.
Julie Earle, a student success manager at the Bridge Academy of Southwest Michigan charter school, told Bridge Michigan she's seen what she estimates to be a 75 percent drop in the number of her students getting licenses over the past decade.
Earle's school is in Benton Harbor, an area with a predominantly Black population and a poverty rate of 43.6 percent.
"They do not have cars to practice in when they're not in a driver's ed class, or a car to take a road test in because their parents don't have vehicles and neither do they," Earle said. "A lot of them cannot afford to take driver's ed. If they can, they can't get to driver's ed because they have no car to actually get to the class."
The teenagers she works with need jobs to afford buying and maintaining a car and learning to drive, Earle says. But without a reliable way to commute, they aren't able to get to those jobs in the first place.
"It's a never-ending cycle that this problem has created for these youth and it's a barrier to their employment, to college, to success in general."
No time
For others, the main obstacle is more time than money.
In Michigan, getting a driver's license before the age of 18 occurs over three segments in a graduated driver licensing program. Teens as young as 14 years and 8 months old can get behind the wheel during segment 1.
After six hours of on-road driving instruction with a certified provider and 24 hours of in-class instruction, students can apply for a level 1 learner's license.
Teens can enroll in segment 2 after maintaining a level 1 permit for three months and completing at least 30 driving hours, as well as two hours of night driving, supervised by a licensed adult. Segment 2 involves another six hours of classroom instruction.
After 50 hours of supervised driving, 10 of which must be at night, students who pass an on-road skills test can drive with a level 2 license without adult supervision, but with some restrictions.
A student who is at least 17 and has not received any infractions after six months will have their level 2 license automatically upgraded to a level 3 full license.
A driver with a valid level 2 or 3 license will be issued a standard operator's license once they turn 18.
If the student has not reached level 2 before turning 18, their level 1 license will expire and they will have to start a new application at the Secretary of State office.
Michiganders who are 18 or older can apply for a driver's license by passing a written knowledge exam, driving for at least 30 days with a temporary instruction permit and passing an on-road skills test with a certified testing business. There is no strict practice hour requirement, but aspiring drivers will still need access to a vehicle that will pass inspection and time to practice their skills prior to the road test.
The three-level program was first implemented in 1997 in response to high crash rates among young drivers. The hope was that making the licensing process more gradual would improve safety, and it has proven to be effective.
For Parker Hammond, hitting that 50-hour benchmark is the main thing keeping him from driving on his own.
"It ultimately came down to me not getting enough hours before I was 16 to take the test," he said. "Now that I'm 16, I'm like, 'Oh, I could have had it.' So I'm really working to get those hours in so I can take my driver's license test."
"You have to do at least 10 hours at night, and if you're trying to get them done during the summer, it's really hard to get those hours in because it's not really dark until pretty late," his mother Rachel said. "Once you get into the school year … it's a little bit harder just to fit those hours.
"I didn't have that as a requirement," when she was a teen, she added. "It was pretty minimal: you had to take a class and practice for your test, but you didn't have to have all those practice hours."
Less interest
Remote schooling and other restrictions during the COVID-19 pandemic might also be contributing to the decline.
For example, a 2021 survey of nearly 700 parents conducted by Aceable, a Texas-based organization that offers online driver's education courses, found that 71 percent of participants reported a delay in their teen driver's education due to the ongoing pandemic.
With the advent of social media, teens no longer need to drive somewhere and meet up with their friends if they want to chat after school. One 2018 survey found that 61 percent of American teens prefer using social media, texting or video calling over communicating in-person.
Anxiety over driving
For some teens, fear and anxiety over driving contributes to keeping them off the road.
In 2022, Aceable reported that 73 percent of surveyed California teens experience driving anxiety. 42 percent said they delayed getting their driver's license as a result.
Concerns over safety aren't unfounded: according to the Centers for Disease Control and Prevention, teen drivers account for nearly three times as many nighttime fatal crashes per mile driven as adult drivers.
The National Highway Traffic Safety Administration reported that drivers aged 15 to 20 accounted for 8.5 percent of traffic deaths in 2020, but only constituted 5.1 percent of all licensed drivers.
And although motor vehicle deaths have declined significantly over the past seven decades, car accidents remain one of the top causes of death of young people in the United States — second only to firearms.
The Zebra, an insurance comparison site, used data from the National Highway Traffic Safety Administration, U.S. Census Bureau and FBI to report that Michigan was the most dangerous state for teen drivers in the country, with 14 traffic deaths and 26 underage DUIs per 100,000 Michigan teens.
The road ahead
For now, Parker Hammond can depend on his parents to help him get around, he says. Still, he knows he'll get his license eventually, even if it takes a little bit longer than he and his mother might have expected.
Rachel Hammond, who was so eager to get behind the wheel when she was a teen, is eager for her teen son to get his license.
"If your parents are driving you around anyway, it's like, 'well, it's fine, there's no rush,'" she said, imagining a conversation with a non-driving teen.
Only donate if we've informed you about important Michigan issues
See what new members are saying about why they donated to Bridge Michigan:
"In order for this information to be accurate and unbiased it must be underwritten by its readers, not by special interests." - Larry S.
"Not many other media sources report on the topics Bridge does." - Susan B.
"Your journalism is outstanding and rare these days." - Mark S.
If you want to ensure the future of nonpartisan, nonprofit Michigan journalism, please become a member today. You, too, will be asked why you donated and maybe we'll feature your quote next time!