Why rural Michigan teens are skipping out on college. It's not grades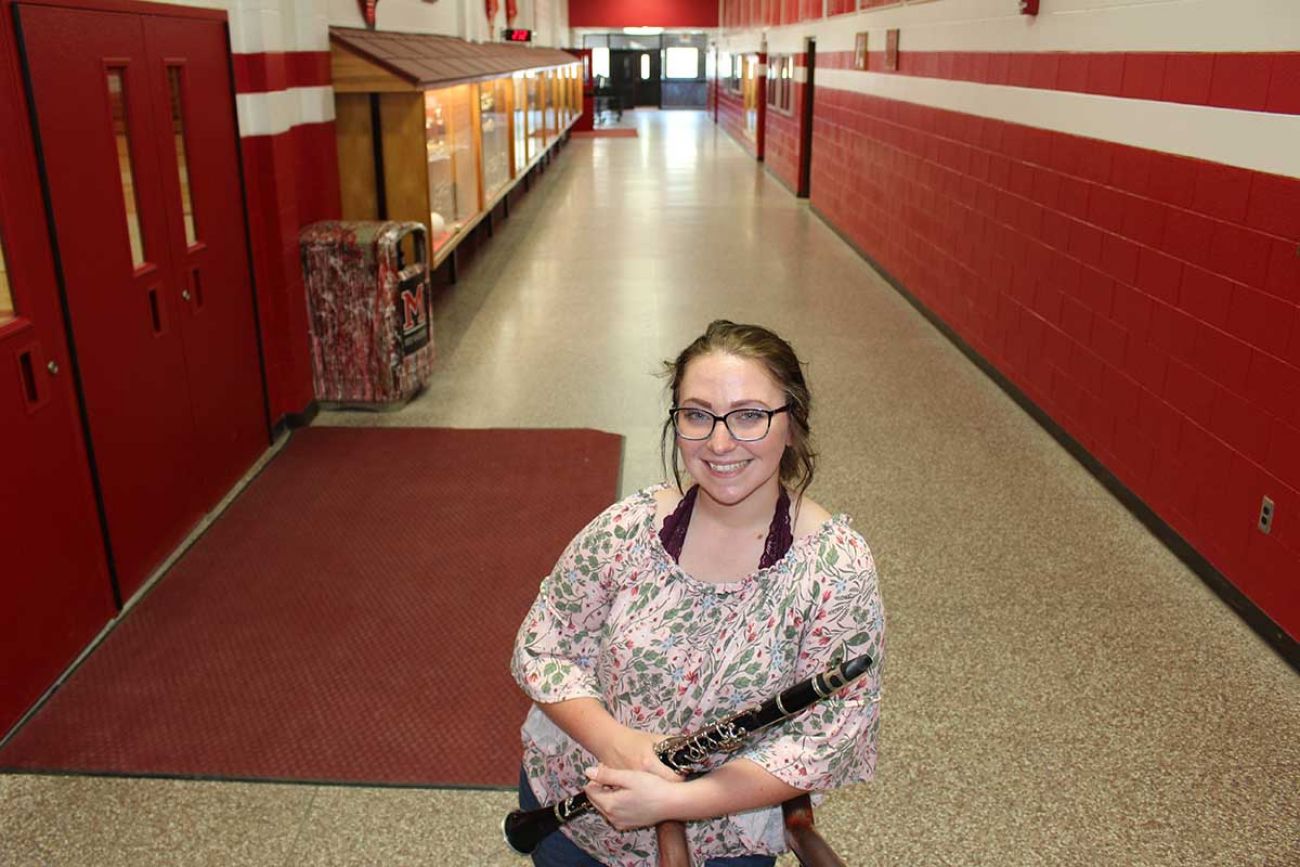 MARLETTE – Chelsey Ivy faced a lot of obstacles getting to college. Her parents didn't think she should go. She didn't know how she could afford it. She worried she wouldn't fit in.
And that was before she encountered her first traffic circle.
Driving from her rural community in Michigan's thumb to tour Eastern Michigan University, Ivy and her boyfriend took an exit in Washtenaw County and found themselves driving on a traffic circle, with cars zooming past her 1996 Saturn.
"We'd never seen one of those turnaround things," Ivy said. "We were like, 'Wait, it's a circle!' We were just like holding on, going 10 miles an hour, trying to figure it out. We went around more than once. We said, 'Oh wait! That was it!' and we'd go around again."
August 2019: Being poor on rich U-M campus still a struggle as school broadens reach
The road to college can be scary for small town teens. Ivy grew up in Marlette, a community of 1,800 people in western Sanilac County, where the closest two- and four-year colleges are an hour away. Just 13 percent of county residents have a bachelor's degree or higher, half the college attainment rate of Michigan (27 percent), which itself is far below the national average (31 percent).
For low-income, first-generation rural teens like Ivy, going to college can be intimidating, both because of its unfamiliarity and its perceived cost. These teens enroll in college at lower rates, and drop out at higher rates.
Even for kids like Ivy, with a high grade point average and an ACT score in the 87th percentile nationally, college wasn't a sure thing.
"I didn't really want to go to college," said Ivy, who enrolled at Eastern Michigan for the fall. "But I didn't want to work at Little Caesars the rest of my life."
Michigan is in the bottom third in the nation in percent of adults with a bachelor's degree or higher. That matters to the state economy because college grads make almost $1 million more over the course of their careers than those with just a high school diploma. Michigan ranks 36th in college degree rate, and 34th in income.
Michigan didn't make a list of 20 finalists for a second Amazon headquarters in January partly because the state wasn't perceived to have enough college grads for the jobs that would be created by the new business.
If Michigan is going to increase its number of college grads, a good place to start is with students like Ivy and her classmates in places like Sanilac County, where, with more college dropouts than graduates, higher education is often viewed with skepticism.
Those who leave Sanilac County to go to college and earn a degree often do not return, said Melissa Anderson, executive director of the Sanilac County Community Foundation; those who drop-out of college "come back home to live with mom and dad.
"So we don't get the success stories. We get the horror stories of hopes dashed and college debt but none of the earning potential," Anderson said. "You hear about a friend who went to college and dropped out and they're working at Walmart."
So parents in the rural part of Michigan's thumb sometimes see college as a lose-lose proposition, Anderson said: If their son or daughter earns a degree, they move away; if they drop out, they're back in the county trying to get a job at a factory to pay off their student loans.
"It's not just one family unit affected by it," said Anderson, whose organization helps promote postsecondary education and training. "The extended family is affected because they're tied together economically and socially. So when somebody doesn't complete, the ripple effect is huge because the community is so close-knit."
Ivy said her parents didn't encourage her to go to college. Neither of them had any experience with higher education and "they said they couldn't help pay for it so I'd have to pay for it myself," she said.
The 4-H member and softball player said she assumed she couldn't go to college because of the cost, until she was accepted at Eastern Michigan and received a large amount of financial aid.
The sticker price for tuition, room and board, books and fees at Eastern Michigan for the 2016-17 school year was $23,385 ‒ a price that would seem out of reach for low-income students. Teens like Ivy who don't have family members who've gone to college sometimes don't realize that the sticker price isn't the real cost of college for low-income students. At Eastern, the average net cost of a year at the college for families earning under $30,000 a year is less than $12,000.
Related: Ignore the sticker price at Michigan universities. Here's the real cost
Between federal grants and EMU scholarships, Ivy said she's receiving about $13,000 in financial aid that she won't have to pay back.
This summer, Ivy is working at Little Caesars and Subway. "I'm hoping to make $5,000 this summer," Ivy said. "I'm not spending anything. It's all going to college."
Ivy spoke to me in May in a Marlette classroom that is used by Rebecca Balcer, an Americorps college adviser who splits her time between the small Sanilac schools of Marlette and Brown City. Balcer is one of 104 recent college grads who work in 125 low-income and rural high schools across the state helping teens apply to college, through AdviseMI and similar programs through the University of Michigan and Michigan State University. Those 125 schools represent just 40 percent of the high-need schools in the state, according to Brandy Johnson, executive director of the Michigan College Access Network.
Related: Lack of college guidance keeps poor and rural students from applying
On one wall of Balcer's room is a large bulletin board with the names of students who've been accepted to various colleges.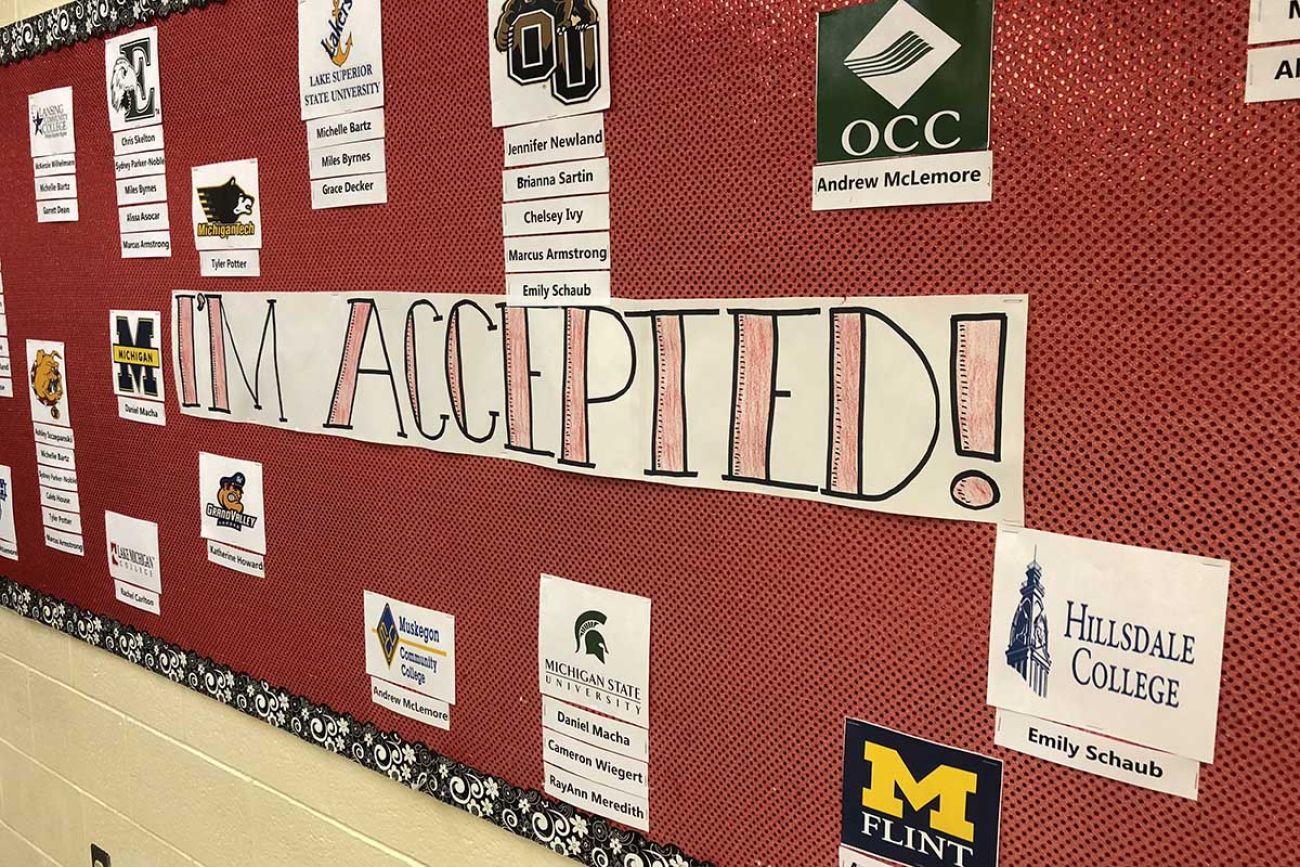 In 2016-17, the most recent year for which data is available, 44 percent of Marlette's seniors enrolled in higher education at a two- or four-year institution. That's notably lower than the state average of 60 percent. Marlette grads enrolled in four-year colleges at half the rate of their peers around the state. (20 percent to 39 percent).
Across Sanilac County, six of the seven school districts lag the state average in college enrollment.
Balcer said the kids in rural schools can do well in college, but they often lack confidence, saying they don't know if they'll "fit in" at a big campus. "It's self-perpetuating," Balcer said.
Ivy said she was initially intimidated by the size of the sprawling Eastern Michigan campus in Ypsilanti when she visited last fall. "I assumed it would look like this small little dink of a school," she said, laughing, waving her hand around the classroom. "And then I went there and it was huge and they had different buildings for different classes.
"I'm kind of nervous about people," said Ivy, whose biggest trip before college was visiting her grandmother in Florida at age 7. "Being from a small town, I wonder about meeting people."
In 2016-17, there were 517 seniors who graduated from the high schools in Sanilac County.
"You go to a university like MSU or U-M, and you're going to sit in a lecture hall with more students than graduated in your entire county," said Anderson, of the Sanilac Community Foundation. "That's culture shock. It would be like if you took me as a full-grown functioning adult, and plopped me in a country where I don't speak the language. They don't speak academia. They don't know the culture. They know nothing about what it's like to live in a major city.
"And we send them (from rural Michigan to a university campus) and tell them to learn, survive, and thrive in a place they've never imagined. It's a scary place at first. I get why our kids from rural areas have apprehension. Because there's no guarantee of success, and no support once you leave here."
If Ivy's class is similar to past classes of Marlette graduates, about 40 percent who enroll will drop out without a degree of any kind.
Related: Michigan's College Dropout Dilemma
"A lot just don't think they're college material." said Marlette Junior-Senior High counselor Joan Helwig. "I went to a scholarship ceremony today, handing out scholarships. One of my grads from last year got brought up. She went to Central (Michigan University) and she took out loans, but she's not there anymore. This isn't even a year. She's back here now, planning to go be a flight attendant.
"We can get them to go," Helwig said, "but in the end, do they follow through? That's the issue. The bottom line is, the job market has changed. You need to pursue some kind of post-secondary education after you leave here. But it's a culture thing."
To try to change that culture, Marlette dropped its normal school field trips a few years ago, and used the time and money instead to put kids on buses to visit college campuses. Freshmen visit Delta College, near Saginaw, and Saginaw Valley State University; sophomores go to Central Michigan University.
Helwig recalls taking a busload of 10th-graders to St. Clair County Community College, and "one of our first-generation students said he couldn't believe how far he had to walk between classes. I said 'If you think you walked a long way between buildings at SC4 (the acronym for the community college), try Michigan State.'"
The trips are meant to demystify college for students whose only exposure to higher education may be from TV shows, said Helwig and Balcer. But the school is limited to visiting campuses within two hours of Marlette – buses can't leave until kids are dropped off at school in the morning, and must be back to take kids home.
Michigan's public universities are beginning to experiment with ways to get more low-income and rural students into higher education. Many offer generous financial aid to low-income Michigan students The University of Michigan offers four years of free tuition to students from families earning under $65,000 a year. Central Michigan University reimburses transportation costs to school districts that bus teens to the Mt. Pleasant campus for a college tour.
Related: To get first-generation students to college: Could the answer be…a bus?
Those efforts are a way to at least dent the anti-college culture many students in Sanilac County grow up in, says the Community Foundation's Anderson.
"It's a disservice we've done to our youth, these parents, uncles and aunts, who say, 'Well, I didn't have a degree and I got this job and it pays money and we do fine.'" Anderson said. "But they don't realize what the future holds. Students need a plan after high school."
Ivy went to freshmen orientation at Eastern Michigan recently. "They asked, 'Does anyone have any questions,' and I kept raising my hand," she said. "I had a lot of questions."
She said she's been thinking about how a small-town girl can make friends on a campus of 17,000 strangers. "Maybe I'll go sit in the coffee shop for a day and see if there are any other kids who like coffee as much as I do," Ivy said. "I was pretty intimidated, but now I'm excited. It's a whole new world."
Only donate if we've informed you about important Michigan issues
See what new members are saying about why they donated to Bridge Michigan:
"In order for this information to be accurate and unbiased it must be underwritten by its readers, not by special interests." - Larry S.
"Not many other media sources report on the topics Bridge does." - Susan B.
"Your journalism is outstanding and rare these days." - Mark S.
If you want to ensure the future of nonpartisan, nonprofit Michigan journalism, please become a member today. You, too, will be asked why you donated and maybe we'll feature your quote next time!