In partnership with Crain's Detroit Business, Business Bridge covers the intersection of business, politics and policy across Michigan.
Articles
Fuel or sales tax hikes are favored options among 300 Metro Detroit business owners and managers polled after Proposal 1 flopped on the state ballot this month.
The Michigan Legislature will consider a Republican bill this week, with lengthy negotiations expected leading into the summer.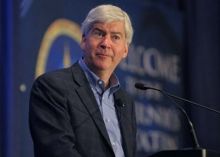 Despite the failure of Proposal 1, the governor pitches a "comeback story" to audiences in California and New York.
Unrest in cities far from Michigan will spark discussion at the annual policy conference, presented by the Detroit Regional Chamber. Speakers include the architects of Detroit's bankruptcy deal, authors and lawmakers.
Pages