In-depth reporting on Michigan's largest city and surrounding communities, including deep dives into the big changes afoot in Detroit, its schools, neighborhoods, institutions and city hall.
Articles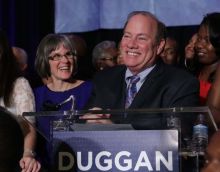 Mayor Duggan vows to improve services in six months. We have broader ambitions – to mark where Detroit stands today on jobs, safety and other key measures, then hold leaders accountable in the year ahead.
Detroit's new mayor and City Council are taking ownership of fixing street lights, blight and bus service within six months. Can they succeed where others failed?
Money may not solve everything, but it would sure help ordinary Detroiters when they need working fire trucks, ambulances and police cars. Bankruptcy savings may provide a real boost.
High unemployment and a modestly educated workforce present a tough challenge. A push to attract highly skilled immigrants may boost job hopes.
Decades of reform have failed to boost student learning in Detroit's struggling public schools. Will improved teacher training help?
What makes a city appealing can't always be measured: Community spirit. Inviting parks. A vibrant cultural scene. Now, if only leaders could do something about Detroit's insurance and tax rates.
Michigan's most trusted nonprofit news organizations are joining forces to produce data-driven journalism on Detroit's financial crisis – and the road ahead.
Pages