A day in the life of one Detroit high-crime neighborhood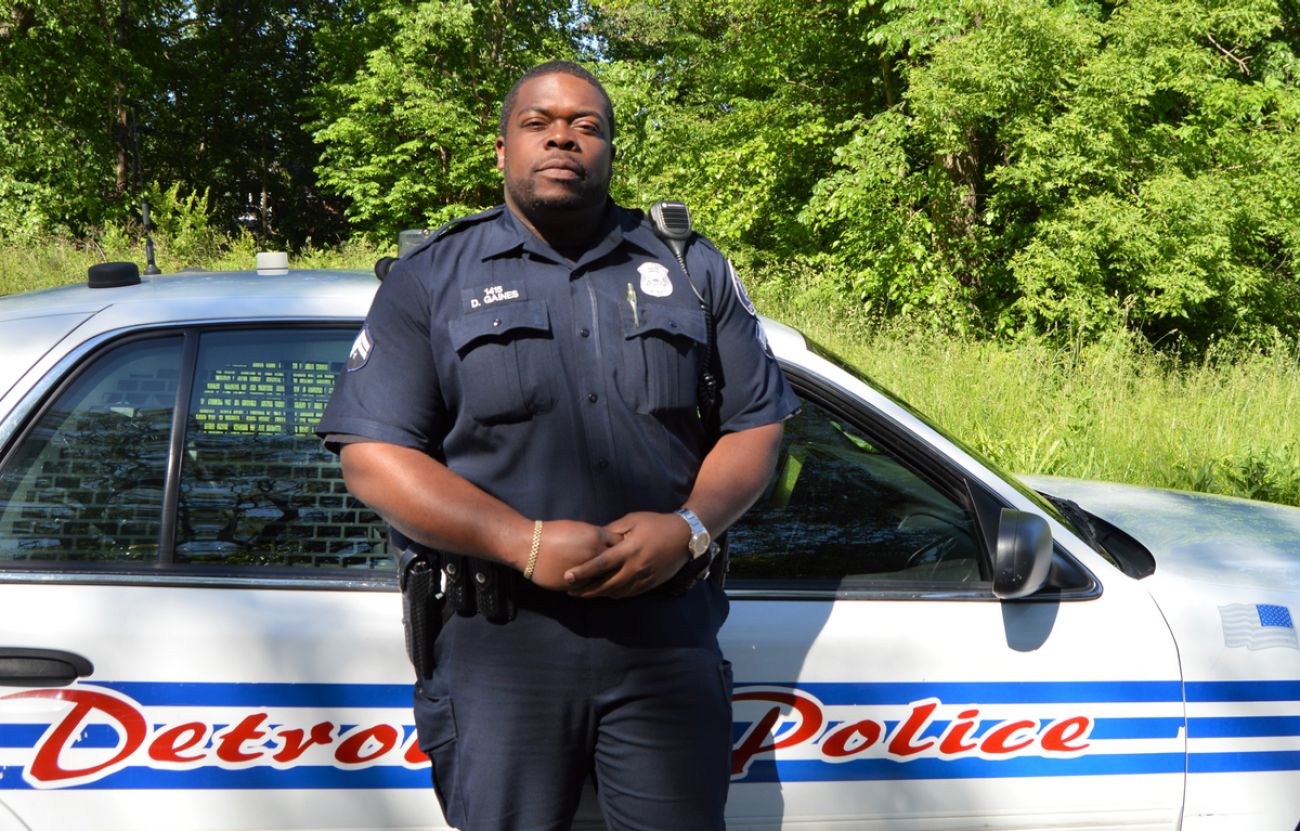 Detroit's reputation as a high crime city has not gone away, but its crime rate is down substantially. It's been falling since the 1980s. But there remain areas of the city that are not as safe as others.
As an example of how Detroit is dealing with crime in its neighborhoods, let's look at one neighborhood alone. MorningSide on Detroit's east side, is not the city's worst neighborhood. It's not the best. It is a microcosm of Detroit's best and worst.
Detroit Neighborhood Police Officer DeAndre Gaines at the Department's Fifth Precinct picked me up for a ride-along in his patrol car. We headed to MorningSide.
This year I've been spending a fair amount of time in MorningSide. Some of the businesses and residents there have complained about the lack of a police presence and the crime rate in their neighborhood. Gaines shakes his head.
"MorningSide is still a good area. You know, everywhere in the city you're going to have your pockets of crime. You know, that's everywhere. But I wouldn't say MorningSide is no different than any of the other areas in the city of Detroit," Gaines said as we turned onto East Warren Avenue, one of the business strips in the neighborhood.
The crime rate numbers for this particular neighborhood were not made available. However, the Detroit Police Department did provide crime stats for all the precincts of the city. MorningSide is in the Fifth Precinct. The number of crimes in the Fifth Precinct were comparatively average. Five of the twelve precincts had lower numbers of crime. However, those raw numbers are deceiving.
To focus on community life and the city's future after bankruptcy, five nonprofit media outlets have formed the Detroit Journalism Cooperative (DJC).
The Center for Michigan's Bridge Magazine is the convening partner for the group, which includes Detroit Public Television (DPTV), Michigan Radio, WDET, Chalkbeat Detroit and New Michigan Media, a partnership of ethnic and minority newspapers.
Funded by the John S. and James L. Knight Foundation and the Ford Foundation, the DJC partners are reporting about and creating community engagement opportunities relevant to the city's bankruptcy, recovery and restructuring.
The population is different in each precinct. When you calculate the number of crimes per 10,000 residents, the Fifth Precinct has the second highest crime rate among the precincts. Only the Third Precinct, which stretches from New Center to Mexicantown, had a higher crime rate.
It's important to note that crime is down across the city. Last year, for the entire city of Detroit, the murder rate did increase slightly, but the rate of murder and other violent crimes continued to decline throughout Detroit, including in the Fifth Precinct.
Officer Gaines spotted someone he knew out in a yard. We stopped to talk to retired Fire Department Captain David Brown. I told him what his neighbors had been telling me, that they don't see police officers in the neighborhood very often.
"That's true," Brown said. I nodded to NPO Gaines and said, "You're talking to one right now."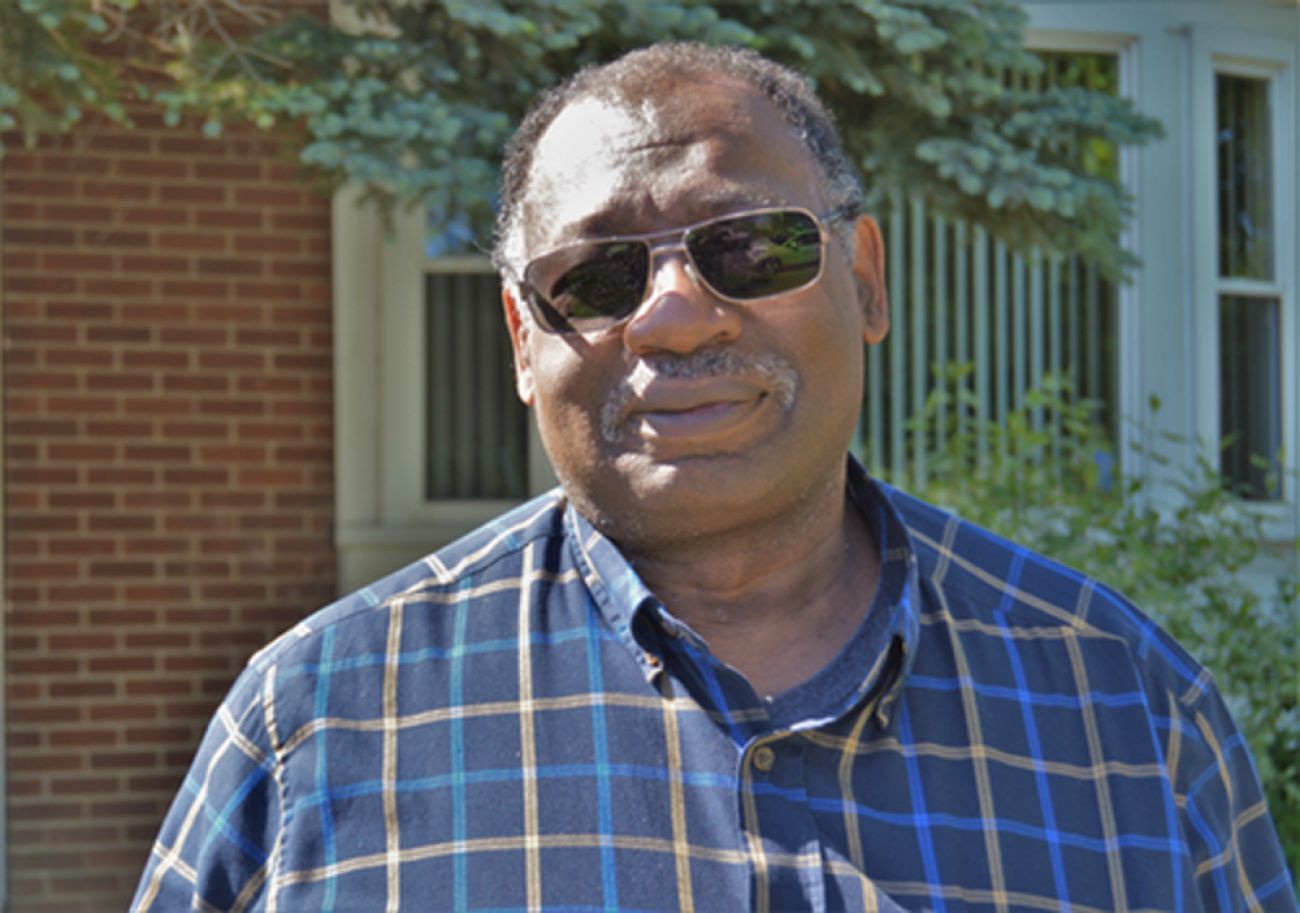 Brown laughed and said, "Yeah, I'm talking to one. You see one on occasion, but there's not enough of them."
Brown said too often police are tied up answering 9-1-1 calls, emergencies making them too busy to patrol the residential streets as much as he'd like.
During the patrol, we also stopped by Zena Knight's house. She's the block captain who helps organize neighbors to make things better. She said she believes crime is up in MorningSide, but she does not think it's because police aren't around enough.
"It's about them not respecting the police. A lady just got killed at the corner house last Saturday. I can't give you an answer to what is really causing the problem right now, but it's not for the like of them," she said with a heavy sigh.
She was looking right at Gaines. She made it clear that she thinks he's one of the good guys.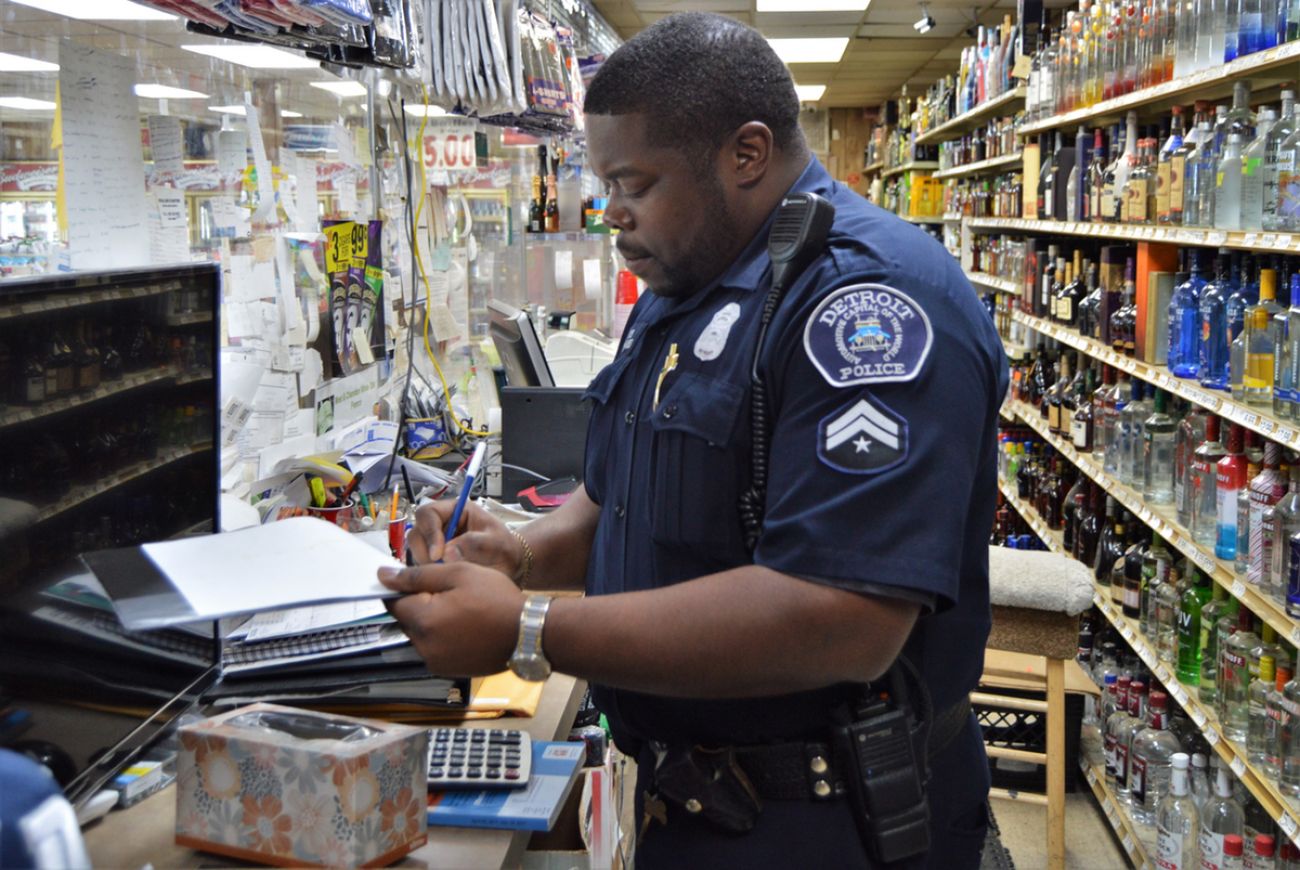 Statistically, Detroit does seem to have the right level of officers on the street.
According to FBI statistics, Detroit actually has more than the average number of cops for its population. In 2015, larger cities in the Midwest reported that for every 10,000 people, the average was 29 officers. Detroit had 33 officers.
Neighborhood Patrol Officer DeAndre Gaines says they are a presence in the neighborhoods.
"We are patrolling the area...at least five days a week, various hours depending on where the complaints take us. We also do what we call 'Safe Passage' which is assisting the children getting to school safe. I do that along with NPO (Eric) Scott. So, we're out there morning and evening making sure this community is safe," Gaines said.
And that's just the NPOs, the community policing face of the police force. Other patrol officers are also working 24/7.
It seems reasonable that even though the city has a good number of police, with its crime rate generally among the top five in the nation, the police are simply busy, too busy to do those slow rolls through the residential areas of the neighborhood that the residents like to see.
Expanding the Green Light initiative
Last year a new crime fighting effort was launched. The Detroit Police Department started promoting its Green Light initiative in January of 2016. It began as a response to late night, high-profile crimes at gas stations. Now it's also being promoted to business owners who don't think police are patrolling their neighborhood enough.
"The police response is terrible. The police presence is terrible. Next door has been robbed a number of times," said Patrick Maher of Eastside Locksmith on East Warren Avenue in the MorningSide neighborhood.
"Next door" is the Family Dollar store. In January a clerk was shot in a robbery attempt.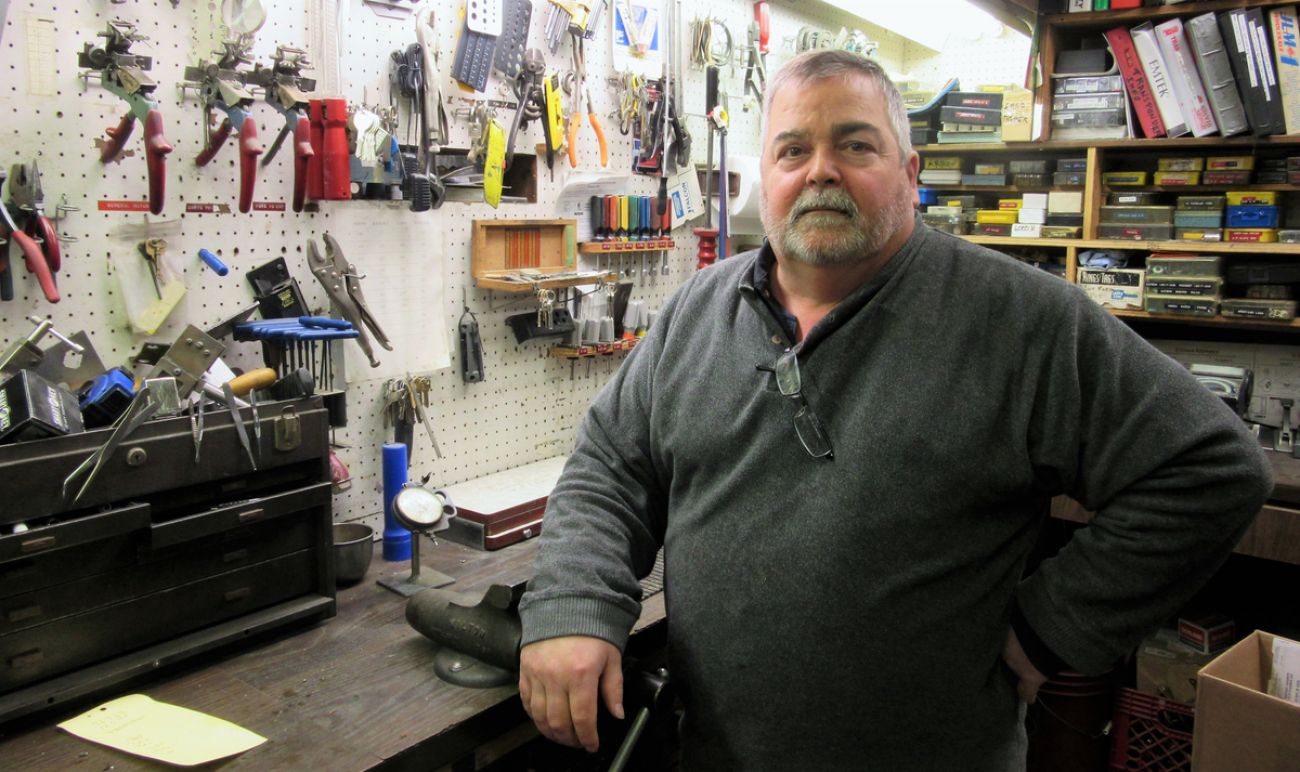 The night before that shooting, just down the street at Nottingham Pharmacy, there was another attempted crime.
Marilyn Nash Yazbeck owns the pharmacy. She says someone used a sledge hammer to try to break through the concrete block wall. Thieves have broken through doors and windows to get into her pharmacy at night many times over two decades. She said she thinks it's young people looking for drugs that she does not carry.
"Now, it's coming-through-the-walls issue. You know, so I've had my crime. You know it happens and you get upset, but crime is everywhere," she said.
The police interrupted that break-in.
I asked Gaines about the merchants' concerns that police were not around enough.
"We are out here in MorningSide. Personally, I'm out here as well as the other NPOs," Gaines said.
He says if the business owners really want to be sure of police presence, they should sign up for Detroit's Green Light initiative.
"We're trying to get businesses to get on the system where we can actually monitor their cameras live from a feed down at the City of Detroit headquarters. It's a very high-definition camera where if something happens, it's recorded, we can get license plates, we can do facial recognition. Very, very good evidence in case a crime happens," he explained.
According to the city's website, 158 businesses have signed up since it started in January of last year. Only a couple of them are in the MorningSide neighborhood.
It's not cheap. A business has to spend between $4000 and $8000 for the cameras. The city notes that Comcast is offering a program of $995 down and $140 a month to lease digital storage and camera equipment.
On Mack Avenue, Gaines points at a sign for Maryland Liquor store.
"You see the green light flashing right here," he asked. It's hard to miss.
"Also we have signs right here and you have signs on the door. So, let's go in and take a look," he said.
There are plenty of signs indicating this is a Green Light business.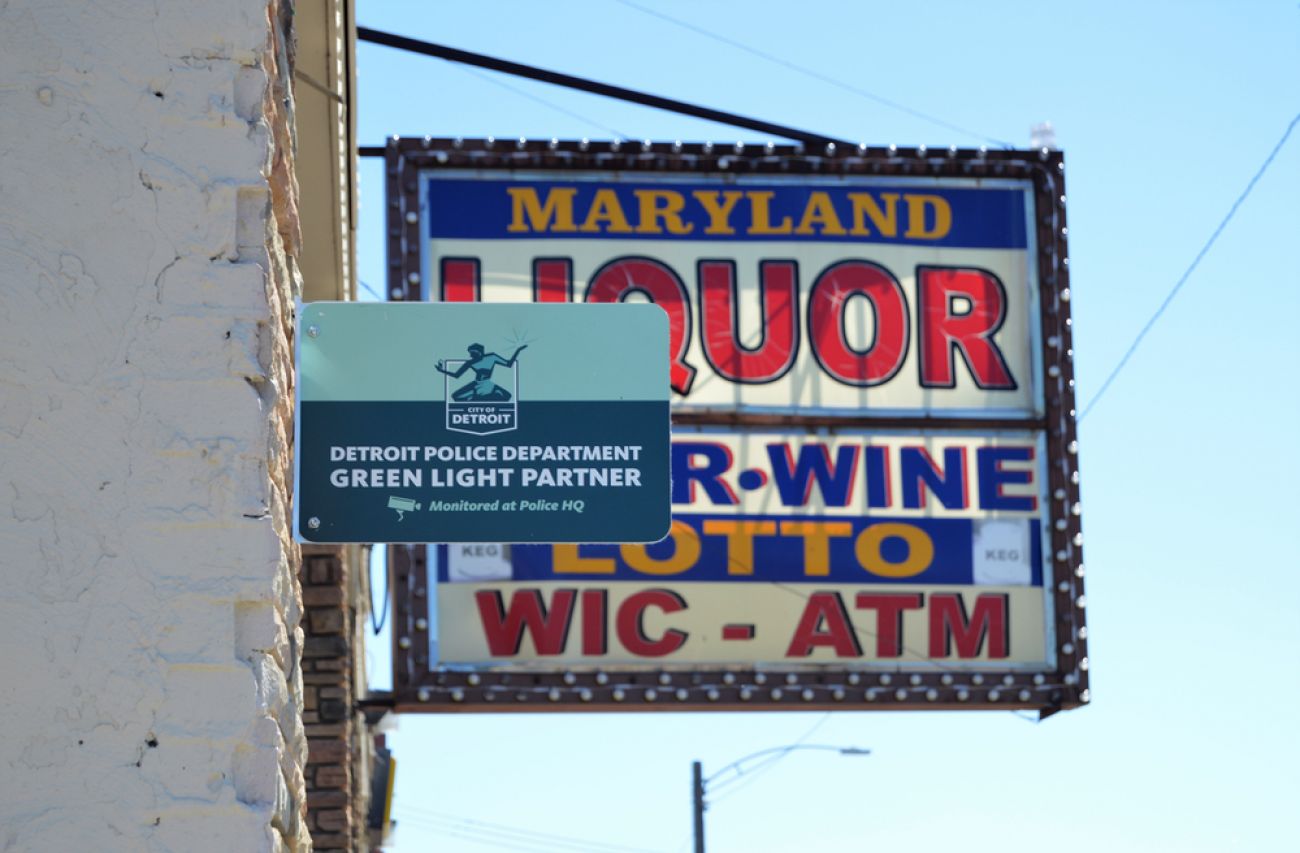 The banter between the cop and the clerks makes it clear Gaines has been in the store many times before. He's expected. It's just a matter of when. At random times throughout the day, police are mandated to visit the store, sign and date a sign-in sheet.
Mustafa Almuhi was working the morning we visited. I asked him what he thought of the program.
"Ah, man, it's working," he said. "Feels a lot safer, feels a lot better, you know what I mean? Knowing that you know you're being watched, being protected, you know, at all times."
He said the store has seen a reduction in crime. Stores report there's an average reduction in incidents of about 40 percent. Almuhi makes sure that customers know the store participates in the program.
"You let them know, 'Hey, we got the Detroit Police watching over here, looking over us,'" he said.
On the way out of the store, we ran into the owner, Jassim Erzouki.
"Oh, it's an excellent addition to the business here. All the families love it in the neighborhood and they feel confident and comfortable and safe coming in. We have rooted out the bad elements that we didn't want around the store. I think that eliminated a lot of bad incidents that happened around the store," he said.
Officer Gaines said any business, whether a restaurant, gas station or retail, can sign up for the Green Light program.
"And businesses that reported having a Green Light have seen a reduction in crime, also an increase in profit because people want to come shop at those businesses," he said.
Now the city is considering an ordinance that would require businesses open after 10:00 p.m. to enroll in the Green Light initiative. But not every store wants to be forced to pay the costs of those cameras.
Cleaning up the wreckage that spawns crime
One big challenge that remains in Detroit is blight. People walking away from their properties, along with foreclosures, are the base of the problem. After that, it's people stealing things out of the empty house.
Some neighborhoods have been devastated by abandoned homes and the scrappers who strip those houses. The MorningSide neighborhood hasn't reached "devastation," but it's been hit pretty hard.
Rev. DaRell Reed is president of the MorningSide Community Organization. He's pastor of a church in MorningSide. He's also a resident and a landlord. He remembers back in 2006 when things started to go wrong.
"I was driving through the community and I saw dumpsters everywhere in front of houses. I say, 'What is going on?' I believe that's when the first wave of people were put out of their houses for foreclosure. And it consistently happened every month," he said.
First it was mortgage foreclosures by banks. Reed said once the houses were empty, there was a rush to steal furnaces, electrical boxes, architectural details of any value.
"Someone with aluminum siding on their house, the entire house would be stripped. And you'll see a guy walking down the street with a buggy full of aluminum siding," Reed said.
It was blatant. And it was just the beginning.
After the foreclosures, property values plummeted further. Real estate assessments did not. For years, people were taxed as if their homes were worth far more than their actual value. After crime, tax foreclosures are now Detroit's biggest problem.
Since Detroit's massive bankruptcy, priorities for the police department have changed. Yes, violent crime is still the top priority, but it's believed minor crimes can quickly lead to a neighborhood's decline.
"If a window is broke, then someone will think no one cares about that property and they'll start dumping on that property or, you know, squatting in the property, or maybe trying to do other illegal activities in that property," said Gaines, the neighborhood police officer.
Unlike a regular patrol officer, Neighborhood Police Officers are assigned to a certain neighborhoods. It's Detroit's version of community policing.
Gaines said he is looking for blight violations. He'll ticket property owners who don't properly board up vacant houses. He'll cite people for high grass, trash containers out when it's not pick-up day, and setting bulk items for trash pick-up too early.
"Mainly, our top things that we look for (are) to make the community look better, make it look more livable, and make the property value increase instead of decrease," he said.
Of course, abandoned houses also decrease property values.
In the MorningSide neighborhood, the Detroit Land Bank Authority reports it's had to tear down 260 abandoned structures in the last three years. Seventeen more are either contracted for, or in the pipeline for, demolition. Neighbors are hoping that happens soon.
Gaines says the Land Bank has been a good partner. When he finds its vacant and unsold properties have not been mowed or need to be boarded up, the land bank is quick to get someone out to take care of the problem.
But some neighbors complain the Land Bank is not enforcing its own rules. When it sells a house, it's supposed to be fixed up and someone living there within six months (nine months if in a historic district). Some houses in MorningSide bought from the Land Bank have been sitting empty for two years.
A spokesman for the Land Bank said they want to give the new owners every chance of success. If that means waiting a little longer, it's better than seizing the house and starting all over.
Illegal dumping
Officer Gaines said that challenges that neighbors in MorningSide can control – such as lawns and trash cans – are important to enforce. But, he added, there are some things beyond the control of the neighbors.
"And probably the biggest issue in MorningSide is this illegal dumping," he said.
Any vacant lot or abandoned house is a target for dumpers. But there are favorite places for illegal dumpers, such as Barham Street in the MorningSide neighborhood.
"It's the perfect dumping ground," Gaines said. "You know, you don't have many houses."
We drove by a couple of couches and a bunch of other trash dumped by the street. I've driven this street several times before and there's always different dumped items.
"It's always something. And you've got City of Detroit DPW out here," Gaines observed after we spotted the white trucks.
We stop to chat with the workers. That day, two crews from the Department of Public Works were cleaning up dumped construction debris, piles of tree limbs, furniture, and just household trash thrown along the street.
It's hard to say who is dumping. Neighbors who've found envelopes with addresses in the trash have done what they can to track down those dumpers. But they say big trucks sometimes dump construction debris in the middle of the night. Few are caught.
Crime in Detroit's neighborhoods can be violent. Murder, theft, assault on your person. It can also be a denigration of life in those neighborhoods, an abuse that reflects outsiders' disrespect for people trying to make life better for themselves and the neighbors in their community.
Only donate if we've informed you about important Michigan issues
See what new members are saying about why they donated to Bridge Michigan:
"In order for this information to be accurate and unbiased it must be underwritten by its readers, not by special interests." - Larry S.
"Not many other media sources report on the topics Bridge does." - Susan B.
"Your journalism is outstanding and rare these days." - Mark S.
If you want to ensure the future of nonpartisan, nonprofit Michigan journalism, please become a member today. You, too, will be asked why you donated and maybe we'll feature your quote next time!