Articles
May 13, 2019 | Mike Nystrom
Michigan roads have to be fixed and the money has to come from somewhere. Mike Nystrom responds to some of the common questions.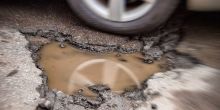 November 3, 2017 | Mike Nystrom
Michigan routinely chooses to react to crisis after crisis instead of properly funding infrastructure systems that keep our communities safe
May 6, 2016 | Mike Nystrom
The bad news: It's not just the state's roads that are in terrible shape. And it won't be cheap to fix, either.