Articles
January 17, 2019 | Ron Koehler
You can't fatten a hog just by weighing it more often, says Ron Koehler
June 1, 2018 | Ron Koehler, Sunil Joy
You've read the doom-and-gloom stories. But they fail to point out how well many Michigan students are doing.
March 1, 2018 | Ron Koehler
Our lack of concern for children begins far earlier than their exposure to gunfire by intruders with assault weapons.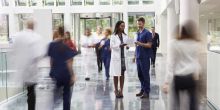 August 3, 2017 | Ron Koehler
Studies show that healthy children perform better in school. Deep cuts in Medicaid funding from the demolition of the Affordable Care Act could leave tens of thousands of Michigan kids without health care.
February 24, 2017 | Ron Koehler
C----- C--- is the standard-which-must-not-be-named, but we still need agreement on what students need to learn in Michigan. And we need to keep them in place long enough to know whether they actually work.
October 7, 2016 | Ron Koehler
Tax reform? We have consensus on that. Schools? Not so much, but this educator has some suggestions
September 16, 2016 | Ron Koehler
The long-awaited Michigan Education Finance Study emphasizes that money matters in education, but firehose funding isn't the answer to improving Michigan schools. Aid targeted to student populations most at risk of underachieving would be a good start