Steve Tobocman is director of Global Detroit, which documents immigrants' impact on regional economies.
Articles
July 1, 2020 | Steve Tobocman
Former state Sen. Morris Hood III, who died of the coronavirus this spring, was a revolutionary leader who pushed against hyper-partisanship and never strayed from fighting for the people who put him in office.
November 22, 2019 | Steve Tobocman, John Austin
President Trump cut off one of Michigan's only sources of population growth — resettlement — but pure outrage and righteousness directed at his stance on immigrants can be polarizing.
July 29, 2019 | Steve Tobocman
Many places in Michigan are losing population. The solution: Visas specifically for skilled immigrants willing to move there. It's an idea based on successful programs in Canada and Australia.
October 16, 2018 | Steve Tobocman
Look at the data, and you'll see how much immigrants contribute to Michigan's economy, and the state's future.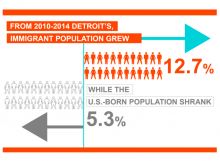 November 3, 2016 | Steve Tobocman
That the city has lost U.S.-born residents isn't news. That the foreign-born are taking their places – and improving the city in the bargain – might be