Big Ten may cancel Michigan football. In Ann Arbor, businesses brace for worst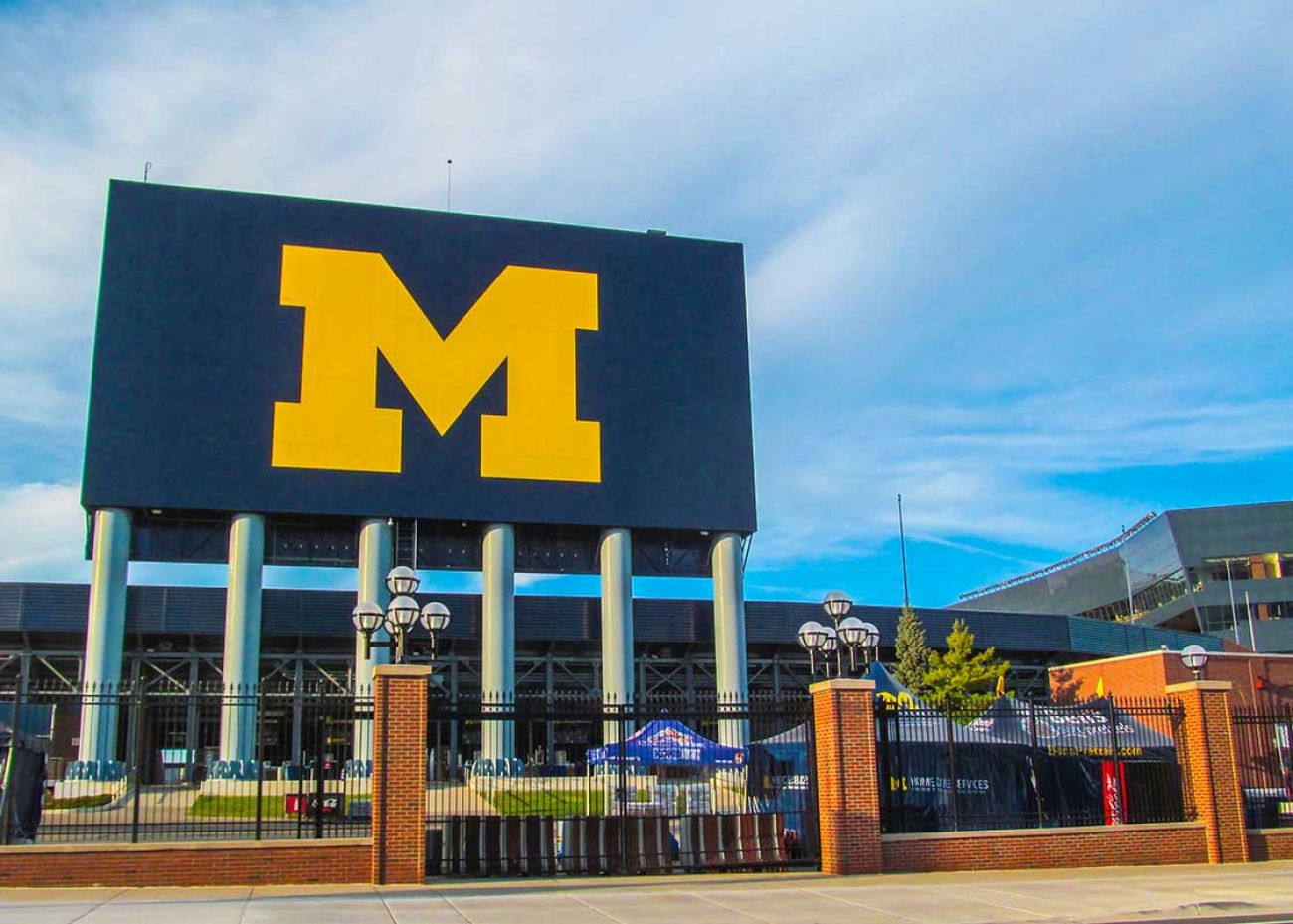 Business Watch
Big Ten may cancel Michigan football. In Ann Arbor, businesses brace for worst
ANN ARBOR — Michigan football likely won't be played at The Big House in 2020 and after months of business losses and pandemic pressures, Tom Murray says it feels worse than a last-second loss to a bitter rival.
"It's a shock," said Murray, owner of Conor O'Neill's Irish Pub on South Main Street, "even though deep inside I knew it was going to happen."
The Big Ten Conference reportedly voted 12-2 on Sunday to cancel play but is expected this week to finalize the decision, which would reverberate in Ann Arbor, home of the University of Michigan and East Lansing, home of Michigan State University. The move follows the Mid-American Conference's decision this weekend to cancel its football season, affecting Central, Eastern and Western Michigan universities.
Related:
The universities are already sorting out how academics will change this fall amid COVID-19 and concerns about students, faculty and visitors converging on their towns. But few cities perhaps will feel loss as acutely as Ann Arbor, where the Wolverines have created a culture and economy that permeates the city every fall.
U-M football generates the third highest revenue among college football teams in the United States, pulling in $122.3 million per year, according to the U.S. Department of Education, thanks to ticket sales, licensing agreements and television rights.
The stakes are high for the university, which already forecast a $61 million athletics department shortfall this year while anticipating some limited in-person fans for each of five home games in a recently revised conference-only schedule.
The economic impact wouldn't end there. Home football season has long been the busiest time of year downtown, as at least 111,000 fans filled the stadium and more came to town to watch the games in bars and at parties across the city.
Now, many business owners will continue to just try to survive, as they have for months.
"For downtown Ann Arbor, it's going to make a huge, severe impact," Murray said.
A study by Anderson Economic Group of East Lansing in 2015 looked at the economic impact of the 2013 season. At that time, at least $81.8 million in spending was tied to U-M football; the figure would be millions of dollars higher in 2020, business owners say.
According to the report, "visitorship related to University of Michigan home football games, including ticket holders, visiting team attendees, and visitors to the area that do not attend the games, brought over 632,000 visitors from outside of the Ann Arbor area."
Visitors' parking expenses alone fuel part of the economy: They pay $50 or more to park in church and nonprofit parking lots, at Pioneer High School, on the grass at Ann Arbor Golf and Outing and on lawns up and down the streets surrounding The Big House.
To be sure, football spending is just a small portion of Ann Arbor's $24 billion annual economy, which counts health care, technology and education as top employers. But the reach of the football Saturdays seems endless.
There are vendors inside the stadium, some staffed by Washtenaw County nonprofit volunteers, selling licensed products and food. Hotel rooms, which may be booked months in advance, can get their highest rates of the year, depending on the game. Among the crowds: some of the 630,743 U-M alumni who plan reunions around home games.
Restaurants count on bookings from football traffic, starting on Thursday nights. Filling those restaurants are food and beverage deliveries from suppliers across southeast Michigan.
"The University of Michigan is the economic engine to the city of Ann Arbor and surrounding communities," said Ed Shaffran, a longtime developer based in the city. "If it's a V8 engine, football is certainly more than one or two of the sparkplugs to that engine."
For at least three months, from late August through Thanksgiving weekend and the traditional game against the Ohio State Buckeyes, football permeates the city of 122,000 residents. For retailers, it's like the Christmas season starts near Labor Day.
"Thousands of people walk the streets downtown on a football Saturday," Shaffran said. "Those folks will be missed. "
The cancellation would come as many retailers and restaurants in town are trying to recover from the months when the state was under a stay-at-home order makes it that much harder, Shaffran said. Many restaurants already have closed, including Logan and Arbor Brewing Company, and more are likely to follow.
"You'll see more and more restaurants and retail establishments fold," he said. "I don't think there's any question."
Katherine Farrell owns Katherine's Catering in Ann Arbor. She's a season ticket-holder who tailgates every football Saturday, and she'd hoped games would still be possible without crowds inside the stadium. "I have so much empathy for the players, coaches and students," she said. "You build up your whole life for this [opportunity to play.]"
Farrell said she would miss the season, and echoes the worry for downtown: "For so many restaurants, that fall season is what their whole year counts on."
U-M has been among Farrell's biggest clients, ordering for tailgates and other events for up to 1,000 people. Cooking for reunions, visiting teams and alumni gatherings is big enough that she and her staff would have to pull all-nighters to deliver food to parties meeting before a noon kickoff.
The possible loss of that business along with other large-crowd events caused Farrell to readjust expectations for the year. "We're projecting 75 percent of our sales are lost this year," she said.
On Potter Street, just a block west Michigan Stadium, homeowners immersed in game-day culture have a vibrant parking economy. Phil Ristenbatt bought a duplex on the street in the 1980s, and he still lets people park on its lawn.
"I'm not one of the neighbors that makes a living off this," said Ristenbatt, noting that many people on the street will use parking income to pay their property taxes. "I'm there to enjoy the day."
The collegiality is a big part, said Ristenbatt, an Ann Arbor native whose family has had season tickets since the mid-1960s. On those streets surrounding the stadium, the sidewalks and lawns fill with fans in team colors, with beer coolers and grills active during the game.
Ristenbatt said he'd miss that this year, but understands what would be behind the decision. He worries about the neighbors, some of whom stood up at a meeting with U-M a few years ago during some concerns with stadium expansion. "They said, 'I rely on this income,'" Ristenbatt recalled during the parking discussion.
Replacing lost income already is a focus for Farrell's catering business and Conor O'Neill's.
Katherine's Catering is now doing a lot of dropoff events, leaving food on doorsteps or setting up tables with plastic partitions. She's also turned to cooking take-home meals for individuals, bringing about 30 of her previous staff of 125 back to work.
Murray, who opened his Irish pub 22 years ago, is feeling the loss of more than football. His pub offers many sports-related viewing events or related gatherings, and U-M bookings in his banquet room have been canceled. With fewer people working downtown, he doesn't open for lunch on most days.
But he's already looking ahead at how to rebuild some business from the loss of football traffic. Ann Arbor closed some downtown streets on weekends to allow restaurants to expand, and recently extended that until the end of September. Murray is wondering if five-day or seven-day closures through early fall will help.
"We're trying to strategize about how we're going to overcome it," Murray said. "Hopefully the COVID numbers will stay the same and not get worse."
We're not just a news organization, we're also your neighbors
We've been there for you with daily Michigan COVID-19 news; reporting on the emergence of the virus, daily numbers with our tracker and dashboard, exploding unemployment, and we finally were able to report on mass vaccine distribution. We report because the news impacts all of us. Will you please donate and help us reach our goal of 15,000 members in 2021?