Lordstown, Ohio gives Michigan hint of how EV battery plant changes economy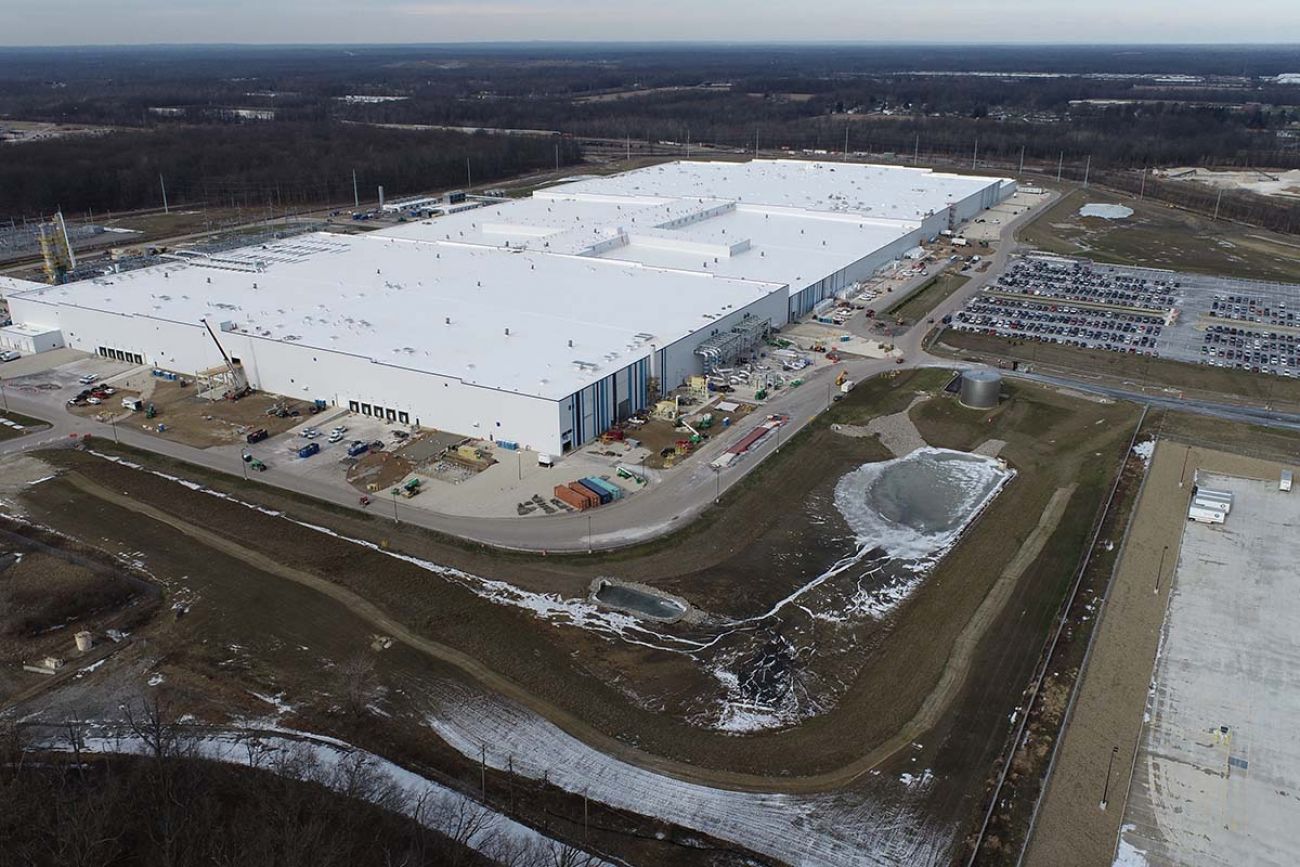 At 2.8 million square feet, the new Ultium Cells factory in Lordstown, Ohio, is the size of 30 football fields. It's also turning into an economic driver for the region. (Submitted photo)
LORDSTOWN, Ohio — Quitting time once again means something in this factory town, where a parade of pickups and SUVs heads toward the turnpike every day just after 4 p.m.
Some join the roaring semis heading west toward greater Cleveland and beyond. Most aim southeast toward Youngstown, the biggest city between the industrial landscape and the former steel hubs about 20 minutes away in western Pennsylvania.
The rest seem to jam into the parking lot of Earl Ross' bar.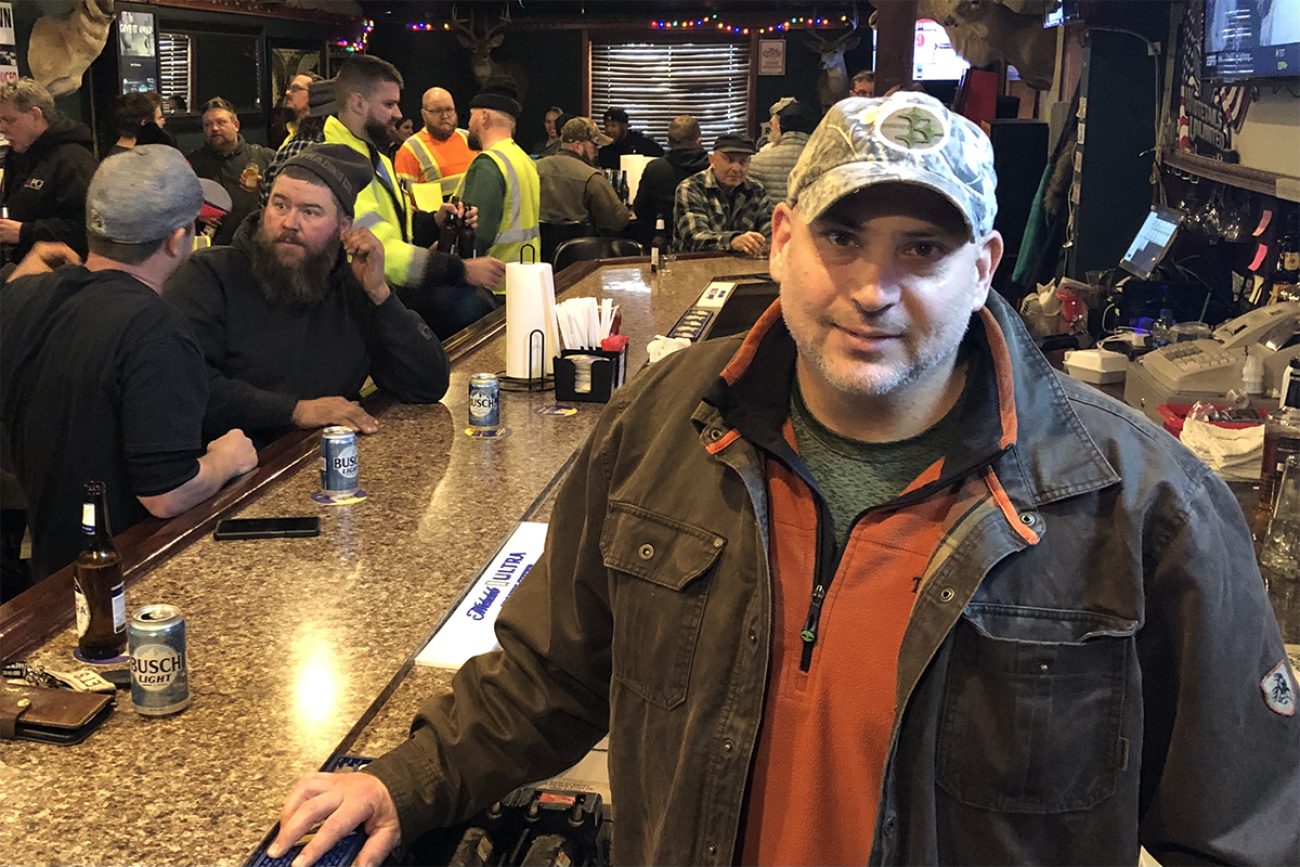 Earl Ross has owned the only bar near the Lordstown, Ohio, factories since the 1990s, when General Motors Corp. operated three shifts a day. He was down to two employees before Ultium Cells and Lordstown Motors chose eastern Ohio for electric vehicle-related manufacturing. (Bridge photo by Paula Gardner)
On a snowy Thursday afternoon, Ross is ready for them with cans of Busch Light in the cooler and the Red Hot Chili Peppers on the speakers. It doesn't take long for Ross' Eatery & Pub to fill with men in camouflage caps who are still wearing work safety vests.
In this village of 3,300 where General Motors Corp. employed as many as 8,000 before it closed a plant in 2019, Ross' business is once again thriving: The busy after-work crowd follows lunch rush, and that comes after a morning filled with prepping the day's food, catering breakfast for 500 people and filling pizza boxes for delivery at lunch.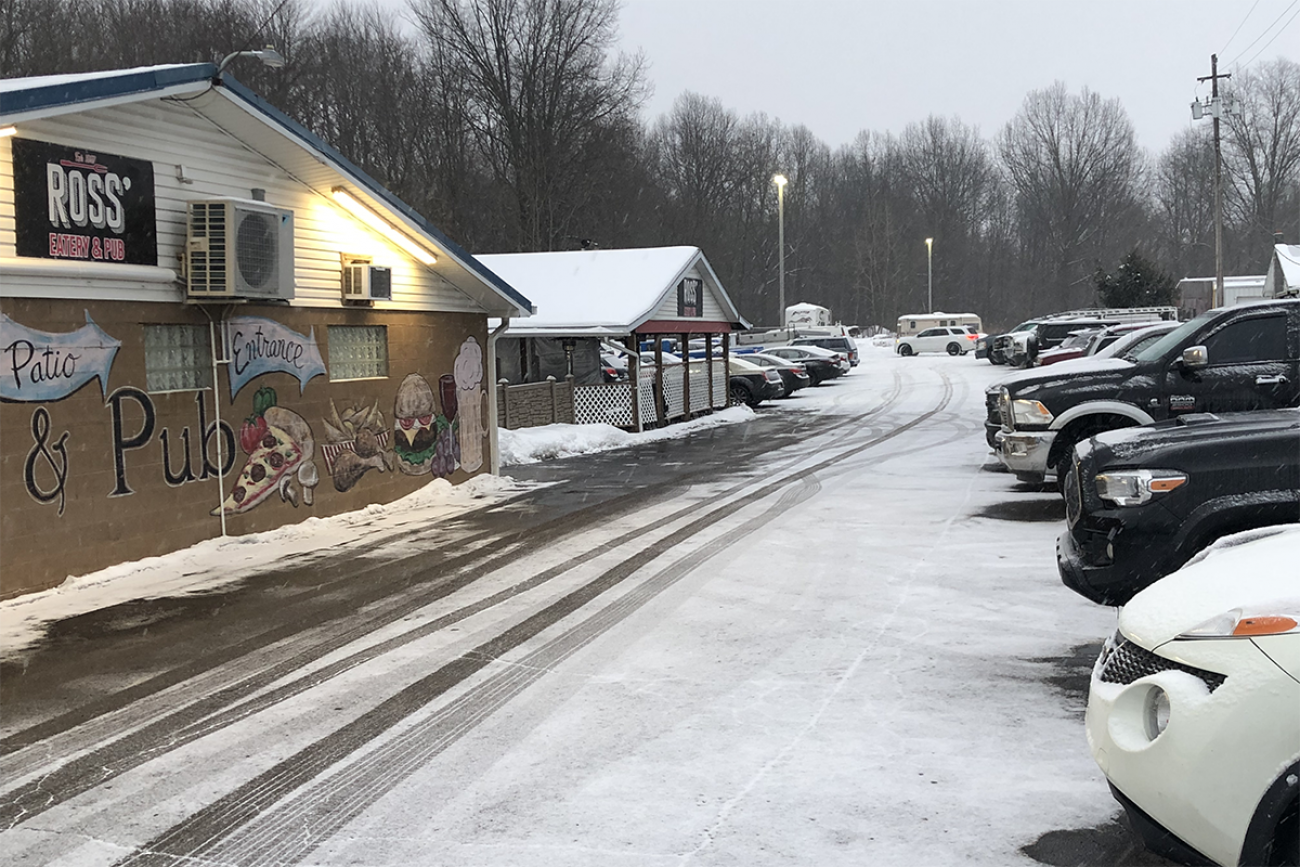 Ross' Eatery & Pub depends on nearby worker traffic for its take-out market and bar. (Bridge photo by Paula Gardner)
The devastation of GM closing its Lordstown assembly plant, followed by the pandemic, seems distant when the bar runs out of seats on weekday afternoons. Ross, owner of the only bar for miles, knows exactly how his new customers find him.
"The only reason they're in Lordstown, Ohio, is because of work," Ross said.
For almost two-thirds of Ross' new regulars, that work is at the new Ultium Cells electric vehicle battery factory that will open in August.
Lordstown area:
Regional population: 531,420
December unemployment: 4.3 percent
Unemployment in January 2020: 7 percent
Average hourly wage: $20.94
Employed in manufacturing: 23,100
Average hourly wage for manufacturing: $19.43
Labor force decline from January 2020 to today: 5.6 percent
Lansing area:
Regional population: 548,248
December unemployment: 4.8 percent
Unemployment in January 2020: 3 percent
Average hourly wage: $26.35
Employed in manufacturing: 18,800
Average hourly wage for manufacturing: $21.33
Labor force decline from January 2020 to today: 4.6 percent
(Source: Federal data for the respective Metropolitan Statistical Areas.)
The factory will be the first in the United States for General Motors and LG Energy Solution under the Ultium Cells partnership. Two more are planned: Next is in Spring Hill, Tennessee, once home to Saturn, while the third will be in Lansing, the company announced in late January.
Lordstown could offer a glimpse into Michigan's future, as automakers spend billions in their race to convert production to zero-emission vehicles. Giant battery factories are vital to that transition, and Michigan and other states are vying for them with tax breaks and other incentives not just for their jobs, but because of spinoff businesses to supply them.
Michigan offered incentives worth about $524 million for the Lansing plant, which is expected to employ 1,700 people within five years of its opening in 2025, compared to 1,200 eventually in Ohio after the Lordstown plant opens this summer.
Traditional auto production generates some of the highest economic impact possible: for every 100 manufacturing jobs, more than 700 can be created, according to the nonprofit Economic Policy Institute. The spinoff won't be as great for electric vehicles, which require fewer suppliers, said Albert Sumell, an economics professor at Youngstown State University. However, he added, it's still boosting the economy.
Related stories:
Michigan Gov. Gretchen Whitmer, in announcing the Ultium factory in Lansing along with EV expansion in GM's Lake Orion factory north of Detroit, called the projects "transformational."
She and other state officials say they are important to retaining the auto industry's estimated $225 billion value to the state, along with about 291,000 jobs, 4,200 of whom are GM workers in Lansing.
Lordstown's Ultium Cells plant is two years ahead of Lansing, and the village dominated by farm fields and factories is reaping benefits that go far beyond the after-work bar spending among the 1,600 workers who are building the factory.
The 2.8 million-square-foot battery plant is reinvigorating industrial development, sending land prices higher for related businesses and attracting millions in investment from others, like warehouses and utilities.
The influx of commuting workers — nearly 2,000 aside from Ultium Cells — may spur residential growth. And regional officials see potential to attract still more mobility jobs.
The stakes are high for Guy Coviello, president and CEO of the Youngstown/Warren Regional Chamber. Like officials in Michigan, he's trying to cement his region's place in the future of the auto industry.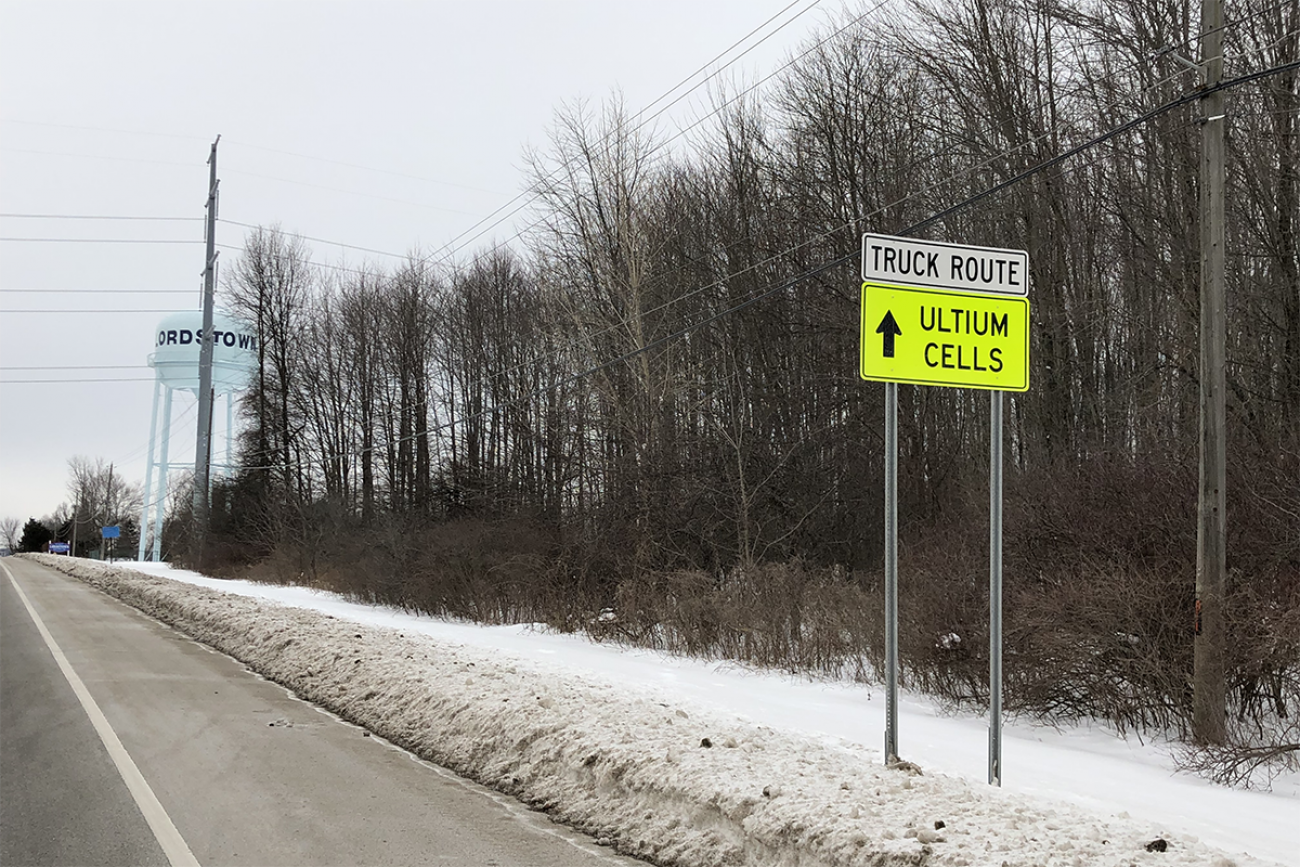 Ultium Cells will open its first U.S. electric vehicle battery plant this summer, with about 600 workers. It's expected to grow to 1,200 employees. (Bridge photo by Paula Gardner)
Lordstown is in the center of a region that is looking to become an EV development hub for the United States. Michigan may have the engineers, but the Mahoning Valley of western Ohio has two other specialties in Its bullseye: advanced manufacturing and energy storage technology.
"We are stepping up," Coviello said, "because we see all of these opportunities."
'There's more energy'
GM's former Lordstown factory has long-dominated the village's exit on Interstate 80, a giant mural facing the highway celebrating Chevrolet Cruze production until it closed and then was acquired by EV maker Lordstown Motors.
At 6.2 million square feet, it's more than twice the size of the new battery plant which, on its own, is about as large as 30 football fields. The new plant is being built on formerly vacant land once owned by GM that is quickly becoming a red-hot industrial corridor.
Yet Lordstown retains much of its rural qualities, too. Its homes are large lots on two-lane roads where signs warn drivers about fines if they dump pets. There is no downtown, just a municipal center with a library, fire hall, city hall and a short dome for road salt, all across the street from a church.
Housing is scarce for the temporary transplants, so their presence spreads for miles: north to Warren, southeast to Youngstown and sometimes beyond. Six miles away, in the town of Niles, long-term hotel guests include the plant's human resources workers, some who may be there from South Korea or others who come from LG Chem sites in Michigan or New Jersey.
Retail isn't growing fast, either. There's a cafe across from the high school and upgrades to the Dairy Queen. One gas station. Ross' bar and market. And a partially vacant strip center north, near the village's northern limits, where the temporary Ultium Cells HR office and training room shares space with Subway and a veterinary clinic.
The Hoot & Holler convenience store and carryout restaurant a few miles northwest of the Ultum Cells factory is among the places that closed in the past few years, but new owners just reopened it, christening it "The Lordstown Comeback."
"There's nothing around," said Theresa McCartney, who was working the lunch shift. "Now, everyone is excited about the movement around here. There's more energy."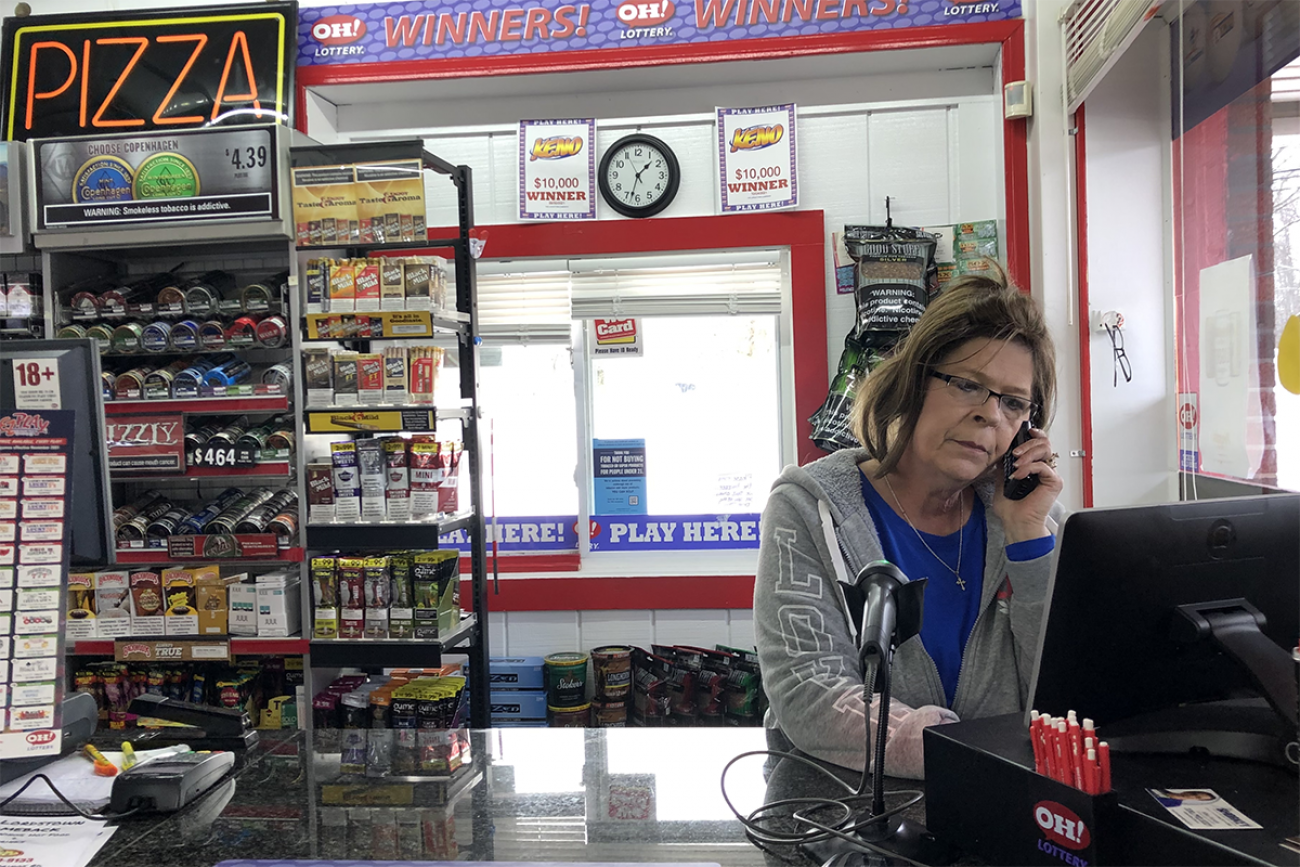 Theresa McCartney takes a lunch order at The Lordstown Comeback. The new owners hope the name comes true. Six months after opening, battery plant workers are finding their way to the convenience store and carryout restaurant. (Bridge photo by Paula Gardner)
The comeback is all about industrial development in Lordstown, and Ultium Cells is at the front of that line.
More than 1,600 people over the past two years have played a part in building the massive plant, from erecting steel beams, to setting the floor, and adding the walls, roof, and utility service. Finish work, like the lobby, offices and clean-tech space comes next.
So far, other industrial businesses are springing up around it: Old Dominion's $7 million freight terminal, approved in 2020, four months after the Ultium Cells plant was announced. Toronto-based Li-Cycle Holdings Corp. in late January announced plans to operate its sixth and largest lithium-ion battery recycling facility.
They're joining a 1.2 million-square-foot distribution center for TJ Maxx/HomeGoods that opened on the other side of the turnpike in spring 2021, with about 1,000 workers ratifying a union contract — along with $3 per hour raises, bringing starting pay to $17 or more — a few months later.
A new 1.1 million-square-foot distribution center for TJ Maxx and HomeGoods, left behind the trees, opened last year. Workers unionized within months. (Bridge photo by Paula Gardner)
And jobs have returned to the former GM factory: GM sold the plant to Lordstown Motors to produce the Endurance EV truck. Those plans stalled as the company warned in 2021 that it was near bankruptcy, the CEO and CFO had resigned and the federal Securities Exchange Commission was questioning if it had misled investors. But about 500 people now work there, many coming from overseas, after Foxconn agreed to buy it and produce the trucks.
Even with the uncertainty over Lordstown Motors, many in the community see waves of opportunities in the new companies and know more are coming.
"A lot of places fall apart," Lordstown Mayor Arno Hill said of communities that lost major employers. "But we're rocking and rolling here. We're the economic driver for the Mahoning Valley."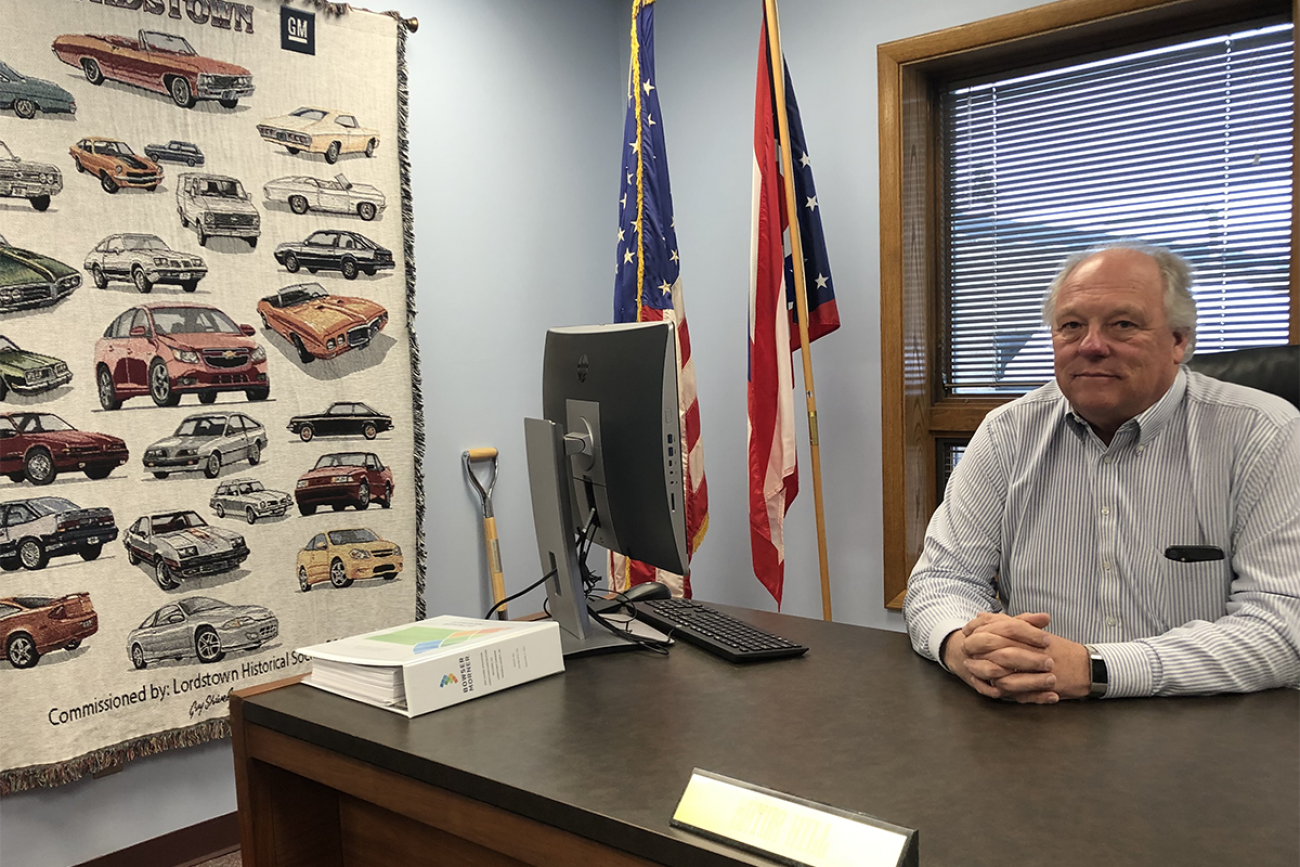 Lordstown Mayor Arno Hill said General Motors Corp. had a "good rapport" with the village for 53 years. Now he's looking to the village's extensive infrastructure — including natural gas, water service, electrical capacity and transportation — to lure new industrial development. (Bridge photo by Paula Gardner)
Coviello, the chamber leader, agreed. He said he expects another company to announce plans in Lordstown soon.
Land prices of $30,000-plus per acre just a few years ago seemed aspirational, said Dan Crouse, a commercial broker at Platz Realty Group. Today, he said he's in negotiations for a deal at that price and interest is "off the charts."
Lordstown can tout utility access, the turnpike with proximity to interstates 80 and 76, and what Crouse called "the largest rail yard between New York and Chicago."
Hill said at least 300 acres in the village is ready for another large development. More could come if federal funding could aid wetlands mitigation, something that Hill said he hopes the Ohio congressional delegation will push.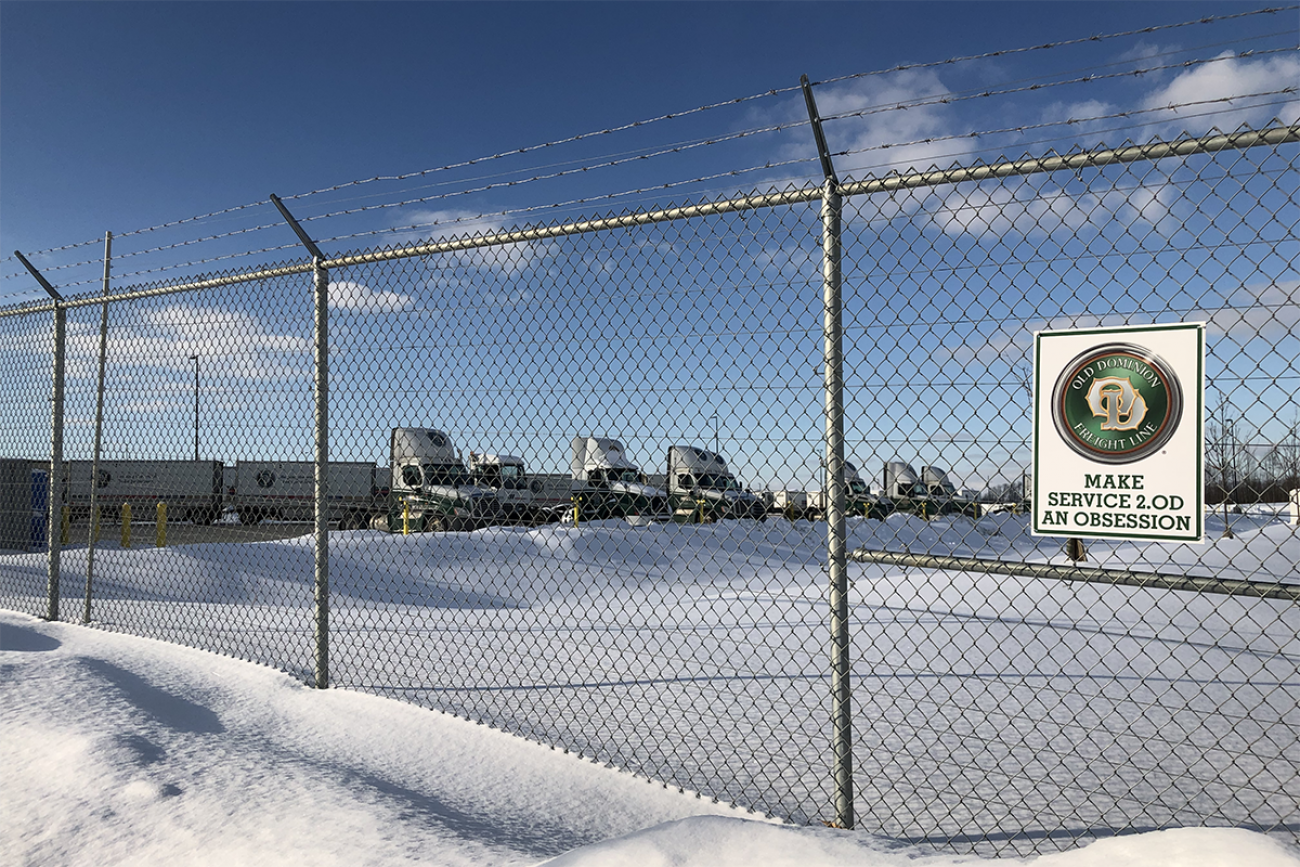 Business growth in Lordstown includes places like trucking company Old Dominion, which built a new facility just south of Ultium Cells. The Ohio Turnpike and extensive rail lines make the area attractive for logistics companies, officials said. (Bridge photo by Paula Gardner)
Any new large-scale construction probably has a 2.5 year construction cycle, Crouse said. But ripple-effect real estate deals happen in the meantime. A company related to LG Chem just bought a former bank headquarters for office space, and smaller warehouses have been in demand for storage of building materials.
In the broader area, the shortage of executive housing as some start to move families to the region is prompting some higher-level workers to lease homes in suburban Cleveland. Apartment development could take off, maybe in underused office buildings nearby, Crouse said.
Even more year-round campgrounds would have made a difference in Lordstown, he said, for the construction workers from Michigan-based Barton Malow and elsewhere who traveled to the area for the short-term assignment and may have been trying to save on costs.
Crouse's advice for the Lansing area is not to solely focus on the benefits of a fully staffed factory. The construction phase could "feel like winning the lottery," he said. "For a short time.
"Think about how we cater to the people coming in to do this work."
'A relatively decent salary'
The north end of Lordstown Plaza, a former Dollar General, is busy again, as banquet tables serve as makeshift desks for Ultium Cells staff welcoming newly hired workers for safety training in a nearby classroom.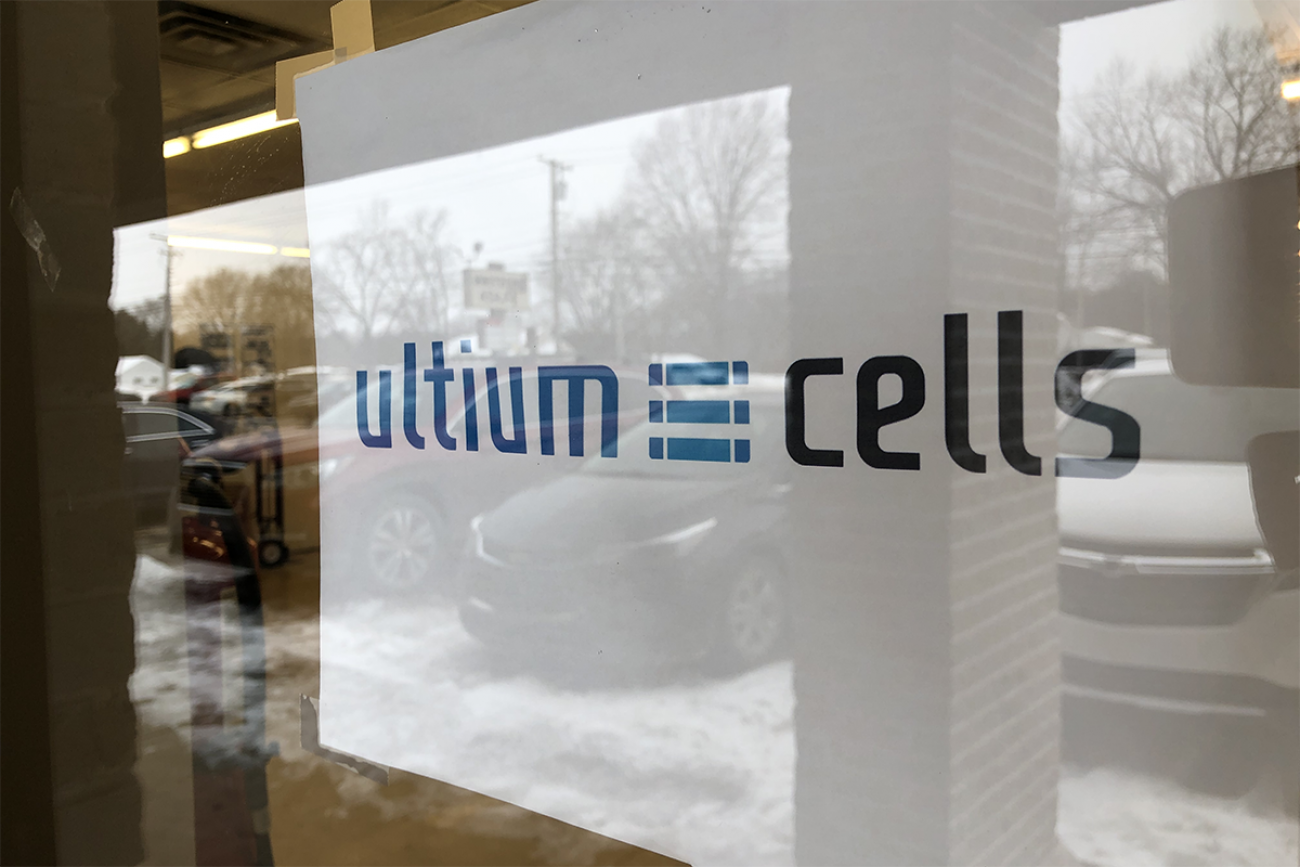 A paper sign taped to the door of a former Dollar General store belies the investment of over $1 billion into the battery factory by the partnership between General Motors and LG Energy Solution. (Bridge photo by Paula Gardner)
This — along with a hiring center in the Eastwood Mall, a 20-minute drive from the north edge of Youngstown — is the hub of the new workforce that GM is counting on for seven-day-a-week shifts to make its EV batteries.
Recruiting is as tough as anywhere in the nation, said Coviello of the chamber. The business community is advocating for the jobs, even as industries seem to compete for the same workers, and workforce training efforts are trying to prepare more potential employees for the advanced manufacturing jobs that are more complex than in the old factories.
"Recruitment is going exceptionally well," Ultium Cells spokesperson Brooke Waid said. "We have very much keen interest."
Of the "thousands of applicants," about 200 have been hired, Waid said. That should climb to 600 by year-end, and ultimately reach 1,200.
Some in Lordstown say the company is picky with its hiring.
But Waid stressed that Ultium Cells is ready to train the right people and no prior manufacturing experience is needed.
"We look for soft skills," she said, "and we look for leadership."
Production employees will be paid $15 – $22 per hour, based upon experience and skills, Waid said. The company also pays a quarterly bonus and offers benefits on the first day of employment, she said.
Starting pay in Lansing's Ultium Cells factory is expected to be $22.50 per hour, or $900 per week. That annual pay of $46,800 is about 5 percent higher than the average manufacturing pay in the area.
In Lordstown, the pay range is higher than at many other manufacturing sites now that General Motors closed its plant that paid $30 an hour, said Sumell, the Youngstown State professor.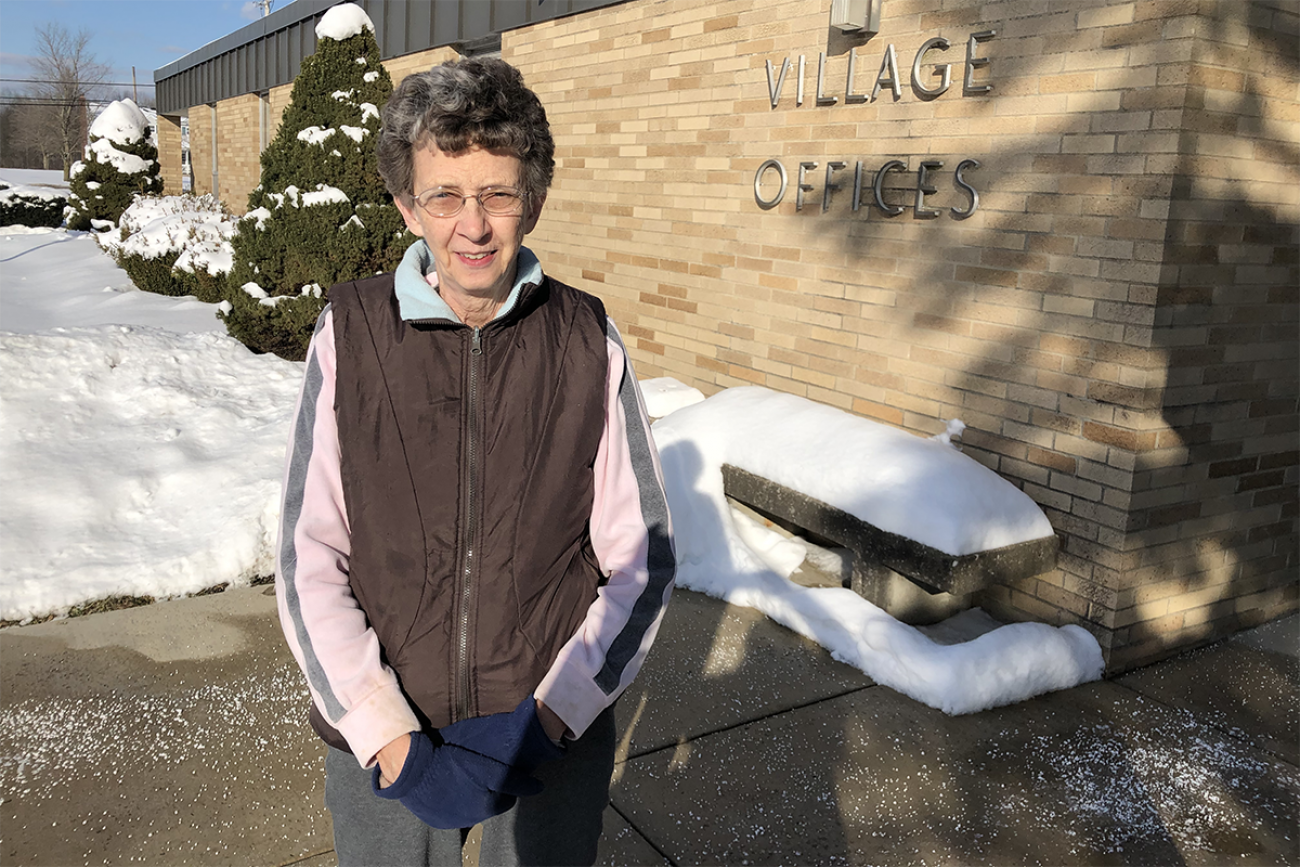 Sharon Douglas of Youngstown calls the departure of General Motors in 2019 "devastating," but said the community is now thankful for the jobs coming to the Ultium Cells batter plant. (Bridge photo by Paula Gardner)
"It is, unfortunately, a relatively decent salary for this area," Sumell said. "It would be attractive to a lot of people who live here."
The Lordstown region's economy is worse than before GM closed four years ago, Sumell said, but it's hard to distinguish the effects of GM leaving from the pandemic. Fewer jobs are a result, and it still lags in higher-skilled jobs that require higher education.
But for a place like eastern Ohio — or even many places in Michigan — that tries to replace lost manufacturing jobs with sustainable new ones, "all jobs are good jobs," Sumell said. The growth at Ultium Cells and others, he added, means "we're on a positive trajectory."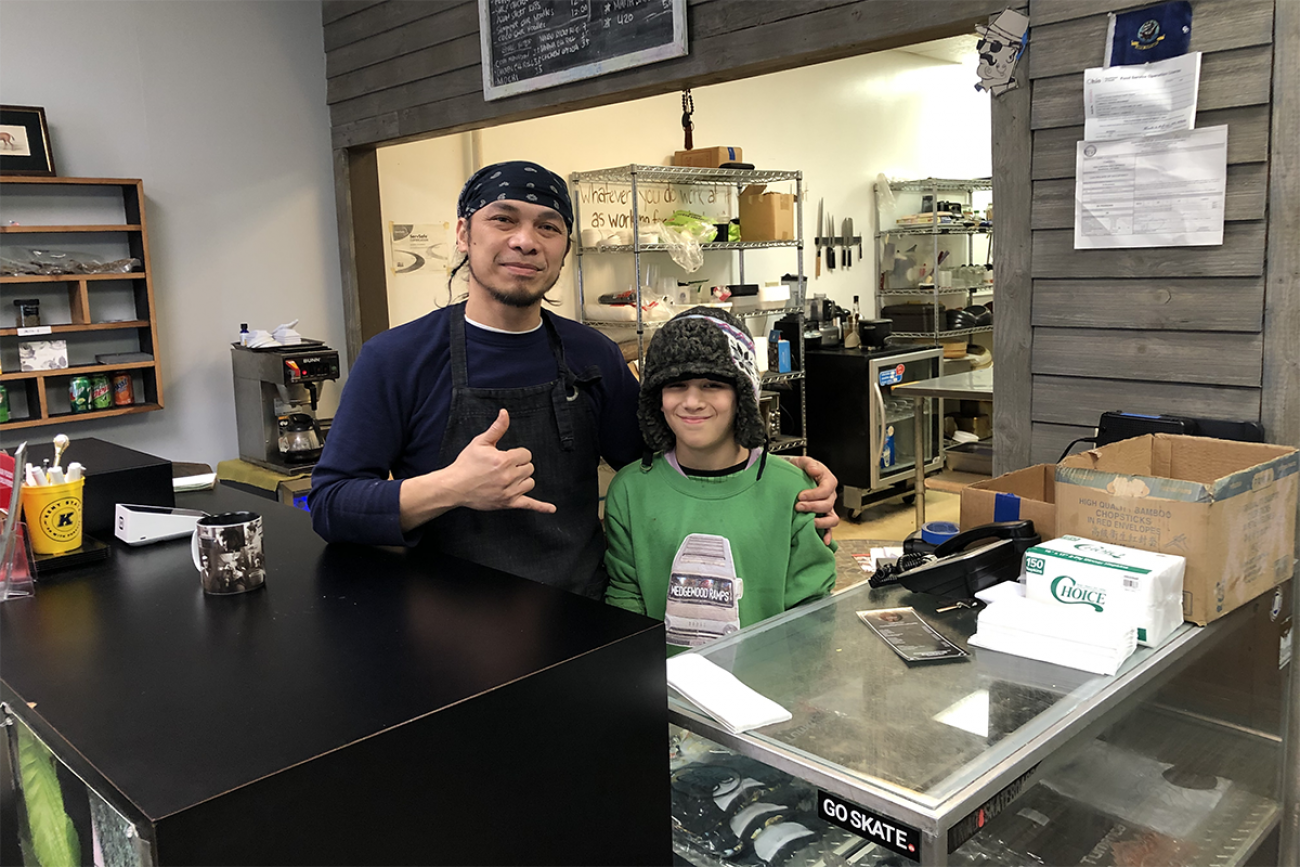 Owner Hendrix Muhammad and his son, Dion, 11, are the only staff at Tumerica Asian Soul Kitchen. Lordstown was a "ghost town" when it opened, Muhammad said, but business is growing now, thanks in part to the Ultium Cells temporary offices a few doors north of the restaurant. (Bridge photo by Paula Gardner)
Among the job openings at the Ultium Cells plant also are professional skilled jobs, like IT, purchasing and logistics roles.
In Lordstown, like in Lansing, the workers will pay income tax on their earnings. Lordstown charges 1 percent, the same that Lansing residents will pay when the Michigan plant is opened. Non-residents in Lansing will pay 0.5 percent, city officials said.
The municipal tax helps smooth the incentives in Lordstown, Hill said.
There, a $13.8 million tax break was part of the Ultium Cells deal — as long as it generates $45 million in annual payroll starting in 2027 and stays in Lordstown for at least 18 years. (GM had to give the state $40 million when it closed Lordstown midway through an earlier tax break. )
Despite all of the gains from construction and the early hiring, it is still unclear whether the Ultium Cells plant and the EV efforts in the Lordstown region will transform the greater economy, Sumell said.
There's potential for an industry cluster, he said. Conversely, he added, "there's potential for a one-off."
Either way, he said, the region's ongoing rebound has taught it not to depend on a single employer.
"We've turned a corner," Sumell said. "We've become, in some ways, more resilient. Also more diversified. I think the key to any economy as far as long-term growth is diversification and not being beholden to any particular firm or any particular industry.
"That is the most positive change that comes from all of this."
Business Watch
Covering the intersection of business and policy, and informing Michigan employers and workers on the long road back from coronavirus.
Thanks to Business Watch sponsor:

Support Bridge's nonprofit civic journalism. Donate today.
Only donate if we've informed you about important Michigan issues
See what new members are saying about why they donated to Bridge Michigan:
"In order for this information to be accurate and unbiased it must be underwritten by its readers, not by special interests." - Larry S.
"Not many other media sources report on the topics Bridge does." - Susan B.
"Your journalism is outstanding and rare these days." - Mark S.
If you want to ensure the future of nonpartisan, nonprofit Michigan journalism, please become a member today. You, too, will be asked why you donated and maybe we'll feature your quote next time!