Michigan startup makes device that collects CO2 from semitruck tailpipes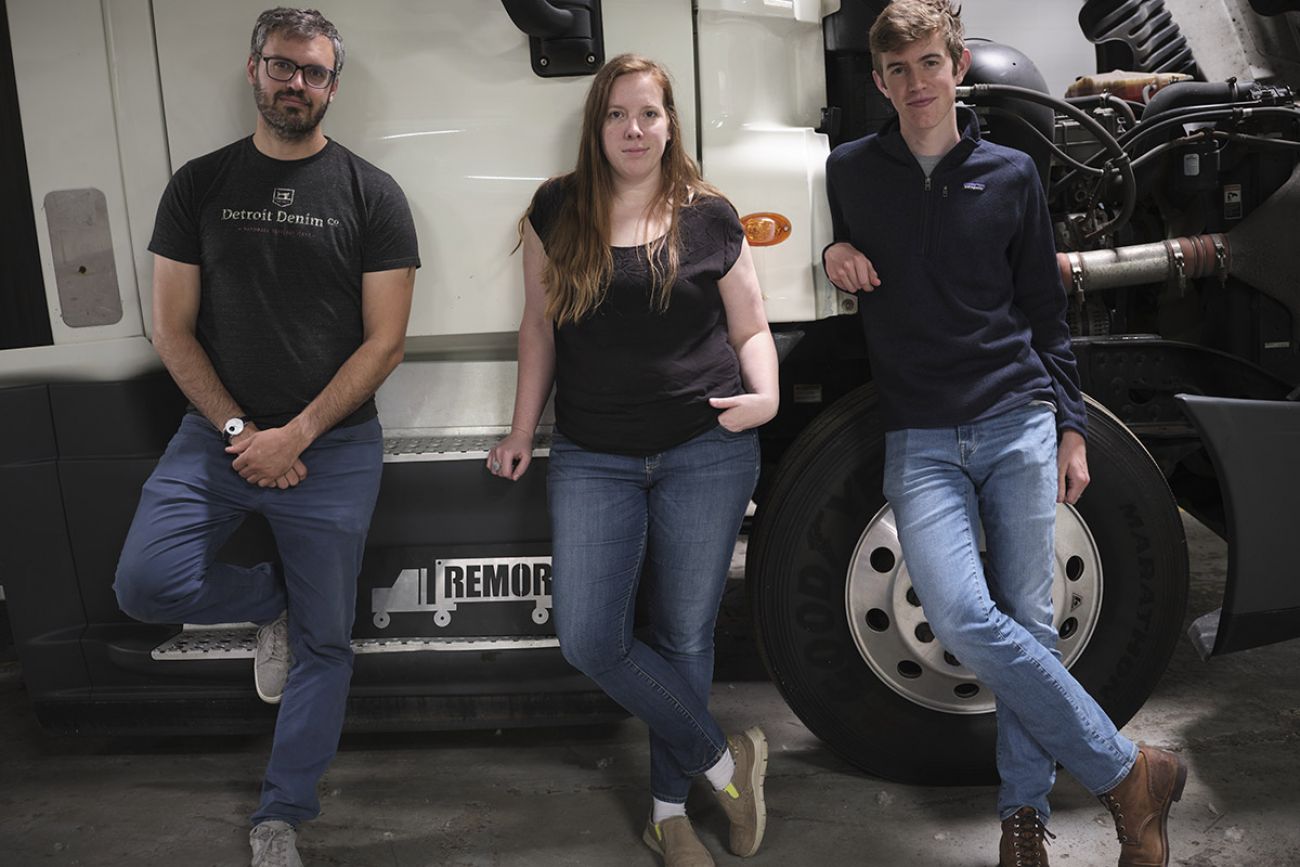 A Michigan startup is moving its technology into production this summer at a factory in Wixom. The people behind Remora saw the climate benefit and profit potential in capturing semitruck-truck emissions: From left, Eric Harding and Christina Reynolds, who both have U-M connections, and recent Yale grad Paul Gross. (Courtesy photo)
Technology that could change the global trucking industry's impact on the environment soon will be assembled in a 70,000-square-foot factory in Wixom, northwest of Detroit.
There, Remora is commercializing an idea that once seemed both obvious and implausible: capturing carbon dioxide emissions from the tailpipes of semitrucks, then selling the byproduct to other industries, instead of letting it be released into the atmosphere.
The privately held startup is the only company pursuing emission capture after most scientists turned their back on the concept, according to co-CEO and co-founder Paul Gross.
Related:
Remora said it is using its recently leased Michigan factory to build devices that this summer will be attached to semitrucks belonging to the largest fleets in the U.S. as the company launches pilot programs.
From there, Gross said, "we can get these on hundreds of thousands of trucks over the next decade.
"And that's the kind of timeline we need for a solution like this," he said of the environmental pressures to reduce greenhouse gasses. "We don't have a couple of decades to wait."
Gross spoke recently with Paula Gardner, Bridge Michigan's business editor. Here are excerpts from the conversation:
Your innovation catches my attention because, like anyone who drives Michigan highways, I see so many semi trucks. And your product addresses the ones already on the road and not a new type of vehicle. Tell me more about it.
(Our) device retrofits onto existing diesel trucks, attaches to their tailpipes and captures at least 80 percent of their carbon emissions.
So we can actually help big fleets dramatically reduce their carbon emissions and meet their (corporate) climate commitments.
And then we sell that captured carbon dioxide to concrete producers and other end users, and then we can share that revenue back with the owner of the fleet.
We've signed up some of the largest fleets in the world for pilots. We're very close to getting these devices on the road.
Where did this begin?
The technology is coming out of my co-founder Christina Reynolds' work during her PhD program at the University of Michigan. She got funded by the U.S. Environmental Protection Agency to investigate whether mobile carbon capture was even possible. She spent many years bench testing and then vehicle testing and ultimately testing in the EPA national vehicle and fuel emissions lab in Ann Arbor.
And when all of that testing was successful, she and I got together to start the company two years ago along with our other cofounder, Eric Harding, who has a background building electric and hydrogen semitruck trucks.
Christina Reynolds, who pioneered CO2 capture technology while getting her engineering Ph.D at the University of Michigan, explains how it works in 90 seconds.
It's so surprising to me — I am not a scientist at all — that there would be a market for carbon dioxide from truck emissions. What is that market like?
The market for CO2 is about $7.7 billion worldwide. About 230 million metric tons of it are used every year in all kinds of different applications. We are focused primarily on a few different applications. One is concrete curing, so injecting CO2 to make it stronger, and often cheaper. Another application is wastewater treatment, where we're changing the pH of the water by injecting CO2.
They're all these cool new companies that are creating diamonds or laundry detergent or yoga pants or all sorts of products (like fuel and plastics) out of CO2.
We'll be selling into those uses. And the reason we can do that is that ours has quite high purity coming off the truck.
Michigan is very focused on vehicle electrification, but mostly for passenger vehicles and light-duty trucks. And both of your co-founders worked in that realm before this. So how does your technology fit into the current repositioning of the auto industry?
Our goal is to be entirely complimentary to electric vehicles, hydrogen vehicles and other alternative fuel source vehicles. … What both (Reynolds and Harding) saw is that we are still not there yet on electrifying long-haul heavy duty trucking.
We think electrification is going to be a great solution for cars, and could be a great solution for delivery vans or other kinds of last-mile applications, but not for long-haul heavy duty trucks. It's really, really hard to electrify them.
The fundamental reason is in order to haul a heavy load a long distance, you're just going to need a lot of batteries. And that ends up taking up a lot of the payload capacity of the truck. So you end up with a truck that can haul half the goods and that's just not practical for most trucking companies.
Capturing emissions seems so obvious in some ways. But no one really tapped into the potential until Reynolds dug deep into her research. Why is that?
Mobile carbon capture was dismissed in academia before Christina came along. She said, "I think this could be possible, especially for those heavy duty long haul trucks."
She just did years of painstaking work. She became the world expert on the technology.
It sounds simple, but it's quite complicated.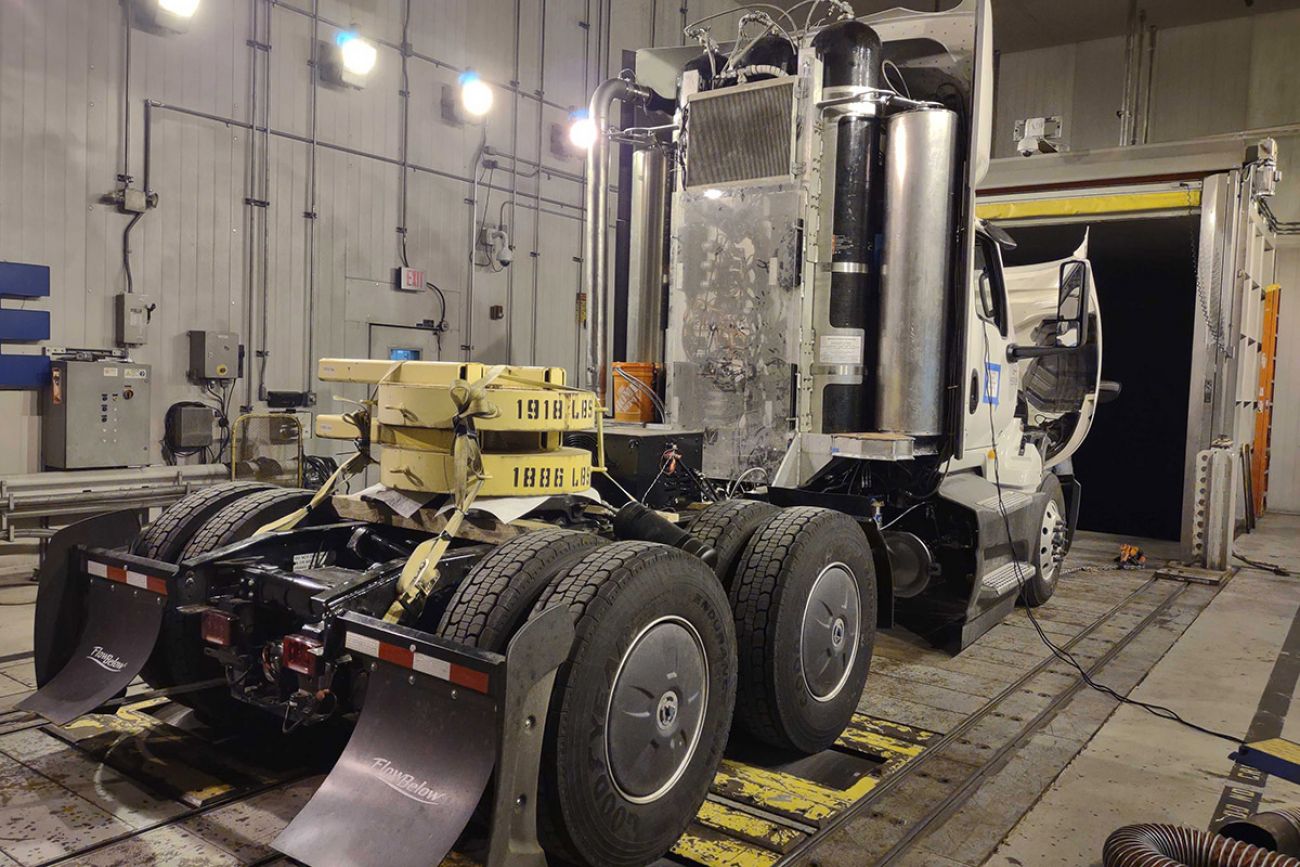 The carbon dioxide capture equipment attaches to the back of the semitruck, using filtration to hold the CO2 until it can be put into a storage tank. (Courtesy photo)
How does the device work?
This is a massive system. It takes up the entire back of the tractor.
We run the exhaust through an absorbent. You can think of it as these little beads and they have these microscopic pores in them that are just the right size for carbon dioxide molecules to get stuck. The nitrogen and oxygen and other gasses which are harmless flow right past the pores and out into the atmosphere. So essentially, it's like this filter that filters out the carbon dioxide from the exhaust stream.
Once the adsorbent beads get fully saturated with carbon dioxide, we then heat them up and the pores open and release the carbon dioxide. So then we get this pure stream of carbon dioxide coming out, which we can store onboard the truck until we offload it (in about 15 minutes).
What has industry reaction been like so far?
We're really focused on just getting these out there as fast as possible because we've got so much incredible demand from these big fleets that we're working with, like Ryder, Werner, Cargill.
They're really serious about reducing their carbon emissions. They've said they want to get as many of these on the road as they can. So that's a great sign that we should just go for it and start manufacturing as many as possible.
What does your company look like today?
The team is about 45 people, and it'll probably be about 80 people by the end of the year. So we're growing pretty quickly.
We moved into (the factory space) a couple of weeks ago, and we'll be moving over some of our equipment from our R&D facility in Livonia.
We want to make sure that we're scaling up as quickly as we can, because there's a huge opportunity.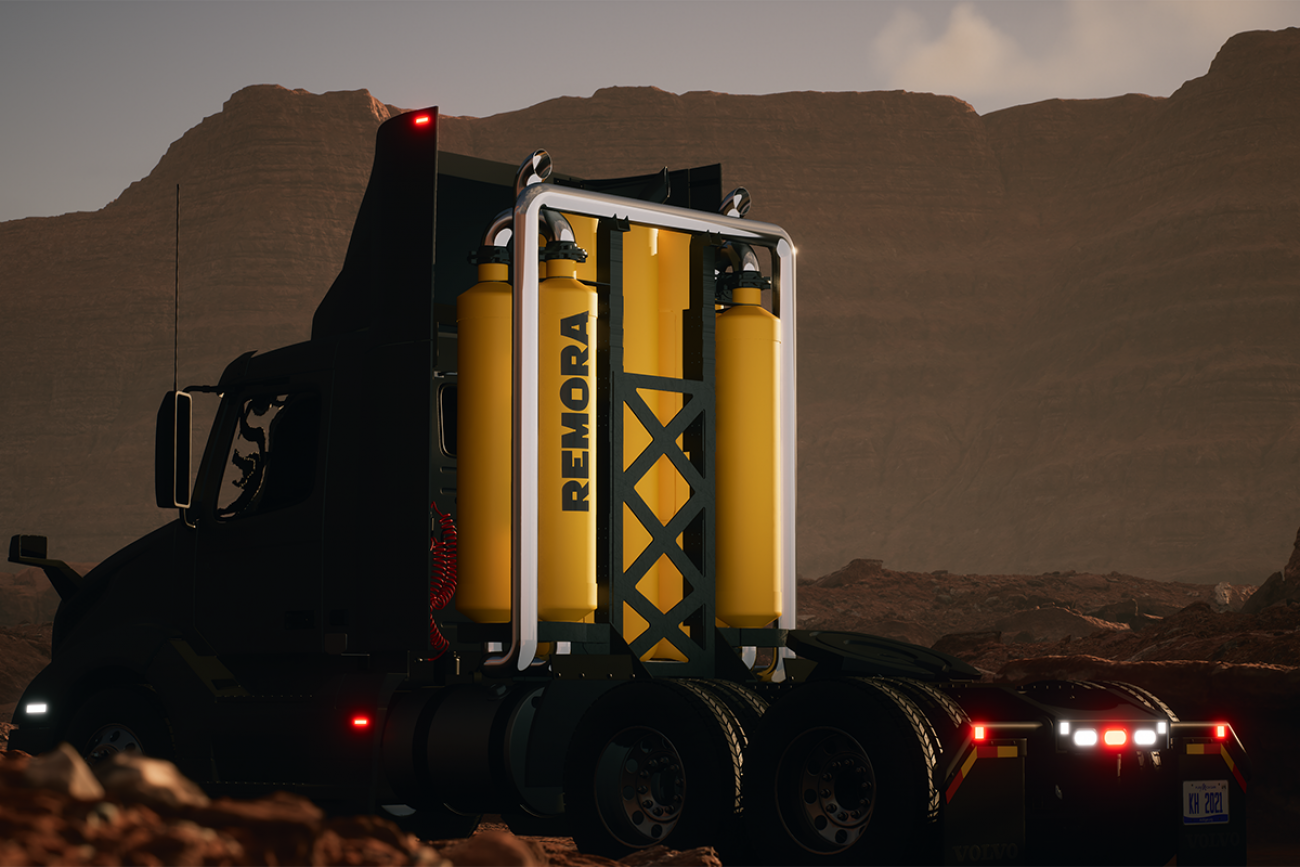 This rendering shows the size and shape of the equipment when it's attached and operating. (Courtesy photo)
When you talk about scaling up, what is the limit?
There are 2 million semitruck trucks on the road in the U.S. They create about 340 million metric tons of carbon dioxide every year, which is just crazy. And that's, that's 5 percent of the entire U.S. carbon footprint is just semitruck trucks, which is just wild. So we have an opportunity to capture ten of millions of tons of carbon dioxide every year.
Is there potential to move beyond semitrucks with the emission capture? For example, is this a solution for reducing emissions from flights?
We want to stay laser-focused on doing one thing well first, but this technology, I think, would be great for other long-haul, heavy duty vehicles. You know, locomotives come to mind. Cargo ships, mining, haul trucks.
Airplanes would be really challenging. The airplanes are very finely tuned to carry the amount of weight that they have onboard.
Investors have been attracted to Remora.
We were very oversubscribed on our seed round, which we raised in April. We raised about $5.5 million dollars. And so we ended up unfortunately having to turn some folks away.
I hear over and over again how important it is to keep engineering talent in Michigan, and to develop these types of jobs here. So how would you describe what Remora is offering the state in that respect?
One of the really exciting things here is that we are keeping engineers in Michigan. We're going to be creating hundreds of engineering jobs over the next couple of years, if not even into the thousands.
And not only is it creating engineering jobs, but it's helping decarbonize a really hard-to-decarbonize segment in the automotive capital of the world. This is where a lot of these engines and trucks get built. We're using the talent of these amazing engineers to help tackle the climate crisis.
Semitrucks do not face emissions standards, but the EPA is exploring how commercial trucks and buses may fit into upcoming regulations. Does that drive your business goals?
What we've been hearing again and again from the big fleets we're working with is that this is a moral obligation to anyone living in this moment. We're in a crisis, and if we don't do something, it's going to get a lot worse.
Secondly, their shareholders are pushing them to do something.
And thirdly, you know, in every request or proposal that they're getting from their customers they are asking, "What are you doing to reduce carbon emissions?"
We've talked about your technology, but I'm also hearing a social consciousness in how you explain it.
In addition to reducing carbon emissions, we want to make sure that we're building power for folks from underrepresented communities that are going to be hardest hit by climate change and first hit by climate change.
One of the ways that we're doing that is being really thoughtful about where we deploy our devices. We're targeting distribution centers placed in low-income communities where the air pollution is really bad. And we think that's one of the ways that our technology can be really helpful.
Another way that we're doing that is just being really thoughtful about how we're building our team. (We are) 49 percent people of color and 45 percent women. We want to make sure that our team represents the communities that we're working in.
Business Watch
Covering the intersection of business and policy, and informing Michigan employers and workers on the long road back from coronavirus.
Thanks to our Business Watch sponsors.
Support Bridge's nonprofit civic journalism. Donate today.
Only donate if we've informed you about important Michigan issues
See what new members are saying about why they donated to Bridge Michigan:
"In order for this information to be accurate and unbiased it must be underwritten by its readers, not by special interests." - Larry S.
"Not many other media sources report on the topics Bridge does." - Susan B.
"Your journalism is outstanding and rare these days." - Mark S.
If you want to ensure the future of nonpartisan, nonprofit Michigan journalism, please become a member today. You, too, will be asked why you donated and maybe we'll feature your quote next time!