Michigan's tart cherry growers blame weather for yet another low harvest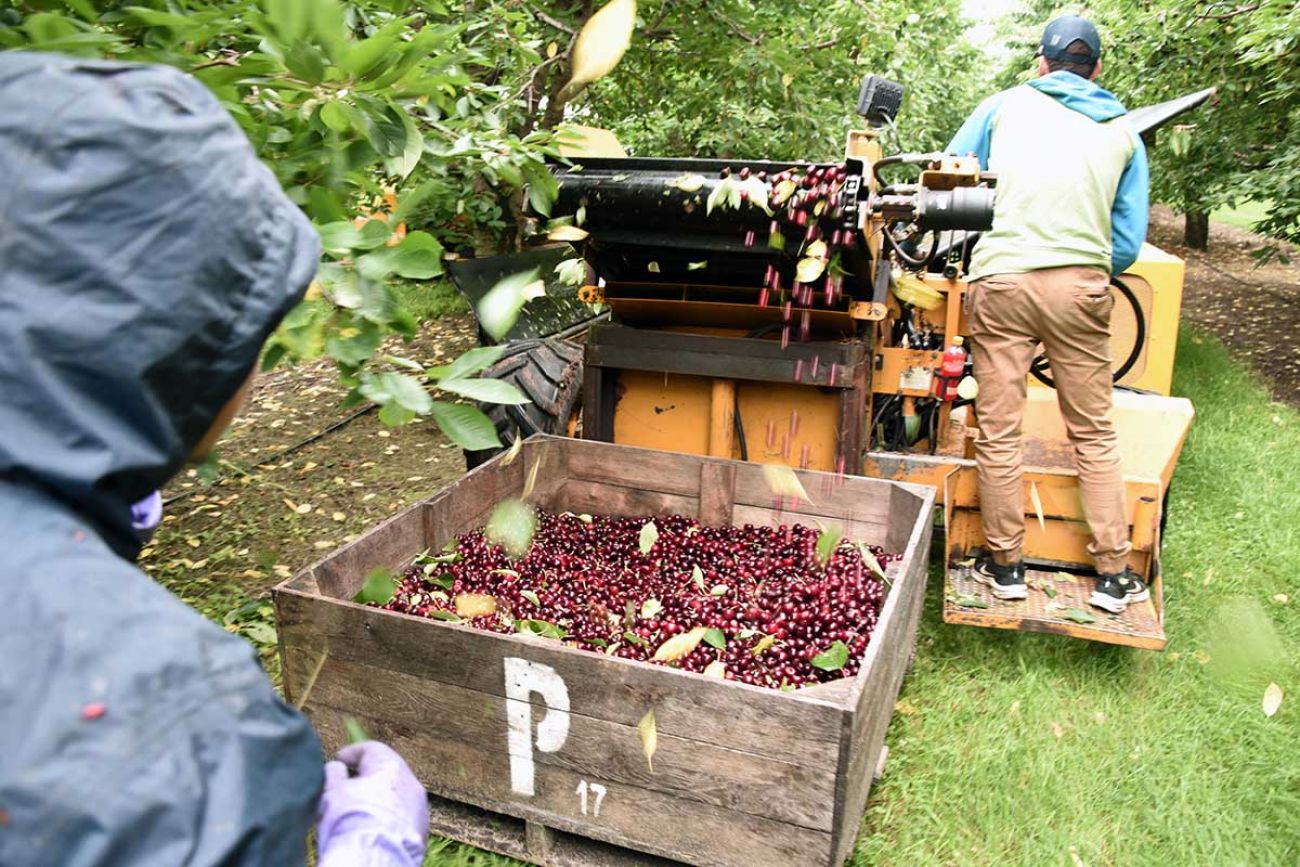 The tart cherry harvest at King Orchards took days instead of weeks this year. (Bridge photo by John Russell)
The excitement at King Orchards for this year's crop diminished every time staff assessed the Montmorency tart cherries grown on its 140 acres.
For the second year in a row, the orchard, located about 20 miles south of Charlevoix, realized it was facing a small harvest. The culprit: too many freeze and thaw cycles starting over the winter.
"We've been calling it a nuisance crop because we aren't sure if it's even worth trying to harvest what's out there (or) if it's too costly ... to even try to get the cherries off the tree," Juliette King McAvoy, the farm's vice president of sales and marketing, said in early July as the harvest got closer.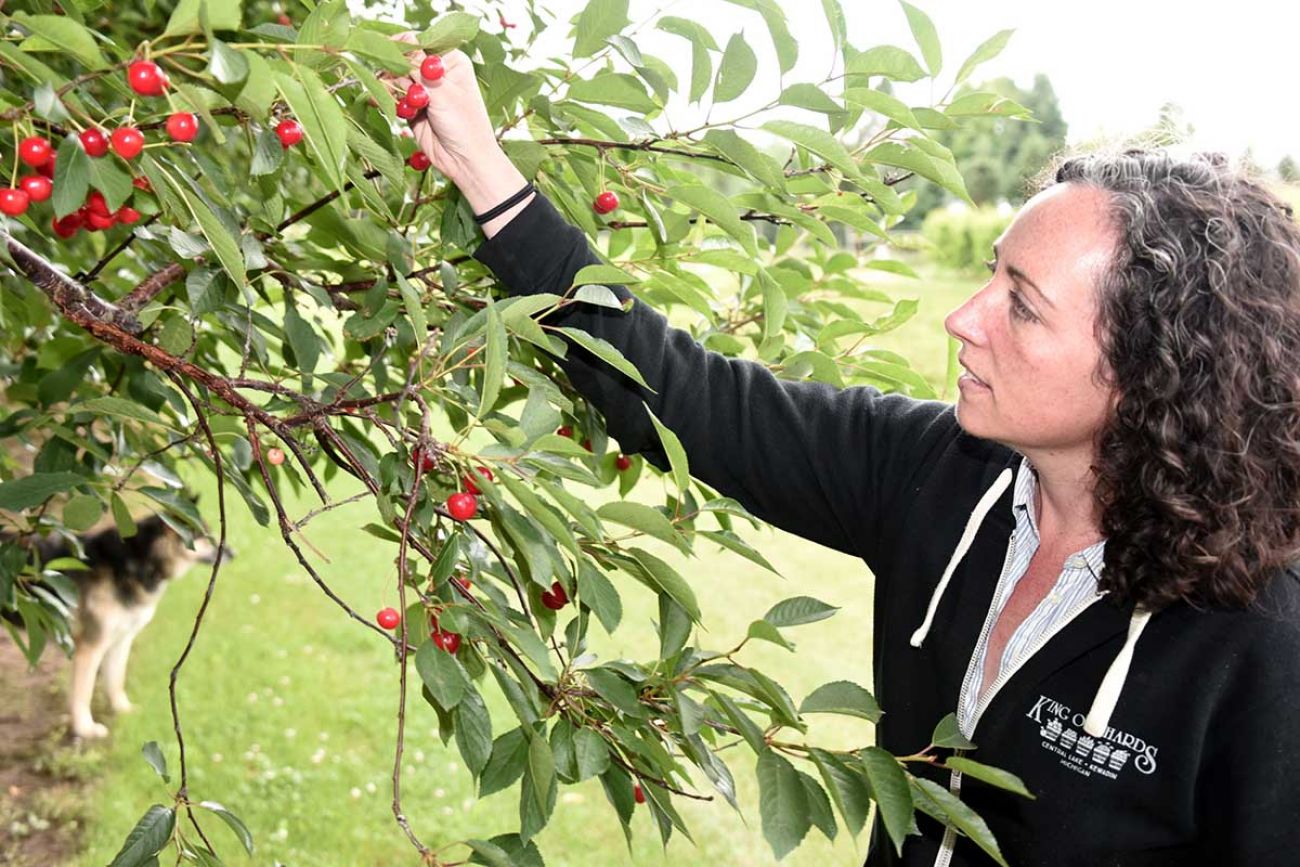 Juliette King McAvoy, King Orchards vice president of sales and marketing, said this year's slim crop made the grower question if the harvest would be worth it. (Bridge photo by John Russell)
Usually it takes the orchard three to four weeks to harvest all of its tart cherries, but last year it only took eight days. This year's harvest also was completed in a matter of days – and earlier than the normal mid-July, since the smaller crop ripened faster.
Many growers in northern Michigan are anticipating a smaller harvest for the second year in a row. The USDA National Agricultural Statistics Service (NASS) anticipates 65.6 million pounds of tart cherries this year. That's 3.7 million pounds less than the 69.3 million pounds harvested in 2020, when it fell by 59 percent over 2019.
The United States produces anywhere from 275 to 300 million pounds of tart cherries each year, according to the Cherry Marketing Institute, with the cherries mostly used for baking and food production.
Related:
As harvests are happening this month, Michigan is still trying to figure out just how severe this will be for its farmers. The state produces about 75 percent of all tart cherries grown in the United States and provides roughly 10,000 jobs to Michiganders, according to Julie Gordon, president of Cherry Marketing Institute.
This second low harvest — which follows multiple poor years from 2010-2019 — is causing financial ripple effects, from job losses to fears for future crops. Cherry Central Cooperative is closing its Oceana Foods Facility in Shelby that specializes in drying and processing tart cherries, which are used for consumer products like cherry pies and concentrate. Due to insufficient volume of tart cherries, the facility's closure will affect 74 employees.
"In a town as small as Shelby, Michigan, it's very difficult to let people go who have been part of your family for a long time," Melanie LaPerriere, CEO at Cherry Central Cooperative, said.
"We are completely out of cherries at our Oceana facility, so we were frankly forced by Mother Nature to close the facility," she said. "Our hope is that we can reopen the facility for next harvest season, but there's obviously no guarantees."
Despite being the biggest producer in the country for tart cherries, Michigan processors will have to rely on other states to ensure consumers are not affected.
"We do have our other tart producing states that fortunately have a decent crop this year," Gordon said. "The supply for the consumer should be there between what we were able to salvage from Michigan and what our other tart cherry producing states are going to produce."
However, Michigan growers and those who market Michigan cherries feel the impact.
"Revenue obviously from processing the cherries and going into retail are coming from the other states, so Michigan will lose out on not only the actual production that goes into the processing plant, but then the actual sale as well," Gordon said.
Gov. Gretchen Whitmer acted on the low harvest by sending a letter on July 1 to the U.S. Department of Agriculture's (USDA) Secretary Tom Vilsack.
In the letter, Whitmer requests a disaster designation for Michigan counties that are impacted by the weather, and requests other assistance under the Federal Crop Insurance Program or other USDA programs that can help the state's farmers.
"It's like going to work every day and not getting a paycheck for two years," Gordon said. "(These farmers) still have their bills and they still have to survive.
"So getting some type of assistance above and beyond what insurance is going to cover is going to be extremely important for Michigan growers that have dealt with this now for two years in a row."
What is causing these low harvests
As the effects of climate change are felt globally, Michigan farmers are experiencing it firsthand.
Across the state over the last century, the average yearly temperature has increased by two or three degrees Fahrenheit, according to Michigan Department of Health and Human Services. Since 2000, most years have been above that average.
Along with rising temperatures, the state can expect changes such as shifting seasonal patterns and extreme weather events involving heat and precipitation.
Cherries thrive in areas with sandier soils and rolling hills. Michigan's western shores offer those conditions, while Lake Michigan plays a role in controlling the dormancy of the cherries, said Nikki Rothwell, fruit educator with Michigan State University Extension.
The cold water and the predominantly west winds from the lake normally keep these tart cherries dormant so that the fruit misses what many call "freeze events."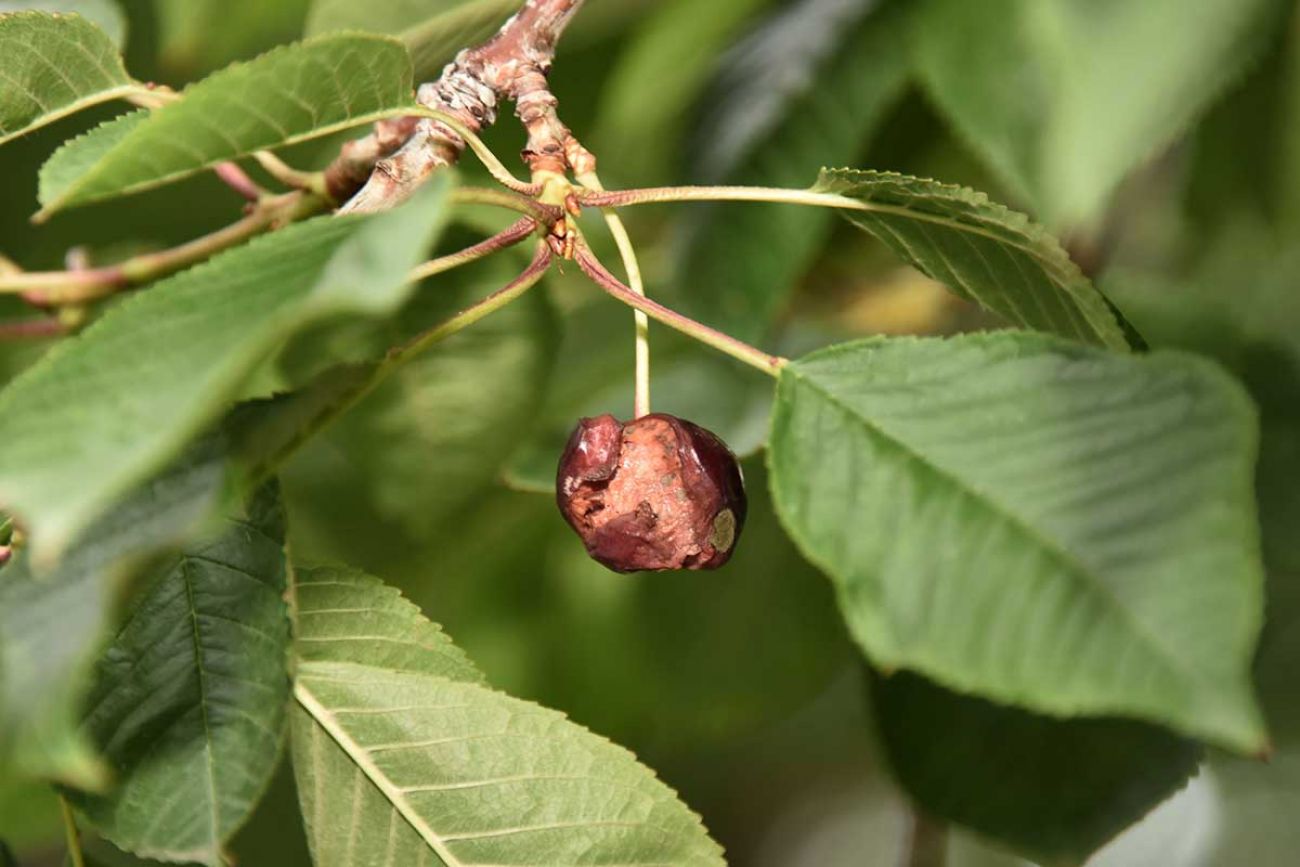 (Bridge photo by John Russell)
Freeze events occur when temperatures are too cold for developing tart cherries. In the winter, tart cherries tolerate cold temperatures. However, once exposed to warm temperatures, these cherries come out of dormancy and begin to develop.
As a cherry tree goes through different stages of development, it becomes more susceptible to these freeze events, Michigan tart cherry experts said. This is why sudden changes in temperature such as warm winter months affect the crop, and appear to be the reason why there are two consecutive low harvests.
"In recent years, we have seen really strange sudden warm ups … and then the other thing it was followed by was a mild winter," Rothwell said. "Those trees are ready to start growing as soon as they get some warm weather, so we didn't get that beautiful moderating effect of the lake as much this year and that resulted in 19 freeze events."
The unanticipated weather isn't just affecting tart cherries in Michigan, but other crops as well. Jamie Clover Adams, executive director of Michigan Asparagus Advisory Board, said growers experienced their smallest crop of asparagus in over a decade this year and attributed it to the weather as well.
In 2012, Michigan farmers experienced the worst tart cherry crop in recorded history when 11.6 million pounds of tart cherries were produced in the state. This harvest was after 2011 produced 157.5 million pounds of cherries, according to the NASS.
Though the past two harvests have not managed to drop lower than the 2012 level, Rothwell notes some similarities she has seen in recent years to that failed harvest.
"We lost a crop in 2012 because we hit temperatures in the 80's in March and (the cherry trees) were blooming, which is almost a month and a half to two months ahead of time," Rothwell said.
Weather in the next month didn't help, she said.
"It just got so warm in April that the trees were ready to move along and then as a result we had all of those freeze events that took away at that crop size."
As temperatures rise, more intense levels of precipitation are expected as well. The amount of precipitation that categorizes as the heaviest 1 percent of storms increased by 55 percent in the Midwest from 1958 through 2016, according to Great Lakes Integrated Sciences and Assessments.
The increased intensity and frequency of these storms is expected to continue as climate change continues to affect the world.
As a result, Michigan farmers cannot seem to find a balance with rain levels, and either experience droughts or floods.
Orchards that receive excessive rain may experience flooding, damage to young tart cherry trees or to cherries close to harvest as they swell and break open. Orchards that experience below average rainfalls may produce smaller than average tart cherries.
Unexpected temperatures and rainfall aren't the only struggle facing Michigan farmers this season. Rothwell says there is a "trifecta" of adverse effects: the weather, invasive insects/diseases and cherries from other countries entering the market.
Insects such as the spotted wing drosophila create issues for growers as it ravages fruits like tart cherries quickly. Pests like these spread quickly and make it hard for tart cherries to thrive.
Not only that, but Rothwell says she is worried about fungal pathogens being a potential issue for cherry trees as the state deals with "unusual" rain.
"As climate projections are going to be warmer and wetter, I think that we may see more diseases on the horizon," Rothwell said.
Worry about competition from other countries is also a concern for growers as they bring in their second consecutive small harvest. Turkey leads globally in cherry production followed by the United States, Ukraine and then Russia.
There have been issues with Turkey in the past underselling products, causing the federal government to get involved. Turkish exporters were ordered to pay duties on their dried tart cherry imports to the United States.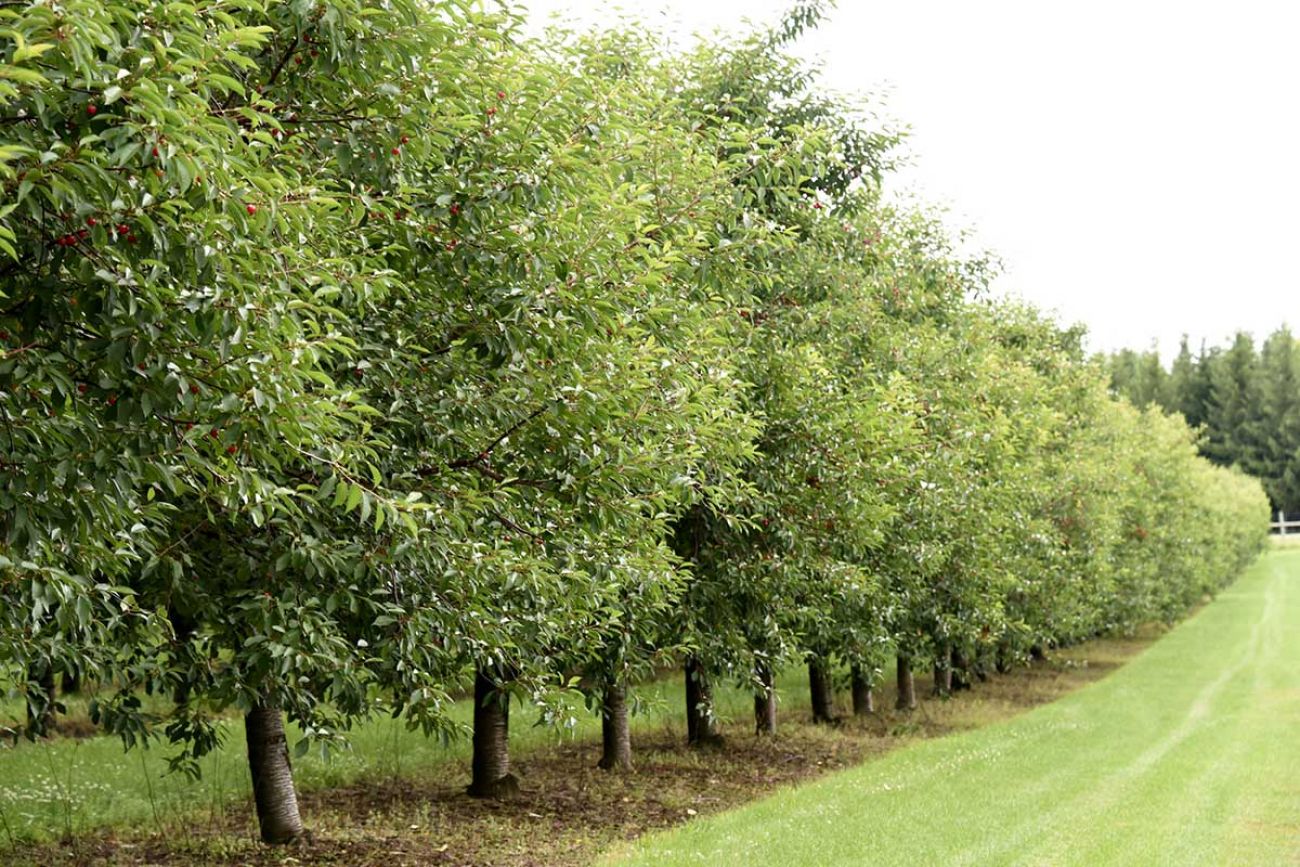 Tart cherry trees at King Orchards. (Bridge photo by John Russell)
"My concern is that we are going to be supplanted," Nels Veliquette, the C.F.O. of Cherry Ke and Cherries R Us, said. "That's not something that has changed (over the years), but when we have plenty of fruit it's harder for (foregin countries) to make inroads."
How farmers are adapting
It isn't the easiest thing for farmers to adjust to these conditions, says Rothwell, the fruit expert from MSU.
These tart cherry trees follow a perennial cropping system and last around 20 to 30 years in the ground.
That can make it quite challenging to adjust to conditions each year. Rothwell mentions that farmers can try installing irrigation or frost fans or looking into fertility programs.
King Orchards' strategy is diversification. Half of its business is now focused on fresh fruits and vegetables, and the other half focused on processed products, such as concentrate and apple cider. By doing this, the company is not putting all of its faith into their tart cherry harvests.
However, Rothwell said all of these actions are "capital intensive" and require farmers to invest back into their farm. This can be difficult for farmers who have experienced below-average crops in the past two years, and still have to invest money in taking care of their trees.
Many farmers instead turn to their crop insurance. Crop insurance is purchased by farmers and is subsidized by the federal government. This protects farmers from loss of crops due to natural disasters or loss or revenue resulting from declines in prices of agricultural commodities.
"No matter how good of a grower that you are, if Mother Nature serves you those curve balls there's not much you can do to combat it," Rothwell said.
To keep up with business with its small crop, King Orchards had to supplement with concentrate from other processors and use inventory from the year before. The plan is to supplement again this year with processors around the state.
However, with the lack of tart cherries expected, the orchard is going to have to evaluate the price and what the company will do if this happens again next year.
"King Orchards was the first company to sell Montmorency tart cherry concentrate online in 1999 and we've built this whole brand and market around a specific variety of tart cherry," King McAvoy said. "So if we have another crop loss we are going to have to examine what's the future and viability of this Montmorency tart cherry.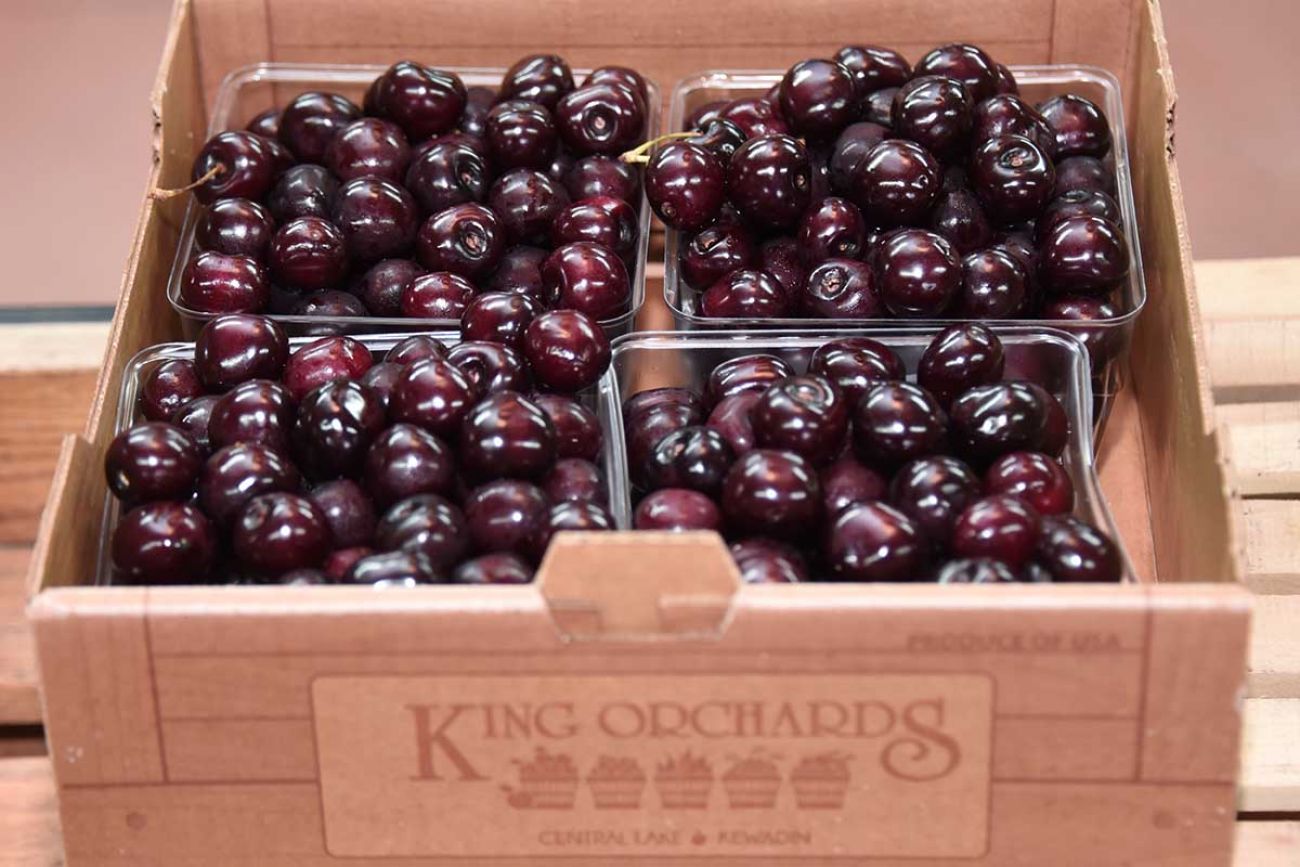 Tart cherries are used for baking and in food production, including juices. (Bridge photo by John Russell)
She added: "If we want this tart cherry concentrate business to survive we have to hope that we will have better crops in the future."
Rothwell is also looking into a modern growing system for the fruit, and researching ways that farmers can manage insects in the cherries.
Although this issue is problematic for many farmers throughout Michigan, Rothwell is hopeful and believes farmers can learn through this hardship.
"Growers are resilient (and) they manage to grow tart cherries really well and other crops here in the region and across our state," Rothwell said. "I think if we continue to work with the industry (and) with researchers … (then) I feel like we are going to come up with solutions that are sustainable to keep agriculture and fruit farming alive in the state."
Business Watch
Covering the intersection of business and policy, and informing Michigan employers and workers on the long road back from coronavirus.
Thanks to our Business Watch sponsors.
Support Bridge's nonprofit civic journalism. Donate today.
Only donate if we've informed you about important Michigan issues
See what new members are saying about why they donated to Bridge Michigan:
"In order for this information to be accurate and unbiased it must be underwritten by its readers, not by special interests." - Larry S.
"Not many other media sources report on the topics Bridge does." - Susan B.
"Your journalism is outstanding and rare these days." - Mark S.
If you want to ensure the future of nonpartisan, nonprofit Michigan journalism, please become a member today. You, too, will be asked why you donated and maybe we'll feature your quote next time!