Old motels, campsites and shelters fill housing void in northwest Michigan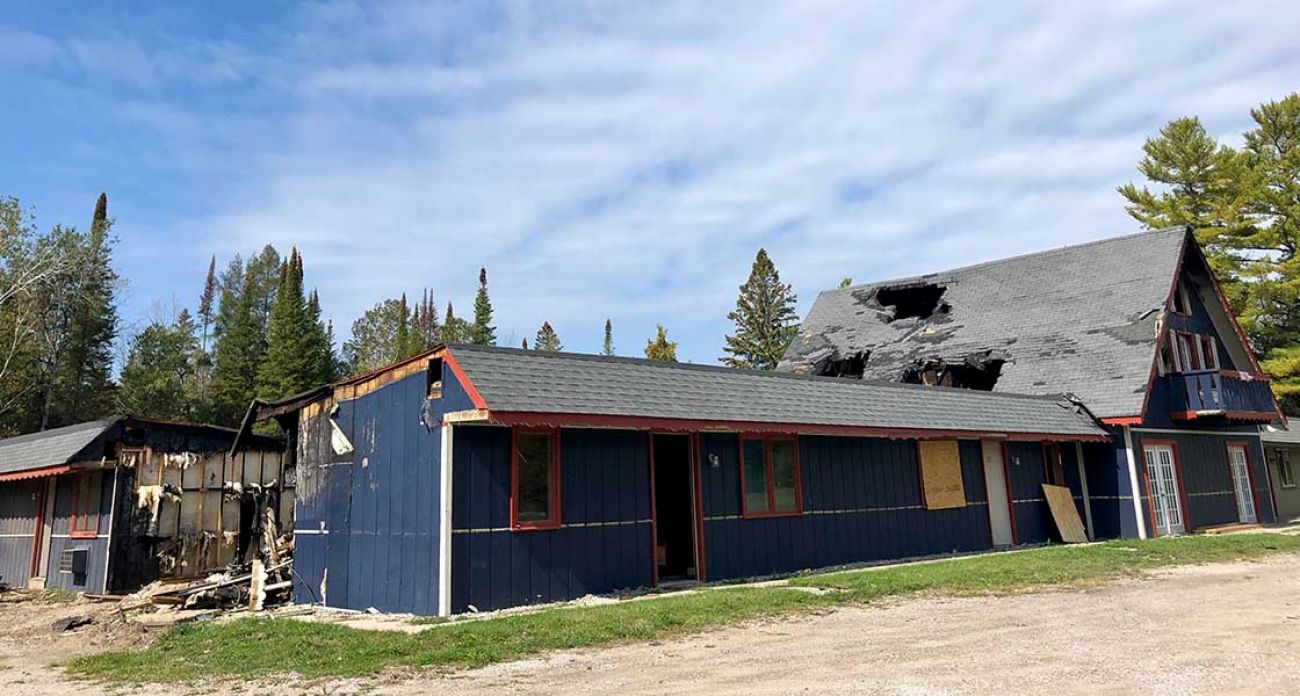 BOYNE CITY— Fire cut out the heart of the Four Seasons Motor Lodge in the middle of a summer afternoon. It burned through the pitched black roof and scorched the painted shutters meant to evoke an Alpine spirit for visiting skiers. A mountain of dark smoke dwarfed the treeline.
No one was hurt. But the old inn on US-131, just south of Boyne Falls, was destroyed, displacing 20 or so people. Not tourists—they were residents.
Northwest Michigan is in a desperate housing crunch. It might seem counterintuitive for a region of abundant beauty, where property values and buyer interest are ever escalating. But there are simply not enough places for seasonal employees or even those in mid-salary jobs, such as teachers, city workers or emergency personnel, to live.
A number of intersecting forces stunt the region's ability to develop new and more diverse housing. Local leaders are pushing for structural changes across the 10 counties, but residents need a place to live today.
That means campgrounds. Shelters. Couch-surfing. Or, for Dustin Mellios, tenancy in an old roadside motel.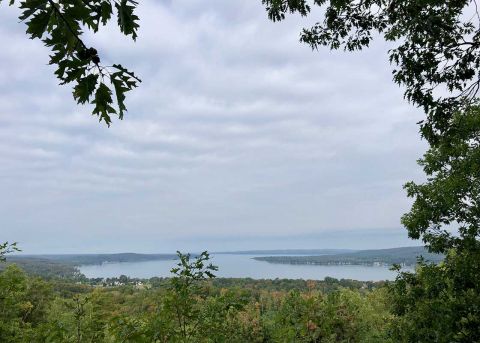 Mellios is in his mid-20s and the father of three young girls who stay with him on weekends. He works full time at Bulmann Dock & Lift in Boyne City, which is where he was on the Wednesday afternoon in July when "the whole town started messaging me" about the fire.
Between emergency workers and caution tape, it wasn't until the following day that Mellios could get a real look at the still-smoking Four Seasons, where he had lived for the past seven months.
"I lost everything but—this is kind of weird—a photo album of me growing up," he said. "Everything around it was burned to a crisp, scorched, but not one picture."
The bed was lost. The television. The safe with $1,200 in it. He had bolted the safe to the dresser so nobody could pick it up and walk away with his savings, but the holes he drilled for the bolts broke through the safe's firewall.
His guinea pig Buddy was also lost, to the great sadness of his daughters. "'Oh no!' That was the first thing they said. 'Oh no! The guinea pig!'"
With the help of an old friend, Mellios found a place to stay nearly 10 miles away on Second Street in East Jordan. "I started building shelves and everything," he said. Renting a house is more expensive than his old motel room, though, and there's the longer commute.
It made him mopey at first. But Mellios said he has got to start somewhere. "If you stay down too long, it turns into a habit. I've got to work hard. I've got three girls to think about." When they stay with their father, he wants them to have—well, a place to stay.
"If you stay down too long, it turns into a habit" — Dustin Mellios, worker in Boyne City
Others are still looking for a home. In northwest Michigan, the housing gap is so pressing that employers, nonprofits and even a local high school are trying to fill it. One regional report noted that moderate-income households spend 73 percent of their income on housing and transportation. A minimum-wage worker would have to put in 65 hours a week to afford an average rental.
What sets northwest Michigan apart from the rest of the state, according to an analysis by Real Estate One, is that its housing inventories are declining — except for homes costing more than $500,000. New construction is about 40 percent less than it needs to be.
While the search for long-term solutions continues, people are finding ingenious and hard-fought ways to survive the short-term. They are making room— literally, making rooms —any way they can.
'A snake eating itself'
From the gleaming blue shoreline to the spindly stretch of vineyards, the very beauty of Northwest Michigan has come back to bite it. "It's a snake eating itself," said Sarah Lucas, executive director of the nonprofit Housing North.
Real estate prices have soared so fast that, as Bridge reported, the service economy can't keep up. People who work in restaurants or resorts frequented by tourists can't afford to live anywhere nearby, a hardship that also frustrates the ability of employers to stabilize or grow. Signs warning customers of variable hours or early closures due to staff shortages are common.
It's not only seasonal workers who are affected.
Teachers, tradespeople, and other year-round residents struggle to find a place to live in a market where even modest homes are at a premium. Vacation homes owned by people who are in town two months a year gobble up housing that otherwise might be available for locals. There are recurring stories of businesses that hire someone from outside the region who can't find a place to live and then lose them when they move back to wherever they came from.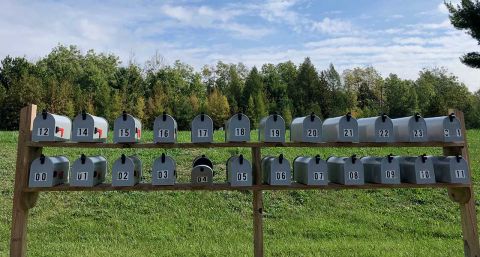 Rentals are often only available with a nine-month lease because owners want to return in the sunshine months, or rent their homes at a much higher rate.
"In the summertime, you see more homeless," said Ryan Hannon, street outreach coordinator for Goodwill Northern Michigan based in Traverse City. People who rent September through May "pay maybe $900 a month. But in the summertime, you're charged that much a week."
Along with investors who run properties as full-time AirBnbs, nine-month leases distort the year-round housing market. Drawing from its survey of local leaders, Tom Ivacko, interim director of the University of Michigan's Center for Local, State, and Urban Policy, noted the region is short on single-family, multi-family, entry-level and midrange housing. It is the least likely region, however, to report a shortage of high-end housing.
One solution to a housing shortage is … more housing. But it's exceptionally difficult for new homes to get built in Northwest Michigan. Land values are way up, material costs have grown, and builders and contractors are all too scarce.
That pushes home prices out of range for people with low to moderate incomes — if the housing gets built at all. Dennis Jason, of Boyne City's planning board and housing commission, said he's heard it costs more than $200 a square foot to build a brand new house these days, making a 2,000-square-foot-house costs $400,000, minimum. "It doesn't take much to see that there's not many $20- and $30,000 houses being built anymore," Jason said.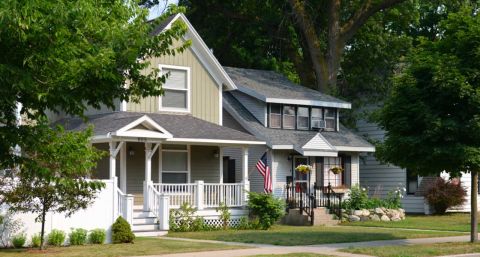 Tina Allen, coordinator of the Northwest Michigan Coalition to End Homelessness, lives in a five-bedroom house outside Traverse City. But she sees herself as caught in the housing backlog, too.
"I can't really afford to go into town and get a condo," which she says would cost $50,000 to $100,000 more than her house's selling price. Because she's priced out, her house, which has more space than she needs and sits near a major employment area, stays off the market for those who could make better use of it.
"Families could be in here," she said.
Many seniors in the area are staying in their homes for the same reason, she said, even though they're ready to downsize. It's a burden on them and it's "creating housing problems" down the line.
Some workers try to outrun the challenge. A couple in Leelanau Township, both medical first-responders, travel an hour to work, said Sarah Lucas of Housing North. That's a common story up here. To afford the 65-mile commute to their jobs at a prison in Manistee, where many workers transferred after the closure of a prison in Fife Lake Township, a corrections officer in Interlochen bought a van with two co-workers to share transportation costs.
Those costs eat into wages. For many with extraordinarily long commutes, there's also another problem: deteriorating housing. In rural areas, where housing costs are lower, structures may have no insulation, or poor roofs. Some skinny cabins were never meant to be a home; they were built for hunting trips.
Inadequate housing creates a public health crisis, said Lucas. While problems in rural communities "are of a different nature than Traverse City, at the end of the day, there's not enough housing."
In search of an immediate stop-gap solution, some residents opt for motels, like the Four Seasons.
"I first heard about the motels toward the end of the last recession," said Jane MacKenzie, executive director of the Boyne City Housing Commission. In the off season, especially, charging by the month, rather than nightly, worked well for hotel owners because "it filled a gap, it filled a need."
On a craigslist page for rental housing, a number of motels offer rooms as apartments, in places like Houghton Lake, Alger, Boyne Falls, Fife Lake, Acme and Cadillac. One of them, the Kingsley Motel, is 13 miles outside Traverse City. It advertises a $800 monthly rate for rooms without a kitchen, $875 for those with one. Guests-turned-residents pay a $100 deposit and undergo a background check. For a fee, outdoor storage is available.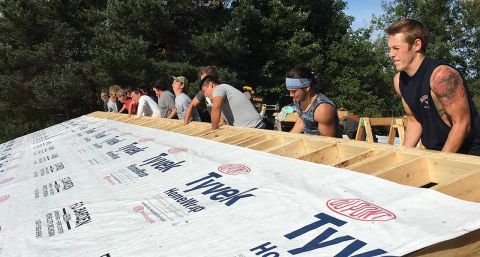 The day of the fire at the Four Seasons, one of the tattoo artists at Paragon Ink in Gaylord received a snapshot of emergency vehicles circling the place. He interrupted the conversation with co-workers and showed the image on his phone to them. "Oh my god," thought owner Jason Ashton when he saw it. "I know those people … I actually know some of the families that were there."
Paragon Ink's staff rescheduled afternoon appointments, locked the doors and drove 20 miles to help. They were thwarted by barricaded roads and emergency blockades. Smoke plumed in the distance, a twisting gray tower. "It's a difficult thing," Ashton said. "You're watching someone— watching everything they owned and worked for on fire."
Ashton knows wages in the region aren't keeping up with costs. Many residents at the Four Seasons had neither insurance nor family or friends in the area to lean on, as did Dustin Mellios. Paragon Ink began collecting donations from the community: toys, housewares, shoes, clothes, cash. Ashton hoped the donations would give displaced residents more freedom as they searched for a home, sparing their budget from the costs of all they had to replace. Five sets of work clothes, he said, could equal the cost of one month of rent.
The tattoo business filled six loads of donations into their vehicles. Meanwhile, for the folks Ashton knew, if they didn't find another rental, they mostly ended up on other people's couches.
"There's only so much you can do," Ashton said.
Campgrounds play a similar role as old motels. In the summer, after working long hours in the hospitality business, many workers go home to tents, not apartments. With steadier work, they might opt to live in a campground that offers water or toilets. But many choose unofficial encampments in, for example, the woods outside Traverse City or on a tarp at a beach.
Then there are the homeless shelters. At Safe Harbor in Traverse City, open from November through April, about 40 percent of guests have jobs, many full time. When the shelters are full, said Hannon, the homeless find abandoned houses, campers, bridges, or cars. Many might not think of themselves as homeless.
Nationally, there has been a realignment toward a "housing first" response to homelessness. But in northwest Michigan, like other places beloved by tourists and investors, the ability to act is constrained. Hannon noted that of all states, Hawaii has the highest per capita homelessness. Supportive housing programs can only move a few people a year, since there are so few openings for rentals, said Tina Allen of the homeless coalition. The market is so tight that, despite the huge need for affordable housing, "we actually have more rental assistance dollars … than we can use," Allen said.
There are a few reasons for that beyond the lack of housing units. One challenge is a lot of different property owners, each overseeing a relatively small number of units, and they're ever-shifting: landlords friendly to supportive housing may soon be replaced by someone else, and housing advocacy groups have to start from scratch in building a partnership.
"We're losing units," Allen said. "Not just not getting new units—losing ones."
That's not just a missed opportunity; it costs local workers and their families their well-being and safety.
"Shelters give great protection from the weather, but they're horrible places to live, actually," Hannon said. One man who needed heart surgery kept canceling his medical care because he didn't have a place to recover. After collapsing with a heart attack, he decided he couldn't wait anymore. He spent his recovery in a shelter. "He looks a lot better," Hannon said, "but he needs a place to live."
With lack of construction, students step in
On a Friday morning in September, more than a dozen teenagers in Boyne City left school and headed to a large lot in a residential neighborhood more than a mile away. There, they crowded around a big dirt hole and got to work on building a house.
For decades, Boyne City High School's building trades program has given students a chance to learn hands-on skills. Usually, they build a 2,400-square-foot house from foundation to roof, designed by drafting students and overseen by their veteran teacher, a former builder. This year, in response to real estate pressures, they are splitting the lot and building two 1,300-square-foot homes.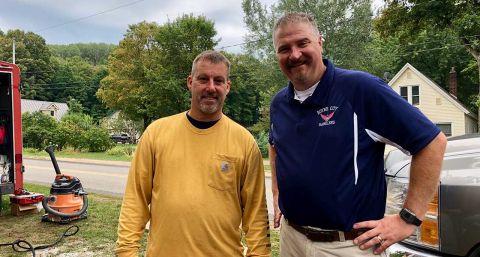 Again and again, people in northwest Michigan point to the construction industry as creating a bottleneck for new housing. There aren't enough skilled workers to meet demand. They are aging out and not being replaced, while those that remain can charge a prohibitive amount of money. Northern Lower Michigan is also more likely than any other region to say that it has a shortage of construction workers, according to the University of Michigan's CLOSUP survey.
People point to the elimination of high school vocational programs as a factor. They're vanishing partly because it's hard to fund them: Potential teachers can earn more money in private industry, and the movement to send more students to college has dampened perception of the trades.
Another contributor to the backlog: The construction workforce can't necessarily afford to live in the region themselves.
When the limited construction workforce is pulled away to build million-dollar homes, housing for people with low and moderate incomes is rarely built.
"That's not workforce housing," Patrick Little, superintendent of Boyne City schools, said of the resort homes that pop up each year. "We love our resort people, but that doesn't help with our housing crisis."
So the high school is reorienting plans to meet immediate housing needs in the community. During the first and second hours of the school day, two classes of upperclassmen are bused over to the building site. They are provided Carhartt jackets for the cold weather. At the end of the year, there will be a housewarming party and a realtor will likely sell the houses in less than a week. Last year, two new Boyne City teachers and their three-year-old moved into the house the students built.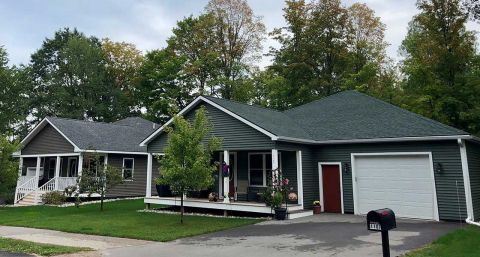 Next year, the plan is the same: two houses instead of one, so long as enough students enroll to complete them. Little imagines building a whole neighborhood, with about 12 houses. This month, the school board approved the purchase of vacant land to do this. "We'd need a little help with the sewers," he said.
Boyne City High is leveraging its power to ease the housing burden as much as it can, while longer-term solutions are still being worked out. Some area employers and nonprofits are doing the same.
A few years ago, the Boyne Mountain ski resort purchased an old motel to house workers. Employee housing had been a long-simmering problem, as indicated by a 2017 TripAdvisor review. When a guest critiqued long waits and disappointing services, Boyne Mountain's director of marketing responded: "Staffing is one of our biggest obstacles as a resort in this area … Neighboring Boyne City is working to build more affordable housing options and we have made strides in offering more employee housing to try to remedy the issue."
In a similar vein, a longtime property developer in Traverse City, who also owns restaurants, bought a downtown building with lake views. Initially intended as high-end condominiums, workforce pressures prompted him to offer the place to restaurant staffers.
Hannon of Goodwill Northern Michigan recounted another employer-initiated effort, though it didn't work out as well. A popular restaurant at the Homestead, a shoreline resort in Glen Arbor, set up a camping site for employees. Even then it couldn't get enough people to fill out its staff. The restaurant, and its campsite, has since closed.
A plea to Lansing for incentives
The good news is that the housing crisis isn't news anymore. "It really just tells how big the issue is," said Michael Cain, city manager of Boyne City. A few years ago, housing advocates were the only ones talking about the problem. "Now every person we deal with is concerned."
More than any other region, Northern Lower Michigan says the state should expand affordable housing incentives and give local governments flexibility in how to use them, according to the CLOSUP survey. Some communities are also considering zoning changes that allow people to build auxiliary dwelling units (ADUs)—tiny homes in the backyard, basically, to add housing with minimal cost. Boyne City allows ADUs by special permit, but Scott McPherson, planning director, said it's looking to make it an inherent right for property owners.
Other ideas are brewing. MacKenzie, of the Boyne City Housing Commission, would like to see more state and federal financing for multifamily housing go to rural areas, not just urban ones.
Hannon suggested a higher state minimum wage, and requiring high-end developments to include a certain percentage of low-income units. New Orleans has a voluntary version of this, which comes with an incentive: developers can build more units if they set a portion aside for low-income residents. In Boston, developers choose between paying into an affordable housing trust fund or building below-market-rate units into their projects.
Housing North is exploring ways to use land as an investment tool for housing, similar to work done by the Urban Land Conservancy in Denver, which buys up land and banks it until the right housing opportunity comes along.
Meanwhile, Sarah Niederpruem, manager of Café Sante and a Boyne City housing commissioner, sees how her staff struggles with seasonal variability. One solution: "We really need places that have a sliding scale" that would set rental rates at an affordable percentage of a resident's income.
Tina Allen and her colleagues at the homeless coalition say they are trying to get federal agencies to change their definition of shelters so it can adapt funding for rural areas. The traditional model—a large centrally located homeless shelter—doesn't work well when people are spread out across an expansive countryside. Financing could be reoriented for rural realities, where people are more dependent on couch-surfing, camping, and living in vans or motels.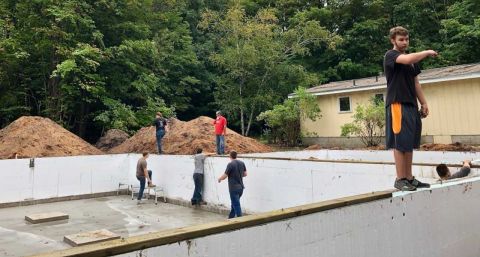 And speaking of motels and housing—well, Michael Cain, the Boyne City manager, has a story about one.
One summer years ago, at a Days Inn on Munson Avenue that stood just west of the bay in Traverse City, he worked as a handyman. The big, sturdy place was built out of concrete in the 1970s, and boasted of large rooms that spanned about 600 square feet.
Cain got to know its layout quite well, as he went about fixing this and that. He also got to know an appealing young housekeeper who had recently graduated high school.
The hotel where Cain and his now-wife fell in love has just been transformed into the East Bay Flats, a conversion by the Traverse City Housing Commission into rental units for people who make less than 80 percent of the area's median income.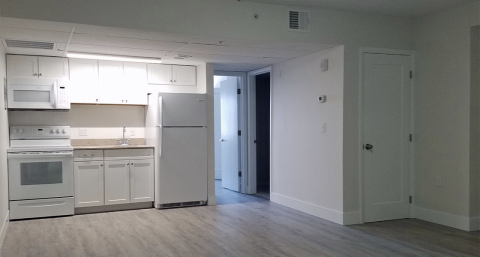 Studio and one-bedroom apartments are available from $695 to $995 a month, utilities and parking included. The first leases went to people new to the area who work in radio and public television. About a dozen units are dedicated to young people aged 18 to 24 who exited the foster care system, or are otherwise in danger of homelessness. A resident mentor will support them in their transition to independent adulthood.
The conversion didn't come without some rumbling and unease from neighbors. But it's here. You could think of this project as an above-board version of the Four Seasons Motor Lodge, which still sits blankly on US-131.
East Bay Flats acknowledges the practice of using motels as apartment complexes and builds on it, giving people not only an affordable place to stay—though that's challenging enough in Northwest Michigan—but making sure the place is also stable and safe, even beautiful and worth loving. That is, a home.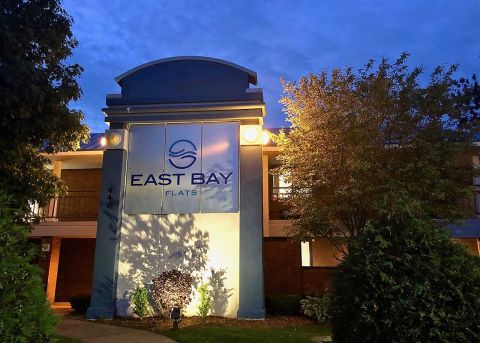 We're not just a news organization, we're also your neighbors
We've been there for you with daily Michigan COVID-19 news; reporting on the emergence of the virus, daily numbers with our tracker and dashboard, exploding unemployment, and we finally were able to report on mass vaccine distribution. We report because the news impacts all of us. Will you please donate and help us reach our goal of 15,000 members in 2021?