Q&A with Sandy Baruah: 'To keep businesses open, wear a mask'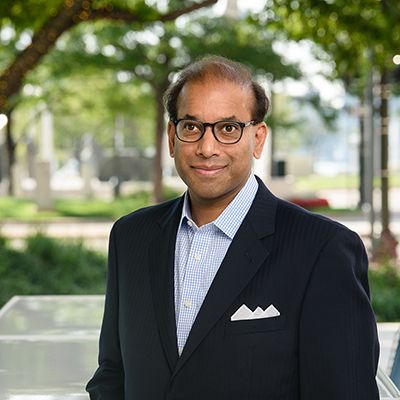 At the end of last week, the chamber had just started its #MaskUpMichigan campaign, calling on the entire state to wear face coverings in public.
"To keep businesses open, wear a mask," Baruah said. "We really think it comes down to that very simple equation. Our job is to advocate for businesses and the most important thing we can do for businesses is to help them keep their doors open."
The Detroit Regional Chamber is the third largest chamber of commerce in the U.S. While centered in southeast Michigan, the chamber also focuses on statewide issues through hosting the annual Mackinac Policy Conference and running MICHauto, an economic development initiative focusing on the automotive and mobility industries.
The chamber represents the business interests of a region comprising 5.4 million residents and 11 Fortune 500 companies. It employs 76, after laying off five events staffers in June, and has an annual budget of $20 million.
Baruah, former administrator of the U.S. Small Business Administration under President George W. Bush, joined the chamber in 2010. He also was among the senior officials who shaped the federal government's response to the 2008 credit crisis.
He spoke recently with Bridge Business Watch Editor Paula Gardner about business issues facing members. Here are excerpts from the conversation:
What's your assessment of where we are at this point in the pandemic?
It's hard to look at where we are globally, but particularly nationally and not be concerned, from a health standpoint, but certainly from a business standpoint. When you look at the data, the United States, at least at this point in time, appears to be handling it worse than most of our peers. You have to look to countries like Brazil and India to find countries that are handling it universally poorly as we are. Our role is to represent business; this is a huge business issue because the health crisis and the economic crisis are completely inseparable. We are concerned.
What information are you watching to drive your direction?
Health data drives everything: government action or potential government action. Health data also drives the comfort level of consumers to be in the marketplace; and that drives the ability of business to employ people and remain open and contribute to the economy. This is a classic "your leg bone is connected to the hip bone" situation. I think there are some there who want to separate the two issues … we're saying that you can't do that. You have to look at both.
Do your members already agree or have you had to change your messaging to be more persuasive?
The best business advocacy move is to be able to keep doors open. In order to do that, people need to wear a mask.
We're saying, you may or may not care about the society issues surrounding mask issues; you may or may not care about health outcomes; if you care about keeping your local deli open, your local Chevy dealer open, your local restaurant open, wear a mask.
If you're in a private establishment, a grocery store or a restaurant, and if the proprietor is following a governmental order and you choose not to follow it, you can expect to be escorted out.
Do we need more regulation to achieve full mask compliance?
I wish there would be an easy answer. It would be wonderful if you could wave magic wand and magically enforce mask wearing. The challenge is multifold. Think of a 20-year-old front-line employee trying to enforce a mask as someone enters. Businesses have a hard time enforcing that order. Secondly, local law enforcement does not have the bandwidth to be all places at all times. And the issue has gotten inexplicably political. There are people who will defy any more formalized law just to defy the law and for no other reason.
We are focusing on a very simple campaign. If you want to keep your businesses open, wear a mask.
The Detroit Regional Chamber has Fortune 500 members and focused on high-level concepts for Michigan's growth. It's interesting to hear you talking about small retailers right now as an example.
We are trying to achieve an outcome. As a state and a nation, we need to get a handle on this virus. Until we get a handle on this virus, we're not moving forward. We're kind of stuck.
We need to make this real for people because not enough people are taking this seriously enough. … We want to move past this COVID crisis as quickly as we can. We're not going to, until we get a handle on the virus.
There's a rhythm to society that's important to us as human beings. If the local ice cream shop isn't open, if my local dress shop isn't open, if these institutions of daily life are disrupted, it is not good for our psyche as human beings. Yes, there's a very clear economic issue, but there's also a general societal rhythm to restore, too. We can't do either while the virus is out there. The easiest thing to do is wear a mask.
We've seen reports from restaurants, for example, and small businesses in Michigan that believe they won't survive this. How are you measuring viability and vulnerability among your members right now?
The numbers we have are very preliminary at this point. We did a survey of C-suite leaders across the region, people who are running organizations of size in the greater Detroit region. They said they will be able to make it through the crisis, but probably with fewer people and lower business models.
Another data point is Paycheck Protection Plan loans in Michigan. There are roughly 900,000 businesses in Michigan. Roughly 13 percent received one, so 87 [percent] did not. There are a lot of businesses that are potentially still struggling because they did not receive any kind of assistance.
Do we need to do more?
There is a limited amount that government can do, considering that we essentially brought our economy to a semi-halt for at least three months. With some of the trends we're seeing in other parts of the country, we may see additional retrenchments. Government just isn't equipped to make up all of that difference. At the end of the day, the size of our economy dwarfs the size of our government.
What can metro Detroit learn from its experience in the Great Recession as it turns to rebuilding?
This region is far better equipped to withstand an economic shock than it was 12 years ago.
We are in a much more healthy economic and government situation. Our state government has a rainy day fund; our state government has been fiscally responsible over the last decade. And our businesses, particularly around manufacturing and automotive, have restructured quite significantly. That enables them to run much leaner and reach their break-even point much more effectively. We have made moves to diversify the state and the region's economy, We are much more technology-focused, we are more a target for professional services. We have maintained our leadership in health care delivery.
Tell me what you see about the City of Detroit right now, and its prospects.
All of the strengths that Detroit has enjoyed over the past decade remain. We are still one of the hottest cities in the country. We are still considered a destination for mobility and technology. We are still a value play in North America. The infrastructure that has been built over the last decade still exists. I'm quite robust in my view of Detroit going forward.
The chamber's annual Mackinac Policy Conference was canceled this year, but the chamber plans a digital "MPC20 Conversations: Respond and Rebuild" series. What is Michigan missing right now in big-picture conversations and how do you bring some of that back?
Now is not the time for partisanship or personality to get in the way. We're starting to see some of that in Lansing, which is concerning to the business community. At the end of the day, a crisis is a terrible time to be politically polarized. A lot of us are hoping we can avoid that political polarization that we're seeing in Washington.
It's so important to us to stop focusing on the crisis and focusing on where we go from here. What does this mean for next generation mobility? Or increasing our talent base in Michigan? What are the things we have to do as a state to increase our economic prosperity once COVID is over?
Crisis or no crisis, the war for talent continues. The team with the best talent is going to win in the 21st century. The march for increasing Michigan's talent base is ging to have to continue. We're going to have to do that in a more constrained environment, and in an environment in which short-term demand for talent will take a dip. That doesn't diminish the importance of the issue.
What's the top-of-mind concern for you now?
We really have to look at the data. The data doesn't lie. If we are going to move on economically, socially, and in terms of our daily routines, we have got to get a handle on the virus. The only way for all of us to do something is to wear a mask.
We're not just a news organization, we're also your neighbors
We've been there for you with daily Michigan COVID-19 news; reporting on the emergence of the virus, daily numbers with our tracker and dashboard, exploding unemployment, and we finally were able to report on mass vaccine distribution. We report because the news impacts all of us. Will you please donate and help us reach our goal of 15,000 members in 2021?