Trump said EVs will 'decimate' Michigan. Bridge fact-checks his claims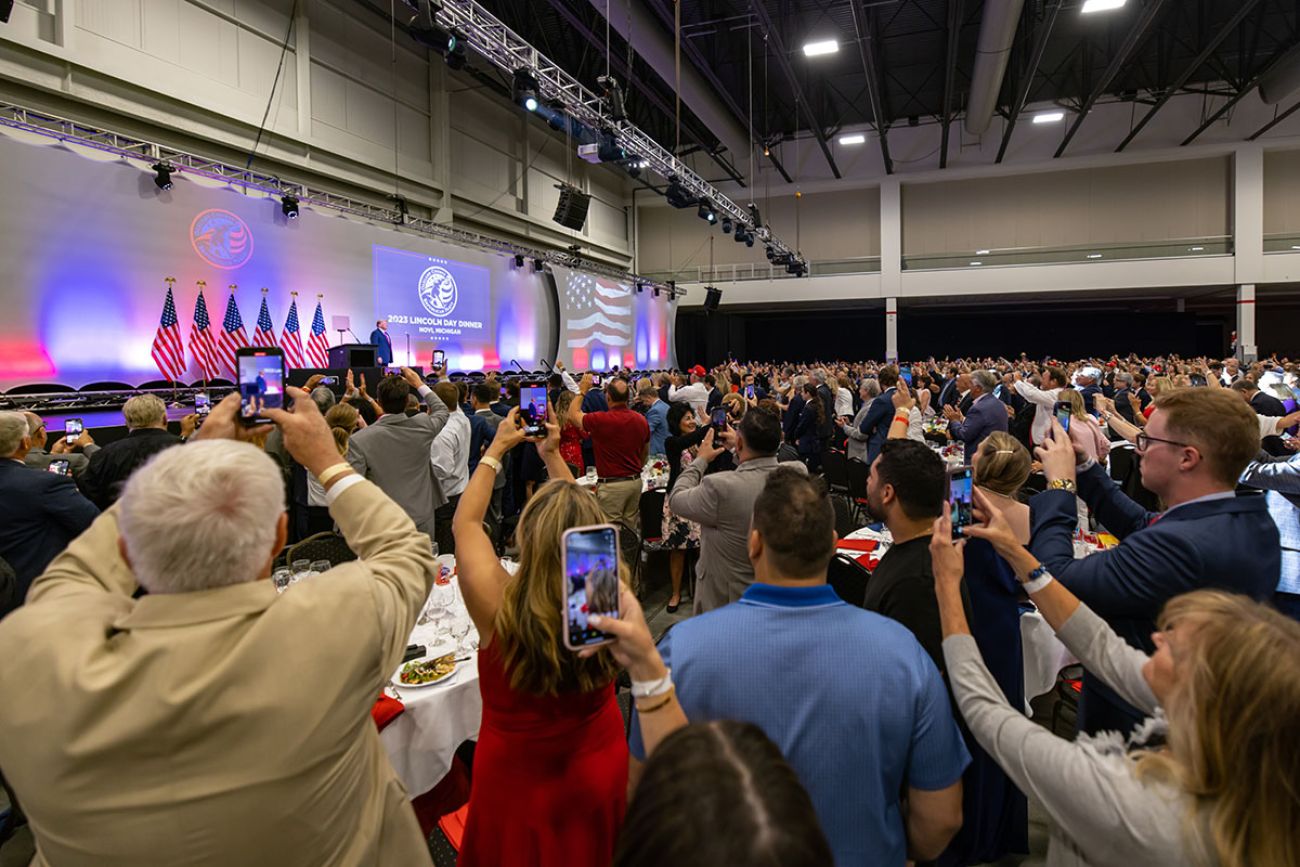 Former President Donald Trump said the auto manufacturing shift to electric vehicles will decimate Michigan due to job losses. Michigan says it hopes to attract about 300,000 new jobs as the industry makes the shift. (Bridge photo by Brett Farmer)
Former President Donald Trump took aim Sunday at the Biden administration's push toward electric vehicles
Trump argued that Michigan auto production jobs will be decimated by the shift to EVs
While fewer workers will be needed to produce EVs, studies suggest other jobs will emerge in the move toward electrification
---
Former President Donald Trump made a number of doomsday claims in a speech Sunday in Michigan about how the shift toward electric vehicles will destroy Michigan jobs.
While some auto sector jobs will change or disappear, many of Trump's claims are inflated or not supported by the available evidence, according to a Bridge Michigan analysis.
In a speech to the Oakland County Republican Party, Trump decried Biden administration energy policy, saying that Washington is forcing electric vehicles on an unwilling public, leading to economic "decimation" in Michigan.
Related:
A frontrunner for the 2024 Republican presidential nomination, Trump hit on familiar themes, all pinned to the growing EV market: environmental extremism, potential Chinese dominance, manufacturing job losses and what he called a "ridiculous crusade to force everyone into electric cars."
The comments come as GM, Ford and Stellantis, each of which has tens of thousands of workers in Michigan, continue to make billions of dollars in investment in retooling product lines toward electrification.
Is Trump against EVs?
Trump once supported EVs, at least when he debated then-candidate Joe Biden ahead of the November 2020 election. At that time, he said he was "all for electric cars."
He also claimed at that debate that his administration had given big incentives to EVs. However, he appeared to be referencing Obama-era tax credits that Trump's administration had tried to roll back.
But even in 2020, Trump criticized California as "just crazy" for imposing emissions standards stronger than federal rules.
Trump's claim on Sunday that the U.S. is forcing EVs onto a resistant public is not without evidence. While Americans surveyed tend to support electric vehicle incentives, most still say they are not yet ready to consider an EV, with prices among the stumbling blocks. This spring, the Environmental Protection Agency said it expects EVs to be 60 percent of the new vehicle market by 2030 — compared to industry projections of 22 percent.
Trump's shifting views on U.S. automakers' EV ambitions
Early in his administration, Trump supported automakers when they invested in their U.S. facilities and announced new jobs. And he chided them when they didn't, criticism that in 2017 resulted in Ford Motor Co. scrapping a planned Mexican factory and investing $700 million in its Flat Rock assembly plant.
However, U.S. automakers split with Trump later in his term over the companies' continued support of Obama-era rules that called for automakers to increase fuel economy by 2025, a move intended to cut carbon dioxide pollution and the adverse climate impacts related to it.
Trump's less-stringent Safer Affordable Fuel-Efficient (SAFE) Vehicles Rule was intended to allow higher emissions to reduce automaker costs and, the administration argued, allow families to buy more new vehicles.
Reports indicate Trump was blindsided in 2019 by General Motors, Ford and other automakers when they withdrew support for Trump's plan.
By 2020, he was tweeting digs at GM CEO Mary Barra, when GM indicated it didn't want to produce vehicles for two different U.S. emissions standards. Since then, the largest U.S. automakers have committed to increasing EV production. That's also resulting in massive product line shifts as they aim for profitability from EVs over the next several years.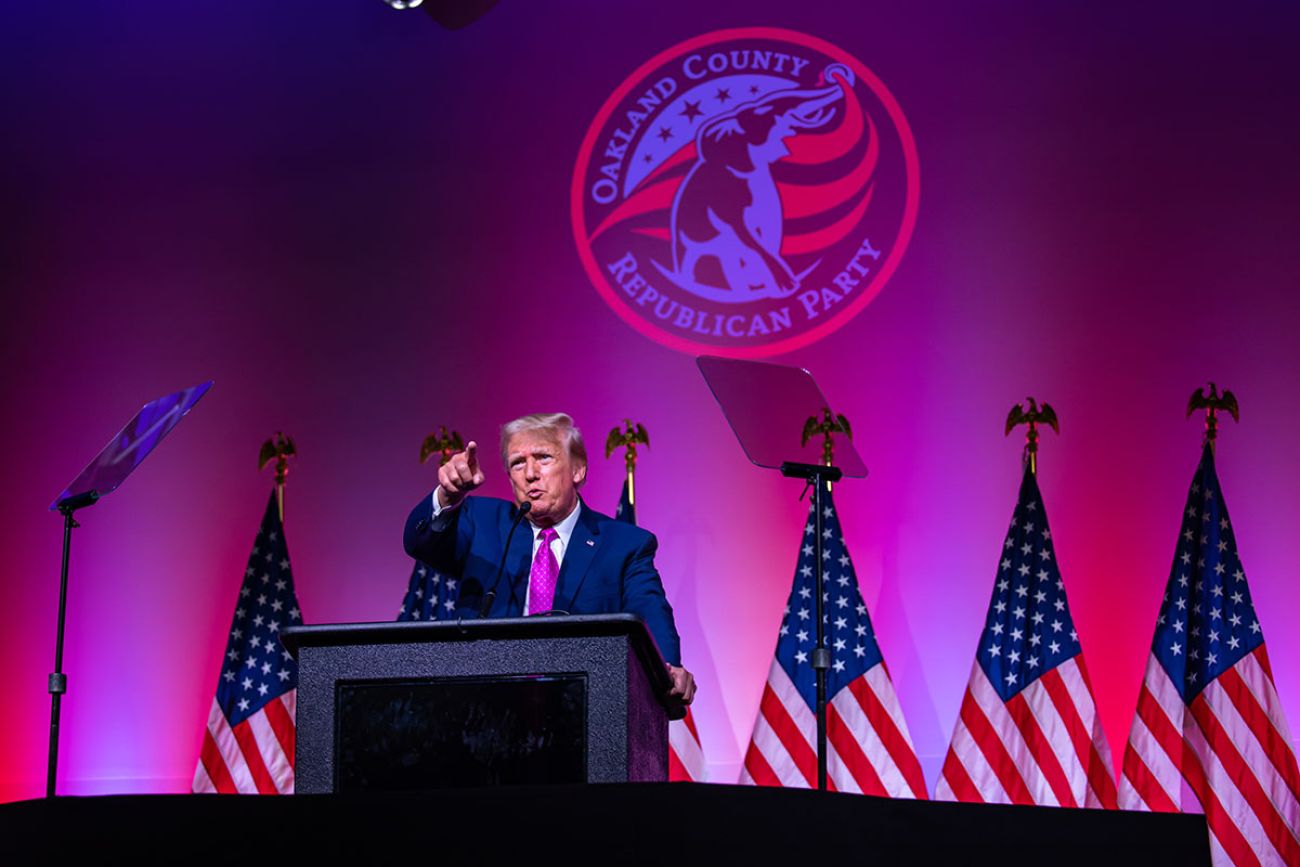 Trump has said he supported EVs, but he is now questioning policies that support them as he heads into the 2024 campaign. (Bridge photo by Brett Farmer)
Trump criticism of Biden rules supporting EVs
Biden has continued the Trump-era goal of bringing manufacturing back to the U.S., but much of it is tied to EV-related tax credits.
The $738 billion Inflation Reduction Act (IRA) in 2022 set climate goals and targeted U.S. energy security by funding supply chain moves for items like EV batteries, solar panels and microchips to the U.S. from China.
This year, the Department of Energy increased the amount of North American materials that had to be in a vehicle to qualify.
Under the Inflation Reduction Act, the U.S. is also investing $7.5 billion in EV charging networks, $10 billion in clean transportation to reduce emissions, and over $7 billion in EV battery components, critical minerals and materials.
The goal, according to the White House, is to achieve net-zero auto emissions by 2050, which it claims "is creating good-paying manufacturing and installation jobs on the way."
EVs made up about 6 percent of new U.S. car sales in 2022, double from a year earlier, according to Barron's.
Is the federal government forcing Americans into EVs?
Not on its own.
States are considering their own regulations for EVs. California, for example, is banning gas-fueled cars, SUVs and pickups as of 2035. The decision won't take existing vehicles off the road, but new sales will be restricted to EVs and some hybrids.
Other blue states are following California's lead: Maryland, Massachusetts, New Jersey, New York, Oregon and Washington immediately said they'll enforce a similar law. Vermont plans to require zero-emission vehicle sales by 2030.
Some states also offered their own rebates and tax deductions to support sales of the vehicles, something Michigan Gov. Gretchen Whitmer has proposed.
Similar shifts are happening across the globe. China is responsible for 27 percent of the global EV sales, while Europe is the second largest market, with an EV representing more than one in every five cars sold.
Will EVs kill Michigan jobs?
It's certainly true that automakers will require fewer workers — as will today's suppliers — to make an EV.
The full impact is not yet known, but Business Insider reported last summer — as Ford announced white-collar layoffs — that 30- to 40-percent less labor will be required for a comparable fleet of EVs to gasoline-powered vehicles.
If last year's forecast is accurate, Trump only somewhat overstated what may be happening to auto-related jobs.
Trump told the Michigan faithful Sunday that "electric cars will kill more than half of U.S. auto jobs and decimate the suppliers that they decimated already — decimate the suppliers, and it's going to decimate your jobs and it's going to decimate more than anybody else, the state of Michigan."
A study last fall from the left-leaning Economic Policy Institute said the U.S. could lose 75,000 auto jobs if EVs become half of all cars sold by 2030. But the report also said different jobs will be created, and the U.S. could gain 150,000 jobs from the transition if policy focuses on domestic market share and assembling vehicles here.
Today, about 8 percent of Michigan's 600,000 manufacturing jobs are in automotive assembly. If there is a 40 percent drop in workers, based on the Business Insider estimate, that would mean a loss of more than 19,000 automotive assembly jobs. All told, about 175,000 people in Michigan work for an auto company or supplier, representing close to 30 percent of Michigan's manufacturing jobs. Under the 40 percent estimated potential job losses, about 70,000 manufacturing positions are at risk in the state.
Nationally, U.S. manufacturing added roughly 1 million workers between 2010 and 2021, according to the federal reserve. At the same time, manufacturing's share of the economy has remained stable at about 13 percent, due to productivity gains.
Less visible are professional jobs associated with EVs and how many could be lost.
The EV industry relies on high-tech workers, including software developers and electrical engineers. Factory work increasingly are trained on electrical systems, too, which can distort what types of jobs EV manufacturing creates.
Estimates from early this year say that while Michigan added 25,000 new EV jobs since 2019, the industry suffered a net loss of 1,600 auto-related jobs.
Will jobs be 'decimated?'
To be sure, automotive jobs will look different. The number of parts in an internal-combustion engine are far more than in an EV, changing the dynamics for automaker hiring and profits. For example, a standard drivetrain has about 200 moving parts that need workers to make them and assemble them into a vehicle, compared to 20 moving parts in an EV.
But new kinds of manufacturing jobs will emerge, including for the production of additional charging stations.
Michigan's policies are shaped toward attracting new EV jobs, according to the Whitmer administration, which aspires to creating 300,000 new EV-related positions by 2030. The state seeks large-scale factories, like the Ford battery plant approved in Marshall, and retaining engineering jobs is a priority as the automotive industry shifts. Job training for new types of manufacturing jobs also is taking shape in Michigan.
Still, as Michigan is home to 19 percent of U.S. auto production, it's not clear that the state will retain its dominance in production jobs.
Moves by Ford to build facilities in Kentucky and Tennessee to serve as hubs of battery development shocked Michigan in 2021, spurring new attention to incentives. Factories also are opening in other states, including in the southeast, even as some factories — such as GM's former Poletown factory in Detroit and Hamtramck being turned into Factory ZERO for EV assembly — are being retooled for electrification.
Meanwhile, all major U.S. automakers are offering buyouts, with Ford also turning to layoffs.
Is Michigan giving away hundreds of billions in Michigan taxpayer money?
Trump made that claim in Novi on Sunday. But his math is off by several zeroes.
Michigan is using its Strategic Outreach and Attraction Reserve (SOAR Fund) to make the state more appealing to new EV-related business deals. The $1.7 billion fund is resulting in performance-based incentives and initiatives to get large properties in the state "shovel ready" as the state says it needs to capture more of the billions in new corporate investment related to EVs.
Large awards so far have gone to Ford and to General Motors, both headquartered in Michigan.
Among the incentives awarded is $1.14 billion — including awards from utility Consumers Energy — to aid Gotion Inc., a U.S.-based subsidiary of China-based Gotion High-Tech, in building a battery component factory near Big Rapids. That project continues to draw pushback from critics who say Michigan should support a company owned by an entity in China.
Business Watch
Covering the intersection of business and policy, and informing Michigan employers and workers on the long road back from coronavirus.
Thanks to our Business Watch sponsors.
Support Bridge's nonprofit civic journalism. Donate today.
Only donate if we've informed you about important Michigan issues
See what new members are saying about why they donated to Bridge Michigan:
"In order for this information to be accurate and unbiased it must be underwritten by its readers, not by special interests." - Larry S.
"Not many other media sources report on the topics Bridge does." - Susan B.
"Your journalism is outstanding and rare these days." - Mark S.
If you want to ensure the future of nonpartisan, nonprofit Michigan journalism, please become a member today. You, too, will be asked why you donated and maybe we'll feature your quote next time!