After two weeks and 1,100 evacuations, mishap tests Flat Rock's loyalty to Ford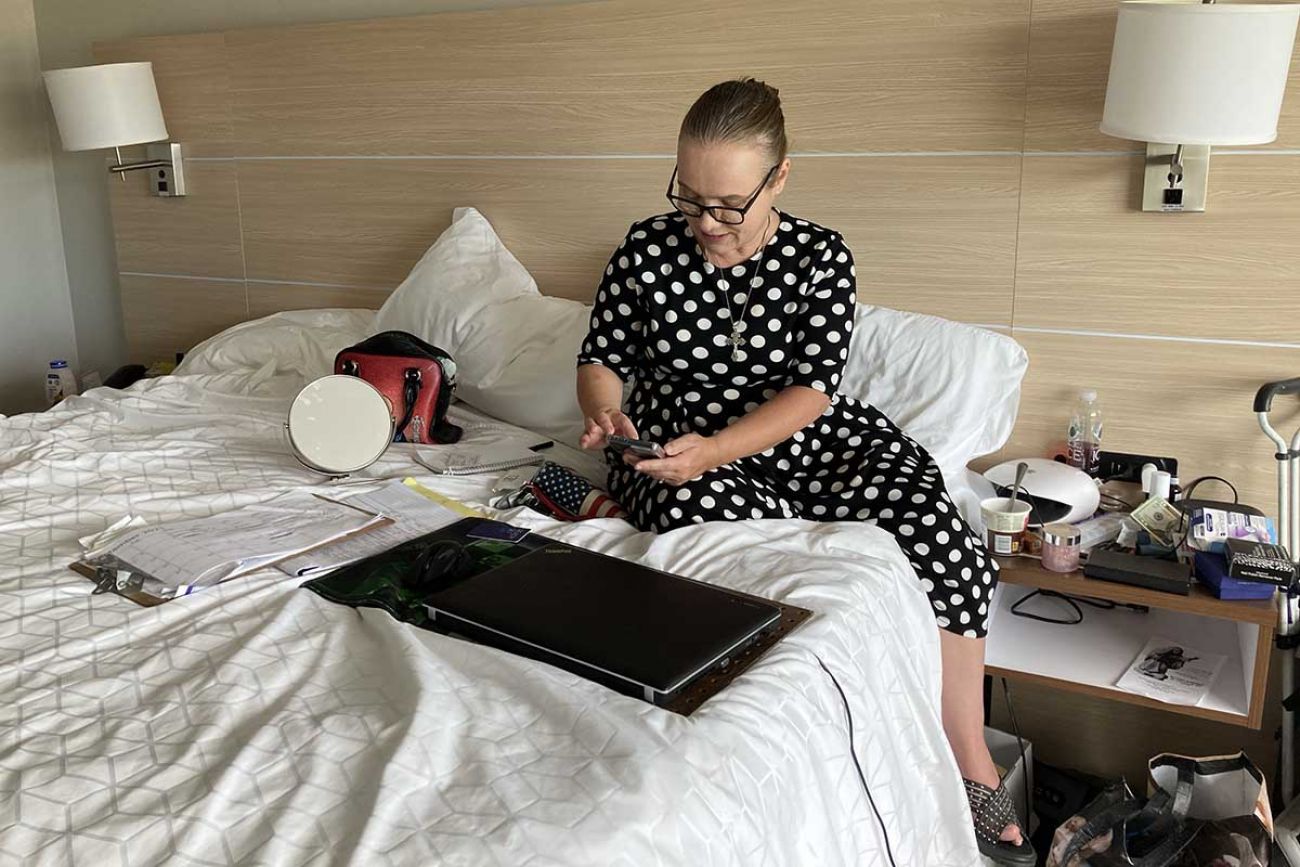 Janice Priest struggles to manage the family children's entertainment business from the bed of a hotel room in Southgate, where she's been living for nearly two weeks since evacuating following a gasoline leak into the Flat Rock sewers. (Bridge photo by Kelly House)
Sept. 23: Flat Rock residents can go home, as search for cause of gas leak continues
FLAT ROCK — A children's entertainer by trade, Janice Priest is used to forcing smiles.
But it's become impossible to conceal her frustration with how Ford Motor Co. and government agencies have handled the slow-moving public health emergency that prompted her to rush home from the Michigan State Fair to evacuate her family from their house on a quiet Flat Rock cul-de-sac.
That was 12 days ago, when health officials recommended evacuation of 1,100 homes in the community of about 10,000 residents in southern Wayne County.
Related:
Priest still has no idea when it will be safe to return.
She celebrated her 53rd birthday last week from the Southgate Holiday Inn Express. That's where she, her husband and three children have lived from suitcases and eaten microwave dinners to avoid the hazardous fumes that may still be in their house after a gas spill of 1,400 gallons entered the city's sewers late last month from a pipe at the Ford Flat Rock Assembly Plant.
"My main concern is the health effects," Priest said. "How long were we breathing this stuff in?"
More than two weeks into Flat Rock's emergency, nobody can answer that question with certainty, and tensions are fraying between residents and Ford, the city's largest taxpayer and employer.
Ford told Bridge Michigan the leak started no earlier than Aug. 26, which means Priest and hundreds of other residents may have been exposed to tainted air for more than a week before they were advised by city and state officials to evacuate.
Residents are concerned about their exposure to gases including benzene, a chemical that can cause short-term headaches, drowsiness and nausea and illnesses from anemia to cancer over time.
"We are very sorry that this happened," said Bob Holycross, Ford's vice president of sustainability, environment and safety engineering.
"But an apology is one thing...What we want the community to know is that we continue to be there for them."
Ford has pledged to pay for hotels until residents can return and offered evacuated residents gift cards of up to $500 to cover groceries, and has vowed to mail $500 checks to every affected household.
But many Flat Rock residents say Ford's efforts aren't enough.
Priest has lost business because she can't access party supplies that are stored in her basement. She has spent gas money shuttling her daughter to her job at a library. And she fears possible long-term health costs from breathing toxic air.
Going to the doctor feels pointless, because most traces of exposure to benzene leave the body within 48 hours.
If she's been harmed, she said, "will I even know until years from now?"
Some gift cards and a $500 check, she said, are simply "not gonna cut it."
Adding to the frustration is that city, state and federal officials can't say how long it will take to clear homes for re-entry, nor how the fuel leak traveled from a pipe leading from an underground fuel tank at the Ford factory, into a manhole outside, and then on to Flat Rock's sewers.
When state regulators last inspected the tank and pipes in February 2019, both were in working order, with a functioning alarm system on the tank, a state spokesperson, Suzanne Thelen, told Bridge Michigan.
Ford and investigators are still trying to get an answer to how that alarm system functioned as the unleaded gasoline leaked out of a pipe.
"That's one of the things we're trying to understand," said T.R. Reid, a Ford spokesperson.
"Should there have been some sort of notification? If so, how?"
So far, there are no reports of serious illness, the leak has stopped, and the city's sewers are clear of fuel, Wayne County officials said.
Flat Rock officials said Wednesday that tests of drinking water found no benzene or volatile organic compounds, two hazardous components of gasoline fumes.
Crews with the Environmental Protection Agency are going door-to-door with a mobile air monitoring lab known as the Trace Atmospheric Gas Analyzer, one of only two in the country, in a tedious process to check homes for toxic fumes including benzene, toluene and xylene, three components of gasoline that can harm humans.
As of Thursday morning, they'd made it through 22 homes since Sept. 10 — just 2 percent of homes in the recommended evacuation zone.
At that rate, it would take several weeks to test every evacuated home.
Frustration with Ford
Ford's presence looms large over Flat Rock, complicating residents' feelings about the spill.
Some evacuees declined to talk to Bridge, noting they didn't want to cause trouble for relatives who work for the automaker.
Ford's Flat Rock plant, which manufactures the Mustang, employs 2,400 people and contributes property taxes that make up 51 percent of the city's overall property tax revenue.
Flat Rock Mayor Mark Hammond said the spill will be a "big black eye" for the automaker, but "this has been a Ford town for a long time," and company officials are committed to atoning for the spill.
"The problem is ours," said Reid, the spokesperson for the automaker.
Some residents are losing their patience.
Janice Priest's son Steven Priest, 20, is sleeping on a friend's couch in Ida, a shorter commute to his job in Toledo.
Priest said he wants Ford held accountable for the spill and its response.
Steven Priest works in the automotive industry. He drives a Ford. He once hoped to work for the company. But after watching Ford's response, he said he's not so sure.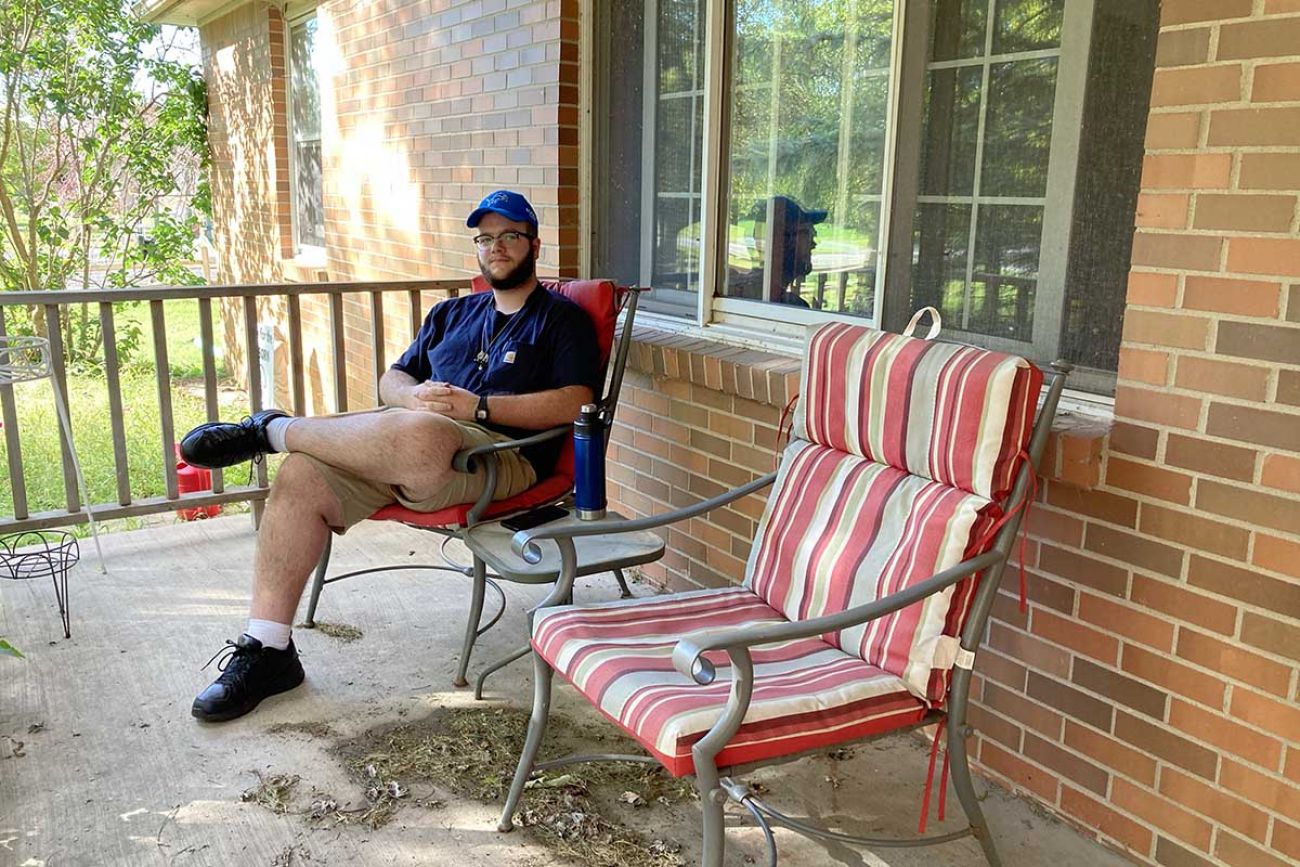 Steven Priest sits on his front porch in Flat Rock. Priest said he wants Ford Motor Co. held accountable for taking days to notice a leak on its property that had contaminated the city's sewers, and then not immediately notifying state officials when Ford workers discovered the leak. (Bridge photo by Kelly House)
"Their top priority definitely aligns with their slogan," he said. "Think Ford first."
A slow response
One of the chief sources of frustration is a timeline that indicates residents may have been exposed for days before the problem was taken seriously.
State officials were first alerted to the sewer emergency through a call to a state chemical spill hotline on Aug. 30.
Crews investigating the smell that had permeated parts of the neighborhood determined the next day that gasoline had entered the sewers.
As they worked to find a source, Michigan environmental regulators visited Ford on Sept. 1 and found nothing.
But later on the same day, Ford employees noticed what company spokesperson Reid describes as a "very small leak" in a pipe running from a 20,000 gallon underground fuel storage tank to the factory, where it was used to gas up newly-assembled vehicles.
Employees also noticed accumulated gasoline under a manhole cover.
A manhole on the Ford Flat Rock property. State officials say fuel used to gas up new vehicles leaked from a pipe at the assembly plant, then somehow entered the Flat Rock sewer system via a "compromised" manhole on the Ford property. (Bridge photo by Kelly House)
That was one day before Gov. Gretchen Whitmer declared a state of emergency in the city, bringing in county, state and federal officials.
Believing the leak was small, Ford officials did not alert state environmental officials.
Instead, officials learned of the leak through an anonymous tip the next day.
Far from small, Ford now believes the leak emptied 1,400 gallons of gasoline, at least some of which entered Flat Rock's sewer system through a compromised manhole before the company plugged sewer lines at the plant on Sept. 3.
Asked whether Ford will face sanctions, Michigan environment department spokesperson Jill Greenberg said regulators are focused on immediate cleanup efforts, but "Ford is the responsible party for the leak," and will be on the hook for all cleanup costs and potential penalties.
Greenberg said crews are still investigating how the fuel went from a leaky pipe into a manhole and then onward to Flat Rock's sewers.
Crews snake a monitoring device into a sewer manhole in a Flat Rock neighborhood, where residents have been advised to evacuate for fear that harmful gases may have entered their homes after gasoline entered the city sewers following an undetected spill at the Ford assembly plant nearby. (Bridge photo by Kelly House)
Greenberg said fuel also spilled into the soil near the pipe — environmental contamination that will require cleanup.
Ted Simon, a toxicologist who worked for 12 years on chemical cleanup efforts at the EPA, said Flat Rock residents may never know whether, and to what extent, they may have been harmed from the Ford spill's fumes.
In order to determine how much benzene and other harmful vapors entered each home, for what amount of time and in what quantity, he said, "you're talking about a real research project."
Defense of Ford, ire with state
Hammond, the mayor, pushed back against critics of Ford, saying the company has been "working 24/7" alongside emergency response crews since learning it was responsible for the leak.
"They've literally run up every corporate exec's credit card to the max limit buying hotel rooms for people," Hammond said.
Hammond instead directed his ire at the Michigan Department of Health and Human Services, which he said has been slow to analyze test results and provide a timeline for when residents can safely return home.
"We've got to be able to tell these people something," he said. "We can't just keep saying 'Well we don't have the data.'"
Along with their ire over Ford's response, residents have expressed frustration with response crews' handling of a voluntary evacuation that omitted some addresses despite residents' complaints of fumes inside their homes.
Residents living outside the evacuation zone established by the state expressed frustration with what they view as arbitrary borders.
Hammond, who evacuated from his home, said he still hasn't gotten a clear answer about why some neighborhoods were left out even while their residents complained of fumes and headaches.
Officials with MDHHS did not respond to questions from Bridge on Thursday.
Kristina Colon and her boyfriend, who live in an apartment complex just east of the evacuation zone, said she began to feel off early in the week of Aug. 29.
When her boyfriend began to complain of nausea and a fluttering heartbeat, Colon told him he probably just needed rest.
"Then I started feeling the same way," she said.
When they learned an evacuation had been ordered, she said, they visited Flat Rock City Hall to collect a hotel voucher.
But they'd been in a Dearborn hotel just one night when they were ordered back out: Because their home wasn't in the evacuation zone, officials told Colon she didn't qualify for a free hotel stay.
Unable to pay out-of-pocket, she and her boyfriend returned home.
Now, Colon fears she has compromised her health by breathing in tainted air.
"We've had a permanent headache since then," she said. "I'm a hop, skip and a jump to the borderline of Zone 1 (whose residents were evacuated) Why wouldn't they still take precautions for us?"
Hammond said Ford was responsible for determining who qualified for vouchers.
Reid told Bridge that the automaker did not determine the evacuation zones and is helping residents monetarily because it recognizes "there's a lot of inconvenience here, together with possible safety risk, and expenses that are being incurred."
"We just see it as our obligation. It's not something that anybody asked us to do."
'We are here to make things right'
During a town hall Thursday night at the Flat Rock High School baseball fields, residents grilled company officials about how they intend to make things right.
Residents outside the evacuation zone asked when and whether their homes will be tested. Parents demanded a health care fund to cover future medical expenses. One resident asked who will compensate him if his property value plummets.
"Will this devalue my property value more than $500?" asked Patrick Van Buren, a resident of an area between the two evacuation zones that residents have taken to calling the doughnut hole.
Holycross, the Ford official, had few answers for residents, other than a vow that "we are here to make things right."
Wayne County Chief Operating Officer Genelle Allen said some residents may know next week when they can come home, but others will have to wait longer. Residents will be notified directly of test results from their home, Allen said.
Joe DeGrazia, an environmental incident management specialist who works for the state, said Ford is making changes at the plant to better detect leaks, including moving storage tank pipes up to ground level.
Ford won't be able to use the storage tank again until it meets a series of requirements from the state, he said.
There is little risk of groundwater contamination because the soils beneath the area are mostly clay, DeGrazia said, but "whatever has been impacted will need to be remediated."
People with ongoing medical needs should seek a medical provider, Holycross said, and report concerns to Ford at flatrockinfo@ford.com.
He wouldn't say whether Ford would cover those costs, but said "we want to understand individual circumstances."
Michigan Environment Watch
Michigan Environment Watch examines how public policy, industry, and other factors interact with the state's trove of natural resources.
Michigan Health Watch is made possible by generous financial support from:
Our generous Environment Watch underwriters encourage Bridge Michigan readers to also support civic journalism by becoming Bridge members. Please consider joining today.
Only donate if we've informed you about important Michigan issues
See what new members are saying about why they donated to Bridge Michigan:
"In order for this information to be accurate and unbiased it must be underwritten by its readers, not by special interests." - Larry S.
"Not many other media sources report on the topics Bridge does." - Susan B.
"Your journalism is outstanding and rare these days." - Mark S.
If you want to ensure the future of nonpartisan, nonprofit Michigan journalism, please become a member today. You, too, will be asked why you donated and maybe we'll feature your quote next time!