Should taxpayers foot the bill for restoring the Midland dams?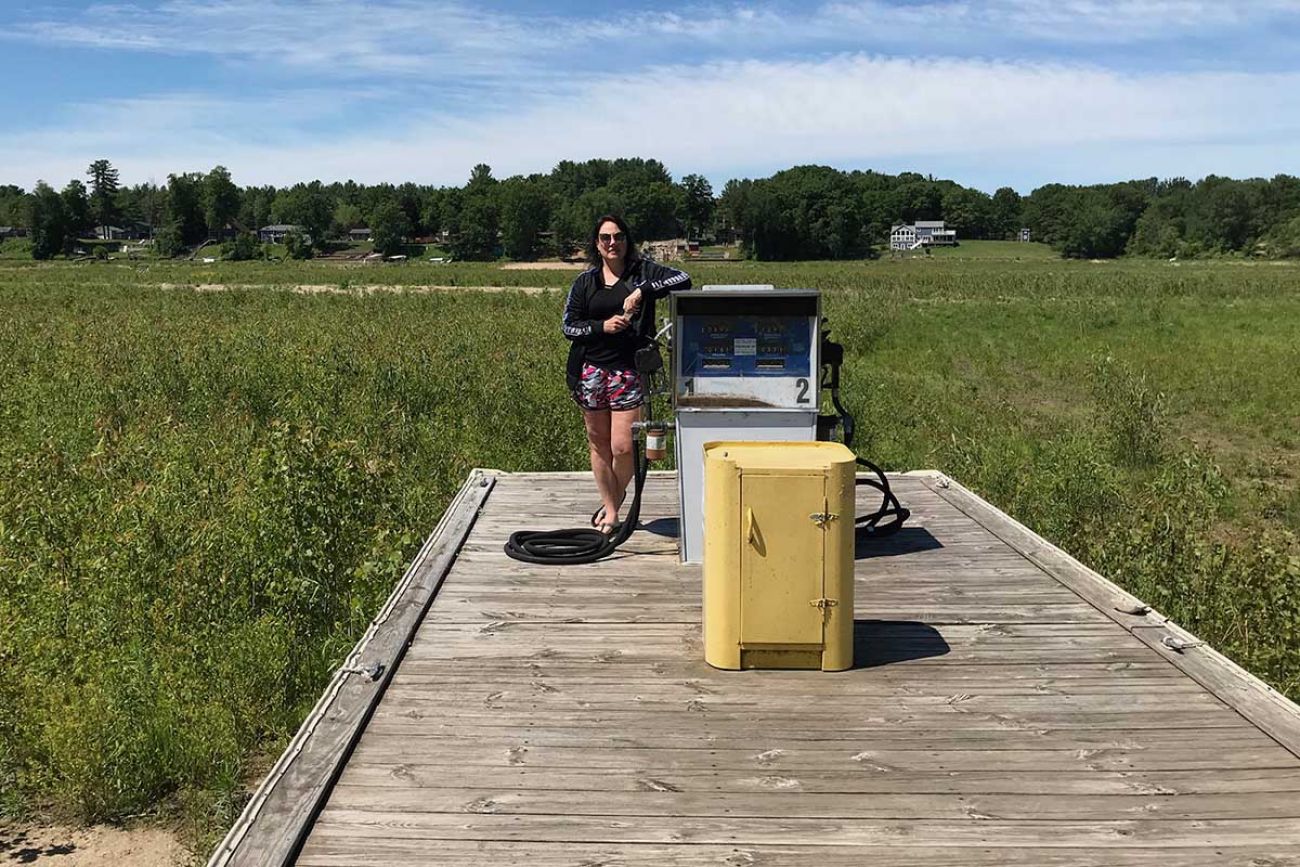 Linda Shephard stands on a dock above the empty Sanford Lake Wednesday morning. Shephard received permission to open the Sanford Lake Marina only hours before the deluge that would eventually destroy Sanford Dam, draining the lake that served as the foundation for Shephard's business. (Bridge photo by Kelly House)
Sept. 13: Report: Shoddy construction, ignored threats led to Edenville Dam collapse
SANFORD—Months after buying a six-boat marina and bait shop on Sanford Lake, Linda Shephard had just received permission to open when the rain started falling and refused to stop.
She sat on a picnic table and watched the floodwater rise over her seawall and inch up her property. Then came the text alert: The Edenville Dam, an impoundment that trapped 21.5 billion gallons of water just upstream, had failed.
"All of a sudden, I saw tires floating down the lake, and a little shed in the water," she said. "That's when I got up and got out."
Related:
By the time she returned two days later, her dream of summers spent trading fish stories with anglers while she topped off their gas tanks had been washed away.
Today, 13 months since the deluge that flooded out mid-Michigan and destroyed the two dams holding back Sanford and Wixom lakes, repairs are nearly complete on the small cottage where Shephard, 55, plans to spend her retirement years.
As for the marina: What point is there in rebuilding a business that sells lake access, boat gas, fishing equipment and bait, when the lake has been replaced by a field of poplar saplings?
"I'm not doing it until I know for sure that the lake will come back," she said.
A plan to do just that has begun to take shape.
A group of Michigan legislators has introduced a bill package that would use public funds to rebuild the Sanford and Edenville dams and repair two upstream dams that were damaged in the floods, while enacting regulatory reforms designed to hold private dam owners accountable for maintaining their property.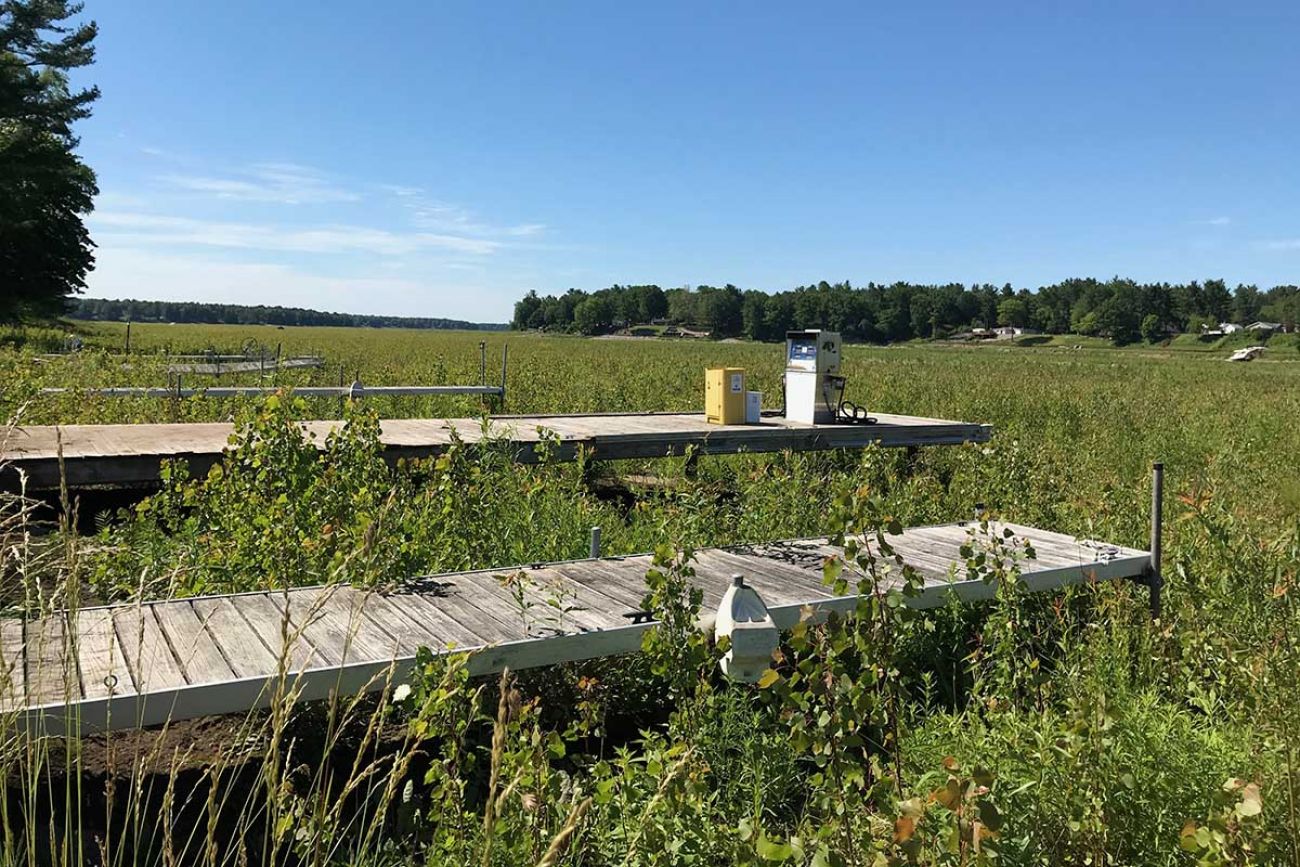 Poplar saplings and other vegetation has filled in the former lakebed of Sanford Lake, threatening to swallow the docks that once jutted out into feet-deep water. (Bridge photo by Kelly House)
But some question whether Michigan should use taxpayer dollars to support the $250 million repair effort, and it remains unclear whether Michigan will adopt the full suite of safety reforms that experts say Michigan needs to prevent the next dam break.
Broken dams, ballooning costs
When she bought the marina, it never occurred to Shephard to check the viability of the four dams that held back Sanford Lake, Wixom Lake, and two upstream impoundments known as Smallwood and Secord lakes.
Longtime residents of the lakes knew the dams were in bad shape. They had sparred repeatedly with the dams' owner, Boyce Hydro, over the company's refusal to maintain the impoundments.
A residents' group called the Four Lakes Task Force was pursuing a plan to take control of the impoundments, taxing lakeside landowners to raise $35 million to repair the aging dams. Then came the floods that broke Sanford and Edenville.
By the time the floodwaters had drained into Saginaw Bay, more than 2,500 structures were damaged or destroyed, at a cost of $200 million. The price to repair the four mid-Michigan dams had risen dramatically.
Current estimates are between $250 and $300 million, Four Lakes Task Force Chairperson David Kepler said.
An initial estimate by the Four Lakes Task Force called for spreading that cost out among landowners, raising the annual assessment for some into the thousands. But a survey commissioned by the task force found that while nearly everyone wanted the lakes back, few were willing to pay anywhere near that much.
The task force now supports an approach that would allocate $225 million in state dollars for the project.
"These dams failed under a private owner that was in non-compliance under federal regulations for years," Kepler said. Area residents have been victimized once by the failures, and many view paying to rebuild the dams as further victimization.
In addition to a hefty repair bill, the dam break exposed the danger of Michigan's aging dams, and the weaknesses of federal and state regulatory systems that lack the teeth to force fixes when dam owners can't or won't maintain their properties.
In the year since, two separate task forces have called for a host of reforms to Michigan's dam management program. One of them, the state-appointed Michigan Dam Safety Task Force, called Michigan's 2,600 dams "an aging inventory that requires comprehensive and immediate attention."
And federal officials have begun to explore reforms of their own, under pressure from Michigan lawmakers who have criticized the Federal Energy Regulatory Commission's inaction despite knowing for decades that the Edenville Dam's spillway could not likely pass a major flood.
Taxpayer help?
On the anniversary of the May 19, 2020 dam break, a group of Michigan lawmakers announced a $500 million funding proposal that would cover most of the cost to fix the mid-Michigan dams, while using the remaining dollars to repair or remove other problem dams across the state.
The bill package also includes regulatory changes aimed at better holding dam owners accountable for maintaining their property, said Rep. Roger Hauck, R-Mt. Pleasant, one of the legislation's cosponsors.
Among them: More frequent inspections of high- and significant-hazard dams, emergency plans dictating how to respond if a dam fails, and proof that dam owners can pay associated costs before the state will grant them a permit to build, repair, remove or abandon a dam.
Hauck called the package a first step and a warning to those who own dams: "There are going to be consequences if you don't take care of them."
Some Michigan members of Congress have called upon the federal government to assist in the rebuild.
But not everyone supports the concept of using public funds to rebuild dams that provide little to no flood protection, and no longer generate hydroelectric power. The overrun dams' remaining purpose, if they are rebuilt, is to hold back recreational lakes — an asset that primarily benefits surrounding residents, and one that comes with environmental costs. Dams, critics note, block fish migration, trap sediments and alter the temperature and flow of rivers.
Before signing up taxpayers to foot the bill to rebuild the dams, said Bob Stuber, executive director of the Michigan Hydro Relicensing Coalition, an environmental and conservation group, Michigan needs a statewide conversation about whether a rebuild is warranted.
"I don't think it's necessarily fair to ask the entire state, or if it's federal funds, the entire nation, to pony up," Stuber said.
Using public dollars could also set "a risky precedent," said Mark Coscarelli, a senior policy fellow with Lansing-based Public Sector Consultants, sending the signal that any time a private dam fails "it's on the public dime."
But Kepler, the chair of the task force representing property owners, noted that residents surrounding the dams weren't responsible for the failure that left them lakeless.
Federal regulators knew for decades that Edenville needed major upgrades. And Boyce Hydro, the private company that refused regulators' orders to make needed repairs, has declared bankruptcy.
It wouldn't be fair, Kepler said, to leave lakeside landowners on the hook to rebuild dams that might still be standing, were it not for the inaction by Boyce and its government overseers.
The lakes, he added, also provide value to mid-Michigan as recreational hubs. Sanford lake alone generates $4.47 million yearly in local economic impact, one study found.
In contrast, a Four Lakes Task Force report concluded, it would cost $125 million to remove the dams and restore the surrounding environment, along with untold impacts to area property values and local government tax coffers.
Preventing future failures
While lawmakers prepare to take up the funding question, Michigan continues to chip away at a state task force's list of 86 regulatory, legal and funding fixes designed to repair aging dams across Michigan and boost dam safety enforcement.
The Michigan Department of Environment, Great Lakes and Energy, which oversees state-regulated dams, has doubled the size of its dam safety unit to five people since last year's dam failures. Unit supervisor Luke Trumble said that staffing boost has given inspectors more ability to proactively address safety concerns, rather than reacting when issues arise.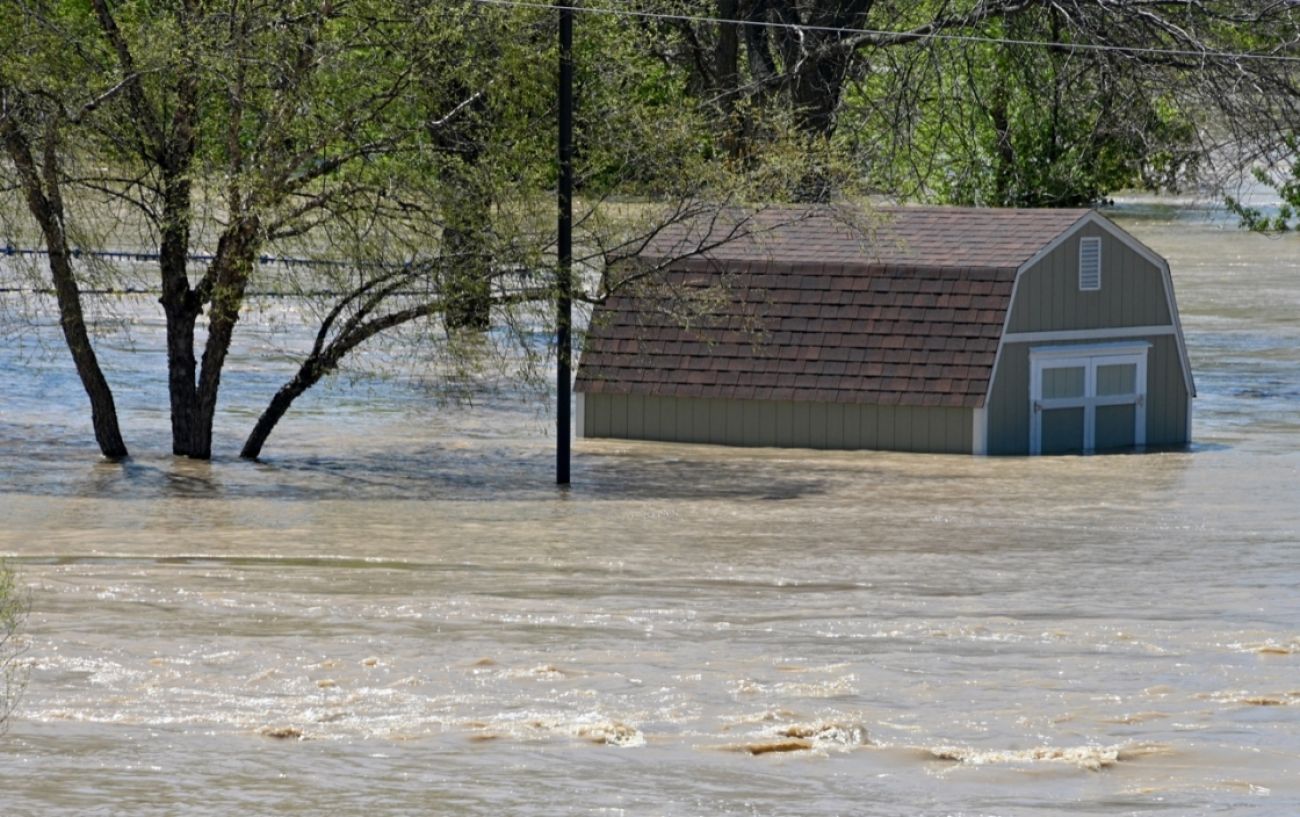 A portion of the Edenville Dam's earthen embankment liquified in a rare occurrence that dam experts previously assumed could only happen to dams like Edenville during an earthquake. (Bridge file photo)
But dam safety experts say increased staffing will be insufficient if inspectors lack the money and authority to intervene when a dam owner won't repair a deficient dam.
The legislation proposed last month could help fill that void. But members of Michigan's dam safety task force say such reforms should only be a start.
Other recommendations, including changing state law to strengthen Michigan's dams safety standards, have yet to gain traction in the legislature, and Hauck said he doesn't expect any further dam-related legislation to come through this legislative session.
While state lawmakers consider next steps to strengthen dam safety in Michigan, members of the state's congressional delegation are pushing for federal reforms.
Reps. Debbie Dingell, D-Dearborn, said John Moolenaar, R-Midland, introduced legislation in April that would require FERC to license a dam only if the project meets federal dam safety requirements. Had such a requirement existed when Boyce obtained the mid-Michigan dams, the company would have had to make repairs before being allowed to generate hydropower.
Dingell and Moolenaar's legislation would also require FERC to evaluate the financial health of would-be licensees, among other reforms.
FERC has also proposed reforms of its own: In January, the agency announced it is considering whether to require the owners of federally-licensed dams to prove they have enough money to operate and maintain their projects.
While government officials ponder possible reforms, lawsuits tied to the disaster are wending through the courts.
Michigan Court of Claims Judge Cynthia Stephens last month rejected state attorneys' request to dismiss claims against the state, leaving area residents free to argue in court that the state's actions prior to the flood amounted to an unconstitutional taking of their property. They argue state regulators should have required Boyce to upgrade dam spillways, and should not have pushed Boyce to raise water levels at Edenville in the weeks leading up to the flood.
And on Friday, more than 400 residents affected by the dams' collapse filed complaints against FERC seeking a total of $334 million, according to lawyer Michael Pitt of the Royal Oak firm Pitt McGehee Palmer & Rivers. They argue that the agency shouldn't have granted Boyce a permit without making sure the company could safely operate the dams.
Pitt, who is part of a coalition of attorneys pursuing claims against the state and federal governments, said that the two agencies need "a profound cultural shift" to prioritize dam safety with more urgency.
More dam removals, more local control
Repairing or removing all of Michigan's aging dams is expected to cost significantly more than the $500 million included in this year's proposed legislation, if much of that money is used to rebuild the mid-Michigan dams.
One possible solution to cover the remaining costs: Create more groups like the Four Lakes Task Force to shift privately-owned dams that no longer serve their original purpose into the hands of lakeside residents, who can then split the cost to maintain the reservoirs as recreational lakes.
Coscarelli, the Lansing policy analyst, likened it to a condominium association, in which residents pay monthly fees that cover mowing, painting and repairs.
"People have to step up and understand that they have a responsibility to contribute to the asset if they're deriving a benefit," he said.
In cases where derelict dams provide little benefit to neighboring landowners or the public at large, he said, Michigan should focus its limited public dollars on removal.
The state Department of Natural Resources provides grants to help dam owners fund repairs and removals. But the $1.85 million annual grant budget, which is split between dams and a host of other priorities, is a pittance in comparison to the demand, said Joe Nohner, the DNR's inland lakes habitat analyst and Midwest Glacial Lakes Partnership coordinator.
'Dreaming there's a lake there'
While they await news about the lakes' future, residents near the mid-Michigan dams have spent the past year rebuilding their communities.
The village of Sanford, population 844 as of 2019, has lost about 40 residents since the flood, said Village President Dolores Porte.
Dolores Porte, president of Sanford Village, printed out a map of the village to keep track of damage inflicted on homes and businesses during catastrophic floods last year. (Bridge photo by Kelly House)
Of 33 businesses operating pre-flood, fewer than half have reopened, Village Councilor Carl Hamann said. He himself is still working to repair his flood-damaged home.
An entire neighborhood was razed, and the land converted to a park after officials determined that rebuilding on low ground in the shadow of the dam would be too risky.
But, Porte said, the traumatizing experience has a silver lining.
"It also forced us to pull together and talk about what the future should look like," she said.
One measure of area residents' faith in that future: Home values along the empty Wixom and Sanford lakes have held relatively steady, said Theresa Quintana, a local realtor who also runs the Sanford Strong nonprofit.
Shephard, the marina owner, has moved to Saginaw while crews finish renovations on her cottage.
She wards off despair by daydreaming about how she'll revive the marina, if and when the lake returns. Maybe instead of just selling gas, snacks and fishing supplies, she'll add an ice cream counter and cafe that serves Sunday brunch with a waterfront view.
Until then, she said, "I'll stare out the window every day, dreaming there's a lake there."
Michigan Environment Watch
Michigan Environment Watch examines how public policy, industry, and other factors interact with the state's trove of natural resources.
Michigan Health Watch is made possible by generous financial support from:
Our generous Environment Watch underwriters encourage Bridge Michigan readers to also support civic journalism by becoming Bridge members. Please consider joining today.
Only donate if we've informed you about important Michigan issues
See what new members are saying about why they donated to Bridge Michigan:
"In order for this information to be accurate and unbiased it must be underwritten by its readers, not by special interests." - Larry S.
"Not many other media sources report on the topics Bridge does." - Susan B.
"Your journalism is outstanding and rare these days." - Mark S.
If you want to ensure the future of nonpartisan, nonprofit Michigan journalism, please become a member today. You, too, will be asked why you donated and maybe we'll feature your quote next time!