Articles
Aerial views of flood waters in and around Midland underscore the environmental challenges facing the region following dam breaks and historic flooding this week.
Republicans say Michigan's attorney general has a conflict of interest because she recently sued the owner of a failed dam over illegally drawing down water from Wixom Lake in 2018 and 2019, killing mussels.
At least two cases have been filed in federal court seeking to hold the owners of two mid-Michigan dams responsible for catastrophic flooding this week.
In court papers, the owners of a dam that failed this week near Midland acknowledged it was considered unsafe for decades. But Michigan's only action against the dam was a suit contending it lowered water and killed freshwater mussels.
The failure of the Edenville Dam has forced the evacuation of 10,000 residents in mid-Michigan, some of whom are sharing their experiences on social media.
Across the country, experts understand that removing dams we no longer need is the best way to keep people safe, improve water quality, restore critical wildlife habitat and eliminate ongoing costs of dam maintenance and repair.
Hundreds are rushing to help those in Midland County evacuated by breaches of the Edenville and Sanford dams. "There are sources of inspiration," Gov. Gretchen Whitmer said Wednesday of volunteer efforts.
The state's 2,581 dams, many aging and in need of repair, get little attention from legislators, but their maintenance and costs raise concerns, particularly as water levels rise in Michigan.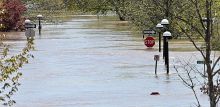 For a decade, safety regulators demanded improvements to a 95-year-old dam that failed this week. The repairs never came, and Michigan regulators deemed the dam in "fair condition." One critic calls it a "catastrophic failure both of the dam and of our government at all levels."
Dow Chemical evacuates its Midland headquarters as dam breaches bring flooding to the complex's containment ponds.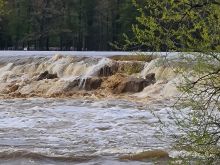 The Edenville dam that catastrophically failed and prompted thousands of evacuations was cited repeatedly by federal authorities, who allege its owners had a "long history of noncompliance."