Ann Arbor likely will be ground zero for Michigan cicada invasion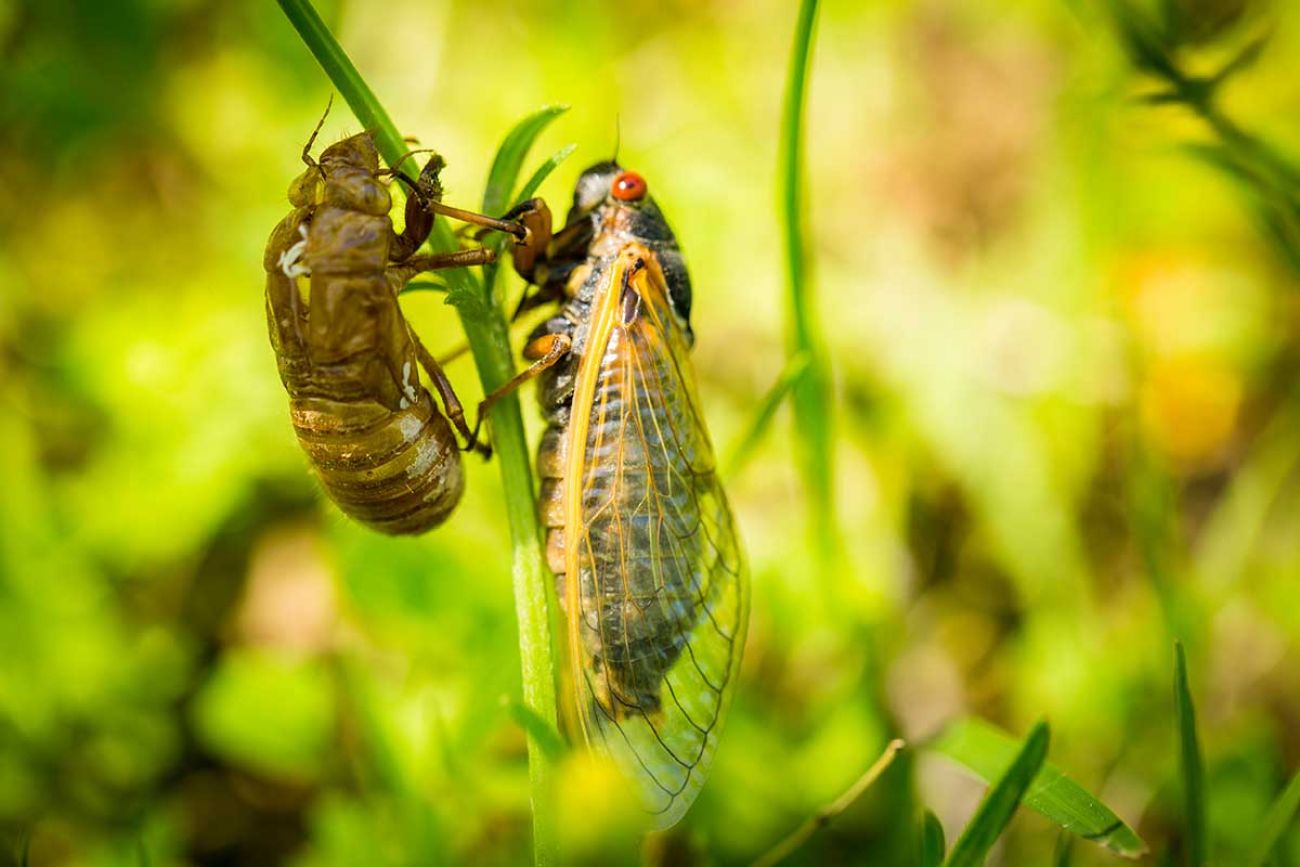 The sound of cicadas can be heard over much of the state during summers, but the distinct cicada species that emerges once every 17 years will be limited to a few southern Michigan counties. (Shutterstock)
Most of Michigan will miss out on the great Brood X cicada invasion of 2021. The one- to two-inch bugs, which emerge from the ground once every 17 years to sing, have sex and die, mainly hang out in a Bug Belt just south of Michigan, from Washington, D.C, across Pennsylvania, to Ohio, Indiana and Illinois.
The exceptions are some southern Michigan counties bordering Ohio and Indiana, where residents are beginning to hear, see and post photos of the black insects with red eyes and orange wing veins.
A 2013 map from the USDA Forest Service indicates only a handful of counties in southern Michigan were known to have Brood X clusters, including St. Joseph, Branch and Washtenaw counties.
Related:
Michigan State University entomologist Gary Parsons said he is only aware of a cicada population that will emerge this year in "the area in and north of Ann Arbor."
Parsons said a population of periodical cicadas may still exist in the area around Coldwater or Quincy, but he did not find any reports of the insects being found in the region in 2004 and the insects have not been encountered there so far this year either.
According to Parsons, Brood X cicadas used to emerge in most of the lower peninsula's woodland regions, but urbanization across the state cut down the state's population of the insect.
While it's unclear exactly how many cicadas will emerge from underground, the region around Ann Arbor is expected to bear the brunt of the six-legged invasion. Picture a bug version of home football Saturday, with "hundreds of thousands, possibly millions," of cicadas descending on the community.
Brood X is starting to emerge at the Matthaei Botanical Gardens and Nichols Arboretum on the University of Michigan campus.
"They aren't out in large numbers yet, cold weather has slowed down the emerging process," said Tom Odell, a specialist who works at the arboretum. "I would say within the next week the numbers will get pretty high and they'll be more vocal and we'll be hearing them more readily in the next week.
"Where their numbers are concentrated they'll be very loud and in the highest concentration if you are able to enter any area, especially a woodland where they come out in huge numbers, you can hardly hear yourself speak when they're that loud," Odell said.
Unlike the cicadas that individually come above ground every summer, Brood X cicadas are an entirely different species that emerge from the underground every 17 years. They lay eggs for their offspring next to trees, and when the eggs hatch, the offspring will fall to the ground, where they burrow into the soil and feed off the sap of tree roots until they can come to the surface 17 years later.
The insects are harmless and pose no threat to humans and animals, and can in some cases even help older trees. Female cicadas carve tiny cuts into tree branches, creating a space where they can lay their eggs. The process can help prune dead or disease-ridden branches of trees.
Nonetheless, cicada behavior can also damage or kill young hardwood tree seedlings because growing trees with thin branches or a thin trunk can be more easily split open by the insects.
Brood X cicadas could slow the city of Ann Arbor's goal of planting 10,000 trees on privately owned property by 2030. The city's program to provide young trees to residents for free is currently paused due to the cicada emergence and will resume this upcoming fall.
Sean Reynolds, coordinator for the city's urban tree program, discouraged residents from using pesticide to kill the cicadas, emphasizing that such chemicals would be ineffective and that the insects are harmless to humans. Reynolds instead urged concerned Ann Arborites to purchase protective netting to place around tree seedlings.
The Brood X cicada emergence is only in its initial stages, but Ann Arbor has been providing information to residents about the insects and is expecting their impact on the region's trees to grow in the coming weeks.
And love them or hate them, they won't be here long. Cicadas typically live for only four to six weeks.
In the meantime, Tiffany Giacobazzi, urban forester for Ann Arbor, said Michiganders should enjoy the cicada song while they can.
"The bugs are about to multiply in number and it's going to get loud," Giacobazzi said. "I hope everyone sits back and enjoys this spectacle nature puts on only once every 17 years."
Michigan Environment Watch
Michigan Environment Watch examines how public policy, industry, and other factors interact with the state's trove of natural resources.
Michigan Health Watch is made possible by generous financial support from:
Our generous Environment Watch underwriters encourage Bridge Michigan readers to also support civic journalism by becoming Bridge members. Please consider joining today.
We're not just a news organization, we're also your neighbors
We've been there for you with daily Michigan COVID-19 news; reporting on the emergence of the virus, daily numbers with our tracker and dashboard, exploding unemployment, and we finally were able to report on mass vaccine distribution. We report because the news impacts all of us. Will you please support our nonprofit newsroom?