Commercial fishing is sinking fast in Michigan. Time for more regulations?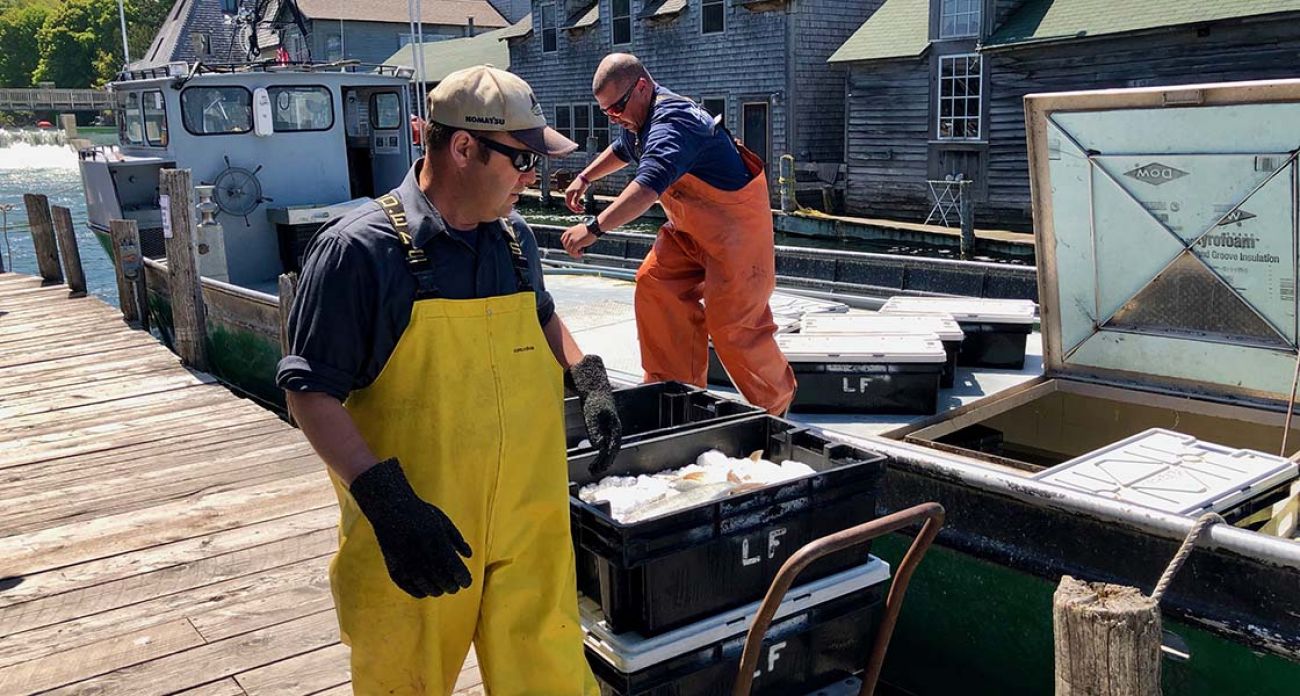 LELAND — Joel Petersen steered the fishing tug Joy into the Leland River and docked it along the row of shanties of historic Fishtown.
Another light haul, the fourth-generation commercial fisherman said this month from the tug's deck. He started to unload whitefish caught off of Lake Michigan's Manitou islands, bringing containers to sell to the Carlson's Fishery just feet away.
Sitting on the lake bottom, the Joy's nets can extend up to 40-feet high. But algae weighed them down this time, shrinking the trap. The problem crops up for several weeks each summer — ever since quagga mussels invaded the Great Lakes basin from Europe more than 30 years ago and took over Lake Michigan by the 2000s. The tiny mollusks suck up all kinds of tinier underwater critters, allowing sunlight to penetrate deeper into the lakes, fueling algae growth.
"You don't catch anything until you go through this," said Petersen, 39, and in his 27th year in the family business. "It last sometimes six weeks."
Related: Surging Great Lakes threaten Michigan's beloved Fishtown
Joel Petersen steers the Joy into the Leland River from Land Michigan. (Bridge video by Jim Malewitz)
The slime is one of many difficulties he and his colleagues — just 13 full-time businesses, mostly family run — face in tying their livelihoods to Great Lakes fish. They face havoc from other invasive species and market pressure from fish farms and operations outside of the Great Lakes.
And now? A push to tighten regulations and increase fees on commercial fishermen, who say it could determine whether fishing tugs still have on place on Michigan's Great Lakes or will fade to history.
Anglers want Lansing lawmakers to place tighter curbs on commercial operations so sportfishing continues to thrive, while families like Petersen's argue their case for existence — and to preserve Michiganders' options for locally caught fish.
August 2019: Rising waters of Lake Michigan assault Grand Traverse coast. In photos.
Amber Mae Petersen, who runs a Muskegon fish retail outlet and is married to Joel's cousin and business partner Eric, made her appeal to House lawmakers at a June 18 hearing.
"Commercial fishing will never reach its heyday again," she testified. "That's not possible, and that's not what we're asking. What we're saying is: For the 13 [full-time businesses] left, let's provide some variety to our community."
Tightening regulations
The House Committee on Natural Resources and Outdoor Recreation kicked off the debate this month, which is expected to continue into the summer. Three bills would: increase commercial fishing license fees from around $200 to $1,400; exponentially boost fines, which haven't changed since the 1920s, for illegally harvesting fish; and tighten reporting requirements on what fishermen catch and where they leave their nets — to prevent motor-shredding encounters with charter boats.
The reforms would also bar commercial harvests of the popular yellow perch in Lake Huron's Saginaw Bay, exclusively reserving the dwindling population for anglers.
"Catching fish in our water is a privilege, not a right," Rep. Jim Lilly, R-Macatawa, said when introducing House Bill 4569, part of the package also sponsored by Reps. Jack O'Malley, R-Lake Ann, and Pauline Wendzel, R-Watervliet.
The Department of Natural Resources and angler groups back the legislation, calling it a long-needed update to a century-old commercial fishing code that keeps state officials from closely tracking and prosecuting bad behavior.
Critics fear the changes would further burden a struggling industry, crimping supplies of locally caught fish to Michigan dinner tables.
"If I look at tourism in the U.P. and I look at every single bar and restaurant that has a fish fry every Friday night — If you want to place all these restrictions on them, what's the impact going forward?" Rep. Sara Cambensy, D-Marquette, asked at a June 11 hearing.
"I worry about what this is going to do, especially since the number of commercial fishing outfits has gone down."
DNR officials say they haven't calculated the entire proposal's financial impact on commercial fishing. But taking yellow perch off the menu in the Saginaw Bay would cut the dockside value of that bay's fishery up to 35 percent, the agency says. That's out of $400,000 to $500,000 in fish caught there each year.
A sinking industry?
When Petersen's family first set out on Lake Michigan more than 90 years ago, thousands of commercial fishermen worked the Great Lakes. Tens of thousands more Michiganders drew income from the industry. Within decades, overfishing, pollution and the invasion of the foreign sea lamprey and alewife nearly wiped out native fish such as lake trout. Michigan is still rehabilitating the lake trout and other game fish — through stocking and bag limits, reserving access to anglers.
Great Lakes commercial fisheries
Some 100 million pounds of fish are caught commercially throughout the Great Lakes, according to estimates from the University of Michigan. Here's a look at what fish are caught where:
Lake Erie has the largest commercial fishery in the lakes, with most coming from Canadian waters. Walleye and yellow perch are caught the most.
Lake Superior: Whitefish, lake trout, chub, lake herring and smelt
Lake Huron: Whitefish, lake trout, chub, channel catfish, carp, Pacific salmon, yellow perch and walleye.
Lake Michigan: Whitefish, lake trout, chub, smelt, yellow perch.
Lake Ontario has the smallest fishery. Harvested species include yellow perch, whitefish, bullhead and eel.
Source: Great Lakes Environmental Assessment and Mapping Project
Now, there are only 21 businesses left, according to state records. Only 13 of them make all their income from fishing, Amber Mae Petersen said. In 2017, commercial fishermen harvested about 2.5 million pounds of fish (mostly whitefish) worth $4 million.
They comprise about half the commercial fishing industry in Michigan, with Native American tribes taking in another $5 million of fish in 2017. Tribal governments have regulated their own fisheries since successfully asserting their treaty rights to fish in the 1970s. A landmark consent decree over how Michigan and five Great Lakes tribes cooperate over fishing rights — and set quotas — expires in 2020.
The proposed rules in Lansing wouldn't apply to tribal fisheries.
Sportfishing is big business
Both state-licensed and tribal commercial fishermen are dwarfed by Michigan's 1.1 million licensed recreational anglers. The state trails only Florida in attracting out-of-state fishing tourism. Recreational fishing in Michigan spurs $2.3 billion in commerce, the Michigan United Conservation Clubs estimates.
Nearly 40 percent of Michigan sport fishing relies on stocked fish. With the federal government, the DNR spends millions each year stocking 25 million fish in more than 1,000 locations. But anglers generate roughly $30 million per year — through state license fees and federal taxes on gear — to manage those fisheries, Bryan Burroughs, executive director of Trout Unlimited's Michigan chapter, told lawmakers.
Recreational fishing in Michigan's Great Lakes
In 2018, anglers harvested about 1.8 million fish in Michigan's Great Lakes waters and Lake St. Clair, according to Department of Natural Resources surveys. Here's a look at the sports fish caught most in each lake.
Lake Erie: Yellow perch , walleye, channel catfish
Lake Superior: Coho salmon, lean lake trout, lake whitefish
Lake Huron: Yellow perch, walleye, lean lake trout
Lake Michigan: Yellow perch, chinook salmon, lean lake trout
Lake St. Clair: Walleye, yellow perch bluegill
Source: Michigan Department of Natural Resources
License fees on the few remaining commercial fishing businesses don't come close to paying the $1 million to $2 million each year to manage that industry, Burroughs added.
"Recreational anglers have been paying that tab," he said.
Angler groups point to those numbers — and ongoing ecological challenges to Great Lakes sport fish — as a reason why Michigan should go all out to protect sportsfish, including tightening oversight of commercial operations.
Brian Springstead, who owns a fishing charter service on Grand Traverse Bay, said he sympathizes with commercial fishermen but believes it's bad policy to favor an industry squeezed by broader economic forces.
"Eventually, you have to pull the plug on the horse and carriage industry," he said, nursing a beer at a bayside bar outside of Traverse City. "It's the marketplace. If they had a superior product that was better tasting, people would be beating their doors down."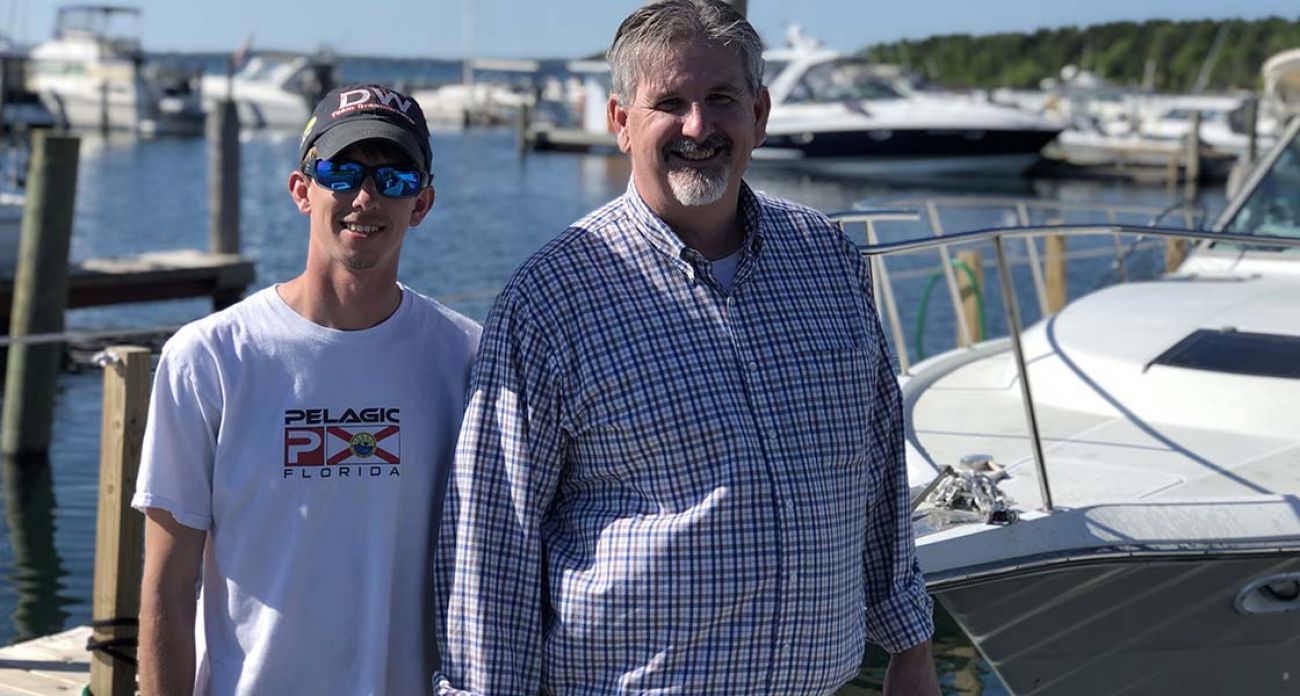 Commercial fishing families say Michiganders who can't afford their own boats would lose more than just tradition if the industry continues to decline.
"All your restaurants — you're not going to buy [Great Lakes] fish because that sports fishery can't help the restaurant," said Denise Purvis, who handles sales and marketing for Purvis Fisheries, which harvests fish off Lake Huron's Manitoulin Island and buys some Michigan-caught fish.
Aside from perch, farms don't raise the most popular Great Lakes fish to eat. For folks ordering whitefish, walleye or tribal-caught lake trout in Michigan, the only question is whether it was caught on the U.S. or Canadian side of a lake, Amber Mae Petersen said.
Order one of those fish in Northern Michigan or the U.P., and it most likely came from Michigan waters, she said. Restaurateurs downstate are less guaranteed to see Michigan-caught fish on their plates.
"If we go away as a commercial fishery, your only option will be farm-raised. So anybody that's desiring wild-caught Great Lakes fish from the United States, you're going to look hard and long and far — or go catch it yourself," Petersen said.
Following her emotional testimony Tuesday, committee chair Rep. Gary Howell, R-North Branch, said he would assemble a workgroup to hash out differences over the legislation this summer.
Paltry fines and fees
Michigan last updated fines and fees for commercial fishermen in 1928, while the value of a dollar has since increased 15-fold. Currently, fines top out at $100 for offenses such as for keeping fish illegally. That makes prosecutors less likely to pursue charges.
"That is not much of a disincentive if you're a fisherman landing tens of thousands of dollars worth of fish in an outing — over your licensed allocation," Jim Dexter, the DNR fisheries chief, told lawmakers on June 11.
Recreational anglers, in contrast, face up to $500 in fines for keeping one too many fish.
Under the proposed legislation, law-breaking commercial fishermen could see fines as high as $5,000. Annual license fees would jump to $1,400 from $200, with the potential for more increases in coming years.
The hikes would come at a time when commercial fishermen seek looser regulations.
Calls to ease up
Joel Petersen splits his time fishing outside of Leland and Muskegon. The Leland side of his business couldn't stay afloat without a nonprofit's subsidy; The Fishtown Preservation Society, whose mission includes preserving Michigan's commercial fishing heritage by keeping an active operation on Fishtown's docks, owns and maintains the Joy and its state license.
"We're a niche fishery," Petersen said. "We can't catch the volumes. There's not enough guys left. There's not enough fishermen left, and the lake's changing where there might not be the fish to support a fishery anymore."
He says allowing him to keep lake trout — just those that inevitably swim into the nets he sets for far more valuable whitefish — would improve his fortunes. Petersen sees so many lake trout darting beneath Lake Michigan's waters that he believes the fish are fully rehabilitated — and that the state needs of higher quotas.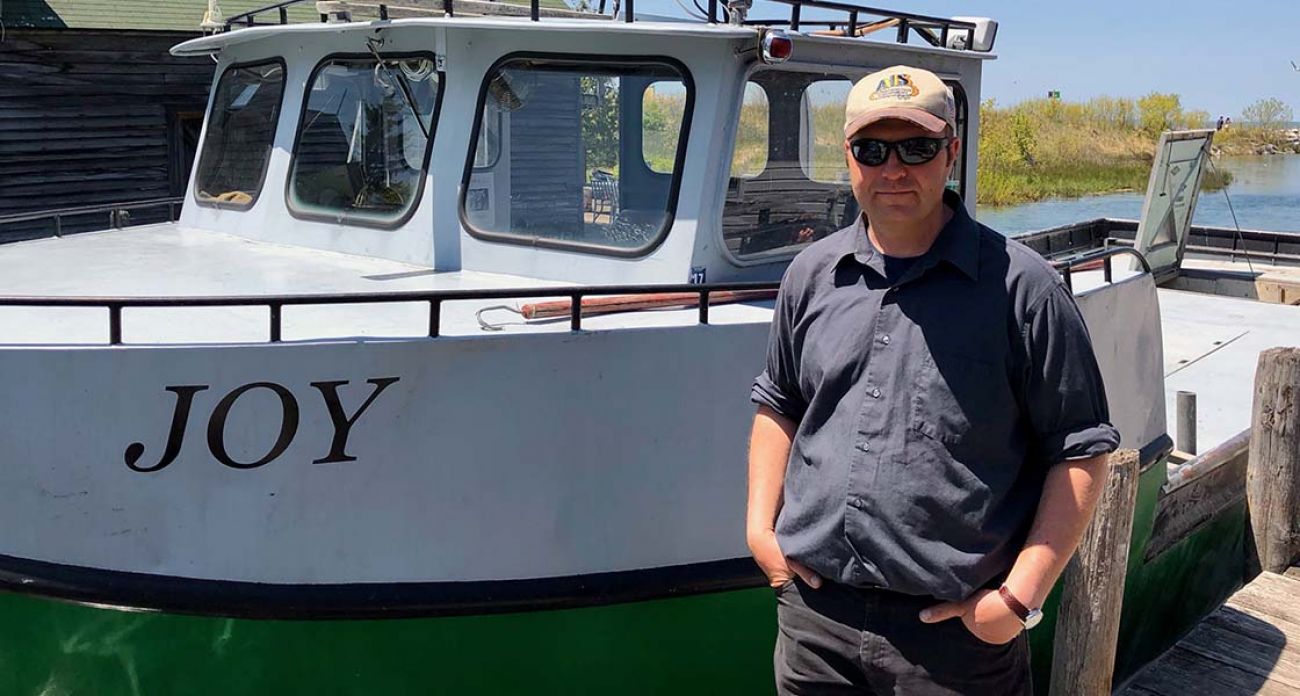 But Michigan bars commercial fishing for lake trout, and it continues to stock them for anglers.
As it stands, Petersen must throw back any lake trout caught in his nets, which often die anyway when surface water is particularly warm. Sometimes that's very few. But in a particularly bad six-week stretch two years ago, Petersen recalls throwing back as many as 60,000 likely dead lake trout. (The DNR allows this practice and such fish do not count toward state quotas.)
"I can't describe how awful that feeling is to see these fish floating down the lake, going away," Petersen said.
Anglers argue commercial crews should change their practices to avoid catching trout.
During the Legislature's 2018 lame duck session, then-Sen. Tom Casperson, R-Escanaba, pushed a bill through the Senate that would have repealed the state's ban on commercial lake trout harvests on Lake Superior and Lake Michigan — adding a new revenue stream for the industry.
The bill died in a House committee, but industry experts expect a similar proposal to resurface this summer.
Allowing commercial fishermen to keep lake trout in Lakes Michigan and Superior would leave fewer for recreational anglers, since a 2000 agreement with five tribes in the eastern U.P. and northern Lower Peninsula limits the state's harvest.
In some areas, licensed anglers already have exceeded annual quotas. In the Grand Traverse Bay of Lake Michigan, the Natural Resources Commission in April approved emergency limits on anglers of just one trout per day.
But in his section of Lake Michigan, Petersen sees lake trout everywhere — maybe even scaring off whitefish, he says. He's sick of throwing back dead lake trout.
"You can't catch a dead fish," he said. "So why don't bring it in and make it available for the public?"
Michigan Environment Watch
Michigan Environment Watch examines how public policy, industry, and other factors interact with the state's trove of natural resources.
Michigan Health Watch is made possible by generous financial support from:
Our generous Environment Watch underwriters encourage Bridge Michigan readers to also support civic journalism by becoming Bridge members. Please consider joining today.
Only donate if we've informed you about important Michigan issues
See what new members are saying about why they donated to Bridge Michigan:
"In order for this information to be accurate and unbiased it must be underwritten by its readers, not by special interests." - Larry S.
"Not many other media sources report on the topics Bridge does." - Susan B.
"Your journalism is outstanding and rare these days." - Mark S.
If you want to ensure the future of nonpartisan, nonprofit Michigan journalism, please become a member today. You, too, will be asked why you donated and maybe we'll feature your quote next time!