Dems have big PFAS plans, fewer for Great Lakes, as Michigan primary nears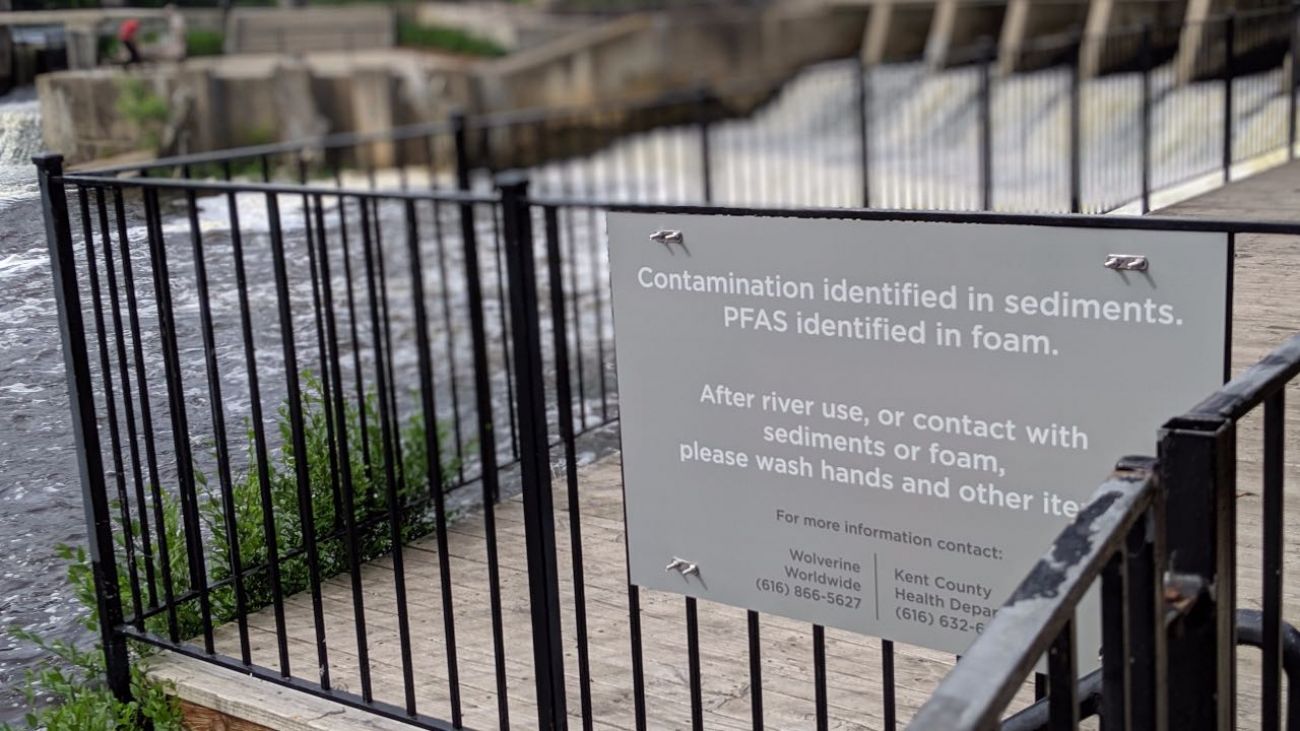 LANSING – When her husband died of liver cancer in 2016, Sandy Wynn-Stelt did not yet know the land they'd lived next to for 25 years was a corporate dump site for chemicals that leached into their well water. And doctors still don't know what will come of the high concentration of PFAS "forever chemicals" they've since found in her blood.
But as she prepares to vote in Michigan's Democratic presidential primary on March 10, Wynn-Stelt said she knows what she wants to hear from candidates coming to the Great Lakes state.
"I'm expecting that if you come into Michigan for the primary, and you don't talk about water quality, it's not going to go well for you here," said Wynn-Stelt, a psychologist from Belmont in western Michigan.
"This is a big issue in our state."
Indeed, water, infrastructure, health care and education are among the most-talked about issues by Michigan Democratic primary voters, according to For Our Future, a liberal group that knocked on more than 250,000 doors in 2019.
Expect to hear more on those topics from candidates in coming months, said David Holtz of the Michigan Sierra Club. The state is expected to be a key battleground the week after Super Tuesday elections on March 3, and candidates are "going to want to be responsive," Holtz said.
That's already begun in New Hampshire, an early voting state where local concerns over PFAS contamination have prompted multiple Democratic presidential candidates to roll out clean water initiatives and push for new federal regulations.
Top contenders are also touting aggressive plans to combat climate change that could have major implications for water quality and the Great Lakes. And Flint's ongoing recovery from a lead contamination crisis continues to inspire calls for service line replacement funding.
For Wynn-Stelt, PFAS exposure has turned her into an unlikely activist for tougher regulations. The once-passive voter testified on PFAS before a congressional subcommittee in Washington D.C. last year and in a Grand Rapids hearing organized by U.S. Sen. Gary Peters.
The 60-year-old can't say with certainty that contaminated drinking water killed her husband. But "I know you're not supposed to drink Scotchgard. Let me put it that way," she said, referring to household stain remover that contained PFAS.
That's effectively what they did while living in a Grand Rapids suburb, across the street from what she learned after his death was a longtime chemical disposal site for the shoemaker Wolverine Worldwide.
State regulators who tested Wynn-Stelt's well water in 2017 discovered massive amounts of per- and polyfluoroalkyl substances, known collectively as PFAS. Testing has revealed up to 86,000 parts per trillion PFAS in her water, well above the federal health advisory level of 70 ppt – and up to 5,000 parts per billion in her blood.
PFAS chemicals, used in non-stick, waterproof products such as Scotchgard and Teflon, are linked to cancer and were used at as many as 11,300 Michigan fire stations, landfills, industrial sites, military bases, airports and other locations, according to state estimates.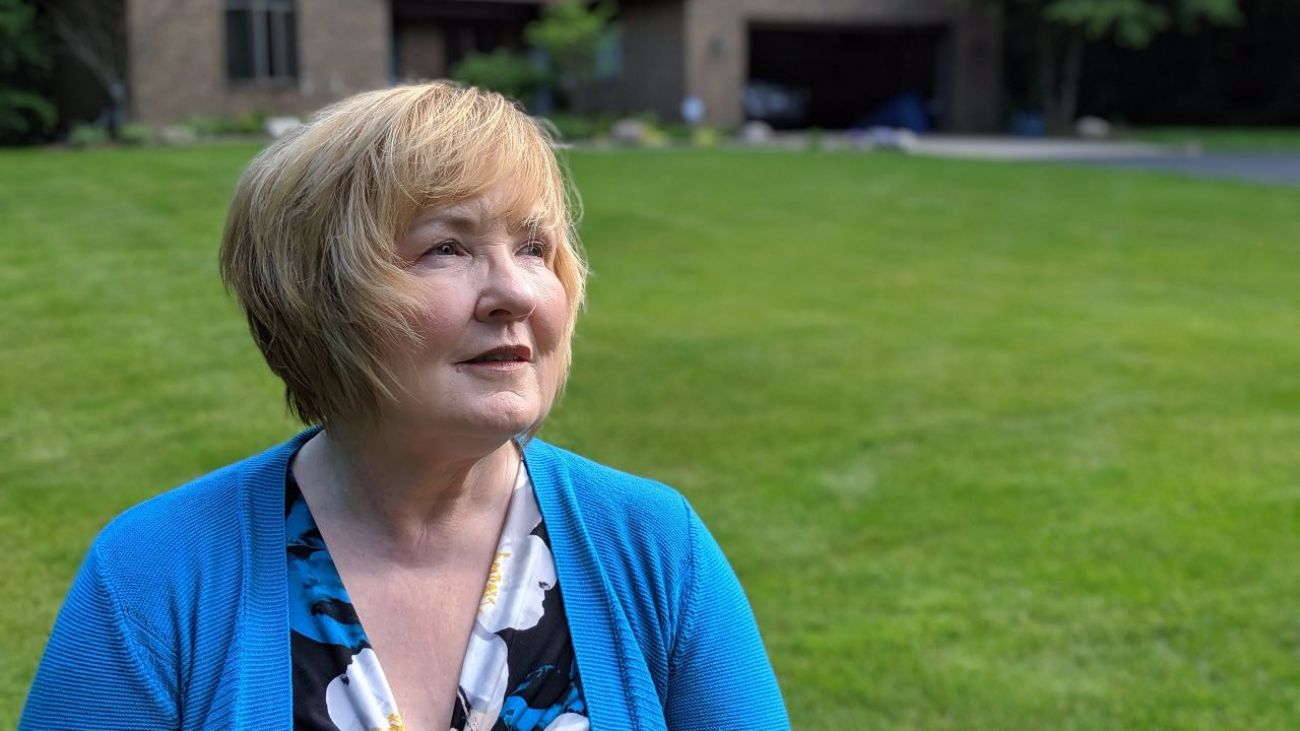 PFAS
Most voters, let alone presidential candidates, had not heard of PFAS four years ago when Republican President Donald Trump defeated Democrat Hillary Clinton by 10,704 votes in Michigan en route to his electoral college victory.
But the contaminant has emerged as a key issue here in Michigan and states across the country like New Hampshire, which will host the nation's first presidential primary on Feb. 11, one week after the Iowa caucuses kicked off the nominating contest.
Sen. Elizabeth Warren of Massachusetts laid out her PFAS response plan in a New Hampshire newspaper op-ed, calling for the EPA to establish safe drinking water standards, set a maximum contaminant level and designate PFAS as a hazardous substance to ensure enforcement and make polluters pay cleanup costs.
New Hampshire is also where former South Bend Mayor Pete Buttigieg touted plans to address PFAS contamination, including "science-based standards" for drinking water, new cleanup requirements under the Environmental Protection Agency's Superfund program and funding for health studies.
And it's where U.S. Sen. Bernie Sanders of Vermont accused PFAS manufacturers of "corporate greed" while promising to support state regulations, create federal clean water standards and "guarantee every person in New Hampshire and across the country clean drinking water as a human right."
"I do think it'll be a big issue if candidates can take advantage of it," said U.S. Rep. Andy Levin, D-Bloomfield Township, who is campaigning for Warren and held a recent PFAS town hall meeting in New Hampshire.
Former Vice President Joe Biden's campaign last month hosted a PFAS roundtable there with U.S. Sen. Tom Carper, the top Democrat on the Environment and Public Works Committee.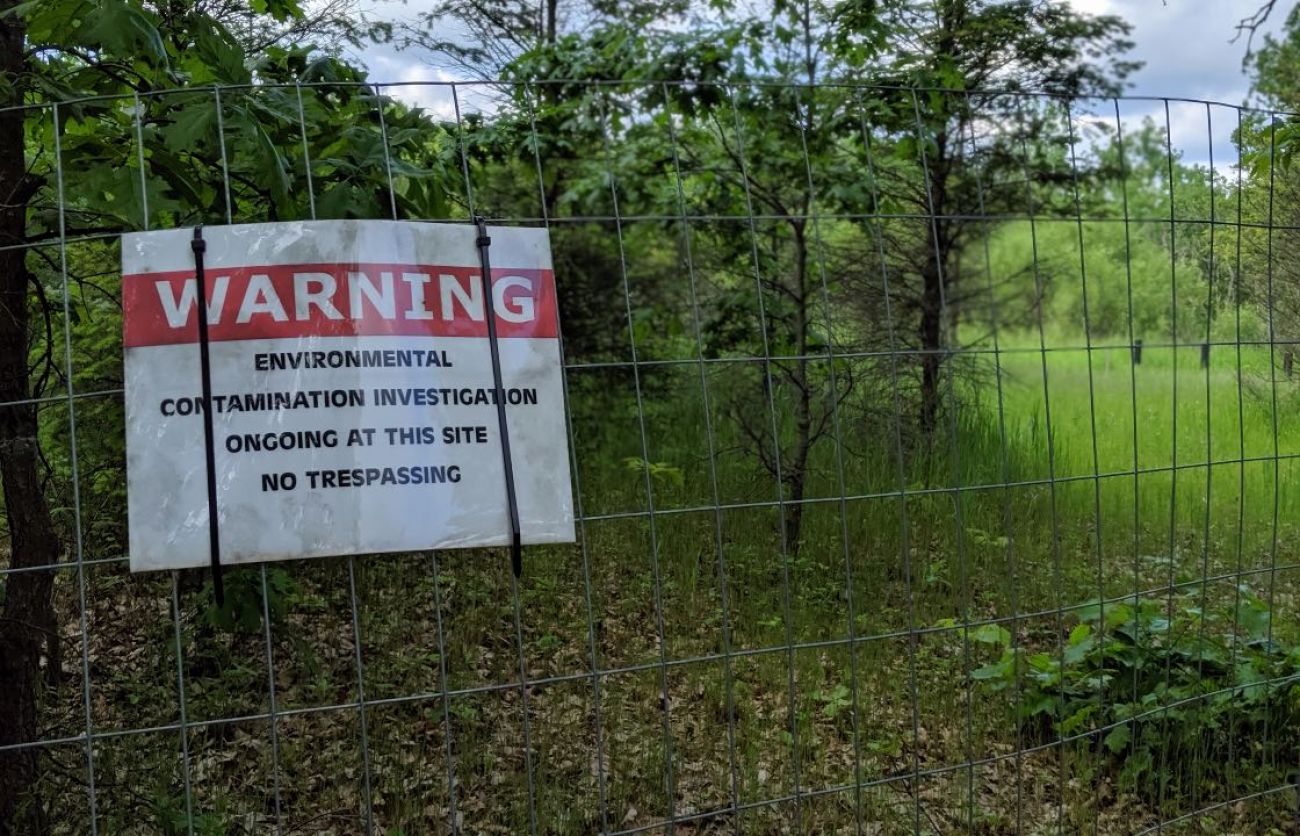 "It's certainly on my constituents' minds," Levin said. "Water quality is like the No. 1 issue in Macomb County after health care."
The Democratic-controlled U.S. House in January approved legislation that would require the EPA to set federal drinking water standards for PFOA and PFOS, two of the most well-known PFAS chemical compounds.
The GOP-led Senate is unlikely to act following a veto threat by Republican President Donald Trump. In a January statement, the White House said the PFAS bill "set problematic and unreasonable rulemaking timelines and precedents, and impose substantial, unwarranted costs" on government agencies and businesses.
Several Democratic presidential candidates have backed New Hampshire's push to limit PFAS to 12 parts per trillion and PFOA to 15 parts per trillion, which would both be significantly lower than the current 70 ppt federal non-binding advisory level (the equivalent of 3 ½ drops in an Olympic-sized pool.)
In Michigan, draft standards working their way through the rule-making process would set drinking water limits for seven separate PFAS compounds, including an 8 ppt standard of PFOA and 16 ppt for PFOS. Businesses and local governments are watching the process closely.
Michigan began an aggressive PFAS sampling plan in late 2017 and is now monitoring PFAS-contaminated groundwater at 74 sites in 36 of the state's 83 counties. Testing data have shown at least trace amounts of PFAS in more than 100 public water systems.
It's "incredibly important" to adopt national standards, said Lisa Wozniak, executive director of the Michigan League of Conservation Voters.
"It's great a state like Michigan is putting protections in place to address our waterways, but we're linked to his massive system called the Great Lakes. We should be a leader, but we cannot be an island."
PFAS is no longer manufactured in the United States, and foes of strict standards contend there's no scientific consensus on how much PFAS is dangerous.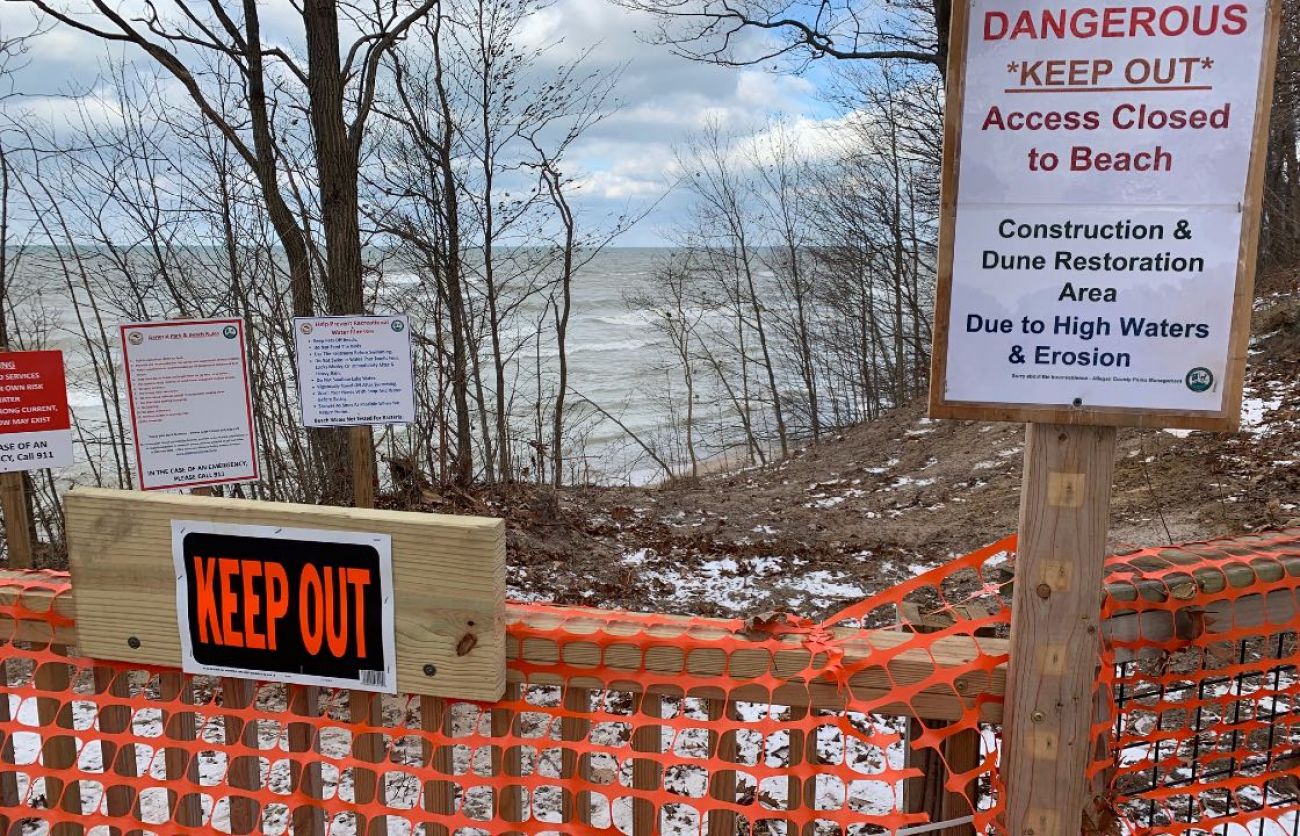 Great Lakes
The Great Lakes were a glaring omission in August, when 20 Democratic presidential hopefuls took the debate stage in Detroit but did not field a single question about Michigan water.
Sanders, who won Michigan's presidential primary in 2016 and is again seeking the Democratic nomination, made state news in the run-up to the Detroit debate by joining calls for Enbridge Energy to shut down its Line 5 oil pipeline in the Straits of Mackinac.
Other than that, "there hasn't been much discussion from the presidential candidates about the Great Lakes," said Sean McBrearty, a Michigan program organizer for Clean Water Action.
That "seems like a misstep given the fact that key states any of them are going to need to win — Michigan, Wisconsin, Pennsylvania — all are Great Lakes states."
What attention Democratic presidential candidates have so far paid to the Great Lakes has been in the context of larger plans to attack global climate change under the mantle of a "Green New Deal."
Most leading contenders are calling for major new spending on clean energy infrastructure, regulations and recommitments to agreements Trump withdrew from.
There's an "intimate connection" to water quality issues and climate change that Michigan voters have seen "first hand," said Wozniak, whose group last month announced a new campaign pressing the presidential candidates to make clean water and climate change central planks of their campaign.
She pointed to erosion on the Lake Michigan shoreline that has swallowed homes and inclement weather that prevented farmers from planting planned crops last year.
Green New Deal proposals, which generally seek to eliminate greenhouse gas emissions in the next three decades, have faced criticism from Republicans and some economists, who say the proposals would impose steep burdens on businesses, including Detroit automakers and energy companies. Others contend most plans would necessitate a huge tax increase.
"Democrats, especially on the national level, have a lot of very, very expensive ideas for the people of the United States," said Michigan Republican Party Chairwoman Laura Cox. "The devil is always in the details."
Biden claims he can pay for his $1.7 trillion climate change plan by reversing recent tax cuts for corporations and ending subsidies for fossil fuel companies. Sanders has asserted his $16.3 trillion climate change plan will "pay for itself" over 15 years by creating new clean energy jobs.
Increasing rainfall linked to global warming poses a challenge to the Great Lakes, Biden said in the plan he released last summer. Heavy rain "exacerbates existing water-related issues in communities throughout the Midwest, such as the proliferation of PFAS, invasive species such as the Asian carp and algae blooms in Toledo," his plan reads.
Warren cited similar threats to regional waters in the "Blue New Deal" proposal she released in December, promising to fight for a "fully funded Great Lakes Restoration Initiative, which has proven critical for the long-term health of the Great Lakes."
The office was created in 2009 and directs some $300 million per year to combat threats to the lakes, such as algal blooms, invasive species and pollution. Trump proposed 90 percent funding cuts for the office in all of his first three budgets but publicly backtracked on that threat last spring during a campaign rally in Grand Rapids.
"I support the Great Lakes," he said after a trio of GOP lawmakers lobbied him during a car ride to the Van Andel Arena. "They're beautiful. They're big, very deep."
Warren has also promised to begin a process to identify parts of the sea, ocean or Great Lakes that could benefit from "Marine Protection Area" status to preserve threatened ecosystems or replenish fisheries.
There are currently more than 90 such areas in the Great Lakes, including Isle Royale National Park in Lake Superior and the Thunder Bay National Marine Sanctuary in Lake Huron, according to the National Oceanic and Atmospheric Administration.
Sanders joined calls for a Line 5 shutdown in July while also urging a ban on "all new fossil fuel infrastructure" in the country. He was the second presidential candidate to speak out on the Enbridge pipeline, following Washington Gov. Jay Inslee, who dropped out of the race in August.
"We think it shows that he's listening to what's going on around the country on climate change issues and water issues," Clean Water Action's McBrearty said of Sanders.
Michigan environmental advocates say Line 5 is primarily a state issue but argue the federal Pipeline and Hazardous Materials Safety Administration could take a more aggressive regulatory approach.
Neither Sanders nor Inslee mentioned the impact a Line 5 shutdown could have on propane supplies used to heat homes in the Upper Peninsula and other parts of Michigan. Gov. Gretchen Whitmer last year created a U.P. Energy Task force to explore alternatives and ordered a report by the end of March, after the Democratic primary.
Flint water crisis
Flint isn't getting the kind of attention in the presidential race that it did four years ago, when Sanders, Hillary Clinton and Trump each visited the city to talk with voters about the city's man-made water contamination crisis that made national headlines. Julian Castro and Kirsten Gillibrand each visited Flint this cycle before dropping out of the race.
But as officials work to rebuild local water infrastructure using state and federal assistance, Democratic candidates continue to reference the city as they push plans to replace lead service lines that snake beneath communities across the United States.
"You can't really argue that the quality hasn't improved. It's just, do people feel comfortable? Do they trust it? Trust takes a lot longer to build than any state scientific document you put in front of somebody."
Flint should still serve as a wake-up call for the country, said state Sen. Jim Ananich, D-Flint. Water infrastructure "is extremely important, and it's crumbling all across the country."
In Michigan, officials estimate there may still be as many as 500,000 lead service lines underground in communities across the state. The true figure is not known, as officials are still compiling estimates submitted by local governments in December.
Those local inventories were required under new Michigan rules adopted in 2018 that will toughen drinking water standards. Beginning in 2025, the state will allow no more than 12 parts per billion lead in water systems, down from the current state and federal level of 15 ppb.
Flint has already replaced thousands of lead service lines using a combination of state and federal funding awarded in response to its lead crisis, which was caused by a switch to Flint River water in April 2014. It expects to complete that process this summer. Additional upgrades are needed at the city's water treatment plan.
Biden, as part of his $1.3 trillion plan to rebuild infrastructure above and below ground, is proposing to double investments in clean drinking water and systems with a focus on low-income areas that are struggling to replace pipes and treatment facilities.
Buttigieg has proposed a $100 billion initiative to address lead in water, paint and soil. That includes $20 billion to replace 3 million lead service lines by 2030 and help cities invest in "best-in-class" corrosion control chemicals to help prevent the kind of leaching that doomed Flint.
Former New York Mayor Michael Bloomberg is proposing a 10-year $100 billion clean drinking water plan, along with a five-year $175 million investment to accelerate local water infrastructure investments. In launching his plan last month, he promised to spend his first 100 days focused on the 100 cities with the worst water infrastructure in the country, including Flint.
Sanders touts his Senate bill that would create a $34.85 billion program to fund water revolving loan programs, grant programs for schools and residential septic systems, household water wells and technical assistance for rural, small and tribal drinking water systems and more.
The Sanders campaign still claims that Flint "still does not have clean drinking water," which isn't accurate. Many residents there continue to rely on bottled water amid ongoing distrust over state testing data showing lead levels been below federal standards for three years.
"You can't really argue that the quality hasn't improved," Ananich said. "It's just, do people feel comfortable? Do they trust it? Trust takes a lot longer to build than any state scientific document you put in front of somebody."
Michigan Environment Watch
Michigan Environment Watch examines how public policy, industry, and other factors interact with the state's trove of natural resources.
Michigan Health Watch is made possible by generous financial support from:
Our generous Environment Watch underwriters encourage Bridge Michigan readers to also support civic journalism by becoming Bridge members. Please consider joining today.
We're not just a news organization, we're also your neighbors
We've been there for you with daily Michigan COVID-19 news; reporting on the emergence of the virus, daily numbers with our tracker and dashboard, exploding unemployment, and we finally were able to report on mass vaccine distribution. We report because the news impacts all of us. Will you please support our nonprofit newsroom?