Halting Line 5 tunnel is 'shameful.' Prepare for a lawsuit, GOP leader says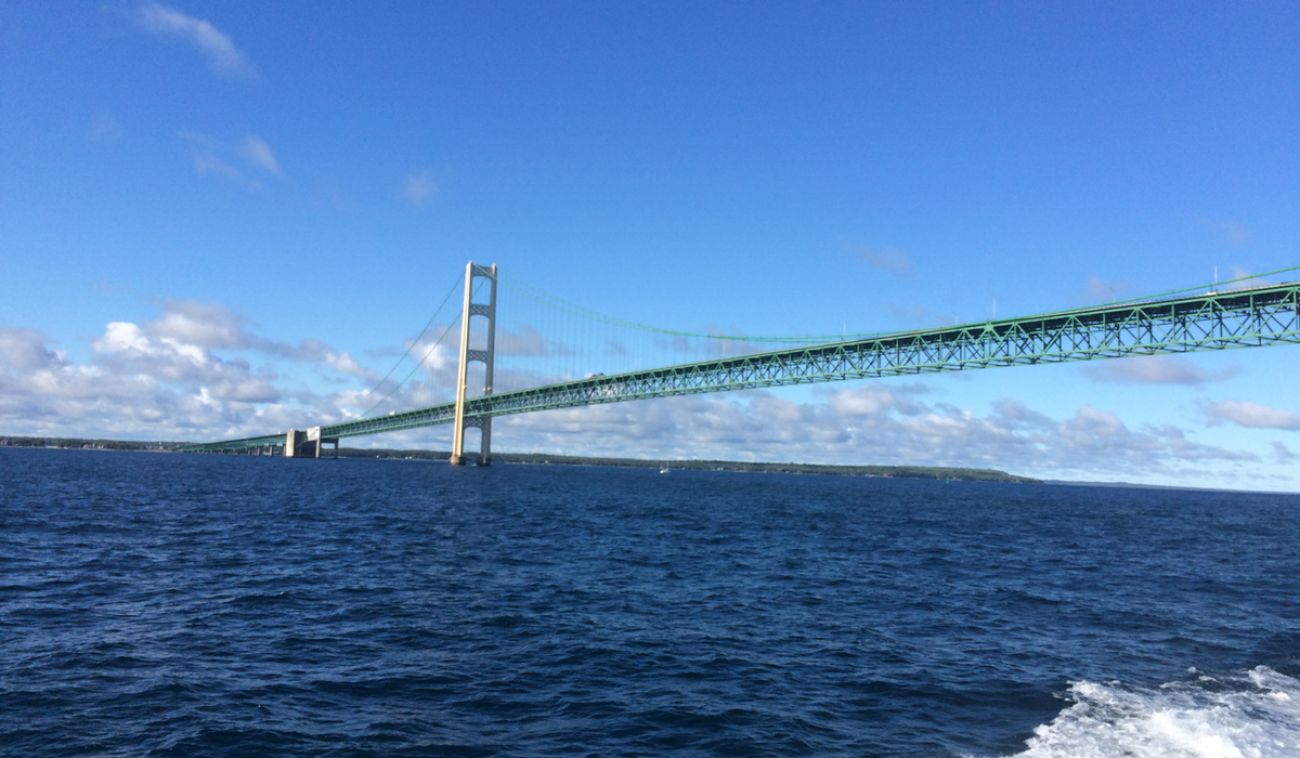 June 27, 2019: Michigan AG Dana Nessel files lawsuit to shut down Line 5 in Mackinac Straits
Update: With Line 5 tunnel plan halted, next steps may belong to Enbridge Energy
LANSING — A political clash over Enbridge Energy's plan to build a tunnel around its Line 5 oil pipeline could result in the state suing itself, Senate Majority Leader Mike Shirkey told Bridge Magazine.
The Clarklake Republican said the GOP-controlled Senate will make sure the Mackinac Straits Corridor Authority, the board that approved Enbridge Energy's plan to build a tunnel beneath the Straits of Mackinac, has the resources to make the case for its existence in court if necessary.
Shirkey's comments Friday came one day after Gov. Gretchen Whitmer ordered state agencies to halt action on the tunnel project. Whitmer's order followed a legal opinion from Attorney General Dana Nesssel, a fellow Democrat, calling the 2018 law creating the Corridor Authority unconstitutional.
Speaking to Bridge, Shirkey called Nessel's move "shameful," and he defended Republicans' lightning-quick approval of the tunnel plan in December, which critics have called poorly vetted.
Shirkey also lamented former Gov. Rick Snyder's veto of legislation to allow lawmakers to intervene in some state lawsuits. Shirkey suggested such power would be useful if the Line 5 tunnel issue goes to court.
Enbridge, backed by Republican leaders, wants to encase the 66-year-old pipeline in a $350 million to $500 million tunnel below 100 feet of bedrock. Proponents say that's the best bet for protecting the Straits from an unlikely spill without disrupting the path of light crude oil from Superior, Wisc., to Sarnia, Ont.
Environmentalists call the plan too risky, and the pipeline unnecessary. They want it shut down.
The following is a condensed transcript of Shirkey's conversation with Bridge, lightly edited for clarity.
Bridge: You have hinted at the possibility of litigation — and the idea that the Corridor Authority could defend its actions. Do you expect the board to file a lawsuit? What would that process look like?
Shirkey: The board is authorized to do such. I am not in a position to encourage them to do so, I'm just making it abundantly clear that it was considered in the statute, and make sure that the board knows it has that option.
Bridge: Just to understand the process: The governor has basically halted all action on the tunnel — because her administration is responsible for issuing permits and the like. And the Corridor Authority could file a lawsuit to restart the project?
Shirkey: That is my understanding, but I am not an attorney. This is going to become complex immediately. It's shameful in my mind that we have an attorney general who consistently tries — and very effectively, quite frankly — seeks and finds ways to upset what has been passed into law.
Bridge: Attorney General Nessel's opinion came out less than an hour before Gov. Whitmer announced her directive. That type of dual decision-making didn't happen much under the previous administration. What do you make of that?
Shirkey: I will allow any observer to make their own conclusion. But to me, it's apparent that there's — if not coordination, there's some complicity in this.
Bridge: If there is coordination or complicity, is that a problem, or is that to be expected from two officials in the same political party?
Shirkey: Well, it's a challenge to be managed, I guess. The voters have spoken. I believe voters are always right, regardless of whether I agree with the outcomes or not. It appears to me we'll be faced with this reality for a few years.
Bridge: So presumably, we could see another instance of the state suing itself?
Shirkey: I lament the fact that [Snyder] chose to veto a law allowing the Legislature to defend itself in such occurrences. His veto letter said Michigan had no history of such actions, therefore he didn't see it as warranted. I wonder if he'd say the same thing today.
Bridge: A key criticism of the tunnel plan is that it was written, re-written and approved so quickly during last year's frantic lame duck session. Some lawmakers — and frankly reporters like me — barely had time to read it and understand it before it was passed. What's your response?
Shirkey: The concept [of the tunnel plan] had been worked on for many months in excruciating detail. But I also admit that it's not unusual, unfortunately, that legislation after the fact, finds itself wanting for corrections or fixing of unintentional problems — all of which, the Legislature would be happy to engage in. But it's apparent to me is that the objective [from Whitmer and Nessel] is just to kill it.
Bridge: Outside of the issue Nessel flagged in her opinion [that the bill's title did not match its contents] a court had already ruled that the Legislature unconstitutionally gave six-year terms to the Corridor Authority board members. That could sound like a very minor flaw in the legislation, but the Constitution very explicitly says terms can't exceed four years. Is an error like that more evidence of a sloppy process?
Shirkey: It was an unfortunate and unintended error that should have been caught. But I do not agree it was due to an effort to get around other obstacles. It's a complex process to find solutions to get the pipeline off the Straits lake bed, while not disrupting the energy and economy of Michigan.
Bridge: After Gov. Snyder quickly appointed the Corridor Authority's three members, two resigned within days. Do you have any insight into why that happened? Critics have also called that confusion a sign of poor vetting.
Shirkey: Anybody can cherry-pick these instances and conclude what you're proposing [that the state's process was sloppy]. But I maintain that you always find what you're looking for. Please use that quote.
Bridge: This wasn't the only bill Democrats complained about not understanding — and not having time to read — in a lame duck session that saw nearly 400 bills sent to the governor's desk. Is there a problem with the way lame duck functions?
Shirkey: Do I wish we had prosecuted this legislation six months or a year earlier? Absolutely. I think the outcome would have been similar. But that's 20-20 hindsight. Lame duck does create vulnerabilities. I'm not going to deny that.
UPDATE: Nessel responded to Shirkey's comments Monday morning on Twitter.]
Shirkey (not a lawyer) calls my AG opinion on the Mackinac Corridor legislation "shameful" and "defends the Republicans' lightening quick process to pass it, which experts criticized as poorly vetted." The one thing he doesn't say is that my opinion is wrong. https://t.co/gVMPFr8E1k

— Dana Nessel (@dananessel) April 1, 2019
Speaking Monday morning on Frank Beckmann's radio talk show on WJR-AM, House Speaker Lee Chatfield, R-Levering, echoed some Shirkey's critique and called Nessel's legal opinion "laughable."
"I want to hear what's the plan to continue delivering these energy resources with a safe method of transportation," Chatfield said.
@LeeChatfield: "We've created a theme over the past few months of this administration — simply trying to circumvent legislative authority, and undo everything that was passed in the past few months." https://t.co/GEGQOTvCww

— Jim Malewitz (@Jmalewitz) April 1, 2019
Michigan Environment Watch
Michigan Environment Watch examines how public policy, industry, and other factors interact with the state's trove of natural resources.
Michigan Health Watch is made possible by generous financial support from:
Our generous Environment Watch underwriters encourage Bridge Michigan readers to also support civic journalism by becoming Bridge members. Please consider joining today.
We're not just a news organization, we're also your neighbors
We've been there for you with daily Michigan COVID-19 news; reporting on the emergence of the virus, daily numbers with our tracker and dashboard, exploding unemployment, and we finally were able to report on mass vaccine distribution. We report because the news impacts all of us. Will you please support our nonprofit newsroom?