The answer to swelling jails? Stop jailing so many folks, Michigan report says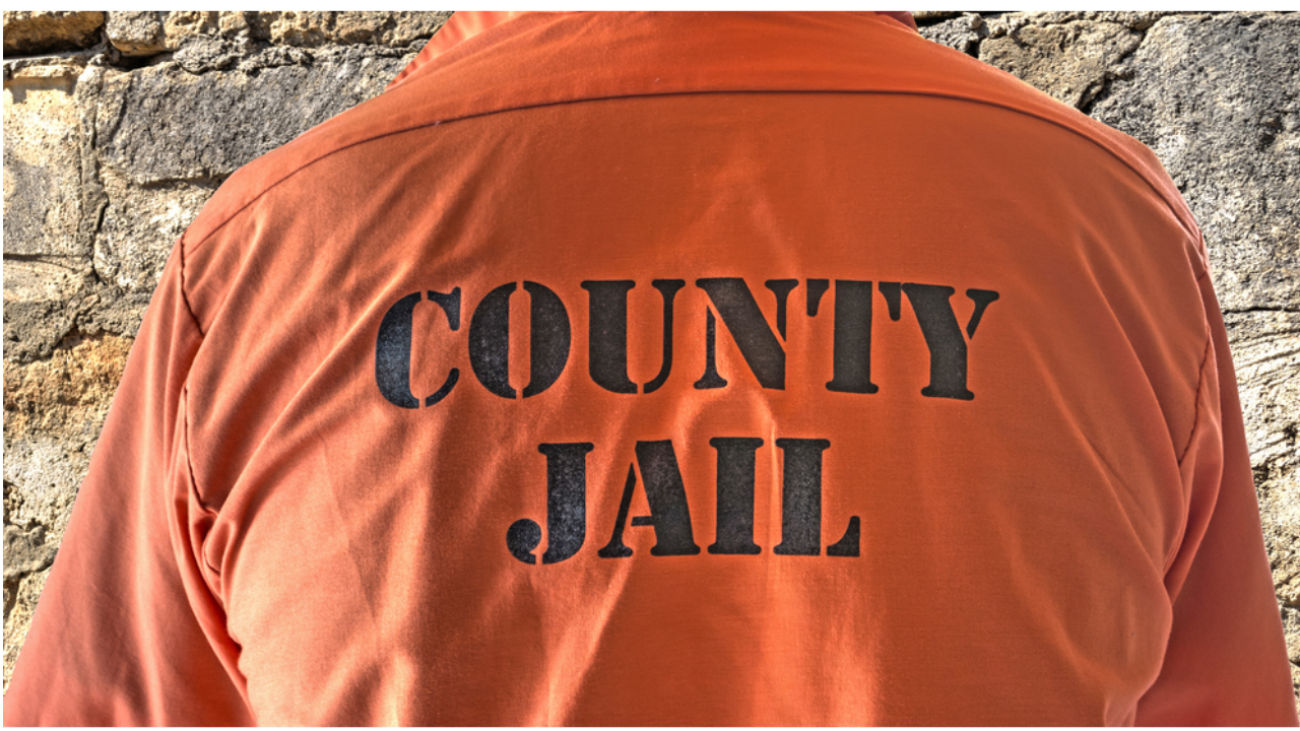 Michigan Government
The answer to swelling jails? Stop jailing so many folks, Michigan report says
Jail admissions comprised a wide range of offenses
Top 10 Offenses, Most Serious Charge at Jail Admission
Operating Under the Influence (OUI)
Assault
Driving Without Valid License
Theft
Probation/Parole Violation
Possession or Use of Controlled Substance
Obstruction of Justice
Other Person Offense
Domestic Violence
Delivery or Manufacture of Controlled Substance
LANSING – A coalition charged with shrinking Michigan's county jail populations is recommending the state reduce license suspensions, shorten probation terms, cut fines for civil infractions and stop requiring inmates to pay for their own incarceration, among other things.
The recommendations, unveiled Tuesday, are based on an unprecedented analysis of local jail data. Among other things, researchers found that jail populations have soared as crime has fallen; black residents make up a disproportionate number of the incarcerated; about a quarter of those sent to jail have a serious mental illness; and police choose to arrest people far more often than simply cite them.
"We believe that this is a set of recommendations that will make our criminal justice system more just, and help make sure that our county jail system is protecting public safety in the broadest possible sense," Lt. Gov. Garlin Gilchrist said.
The Michigan Joint Task Force on Jail and Pretrial Incarceration was formed by an executive order from Gov. Gretchen Whitmer last spring to study Michigan's jail system and recommend how to improve it.
In the order, Whitmer referenced research that indicates incarceration in many cases doesn't increase public safety and can sometimes worsen it by exacerbating inmates' mental health problems and uprooting them from jobs and communities.
Whitmer directed the task force to seek out jail alternatives and to safely reduce jail admissions, lengths of stay and costs as it aligns with research.
The nonpartisan, Philadelphia-based Pew Charitable Trusts worked with the group to collect and analyze local jail data to inform the recommendations along with public testimony from across the state.
The task force approved the recommendations last Thursday.
Michigan Attorney General Dana Nessel was the only member of the task force to withhold her support. Last week, she abstained from voting to support the report, saying it didn't achieve the "crucial balance" of protecting victims and communities' interests.
Nessel's office declined to elaborate.
"We can never lose sight of the impact that a crime has on the victims," Nessel said. "While we must strive for reform, those reforms must not be at the expense of those that the system is designed to protect."
Michigan lawmakers will now choose whether to make any of the recommendations into policy. Odds are at least a few will become law: Criminal justice was one of the few topics of bipartisan agreement in 2019, when Republican and Democratic lawmakers passed legislation to increase the age of who is considered an adult in sentencing and bills to expand access to criminal record expungement.
"We are going to be tackling many issues in 2020, but I think paramount to all of them in importance is reforming our criminal justice system," said Speaker of the House Lee Chatfield Tuesday. "We're going to do the very best that we can to ensure [many of the recommendations] get enacted into law."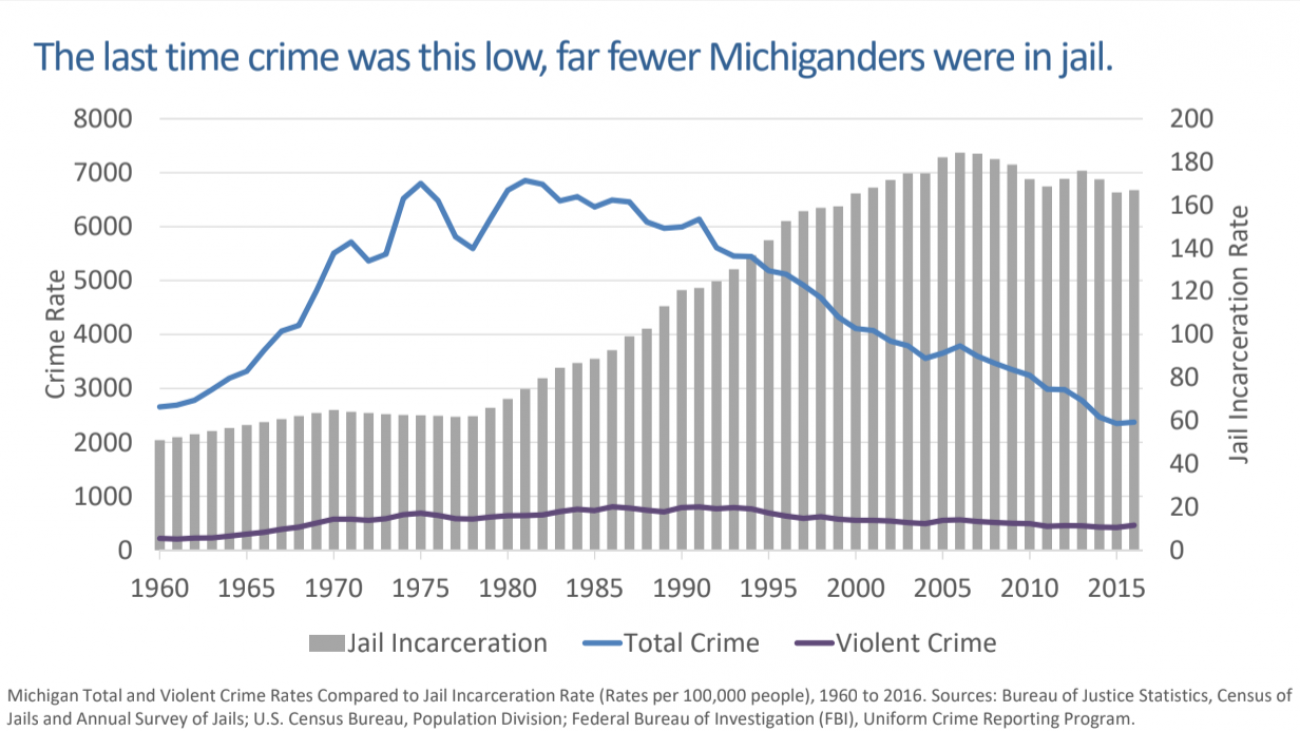 Here's some of what the task force recommended.
Bar revoking driver's licenses for issues unrelated to driving
The researchers found that driving without a valid license was the third-most common reason for people to go to jail, largely because people can have their license suspended for a wide-ranging list of reasons. In 2018 alone, nearly 358,000 licenses were suspended for failure to appear in court or pay fines.
Public testimony showed the group "the domino effect a suspended license can have" on a person's life, including making it harder for people to keep jobs.
The task force recommended banning suspending or revoking driver's licenses as a punishment for everything except moving violations that affect safety, such as driving while intoxicated or fleeing a police officer.
Keep most convicted of misdemeanors out of jail, and reduce the number of misdemeanors overall
Most people sent to jail – rather than prisons – are charged with misdemeanors, Pew researchers found. Punishments for low misdemeanors range from up to 93 days in jail to up to one year.
While nearly half of inmates are jailed for less than a day, "even short jail says can increase future criminal behavior and actually make us less safe," McCormack told Bridge.
What's the goal of the jail study?
Gov. Gretchen Whitmer's executive order outlined what she hopes the task force will accomplish through its recommendations:
Expand alternatives to jail
Reduce the number of people sent to jail, how long they stay there, and the amounts counties spend
Ensure "consistent, objective, and evidence-based" decisions for pretrial incarceration
Improve the efficiency and effectiveness of the state and county justice systems.
Better align policy with research.
That's why the Legislature should change the law so those convicted of misdemeanors are sentenced with fines, community service, or other punishments that keep them out of jail and off probation, the task force wrote. The group also recommended eliminating mandatory minimum sentences for misdemeanors and barring the creation of new mandatory minimum sentences.
Jail should still be a punishment for serious misdemeanors such as domestic violence or breaking and domestic violence, the group wrote.
The task force also recommended reducing the number of misdemeanor crimes overall by classifying those "that are the lowest threats to public safety" as civil infractions that aren't eligible for arrest.
Change the way people are detained before trial
Research shows that people who are kept in jail before their trial increases the likelihood that they'll plead guilty and receive a longer sentence. It also shows jail detention before trial may temporarily stop people from committing more crimes, but also increases the likelihood people will re-offend after being sentenced.
Pew researchers also found that pretrial detention and money bail varies wildly in Michigan county jails. For example, bond amounts for controlled substance use ranged from $0 to $20,000.
The task force recommended a number of changes to the way people are detained before trial, including standardizing bond requirements (and only allowing them if the person poses a significant risk to others and is charged with a violent offense); requiring a person be arraigned within 24 hours of arrest; require hearings for people still detained 48 hours after arraignment; and requiring people to be tried within 18 months of being arrested.
Reduce jail time for some felonies
Those with felony charges or convictions spend much more time in Michigan jails than those with misdemeanors, which is one of many contributing factors to high jail costs and populations.
Researchers at Pew found that Michigan jails on average housed 16,600 people per day in 2016, compared to 5,700 in 1975, despite crime rates being the lowest they've been in more than 50 years.
Jails also account for about a quarter of county-level spending on public safety and the justice system, which is the third-largest spending category for Michigan counties.
One reason felons spend so much time in jail is a lack of guidance for courts on how to punish those convicted of certain felonies but who aren't sent to prison, the task force concluded.
The task force recommended creating a presumption that those sentenced to certain low-level felonies receive probation rather than jail time, and reclassifying punishments for common low-level felonies so as to reduce time spent in jail.
Reform punishments for violating parole or probation
Parole and probation violations are one of the top reasons Michiganders are sent to jail, partially because state law allows for long probation periods: up to five years for felonies and two years for misdemeanors.
However, the first weeks and months of probation are the biggest indicators of whether someone is likely to re-offend. Research also shows that alternative, community-based punishments are equally effective in reducing future violations as jail time.
The task force recommended lowering maximum probation to the period of time when people are most likely to violate it; eliminating or restricting courts' ability to incarcerate people on probation for technical violations such as missing an appointment with a parole officer or failing to keep a job; standardizing policies for early discharge from probation; and requiring parole conditions not be overly burdensome.
Divert people with mental health problems away from the criminal justice system
Nearly a quarter of Michigan's jail population has a "serious mental illness," researchers found. That number is even higher in rural areas, where there are fewer mental health services available. People with serious mental illnesses also tended to stay in jail longer than those without mental illnesses, even if they had similar charges.
Many sheriffs also testified to the task force that they were concerned about people who spend a long time in jail — oftentimes longer than the maximum allowable sentence for misdemeanors — just to be evaluated for competency to stand trial.
The task force recommended making it the rule rather than the exception for people with mental and behavioral health needs to be "deflected" out of the criminal justice system before being arrested and "diverted" out afterward into treatment services rather than traditional incarceration and probation, unless they pose a public safety risk. It also recommended dedicating more money to train law enforcement to better deal with people with mental and behavioral health issues.
Invest in services for victims
In addition to the recommendations to reduce jail populations, the task force recommended investing "significant funding" for support for crime victims, including expanding services such as counseling and transitional housing shelters.
It also recommended giving police more money to deliver personal protection orders to abusive romantic partners and expanding law enforcement training for interview techniques designed to acknowledge and not worsen victim trauma.
"In order to want to invest in these resources and have this system make more sense, we also need to invest in support for victims and survivors," Gilchrist said. "The breadth of the recommendations reflect that interconnected nature.
Chatfield would not say how much the Legislature might appropriate to these initiatives. "The bottom line is you fund what your priorities are, and criminal justice reform is a priority for us."
We're not just a news organization, we're also your neighbors
We've been there for you with daily Michigan COVID-19 news; reporting on the emergence of the virus, daily numbers with our tracker and dashboard, exploding unemployment, and we finally were able to report on mass vaccine distribution. We report because the news impacts all of us. Will you please support our nonprofit newsroom?