A blue wave in Michigan Legislature? Maybe, but don't count on it.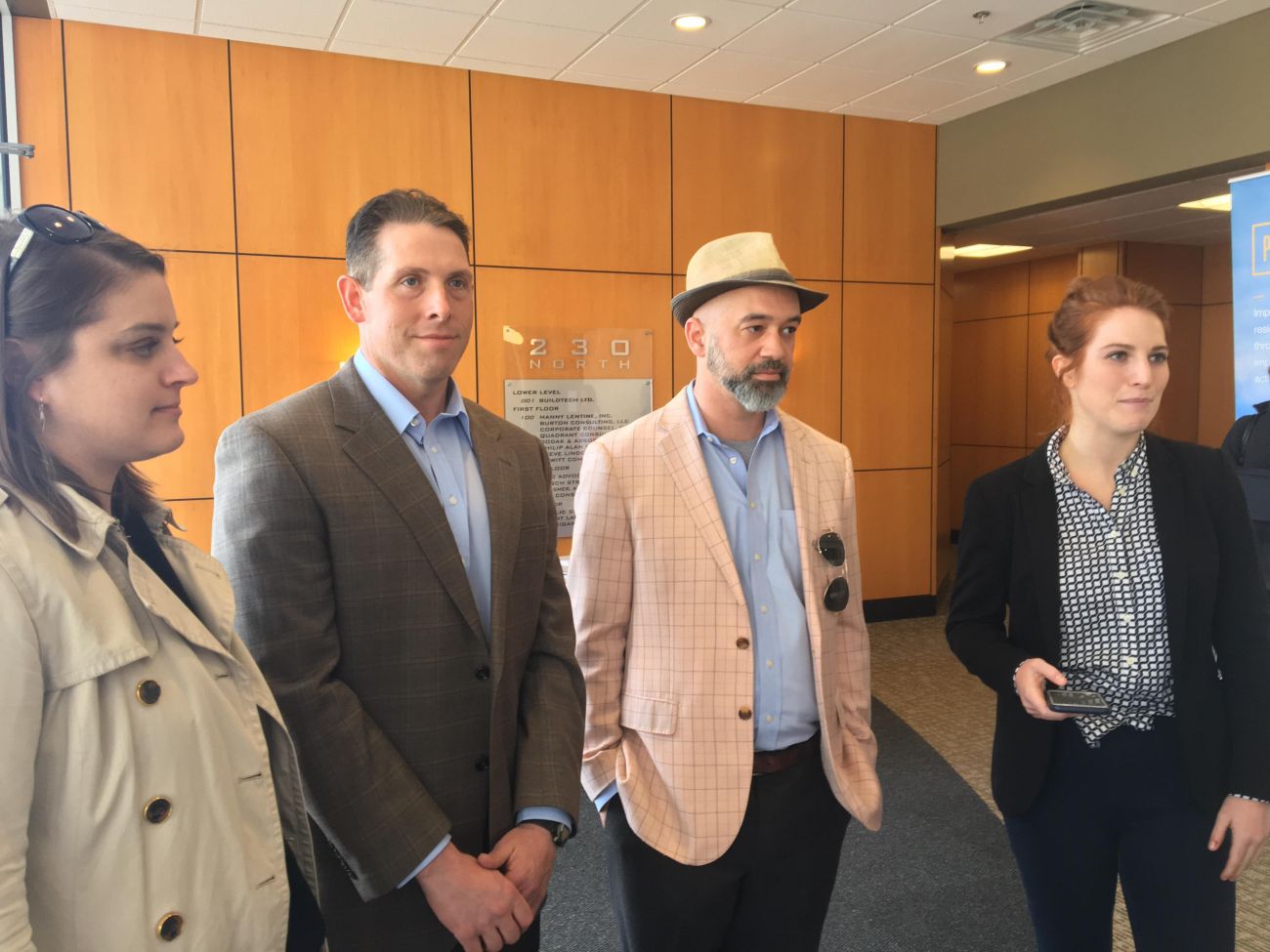 Michigan Democrats shouldn't count on riding a blue wave to win back control of the Republican-dominated Legislature in November, but it's possible that strong turnout from the left could help the minority party in Lansing pick up seats.
It's Democrats in Michigan (and around the nation) who seem energized for November's midterms. Yet Democrats also have the heavier lift: They not only must protect their existing seats in the state House and Senate, but flip some Republican-held seats to narrow their gap.
There are "several Democratic incumbents in competitive districts who can't run again, so (Democrats) have as much turf to defend as they hope to gain," said Zach Gorchow, editor of Gongwer News Service, a Lansing-based newsletter that closely tracks state government and politics.
Those were among key takeaways from Bridge interviews Wednesday with Lansing political experts, one day after the candidate filing deadline for most state races. The event was part of the Center for Michigan's 2018 Truth Tour, to engage voters across Michigan on issues critical to the state. Among the panelists were specialists in environmental and educational policy, a lobbyist, grassroots political consultants and a political journalist.
Related: Nine candidates file to run for Michigan's governor
Related: Friction among Michigan Democrats might pose threat to victory in November
Related: Old divisions, new blood: The Michigan GOP in the era of Trump
Candidates running for governor, state House and Senate, judges and U.S. Congress officially filed to run for office on Tuesday. There were a few surprises — one Democratic candidate, former Xerox executive Bill Cobbs, opted to run as a write-in candidate due to issues with collected enough valid signatures. And the Libertarian Party will battle it out in its first primary in state history.
Democratic candidates for governor include former state Senate Minority Leader Gretchen Whitmer; Abdul El-Sayed, Detroit's former health director; and Ann Arbor businessman Shri Thanedar.
Among Republicans, state Attorney General Bill Schuette, Lt. Gov. Brian Calley, state Sen. Patrick Colbeck and Saginaw physician Jim Hines filed to run.
Many others filed for 148 state House and Senate races. Democrats would need to win nine seats to get a majority in the state House. In the Senate, with far fewer seats, they'd also need to gain nine seats — a feat most experts have said will be nearly impossible. The Senate has been under Republican control since the 1980s and currently enjoys a supermajority.
The fact that Democrats flipped GOP-held seats in other states since President Donald Trump's election in 2016 has led to more excitement in the party, said Gorchow.
Even so, "I still think it's pretty daunting. Nine seats is a lot of seats (in the House)," he said. "They're going to be outgunned financially and they didn't necessarily hit it out of the park on candidate recruitment in a number of seats they need. That said, if a huge wave does develop, if the Democrats just seem to sweep everywhere, it is possible, for sure, that they could do it. And I'd say it's getting more possible by the day."
This year's midterm election won't be a cake walk for either major party. Republicans have to contend with President Donald Trump's volatility and his unpopularity in parts of the state. And they must calculate how far right they'll want to campaign to win a primary race before they have to pivot to pick up moderate voters in a general election.
Democrats, meanwhile, are trying to unify a fractured party split among varying interest groups, including an increasingly vocal progressive wing that some experts say is not interested in incremental change.
Related: Which Michigan governor candidates gave financial info
Related: Michigan governor candidates release tax returns, other assets
"They have a shot" at a so-called blue wave, said Sarah Hubbard, principal of Acuitas LLC, a Lansing-based government lobbying firm. Republicans, after all, had a massive wave of their own in 2010 and 2012, when President Obama was in office she said.
"So it's not unprecedented in any way to have these major swings... it's all about identifying voters and getting them to the polls," Hubbard said. "They've got to have a really strong organization ground game."
Here are some other highlights from the Michigan Truth Tour stop in Lansing:
Focus on education, environment
Education "certainly should be the big issue for candidates in this campaign," said Jeff Guilfoyle, a vice president at Lansing-based Public Sector Consultants, which focuses on public policy.
Michigan's K-12 schools continue to lag the nation in achievement. College is becoming increasingly unaffordable for many families, and students frequently graduate buried in loan debt. Child care, meanwhile, remains expensive and inaccessible to many families, he noted.
Whereas Michigan once ran in the middle of the pack on national metrics, in the past decade Michigan has slid to the bottom among states for K-12 student performance, Guilfoyle said.
Michigan's next governor should focus on kindergarten readiness, third-grade reading, and college and career readiness, Guilfoyle said.
"It's not enough for a candidate to say, 'What I'm going to do is make sure that every third-grader can read,'" he said. "What you want to know is how they're going to do that. We all want every third-grader to be able to read. What, specifically, are you going to do that's different than what we're doing now, and how is that going to make performance better?"
Related: Once at rock bottom, this Northern Michigan elementary now produces stars
Maggie Pallone, another vice president at Public Sector Consultants, specializes in environmental policy. She said environmental issues are not likely to be one of the top issues discussed by candidates.
But many issues most pressing to Michiganders are environmental and infrastructural issues, she said, including roads, telecommunications, energy and water infrastructure — including ensuring safe drinking water and protecting the Great Lakes.
"I think that voters will demand that it's a big issue," she said. "You hope that (Whitmer's campaign slogan) 'fix the damn roads' becomes more than that. Our hidden water infrastructure is actually just as big of a risk and needs to be addressed, as well."
Line 5, the oil pipeline running under the Straits of Mackinac, has been the focus of major sparring between environmental groups and pipeline supporters such as the Michigan Chamber of Commerce. Controversy over Line 5, owned and operated by the Canadian company Enbridge, will likely lead the way in environmental talking points, she said, while the legacy of lead poisoning in Flint is already slipping into the shadows.
"I'm actually surprised how little the candidates are talking about Flint," Pallone said, noting that the problem of lead in communities extends to lead paint and other threats. "That's an issue I don't think they'll be able to avoid."
Grassroots strategies
Both political parties will have to motivate their grassroots if they want to have a shot at gaining or maintaining dominance in Lansing.
For Democrats, that predominantly includes labor groups, progressives and African-American communities. For Republicans, religious organizations, local activist groups and pro-life groups often pack the biggest punch.
Grassroots Midwest's CEO Adrian Hemond, a Democrat, said he and Brian Began, a Republican and the group's elections and research director, agree on one point: "Most of the people that are referred to as the grassroots on both sides of the aisle don't actually do very much."
The majority of the grassroots are vocal on social media, but less willing to open their wallets or knock on doors, he said. The party that can get their grassroots to do "practical things" such as running for precinct delegate or going door to door will be the party with the greatest advantage.
Gorchow, of Gongwer, said that advantage likely lies with the Democrats in this election cycle.
"There's just a lot of grassroots energy at the Democratic level," he said. "Also when there's a lot of discussion that it's going to be a good year for one party, that helps candidate recruitment. People like to win, not lose."
Districts to watch
Gongwer, whose newsletter is behind a paywall, prepared a detailed analysis of the state legislative races shaping up around the state. All 148 state House and Senate seats are up for grabs this year.
Turnover is expected to be higher than a normal year, particularly because 18 state representatives have opted to forego another term to jump to the Senate, since those seats come open less often.
Twenty-six of Michigan's 38 Senate seats also are open due to term limits this year, Gorchow noted. Under state legislative term limits, lawmakers are limited to three, two-year terms in the House and two, four-year terms in the Senate.
Two seats Gorchow says are potentially competitive: A Kalamazoo County Senate seat between incumbent Sen. Margaret O'Brien, R-Portage, and Democratic former state Rep. Sean McCann of Kalamazoo; and a western Upper Peninsula seat held by Rep. Scott Dianda, D-Calumet, that Democrats want to retain.
Follow the Michigan Truth Tour
Bridge and The Center for Michigan will be traveling the state this election season to engage residents and bring facts to the heated political rhetoric during the 2018 statewide races.
Here's where we'll be next.
We're not just a news organization, we're also your neighbors
We've been there for you with daily Michigan COVID-19 news; reporting on the emergence of the virus, daily numbers with our tracker and dashboard, exploding unemployment, and we finally were able to report on mass vaccine distribution. We report because the news impacts all of us. Will you please support our nonprofit newsroom?